Do you have a young teen having a 14th or 15th birthday? The best gift you can give them is a place to hang out with their friends away from the prying eyes of younger siblings and parents.
While you want to keep your children safe, giving them some freedom to be themselves is important.
Not only that but giving your teen a place to chill out with their friends means that they are not out in the town getting into trouble. And the right basement hangout is sure to make your teen popular among their friends and neighbors.
Basements are ideal for this purpose because typically the basement is unused space. Although unfinished basements or only partially finished basements cannot be used as bedrooms, there is no rule that you can't use the space for storage or recreation.
However, you still need to make sure that your child and their friends are safe, so partially finishing your basement before furnishing and decorating is important.
This expert guide will lead you through the process of partially finishing an unfinished basement, and how to use the interior design, décor, and furnishings to make the space feel more like a real room.
Making a Living Space Out of Your Basement – Essentials to Know Before You Get Started
If you want to renovate your basement and use it as a bedroom or living space in general, you have to follow strict regulations defined by your local law. And the most important thing here is to provide your remodelled basement with egress windows. These windows are essentially installed to ensure an additional escape route in case of an emergency. Egress windows are a MUST if you want to turn your basement into a bedroom for your kids, for example. 
As a homeowner, you must ensure that your bedroom and basement windows meet the required egress window standards and meet the criteria set by the National Building Code of Canada (NBCC) or any similar regulation in your country. Following are the requirements your new windows have to meet to qualify as egress windows:
Area for egress windows: No less than 3.8 ft2 (0.35 m2)
Min dimension for egress windows: No less than 15 inches (380 mm)
Your bedroom egress window must have optimal year-round ventilation.
Egress bedroom windows must ensure 5% light for the bedroom floor area.
You have to be able to open the window from inside the house without using any hardware, tools, keys or detailed directions.
Egress bedroom windows are to be adequately sized to guarantee a quick and easy escape route in any emergency.
If you want to ensure your preferred units meet all the criteria above and qualify as egress windows, use this egress window calculator to select and compare different window styles that work best for your basement.
Is your basement finished, semi-finished, or unfinished?
Most people think of a finished basement as being just like any other room in your home, with real walls that can be painted and decorated, plush carpet, and all the outlets and lights you could want for entertainment centers and more.
These same people think of a partially finished basement as one that has only part of the basement finished in this way, while the unfinished portion of the basement is out of sight, out of mind.
But in reality, a basement doesn't have to look like the perfect family room to be considered finished. Here are the true definitions of these three types of basements.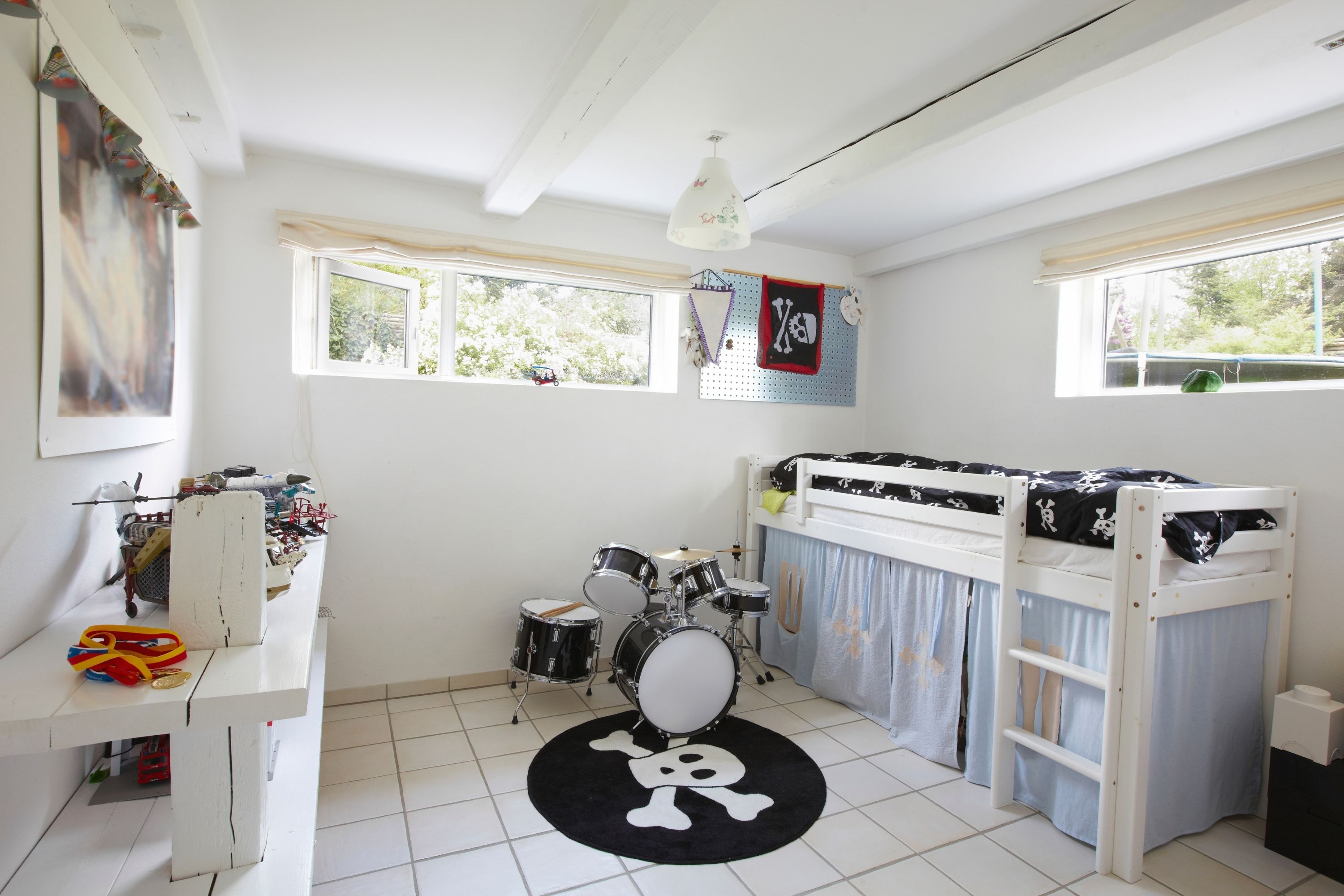 Unfinished
An unfinished basement doesn't have ceiling tiles, floors, or walls. It is essentially an open area under the house meant for easy access to heating/cooling, water heater, plumbing, electrical, sump pumps, and other systems vital to the safety of your home.
Many people take advantage of the exposed plumbing to easily add a washer and dryer as well. In the Midwest, basements also serve the purpose of a tornado shelter.
Some unfinished basements have a toilet and sink for emergencies, but they may not be enclosed from the rest of the basement.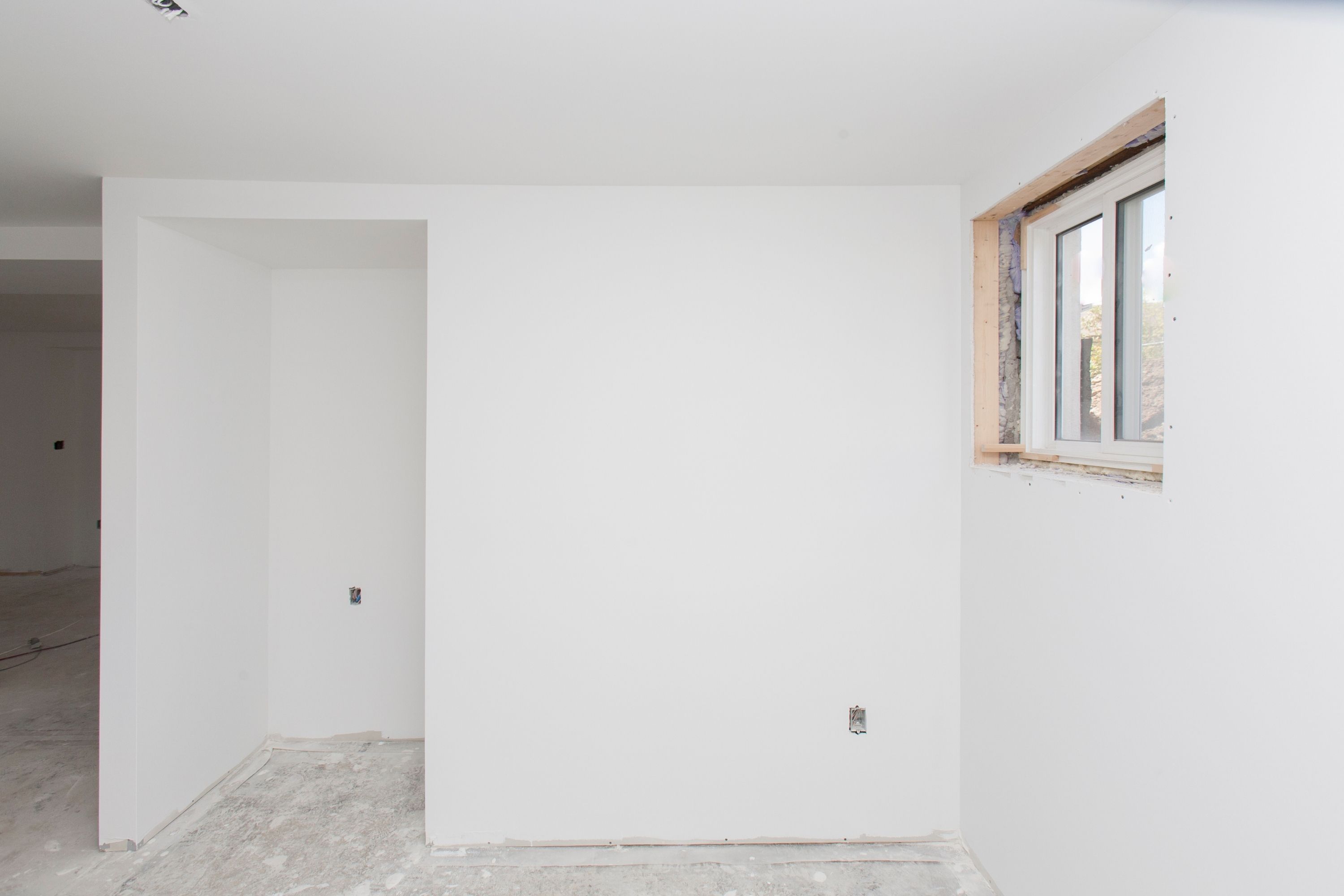 Fully finished basement
A completely finished basement looks like any other room in your home. It has ceiling tiles, floors built over the concrete foundation, doors, lighting, electrical outlets, and floor coverings.
It can cost as much as $20,000 to fully finish your basement, depending on its size and whether it runs the full length and width of the house (full basement) or only a portion of the home (partial basement).
That's why many people prefer the goal of a semi-finished basement due to this exorbitant cost.
Thinking About Finishing Your Basement? Watch This First!
Partially finished basement
A partially finished basement is the happy, budget-friendly compromise between a completely unfinished basement and a fully finished basement. While you can't use a partially finished basement as a bedroom, you can use it for recreational purposes like a teen's hangout spot.
However, there are some minimum requirements you will need to keep in mind to keep everyone safe.
Important Note: An exterior door is a necessity. There must be an exterior door for means of escape in case of fire preventing going up the stairs. Since basements don't have full-size windows, a door is essential. Failure to provide an exterior egress is a fire hazard.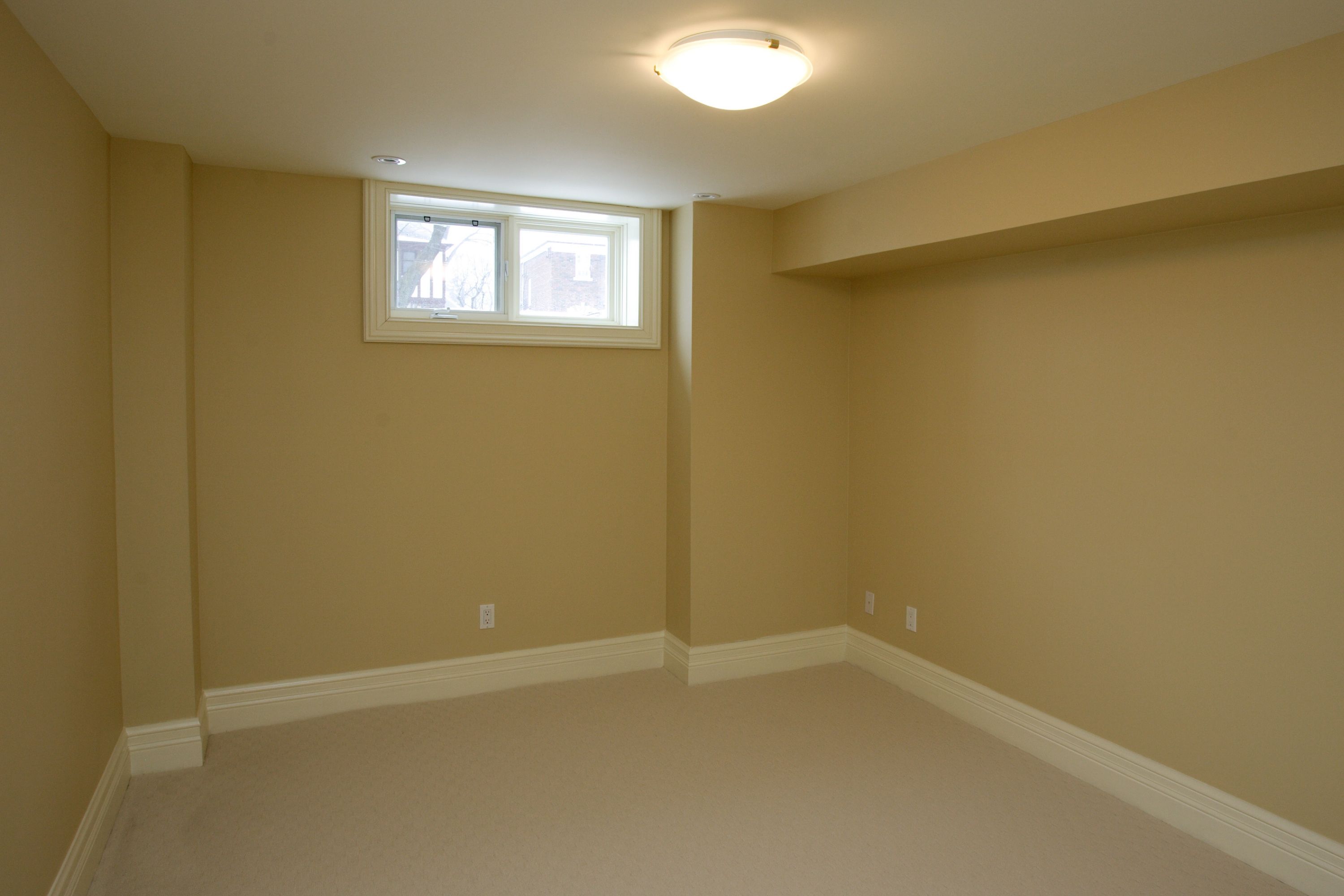 If you are worried about your teen being able to sneak out, install an inexpensive and inconspicuous alarm on the door.
Here are some other safety characteristics required for a partially finished basement:
Your basement needs to have one side at least partially exposed to daylight, with a window that can be opened or vented. There are many situations in which you may need to air out the basement for safety.
The basement must be structurally sound and without leaks. That doesn't guarantee moisture won't get in, but it improves your chances. (Hot Tip! The further away from the walls, you place rugs and furniture, the less likely they are to be damaged by the moisture that can collect in any basement.)
There should be at least a toilet in the basement, even if it is only enclosed by curtains, as well as a sink. If the basement is needed as an emergency shelter, that toilet and sink are a fundamental need.
There should be at least one overhead light. It is also helpful to have more than one outlet available for use to provide additional lighting or to allow for a game console and small flat screen tv.
You shouldn't cut corners when meeting these minimum requirements for a habitable basement area.
In the end, these requirements are not the most expensive of finishing a basement.
In fact, most of the average $10,000 cost of partially finishing a basement is lumber, so just by building fewer walls or partitions, you could be saving thousands.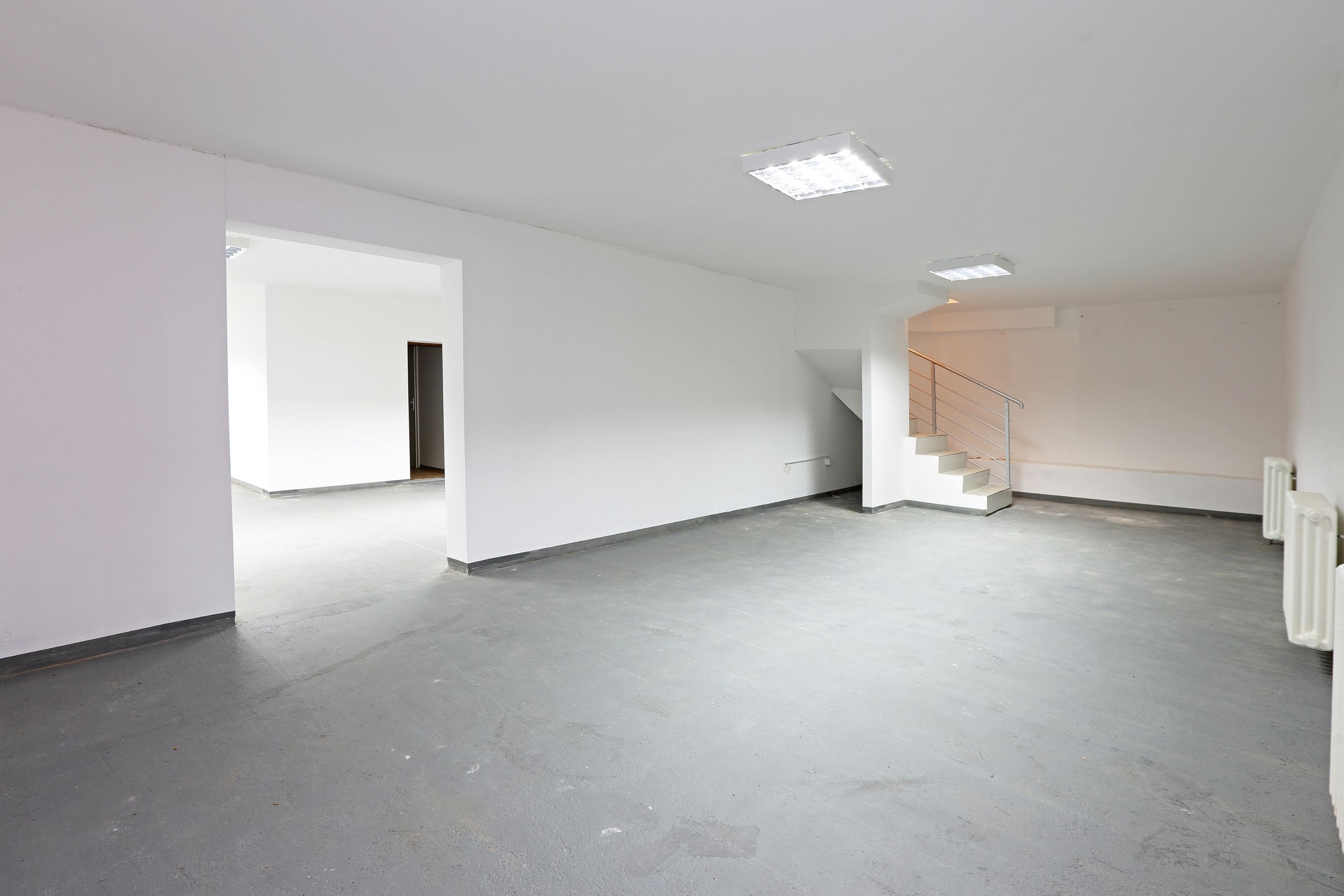 How to partially finish your basement
Getting your basement to the point of being ready for furniture and décor doesn't have to be expensive or time-consuming. Someone with basic knowledge of construction can usually handle these minor renovations themselves, but you may still need to hire a few experts.
If you don't think you can handle the labor by yourself, use the opportunity to do a project with your kids instead of presenting it to your teen as a finished birthday gift.
The general steps that might apply to your situation are listed below to give you a basic idea of the labor and costs involved.
Measure and mark the area of the basement to be partially finished, and determine what lighting, electrical outlets, or architectural elements will be required. (Important Note! Do not attempt to handle these items on your own. A professional knows how to stay safe while handling these renovations.)
Determine the minimum number of drywall partitions needed to create a seemingly enclosed space. Take shortcuts by using furniture and décor like sectional couches for the basement and an area rug. (Hot Tip! Don't forget to plan how you will mount the partitions. Teens are rowdy, and you don't want them getting knocked over.)
Make a list of materials from drywall to paint and get estimates from a plumber, electrician, or other professional. Subtract this from your total budget for the whole project to get your furniture and décor budget.
Decide on the interior design, including themes, colors, styles, personality, and furnishings. These are important if you want to place the hangout space in the center of the basement.
Once you have everything ready to go, you should have no issues getting everything put together.
While you may need a little bit of help if you are not familiar with such things, undoubtedly you have someone in your life who can assist you, or who knows someone that can help at a lower cost than hiring a remodeler.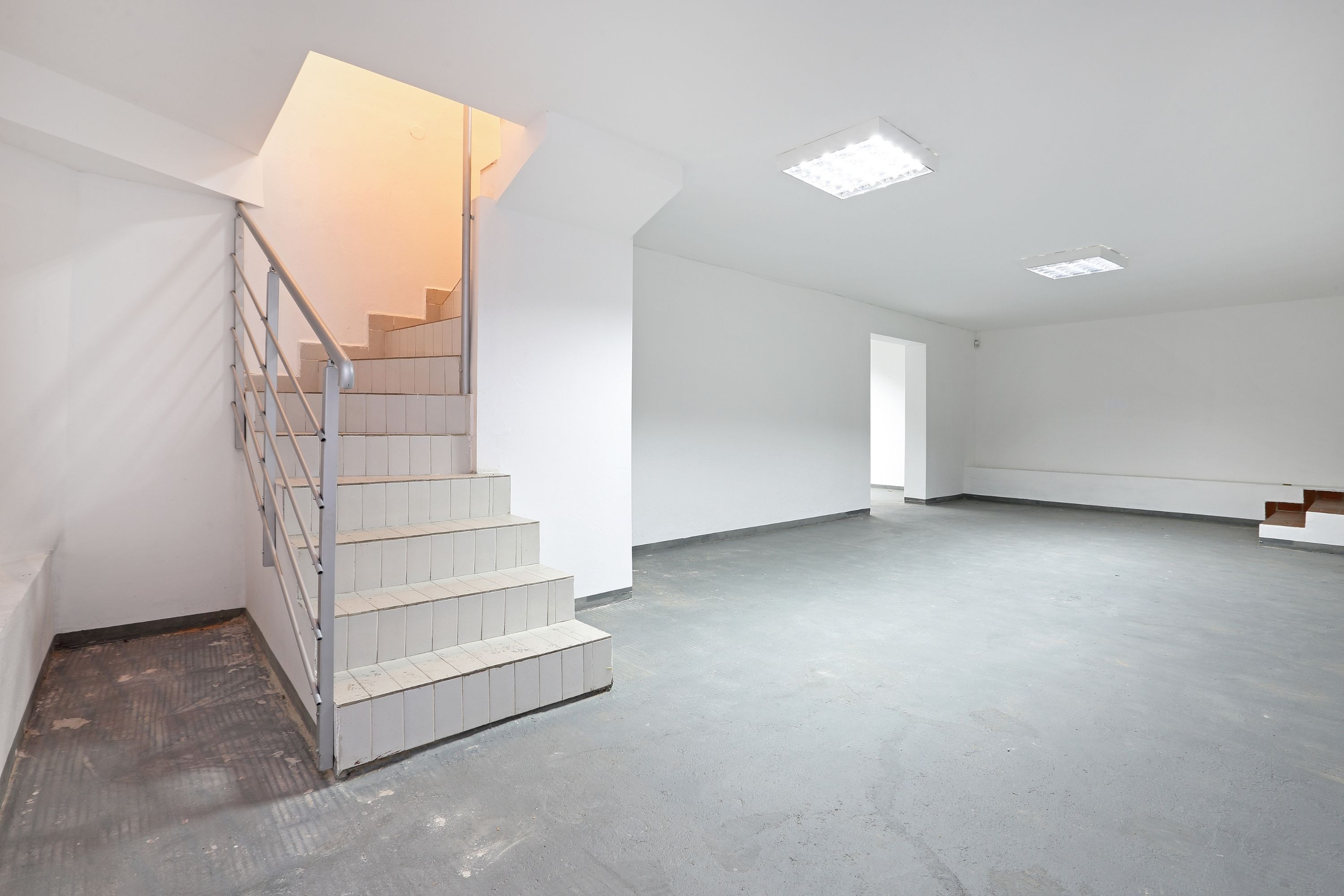 Designing and furnishing your partially finished basement
There are several things you need to keep in mind when you are designing the partially finished basement interior décor and furnishings.
Besides sticking to a budget, you need to buy the most durable furniture possible to stand up to the abuse of teenagers. You may also want to tackle the interior design with a different approach than usual due to the lacking of walls and floors on all sides.
The most effective approach is to start with the color of the walls, choose an area rug the exact size of the partially finished area, and then choose furniture items that create the illusion of walls.
Start by choosing the color of the walls, keeping in mind that brighter colors will reflect light to brighten the room.
By choosing the area rug next, you can match it to the walls and let it set the scene. Then you can use that rug to find the perfect mismatched but aesthetically pleasing furniture and décor.
The best way to furnish a partially finished area, particularly one that is open to the rest of the basement, is by creating a square with the furniture.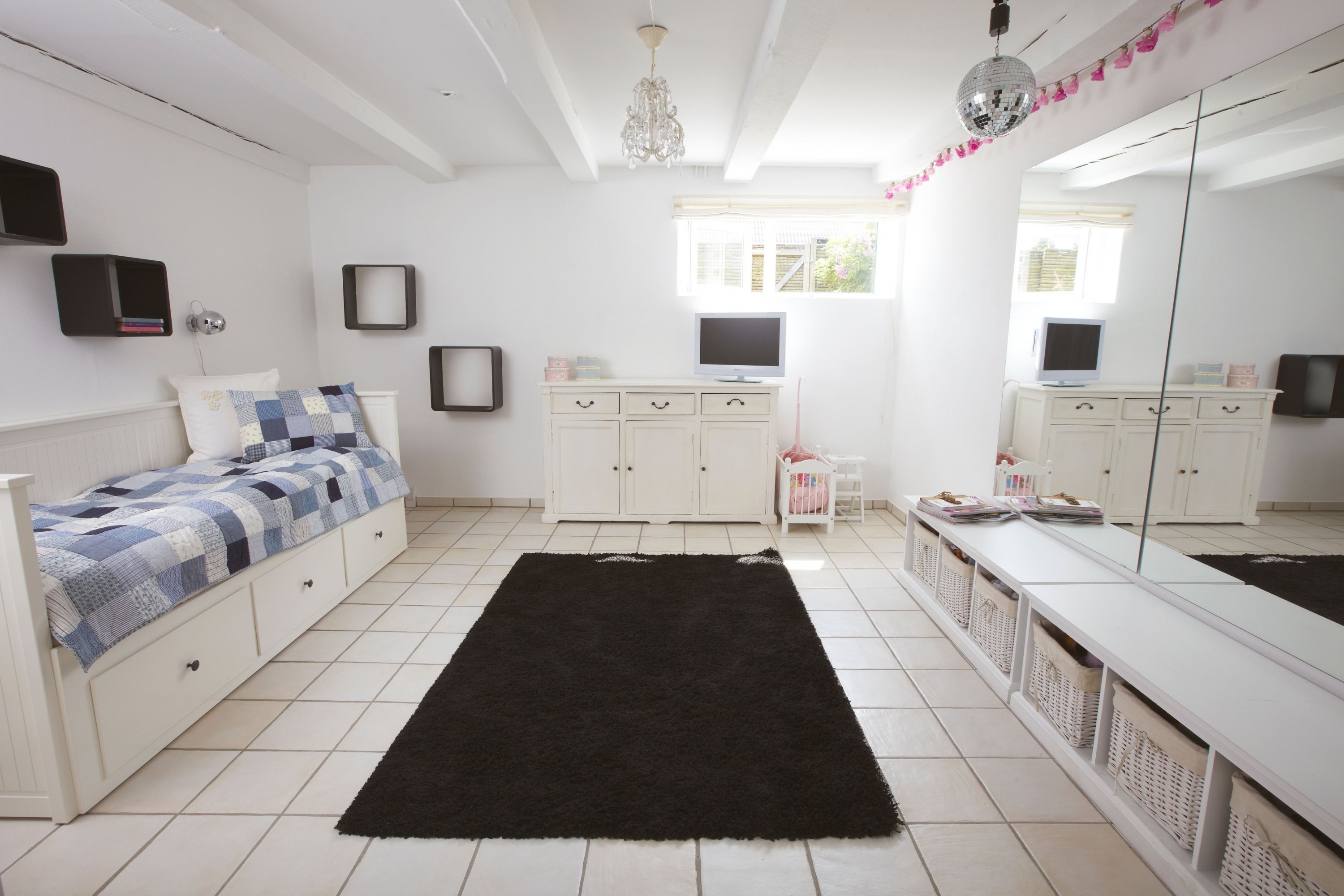 Choosing furniture pieces and layout
It is easy to make this more conversational furniture layout with the right pieces of furniture. When you want to place a seating area away from the walls, a sectional is an obvious place to start.
There are several types of sectionals to choose from, including those that have a chaise, those that have one or two reclining seats, and modular sectionals. Of the three, modular sectionals are the most versatile and will work the best for your teen and their friends.
If you choose a sectional that is an L shape, you can use a loveseat to form a U with the furniture and complete the square shape with a couple of accent chairs.
When you choose a sectional with a curved instead of an angled corner, you can complete the circle with accent chairs.
Choosing a modular sectional may give you the ability to create a square, L-shaped, or U-shaped sectional as needed without any additional furniture at all.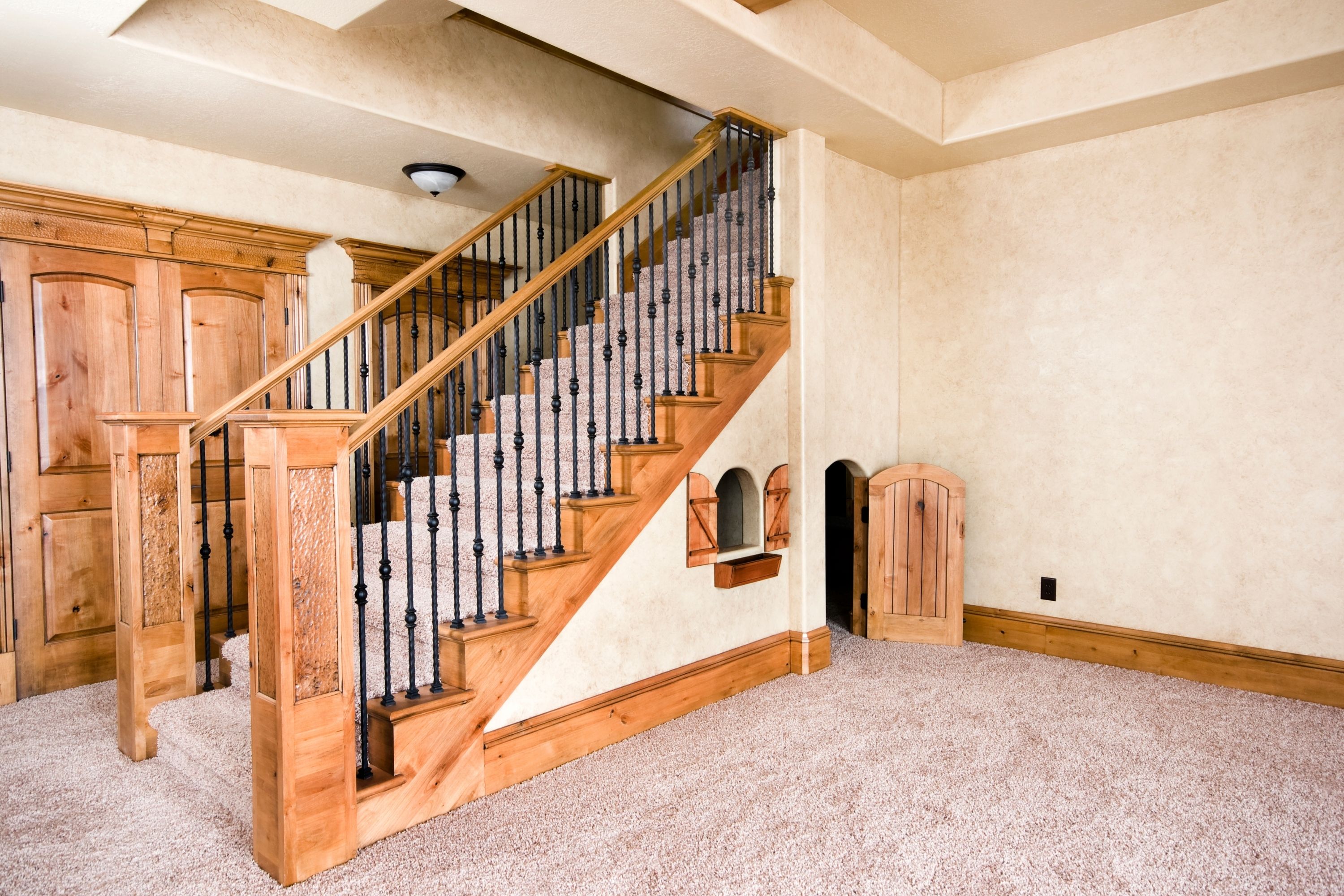 How to choose the right sectional couch for your basement
Picking the right sectional is about much more than style, color, and design. Buying a sectional isn't as easy as buying a regular sofa. For one thing, sectionals have much deeper seats, which means that they take up a lot more space than your average sofa.
This is space you need to consider because people still need to be able to move around the furniture.
Use your interior design plan to narrow your options to those you want most, then carefully check the dimensions. A common mistake is taking into account the length of each side but not the depth measurement of the seats.
This will almost always lead to having a sectional too big for the available space.
Once you have those measurements, create a pattern out of newspapers, paper bags, or discarded cardboard and lay it out where the sectional will need to go. This will ensure that you leave enough space to move around the furniture before making a purchase decision.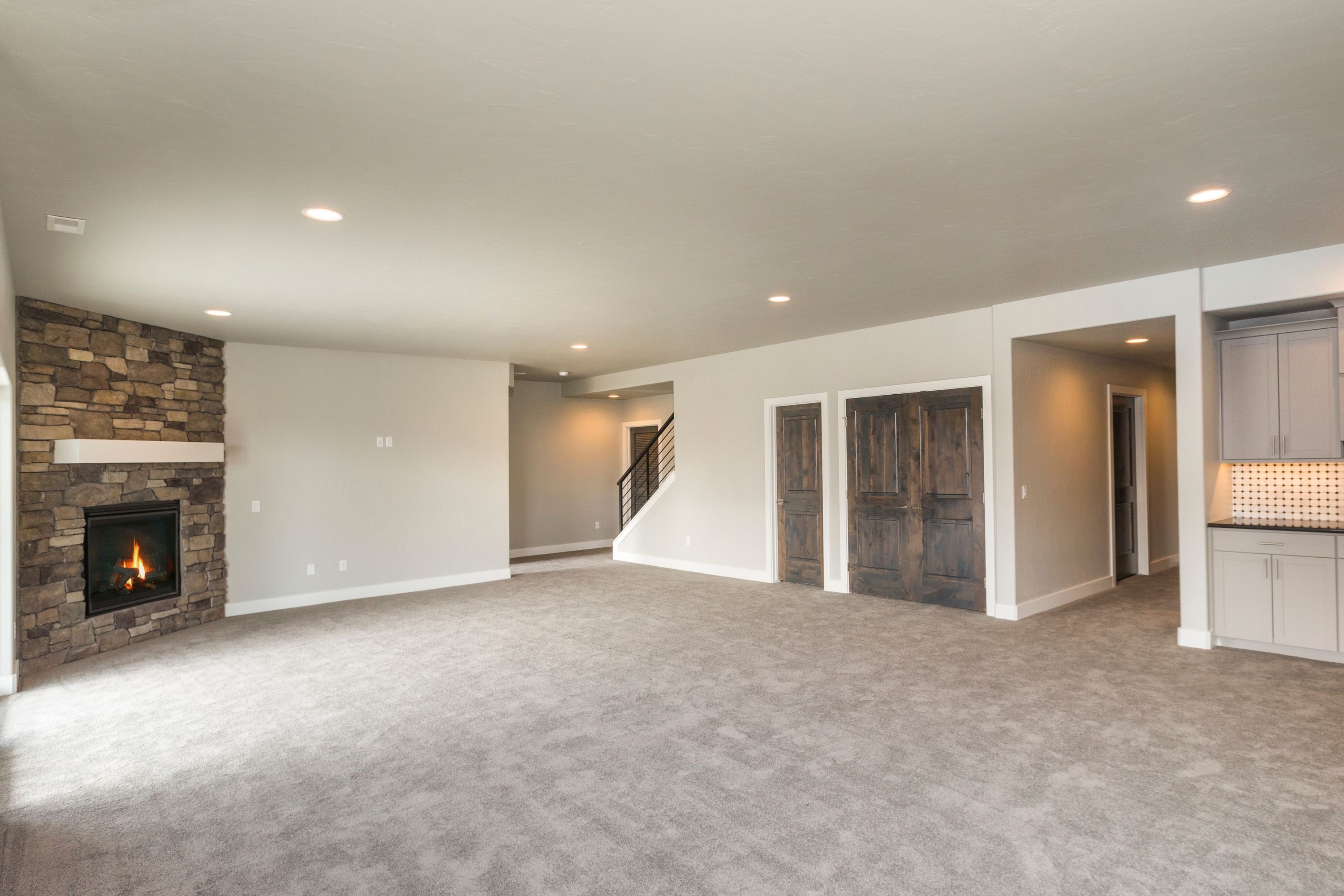 Buy furniture that will last
Putting any furniture, particularly a sectional, in a room that is to be used by rowdy teenagers is probably counted as a loss from the beginning. But if you want the couch to last at least as long as your teen lives at home, you should buy a new sectional over finding used furniture that will need to be replaced almost annually.
But buying new only gets you so far if you don't choose the right structure and materials.
There are two things that everyone knows children will do to furniture – plop down on it, break down the seats, and spill food, drinks, and who knows what else on the upholstery. Standard sectional sofas meant for the living room or sophisticated den aren't going to hold up against the carelessness of teens.
To make furniture last the full four years of your teen's high school education, you need to get furniture that can hold up to this abuse.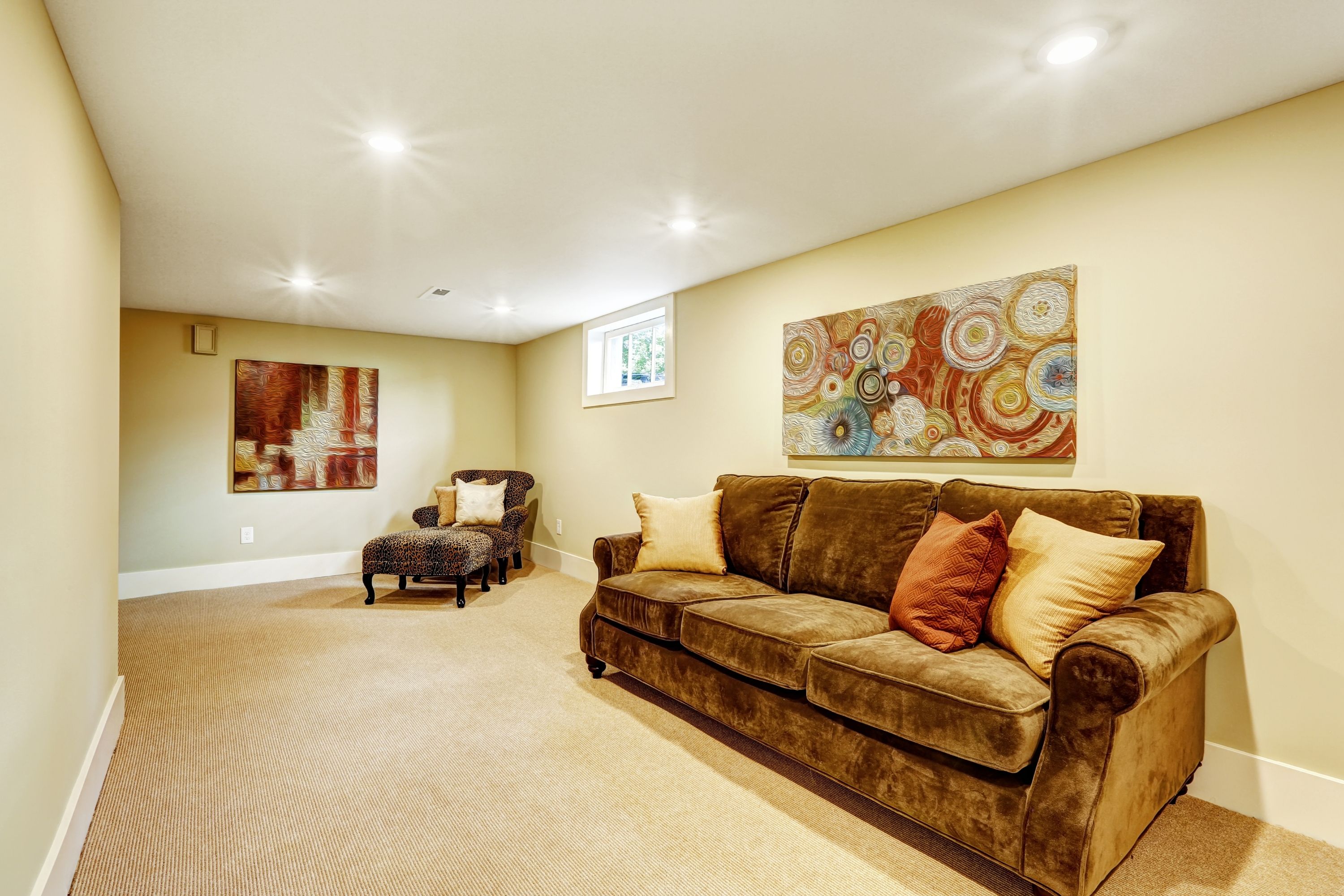 The best option for this is to choose outdoor furniture. This furniture is built on a frame that is designed to hold up to minor rainstorms, among other things.
Being resistant to water is an important distinction because even the most structurally sound basement can draw moisture on occasion.
Outdoor furniture is also made with upholstery that is water-resistant, which means they are also spill-resistant.
Buying your furniture new online will save you hundreds of dollars over your local brick and mortar furniture store while still providing your teen with durable furniture.
Look through your favorite online furniture retailer's catalog for more great ideas to decorate and furnish your teen's rec room.