Concrete has long ago become a worldwide-known and loved material for all sorts of flooring including floors in our garages, workrooms, basements, and driveways, as well.
It is durable and long-lasting, this is why so many property owners choose concrete when picking up a flooring material for their indoors and outdoors purposes.
However, since concrete is still rather porous, it can easily pick up grime and oily stains which means such flooring will sooner or later become dirty and will need a proper cleaning session.
How to clean concrete floors correctly to not make things only worse? Below you will find all the necessary details.
How to Clean Concrete Floor In Your Basement. Basic Instruction
There are several ways one can use to return the concrete basement flooring back to life and make it look fresh and tidy again.  Those will vary hanging upon what is the goal of the cleaning, but anyway, for a common tidy-up, you can always stick to a universal recipe.
To wash a concrete floor this way, you will need to prepare all the equipment first:
Vacuum cleaner
A soft-bristled broom
A string mop
A scrub brush
Some warm water and a bucket
Stiff nylon brush
Dishwashing product
A quarter cup of ammonia
Two ounces liquid whitening agent
Pulverizer
A piece of flagstone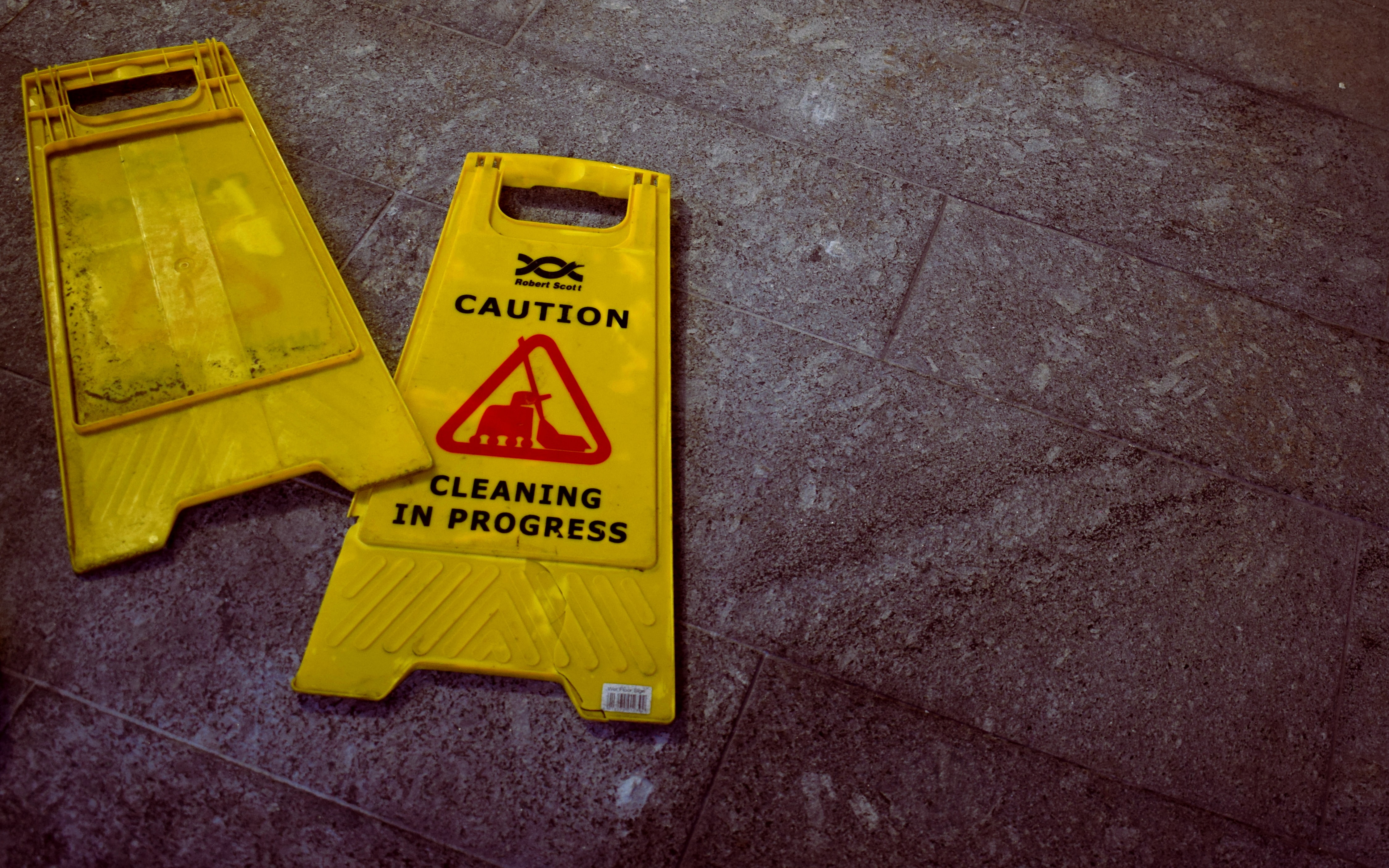 The procedure will consist of several steps
You will have to make the flooring clear.
Remove all the furniture or any other items that stand on the floor to make the area free of any objects.
Get rid of dirt, dust, and grime. A broom and a vacuum cleaner will help you out with that.
Start with the broom, paying special attention to the corners, and then, when all the flooring is clear, vacuum it (better using a commercial hoover since it's more powerful) to suck up any remaining pieces and debris.
Since concrete is porous, as we already said, it easily absorbs various stains and liquids. To get rid of those, mop the floor with ammonia, and scrub the especially stubborn stains with a nylon scrubbing brush. All the dirt, mildew, and mold will easily come out! Only make sure that the basement is properly ventilated before you start since ammonia is rather bad for our lungs.
To prepare that cleaning solution, mix together a few quarts of dishwashing product, a quarter cup of ammonia, and warm water stirring them all in the same basin until dissolved. 
How to clean a cement basement floor if you have noticed traces of fungus or rust?
Don't worry, for such occasions, we have a couple of tricks, too!
In case you spotted any fungal pieces, we recommend you try to treat them with a DIY bleach remedy to remove that off smell.
Simply take one quart of aqua and one or two ounces of household bleach, and blend them in a pulverizer by shaking the tank.
Such a solution will kill the smelly fungus, especially if you scrub it into the floor (and walls!) with a brush for better results.
After you are finished, simply wipe away the residue with a damp mop.
In case of rust "invasion", try to wet the damaged area first, and then treat it with a reasonable amount of acetum or a common freshly-squeezed lemon juice applying the remedy right onto the rusty marks.
The product must stay on the rusty zone for a minimum of twenty minutes to work properly. Only then you are allowed to start scrubbing the rusty areas of the concrete floor with a stiff brush moving in circles and rinsing them with water.
Another way to treat those rusty marks is to go for some dry cement and a flagstone. Simply sprinkle some cement over the rust, and rub that area with a stone you have to clean your basement floor from rust.
In case you have a layer of efflorescence on your cement flooring, dealing with it will be quite simple.
Since efflorescence is not something rare, and it usually appears when water gets through concrete and evaporates leaving that white powder behind, to get rid of it, scrub it off with a stiff brush, and that's it!
Anyway, if you don't feel like doing that alone, or if your basement is too large to deal with it on your own, you can always hire local professionals f.ex a house cleaning in Sydney, or some of your locals for cleaning concrete basement floor for you fast and thoroughly.
And of course, after cleaning concrete floors, remember to wipe them up with clean water to remove any soapy residue, and also dry them completely.
Other Remedies to Consider When Cleaning a Cement Basement Floor
Above, we have mentioned the best way to clean a concrete basement floor, as well as the most common remedies for that purpose. Nevertheless, there are a few more that can become handy for you just in case.
Baking soda is a surprisingly good basement floor cleaner!
If you mix it with a liquid dishwashing product in hot water and scrub that solution into the dirty marks on the cement floor, you will not recognize it after rinsing! Baking Soda truly makes miracles!
Trisodium Phosphate is also an option
This unpronounceable stuff is a compound that's not organic and has outstanding cleaning powers being highly soluble.
To use it for concrete floor cleaning, take one gallon of warm water, three ounces of this product, a wire brush, and a bucket. 
First, wet the floor with water, then loosen the grime by scrubbing the cement, and then rinse again. Only then it's time to pour the water-and-TSP solution right onto the dirty areas and scrub them away for good!
Dos And Don'ts When Cleaning Basement Floors
Cleaning the basement floor made of concrete may appear to be not that simple as it seems at first. And the owners of such floorings often make the same mistakes that lead to damages of their floors and their further renovation.
To skip that unwanted scenario, we recommend everyone take into consideration the major restrictions regarding the cleaning of a basement concrete floor.
Do clean it! It's a huge mistake that people do so often when they decide that cement flooring needs no cleaning at all! Cement absorbs liquids and grime easily, so your basement floor will soon need your attention, a lot of it!
Avoid using common floor-cleaning remedies. Stick to the pH-neutral products first of all since harsh ones will reduce the durability of the flooring material.
Clean up all the spills immediately to avoid the stubborn and deep stains appearing and sit in.
With these few tips, your basement floor will remain clean way longer.
Frequently Asked Questions
⭐How to clean a concrete basement floor before painting?
Remove all the furniture, sweep the floor, scrub it with a heavy brush, apply a degreasing product, and finally, scrub the floor with a mix of detergent and water. Mop again with only clean water, and let it dry. If needed, repair all the cracks and other minor imperfections.
⭐How to clean a concrete basement floor after a flood?
After the water is gone and the mud is removed, you need to dry the basement first to prevent mold from growing. After that, to delete odors, mop the floor and walls with a bleach solution, then rinse and dry after 5 minutes. For cleaning, use any method you know that suits cement floors.
⭐How to clean a dusty concrete basement floor?
You can either sweep it or vacuum.