If we go to the store and find an aisle with the cleaning products, we will see dozens of different bottles for any cleaning chore that can only be imagined. But how often do we think about those chemicals' safety? 
Even so-called organic and "green" cleaning products don't always contain safe components, not saying about ordinary liquids and powders.
So how do we protect ourselves and our family from toxic vapors?
In this article, we will suggest several handy ideas for the most frequently used room – our bathrooms.
Why Is It Essential to Clean Bathroom Safely?
The bathroom is one of the most frequently used rooms in our homes after the kitchen and toilet. And since our skin is in close contact with most of its surfaces, keeping them clean is a must.
But what happens if we clean our bathtub or bathroom floor, or even a shower cabin with the ordinary chemical cleaners? You might not know but these products tend to leave an extremely thin and invisible residue even if we rinse everything thoroughly. And if our skin is in constant contact with that chemical "film", the effect can be quite unpleasant, from skin irritations and allergic reactions to really bad reactions.
Those who have sensitive skin or any skin illnesses are extremely predisposed to getting irritation, but even if you have any cuts or something like that, letting chemicals get in contact with those is not the best idea.
Even professional cleaning companies going to natural cleaners and DIY-made stuff even for commercial spaces.
Families with babies and little children are a separate category to be concerned about bathroom cleanness since kids tend to be everywhere and drag all they find (including their hands) right to their mouth. 
What to do, you may ask? The answer is simple: clean safe!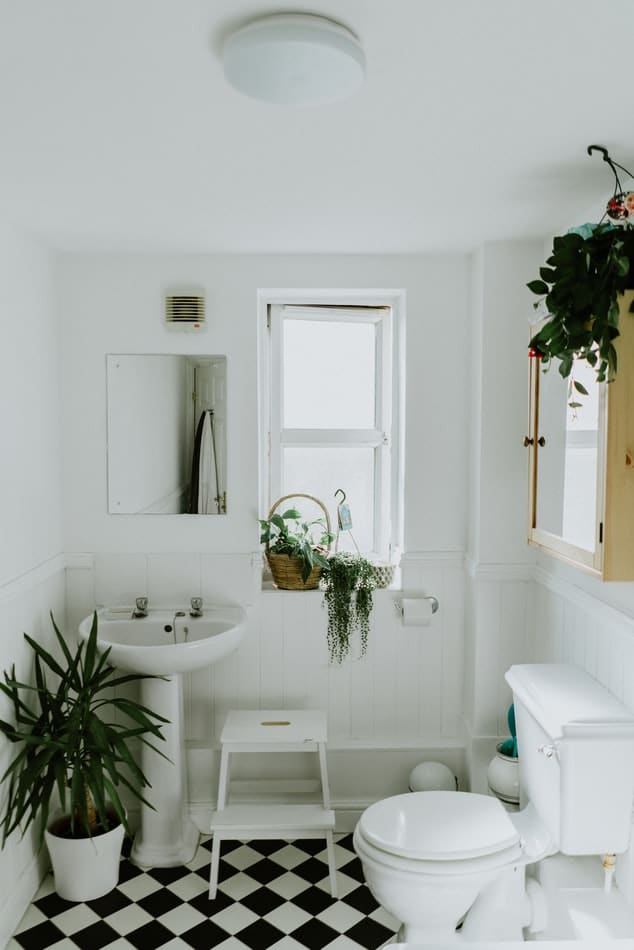 Harmless Substitutes For the Basic Bathroom Cleaning Products
To help you better figure out what to use for cleaning, let's move through the checklist of the bathroom items that we usually clean.
Forget about bleach once and for all since a safer product exists. To prepare it, mix ½ cup acetum and a spoonful of baking soda. Pour this blend into the toilet bowl and leave for nearly thirty minutes prior to you start scrubbing it. Repeat this procedure weekly to have a constant result.
The effect will be the same as from the bleach and your toilet will be white, spotless, and shiny. Proper disinfection is included.
Instead of chemical scrub, blend together baking soda and all-natural dish soap. This mixture will get rid of any scum, rust, and marks from hard water. Use it for both shower doors (if you have a shower cabin), tile, and a tub itself.
Bathroom Deep Cleaning Routine! ALL NATURAL + DIY CLEANING PRODUCTS! | Justine Marie
For deleting buildup from the corners, pulverize the problem spots with ordinary acetum and wait until it's dry. Then pulverize once more and wipe out. Like that, you will both delete the moldy marks and will also sanitize your shower and kill bacteria.
To get a stable result, pulverize the shower daily.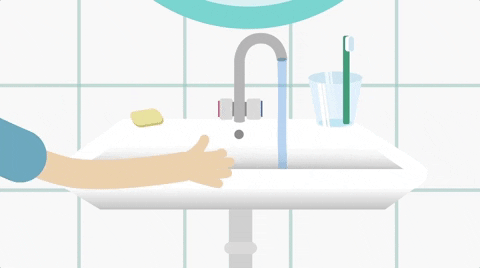 The sink is often way less dirty so you won't need any strong cleaning products. To prepare a gentle but effective cleaning spray, mix together two cups of baking soda, ½ cup of natural dish soap, ½ cup of acetum, and 200 ml water. To clean chrome fixtures, try to use your toothpaste – it will make wonders!
If it's not badly dirty, simply pulverize it with water and wipe with a lint-free cloth. For the more complicated cases, blend equal parts of water and white acetum, and pulverize the mirror. 
These get dirty and grimy really fast! To keep those mats clean, avoid leaving them wet on the floor – always hang-dry them after each use! 
But if you need to clean them, sprinkle the bathroom rugs with baking soda and vacuum it up after half an hour or longer if the rug is very dirty.
| Chemical product | Natural substitute |
| --- | --- |
| Bleach | Acetum and baking soda blend |
| Mirror/glass spray | Water and acetum blend |
| Scrubbing powder | Baking soda and natural dish soap mix |
| Sink cleaning product | A blend of dish soap, baking soda, acetum, and water |
These simple cleaning hints will let you keep the bathroom shiny, disinfected, clean, and safe longer.
Clean smart!
Frequently Asked Questions
⭐ What can I use instead of a toilet bowl cleaner?
A mix of baking soda and white vinegar will be a perfect replacement since it has the same whitening and disinfecting effect.
⭐ Is vinegar good for cleaning bathrooms?
It is, however, due to its acidity, note that this product must not be used on delicate surfaces like marble, etc.
⭐ What can you not clean with vinegar?
Since vinegar is an acid, it is harmful to marble, granite, stone floor tiles, hardwood surfaces, iron items, etc.
⭐ What do professionals use to clean grout?
For better results, many professional cleaners use a vapor cleaner.
⭐ Does vinegar kill germs in the bathroom?
Yes, acetum works as a disinfectant.