If you are moving to your own house or you are the owner of a large apartment, then you probably thought about your teenage girl bathroom.
In any case, several creative ideas that we presented may well serve as a source of inspiration for a new or transformed bathroom for your teen girl.
It is especially important to arrange the interior in a way to develop a sense of good taste in the girl.
If there is enough space in your house to equip a separate teen bathroom, your daughter will appreciate it a lot. Moreover, it will encourage a sense of independence in the girl.
Great Girls Bathroom Ideas
Girls bathrooms, unlike other rooms in the house, should not be "afraid" of the variety of bright and pure colors and expressive decor. Being in this functional zone, children should experience only positive, and enthusiastic emotions. After all, the regular procedure of brushing teeth and bathing is not the only activity of the girls. They always use their bathroom as a part of a fun game.
A teen girl bathroom should be equipped in accordance with her preferences and interests by age. Psychologists recommend the use of all shades of pink color which is so much liked by girls. They should feel like princesses surrounded by fairy-tale characters.
Besides, the emphasis can be made on the characters of a certain animated film. You will find plenty of stickers with the heroes of popular cartoons. There are also a lot of other thematic accessories for the teen girls bathrooms: in the form of shells, starfish, and the like.
If the bathroom is going to serve the child for several years, then you can try to make the room not only bright but practical. This is facilitated by the acquisition of appropriate furniture for the bathroom, the arrangement of flowers in pots. The painting of walls and wallpapers can always be changed. Though, when choosing furniture, it is better to opt for neutral colors.
Pink Girls Bathrooms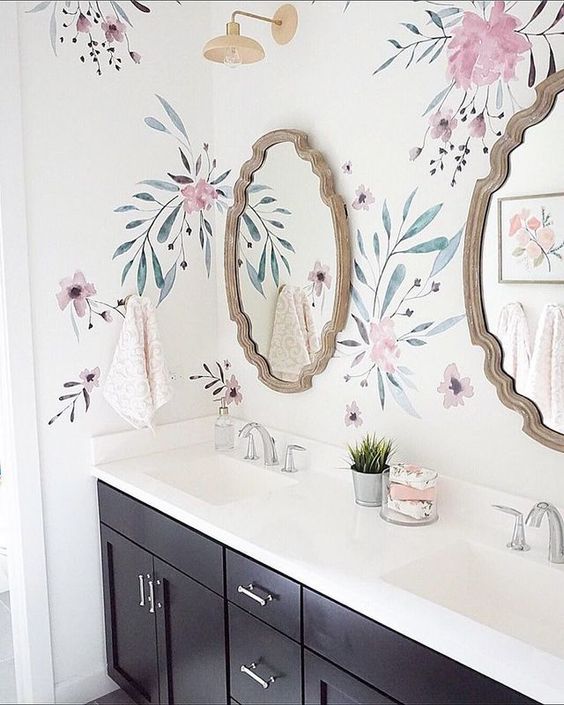 In what color would you like to design your bathroom?
In any, but not in pink
32%
This color is traditionally considered exclusively female. And you can create a cozy interior with the right shades and color combinations. Psychologists believe that the pink color relaxes the nervous system, which improves sleep, appetite, skin condition and overall well-being.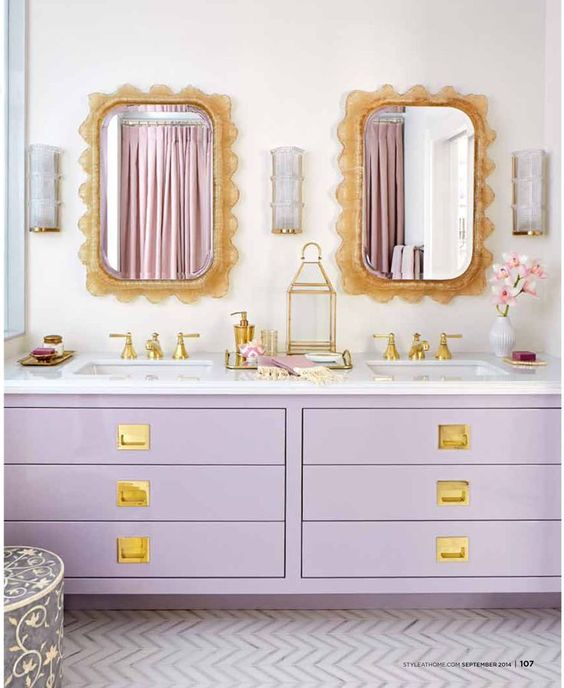 This palette has a positive effect on the work of the endocrine system, hearing organs and eyesight. It is believed that pink elements in the interior will help get rid of headaches and chronic fatigue.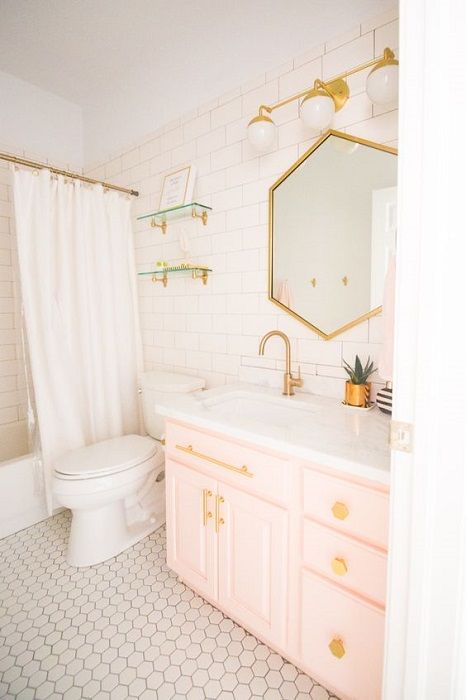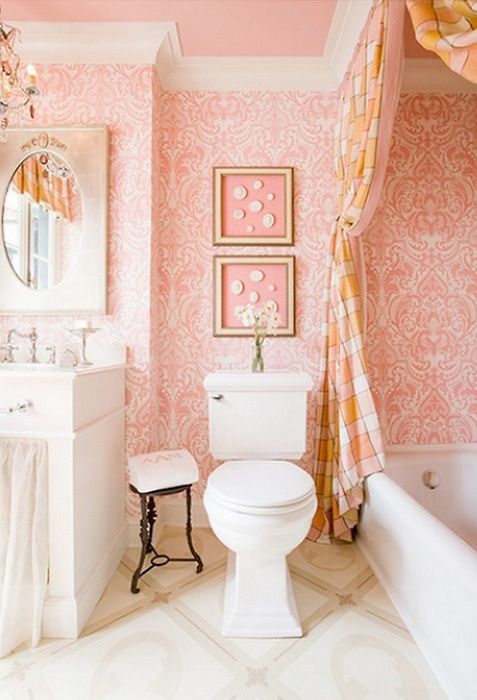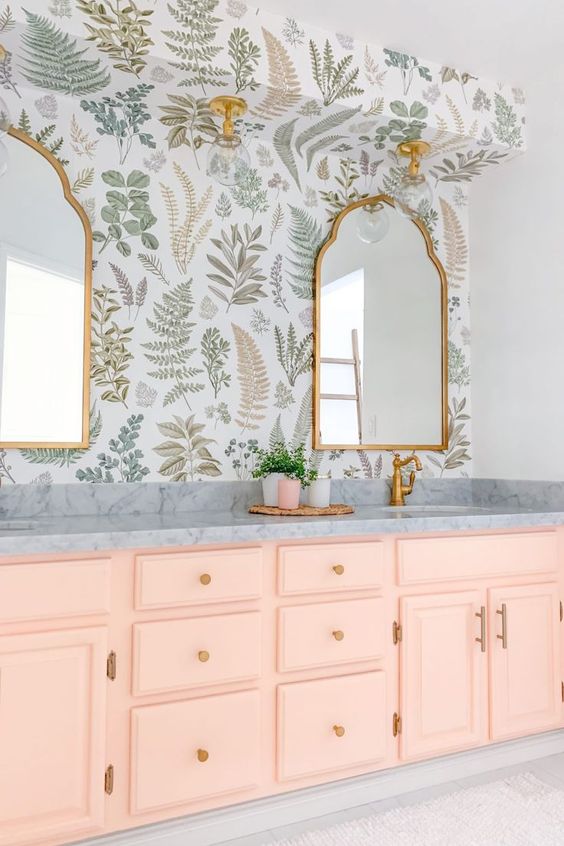 Before choosing tiles and plumbing, you need to determine the color of the walls, floor, and ceiling. If you decide to design the entire room in pink, note that pink color can be combined with the shades of gray, blue, cyan, silver and white.
The pink color is a great solution for a teen bath room. But with competent design, delicate shades will harmoniously fit into bathrooms with concepts in the spirit of minimalism, high-tech, and classic.
Hints for Making Teen Bathroom Practical and Safe
Teenage girls bathroom can be of various shapes and sizes. A well-thought-out design makes the bathroom safe and practical.  Good planning will help you settle a bathroom that corresponds to the lifestyle of your child.
Which mirror is in your bathroom?
Wall-mounted mirror
59.4%
Combined mirror with a shelf
10.4%
You should remember about the main elements of the interior of a teen bathroom:
      Washbasins with stands to make it comfortable to place your feet;
      Shower and taps equipped with a device that controls the temperature of the water;
      Illuminated Switches;
      Non-slip rubber bath mats;
      Countertop sinks easy to clean;
      Anti-slip surfaces: for floors and shower enclosures;
      Rounded corners of washbasins and cabinet doors;
      Additional floor drain in case of bath overflow.
These small hints help make a young girls bathroom safe.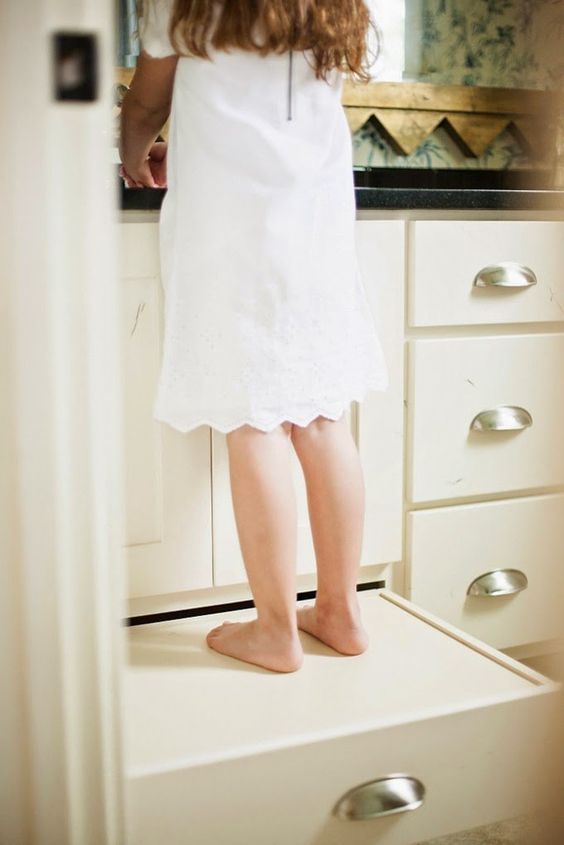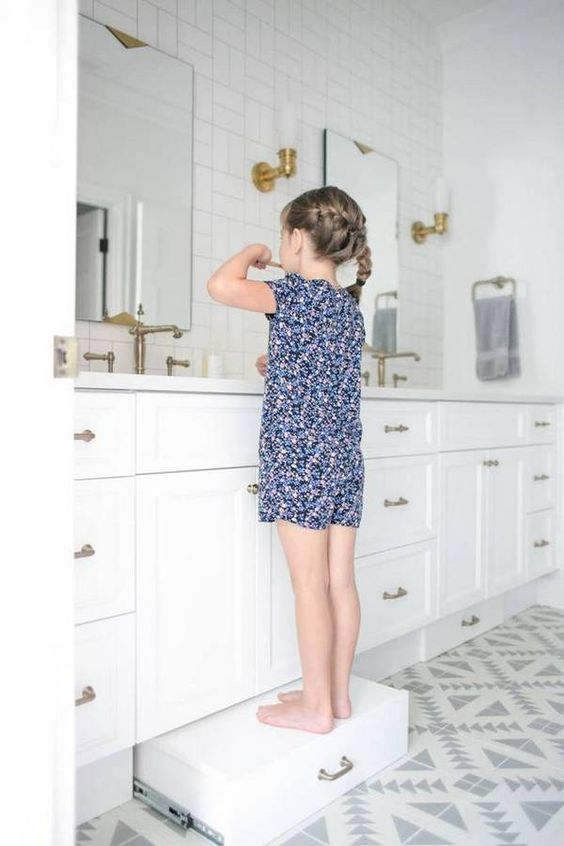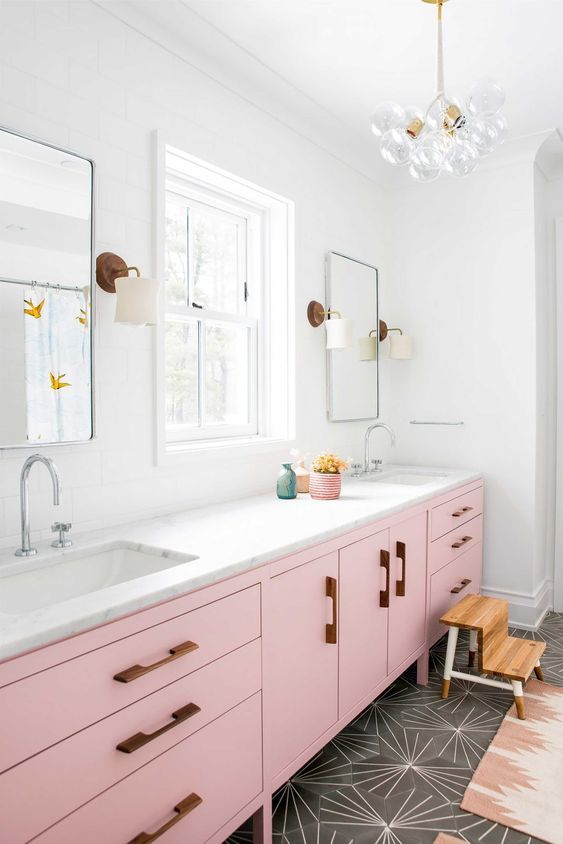 Teen Bathroom Decor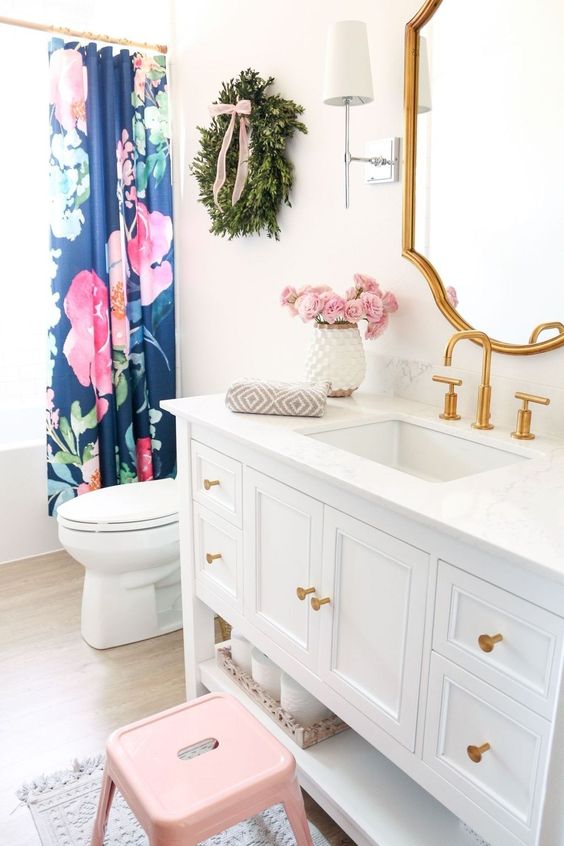 Bathroom accessories are nice and practical things without which the bathroom would seem useless and cozy. There are no boundaries for teenage bathroom sets design and material. They can be contrasting, multicolored, monochrome, large, small, glass, metal, ceramic.
There are many items for bath decoration.
These are toothbrushes, soap dishes, liquid soap dispensers, a bath broom, sponges or headrests, bouquets of dried flowers, candles. Properly selected accessories make the bathroom's space more comfortable and intimate. Girls bathroom ideas are limitless. And with little effort, you can
Types of Teen Bathroom Decoration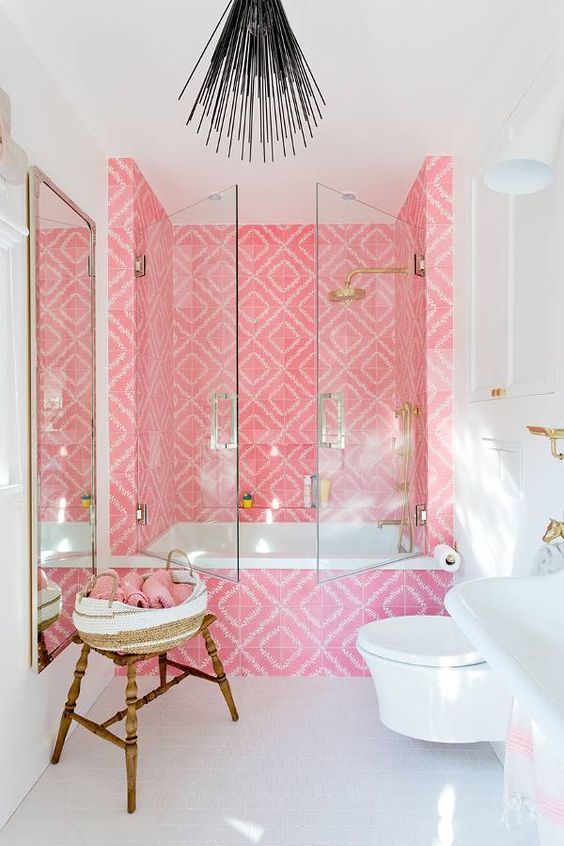 Roughly we may group the elements for the bathroom as follows:
      Shower accessories are all sorts of shelves, supports, anti-slip rugs, dispensers for gels and soaps, sponges, headrests. Choose bright colors for girls bathrooms.
      Toilet area accessories include a variety of ruffles, supports for hygiene products, buckets.
      Desktop teen bathroom sets are laid out on countertops, consoles, washbasins and include a few accessories: a soapbox, a liquid soap dispenser, a glass for toothbrushes and cosmetics.
      Wall collections usually have the largest number of elements that can be attached to the walls of the teenage girls bathroom. These are holders of towels and paper, various shelves, hooks, soapboxes.
      Bathroom textiles are bath and shower blinds, fabric rugs. In this area, the imagination of designers is limitless. The market offers a great variety of colors and textures that will make any teen bathroom unique.
Mirror for Girls Bathroom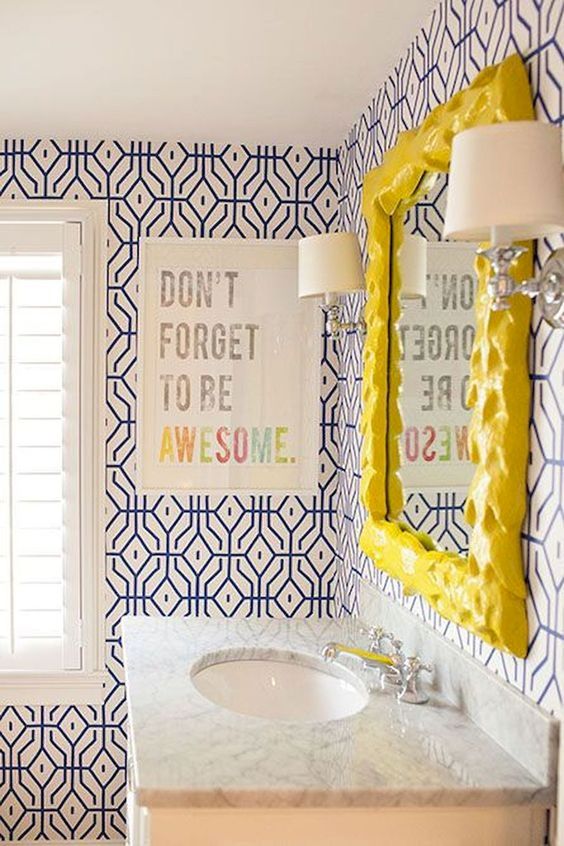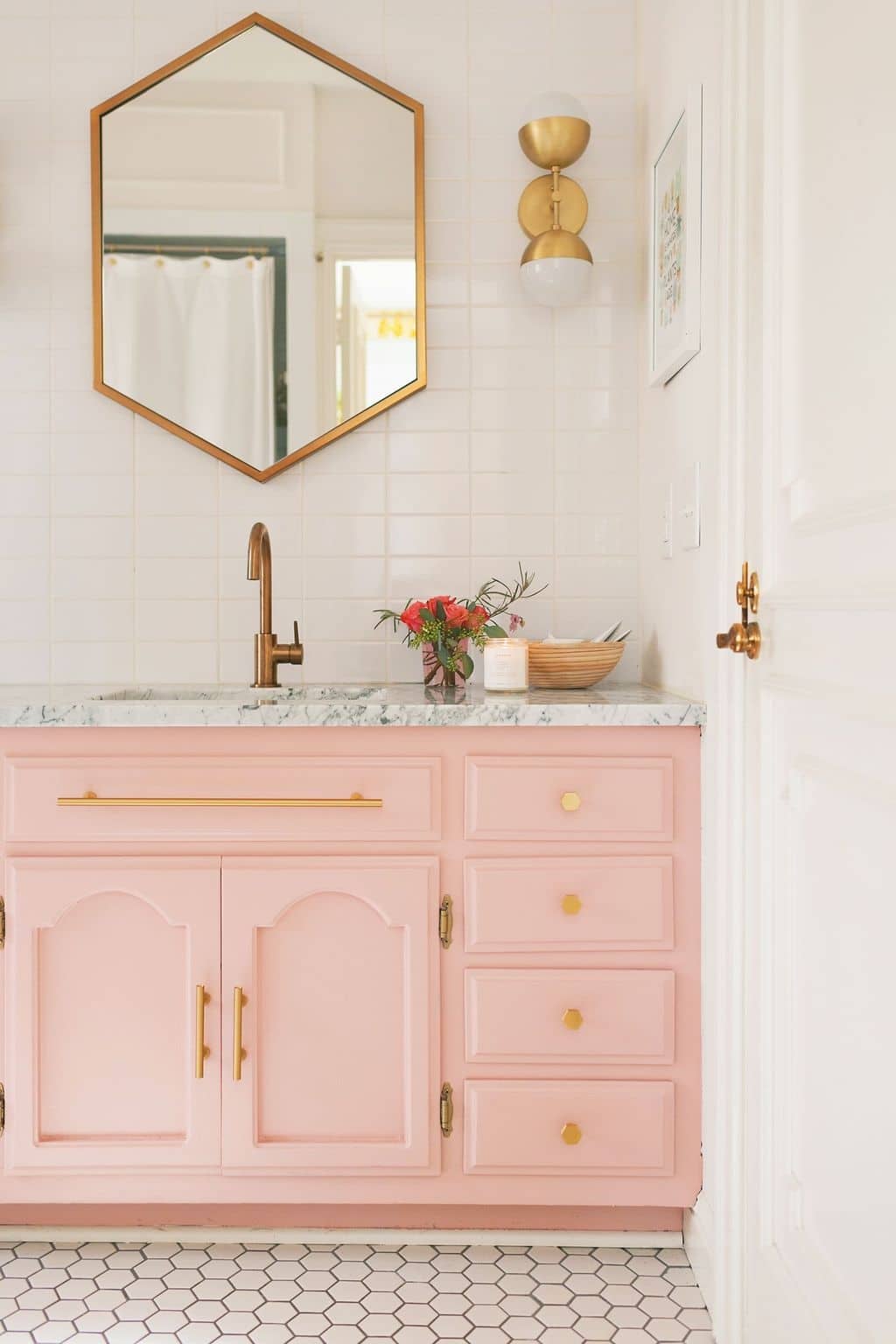 A mirror is an essential element in every bathroom. The range of mirrors of various shapes, types, and sizes is impressive. By type, you can choose:
      wall-mounted mirrors. They are hung on the wall and can be with or without a frame;
      combined mirrors with a shelf for bath accessories. Usually, it is a very practical solution;
      built-in mirrors. These mirrors are mounted on the wall;
      cosmetic mirrors. They can change the angle of inclination and are equipped with a zone of increased reflection. It is an indispensable accessory for makeup.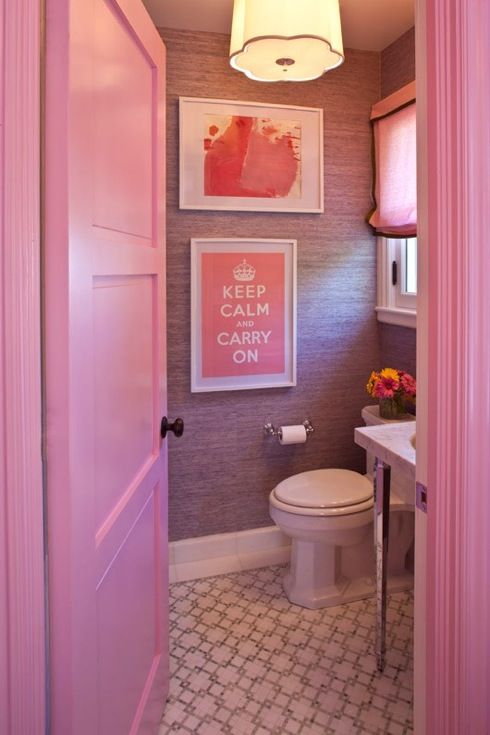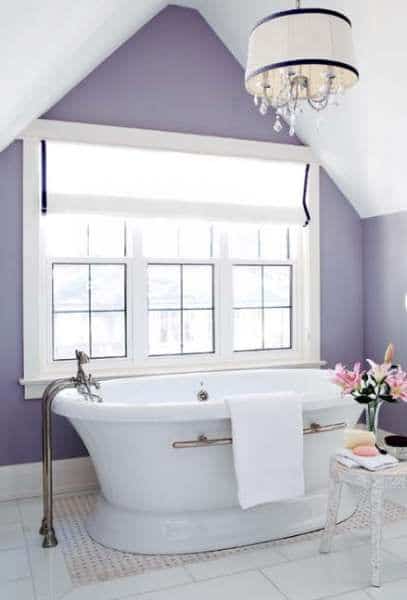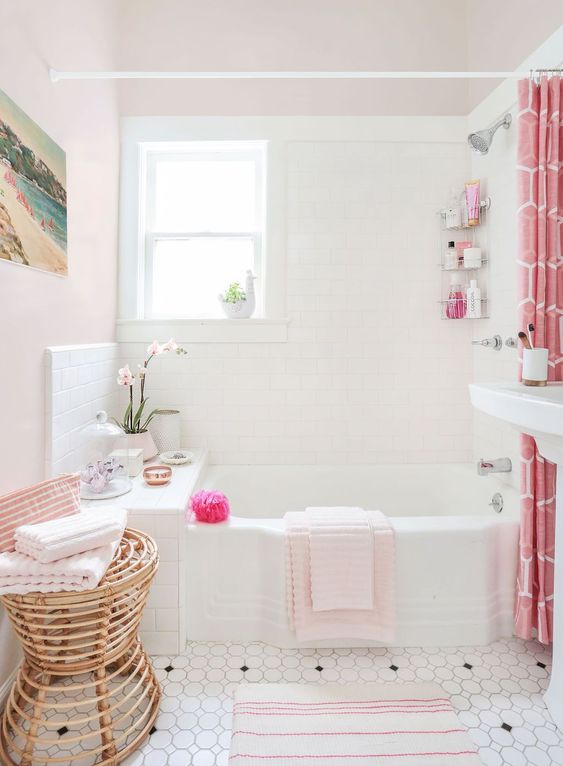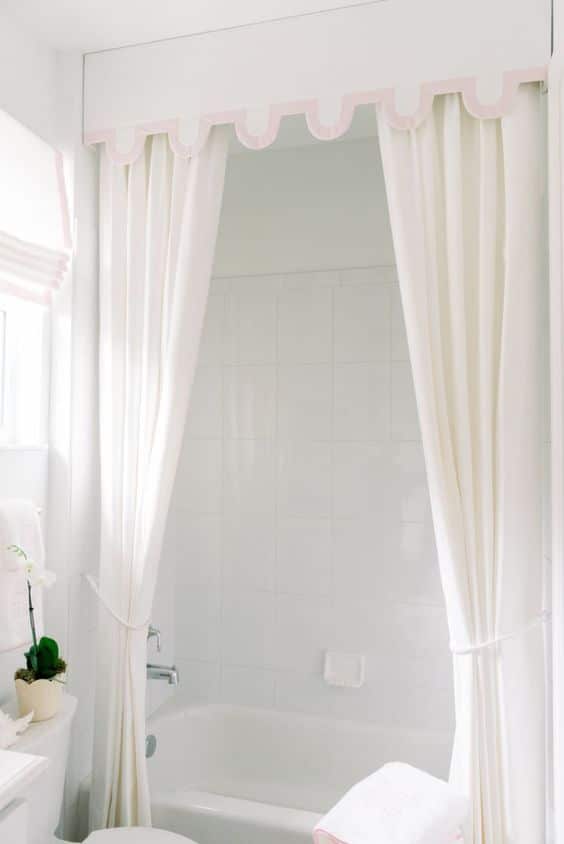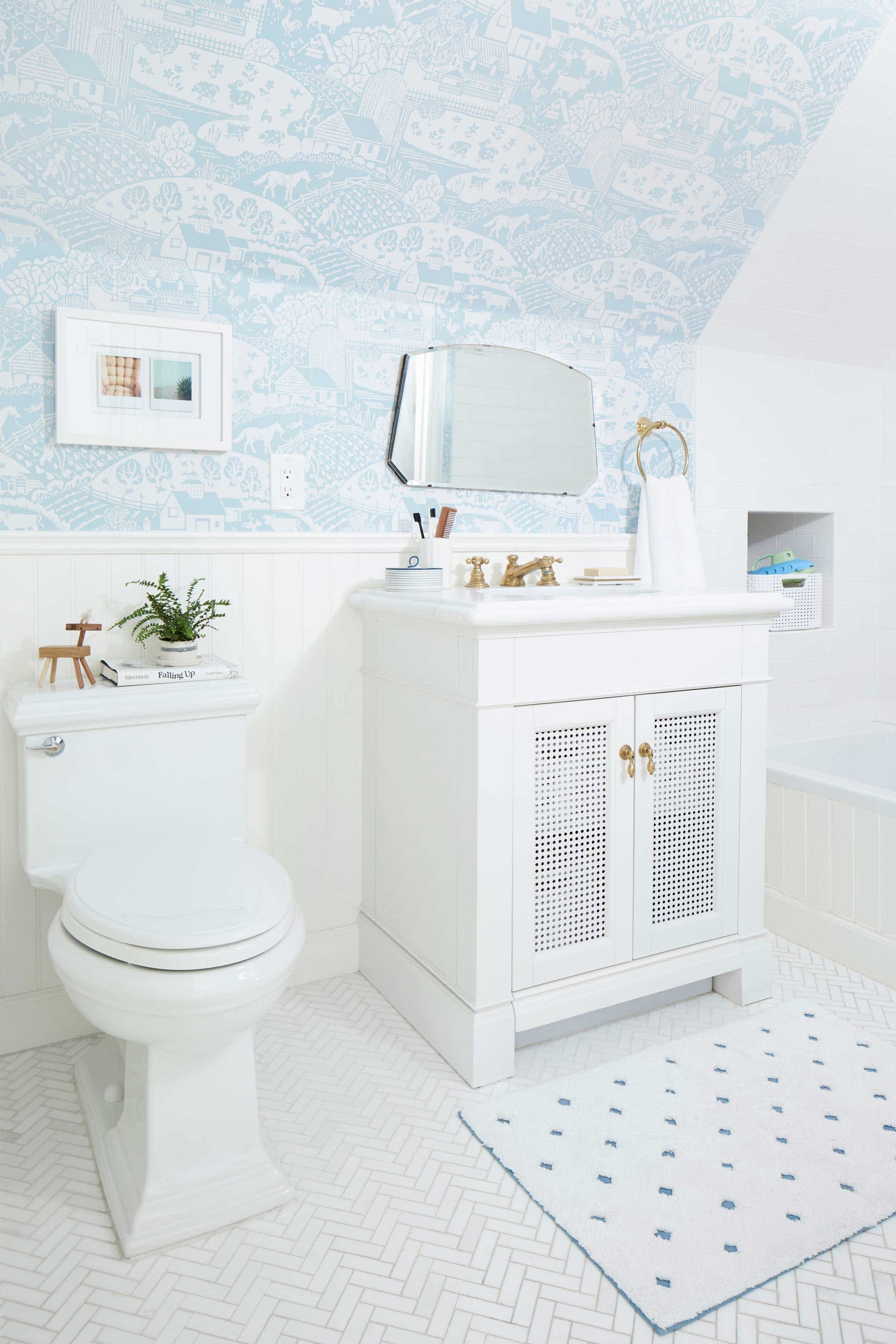 Traditionally, a mirror is placed over the washbasin, but you may experiment. The mirrors look great in any place of the teen girl bathroom. Also, a simple rule says not to use a large mirror in a small room, but you may choose a full-height mirror for a large bathroom.
It should also be remembered that reflecting in a mirror should not spoil the entire bathroom. Consider a shaped or patterned mirror, it will give a bathroom a unique and original appearance.
The bathroom is a room where girls spend a lot of time. It should be not only functional and practical but also beautiful. Therefore, treat this task responsibly, and your daughter will adore her teen bathroom.