If you think how long does it take to color hair your hair at home, or in the salon, the timing of procedure may vary. 
Sometimes slightly, and sometimes significantly. 
Of course, the time depends on the technique and stages of work, as well as in the level of the hairdresser.
How long does it take to dye hair at the salon?
We will tell you about the time that you need to take into account when you make the hair cut and dyeing your hair at the beauty salon: how to correctly calculate the time of the procedures, how long does it take to cut and color hair and why it is better to set aside for hair dyeing from 4 hours. Also you should avoid common dyeing mistakes
How long does haircut take?
The haircuts itself take the minimum time. So, a haircut with a hair clipper for short hair under two nozzles will take no more than 30 minutes, and a model haircut with scissors will take an hour. 
Plus, add (or reduce?) The time for washing your hair. 
High-class hairdressers know that head washing sometimes takes up to 15 minutes: during this time, the master manages to foam the shampoo two times, make a light massage of the head to better hair rinsing, and apply the hair conditioner. 
Thus, if you wear a short haircut, you must leave:
The longer the hair and the harder the haircut, the longer it should take. You are not in a hurry but in the chair of a professional. 
The worse and quick work is done, the less you can wear it.
An inaccurate haircut makes the hair-thin, and after two weeks, they look sloppy and again requiring correction.
A well-made haircut for the long-hair owner can be worn up to 3 months, and very short – up to one month.
Please note: your hairdresser should not be distracted, and not in a rush.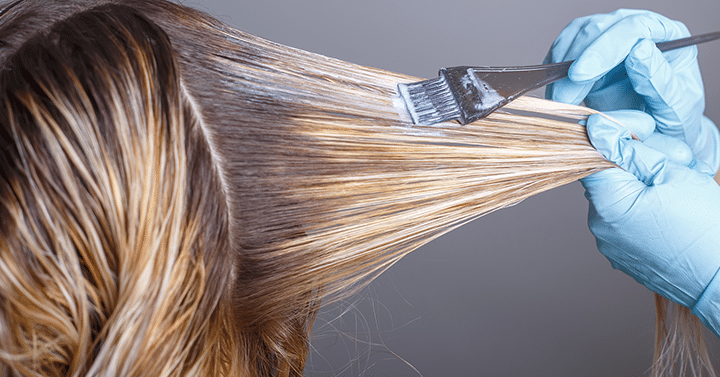 How long does it take to dye hair?
The timing depends on your hair condition and the desired result. It will take longer if you need bleaching and some complex coloring with foiling techniques for example.
The single color process takes less time.
The time of the coloring may be from 40 minutes with some ammonia-free color tone to 3-4 of hours if you want to look like a rainbow-colored unicorn.
Related: What Happens If You Put Too Much Developer In Hair Dye?
Furthermore.
Application of hair dye, time for exposure, shampooing, restoring care… Are you counting?
And if the roots need separate staining?
Plus an hour.
Make sure that the hairdresser does not, in any case, apply two different compositions to the roots and length. In this case, it may form at the place of their "merger," which will need to be corrected by additional procedures, time, and money. 
So do not allow yourself to save a single minute, even if you are assured that they always do this.
There are rules and techniques for coloring hair, and if their violation threatens you with problems, start to compliance with them, and if that doesn't help, run away.
Additional time for hair care procedures before or after hair dying in various promms is from 15 to 25 minutes.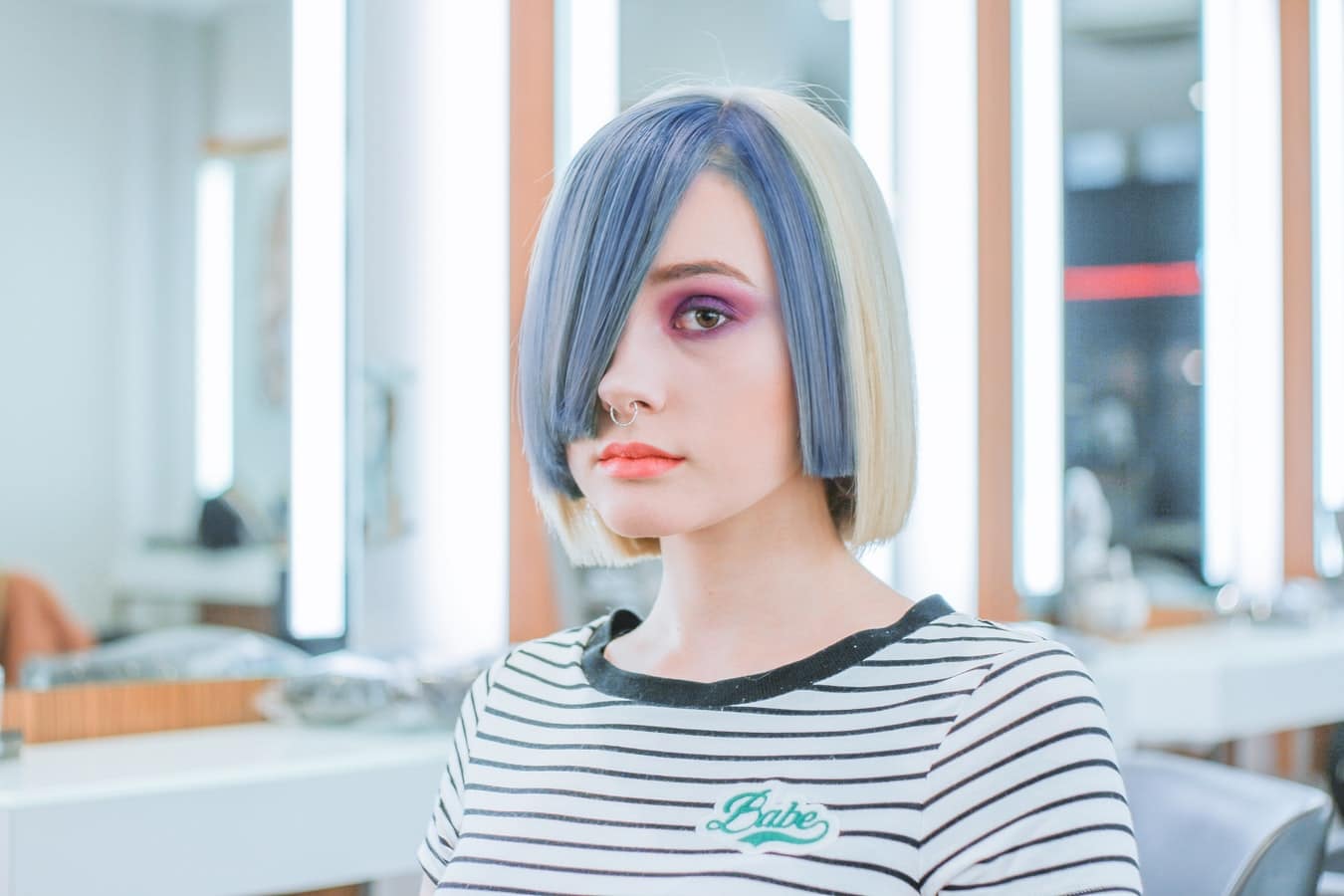 And how long does it take to get your hair dyed?
Haircuts (shampooing, massage, styling) from 60 to 120 minutes.
Hair coloring (shampooing, massage, dyeing, final care) depends on the type of dye permanent, semi permanent or ordinary from 3 hours or more.
"Hard" dying (this includes dyeing of the roots and tinting of the length or staining including highlighting) of 4 hours or more.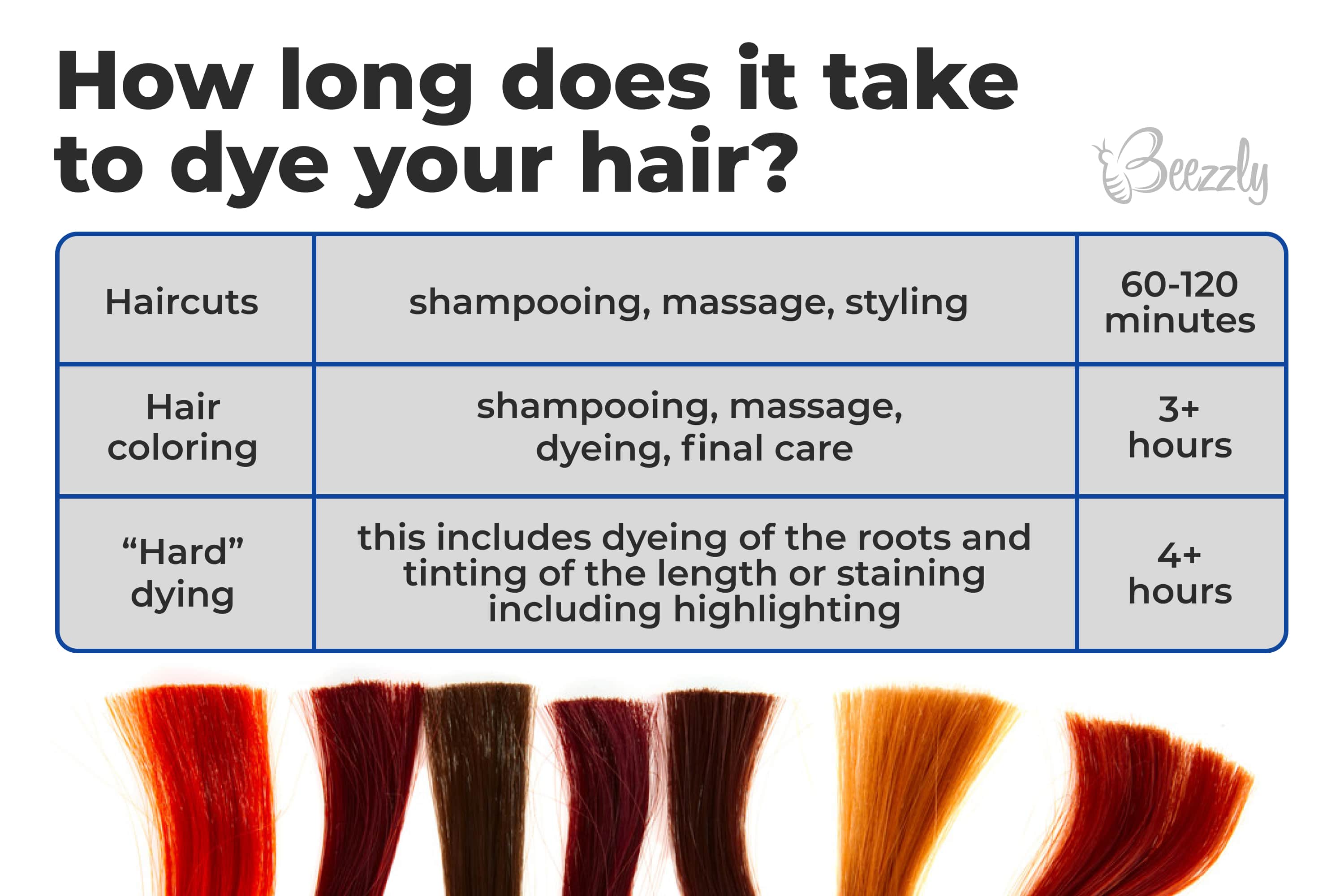 How long does hair color last?
We Tested At-Home Hair Dyes To See How Long They Last
What to do before dying hair at salon?
Dyeing is a stressful treatment and it is better to prepare the hair for it properly.
Here is what you can do to make the process easier:
Moisturize your hair deeply 1-2 days before the dyeing
Do not wash your hair before the coloring 
Trim your hair
Use a conditioner after coloring made especially for colored hair
Try not to use a hairdryer for a couple of days
Follow the aftercare recommendations to keep the color bright as long as possible
How long does it take to color hair at home?
Dyeing the hair by your self is not a complicated deal. 
The main thing is to apply the hair dye evenly throughout the hair.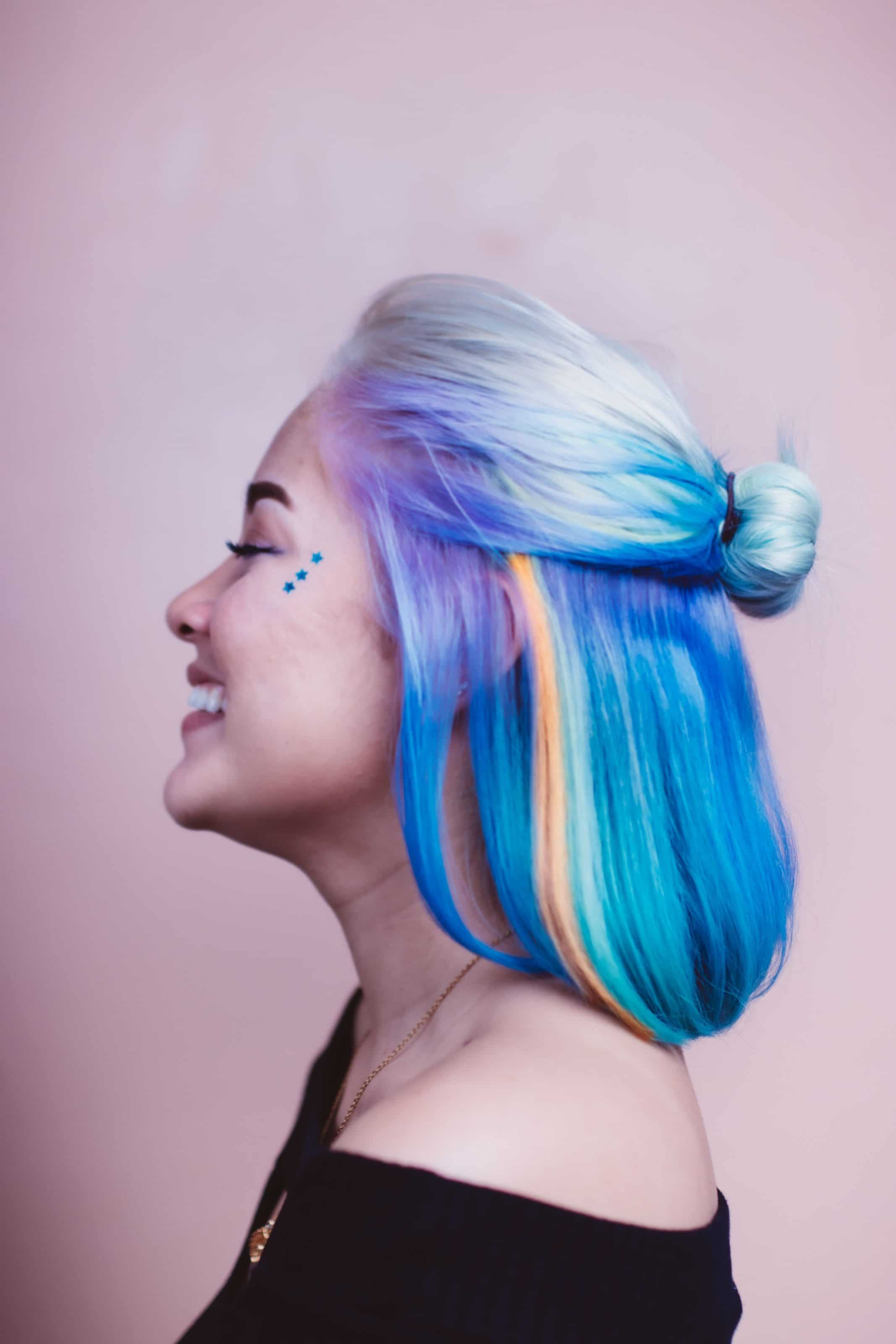 Step by Step Instructions
Mix chosen hair dye color and oxidizer in a plastic or glass bowl. 
Stir with a wooden stick or special brush that goes with the hair dye. 
Do not use metal utensils or a spoon. When the hair dye is mixed, its chemical components can react with the components of the dye.
You will not get the expected result from painting and damage the strands and scalp when you use metal utensils.
Cover the skin near the hair, the ears and the area behind them, as well as the neck, with greasy cream, so that the hair dye does not absorb into it.
If you get dirty in the process, immediately remove the leftovers with makeup remover.
Wear gloves to prevent your hands from touching the chemical.
Divide the hair into two parts if the hairs are short or into four zones if long. Stab them with clamps.
Apply hair dye with a brush along with the roots, starting from the back of the head.
Cover the entire hair dye along the entire hair length of the curl, dividing the selected part of the hair into smaller locks with a comb or fingers.
How to Dye Hair at Home (Coloring Tips & Tricks)
Comb your hair to distribute the dye evenly.
Do not wear a plastic cap. Curls should "breathe" so that the chemical ingredients do not damage their structure.
Rinse your hair with warm water after 20-30 minutes. Rinse off the hair dye thoroughly.
Apply conditioner balm that comes with paint or any other. After 3-5 minutes, wash your hair with shampoo and dry with a towel.
Related: How to get hair dye off the sink   
How long does it take to bleach hair?
Bleaching is important to prepare the hair for coloring and to remove the color from hair.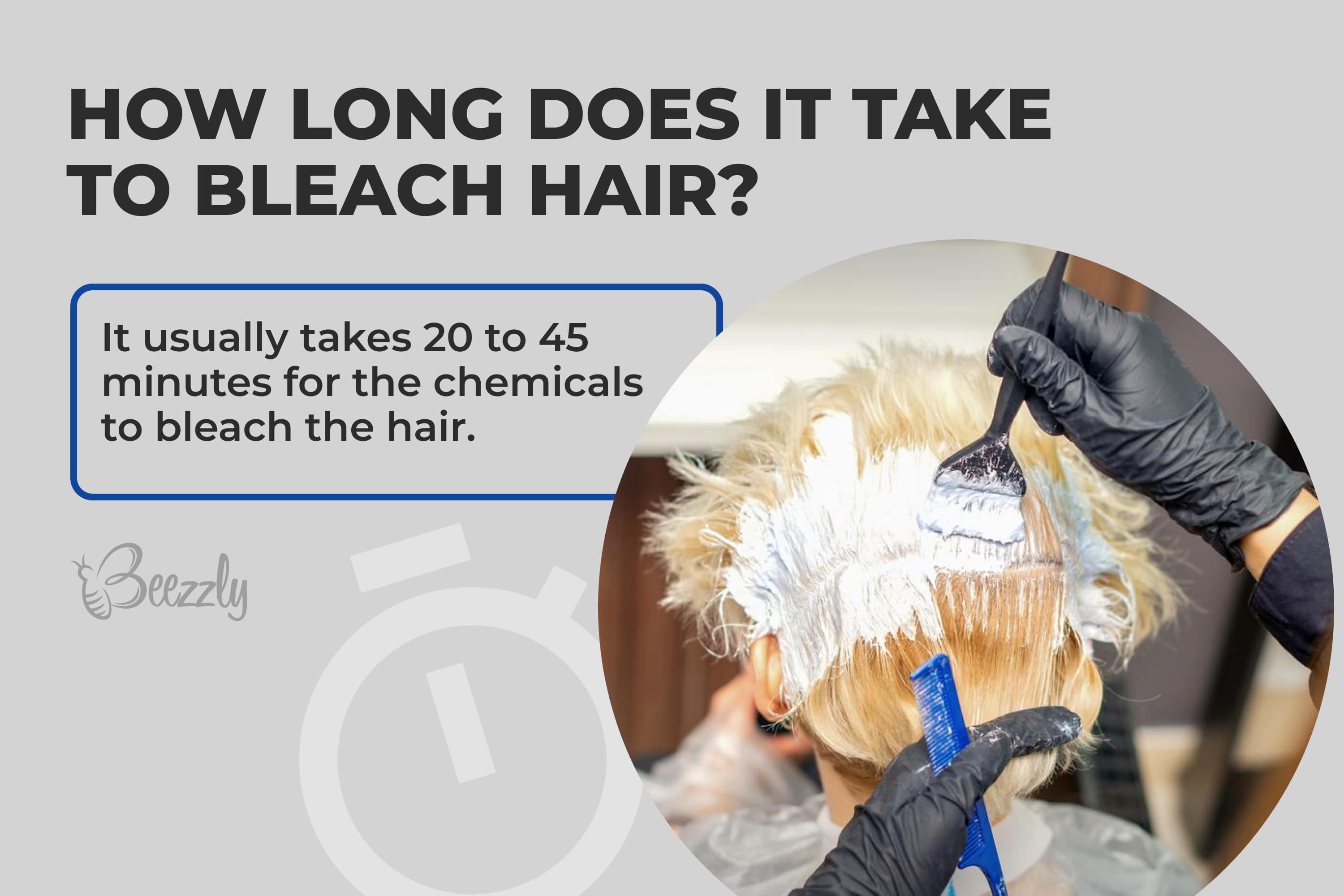 The time of the process may depend on the product you use and on your hair color, volume, and condition. However, it usually takes from 20 to 45 minutes for the chemicals to bleach your hair. Be careful when doing the procedure at home because leaving the bleach for too long may damage your hair and scalp.
Check the hair in the mirror during the process to know when to rinse the bleach.
Don't leave the solution on the hair longer than it is mentioned in the instruction!
Bleaching in some cases may take several sits so if you leave the bleach for too long you will only damage the hair. 
Frequently Asked Questions When Coloring Your Hair
Dying your hair seems so easy! Nevertheless, there are pretty many hidden tricks and traps about it that every lady shall know to avoid ending up with a disaster on her head.
Will Permanent Hair Color Fade?
No matter whether you are using top-quality hair color or something from the mass market, the shade will sooner or later need to be refreshed anyway. The only difference is that the permanent one will last much longer.
The reason is simple and obvious: we have to wash our hair pretty often, besides, many of us girls apply different hairstyling equipment like a hairdryer or a hair iron. All these manipulations cause the dye to fade away anyway.
Among the other reasons you can find a poor state of hair, wrong coloring process (too fast or not thorough enough), hard water and a wrong UV protection.
How to FADE BLACK hair… fix a bad hair job. Hair dye job? fix your damn hair sis.
What Color of Hair Is Best for Green Eyes?
It is traditionally believed that all shades of red fit green eyes the best. However, it depends on your skin tone a lot, too.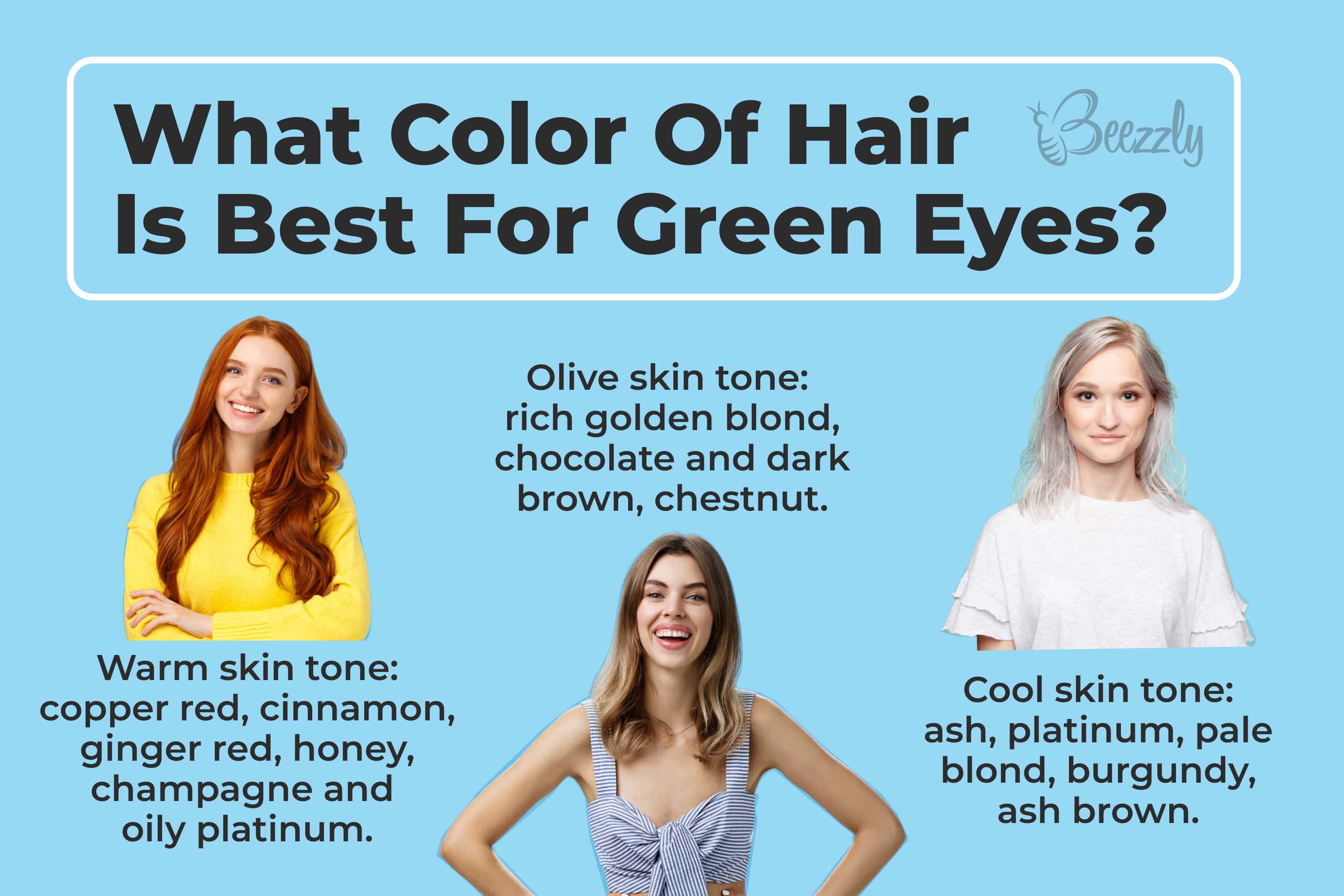 For the warm skin tones, the best hair colors will be copper red, cinnamon, ginger red, honey, champagne, and butter platinum.
If your skin tone is olive, use rich golden blonde, chocolate and dark brown, and reach auburn dyes.
For ladies with cool skin tone, the winning dyes will be ash, platinum, pale blonde, burgundy (and any red with purple hue), ash brown and shades with blue or violet base.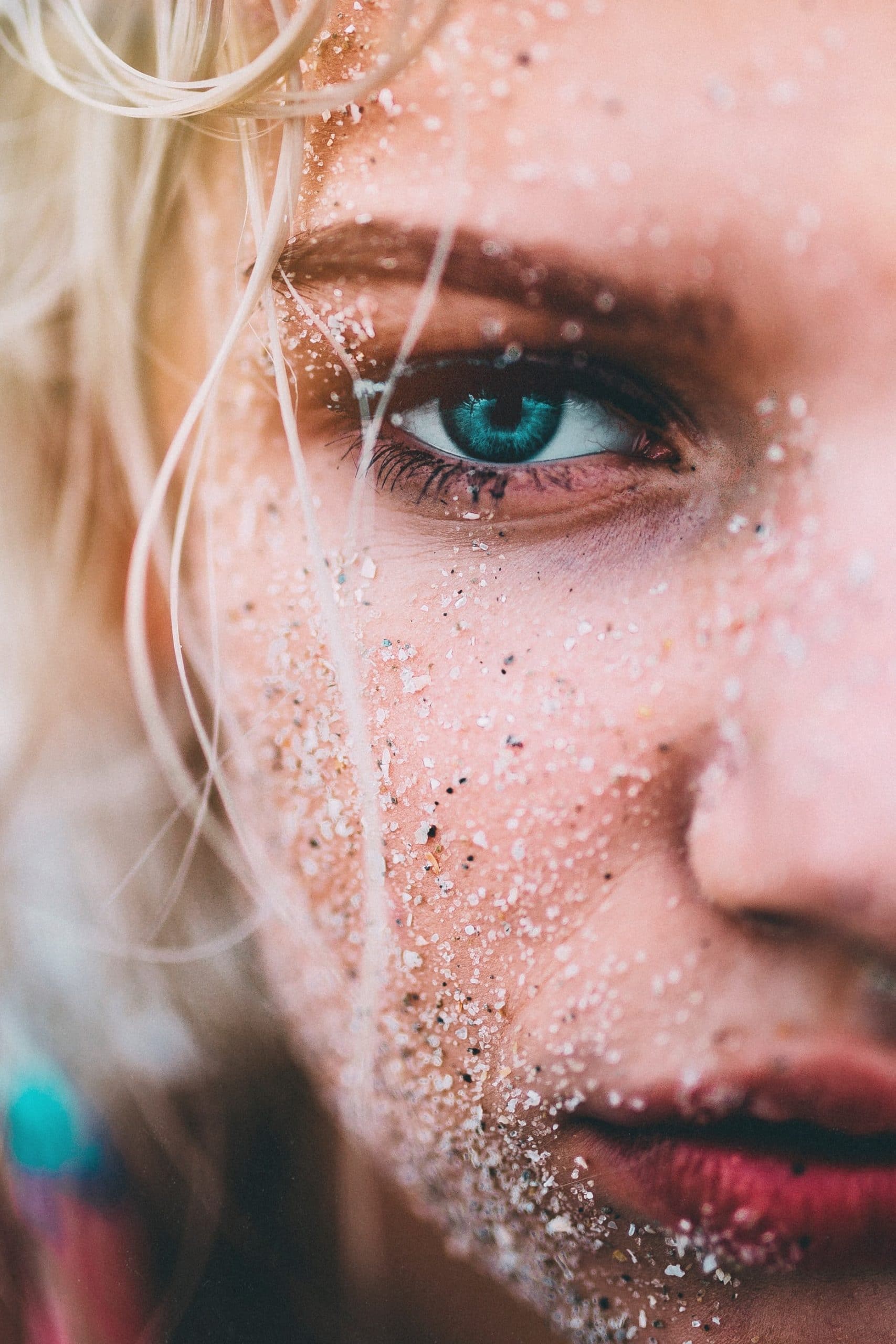 What Color of Hair Is Best for Blue Eyes?
Again, it depends not only on your eyes color but also on your skin tone.
For warm-toned skin, use warm brown colors, golden blonde, ginger and red shades, and burgundy.
For skin with a cool tone, prefer dark brown or ash brown colors. Ash-blonde and platinum will also look nice.
For girls with olive skin, we would advise mahogany, sandy blonde, black and hazelnut colors.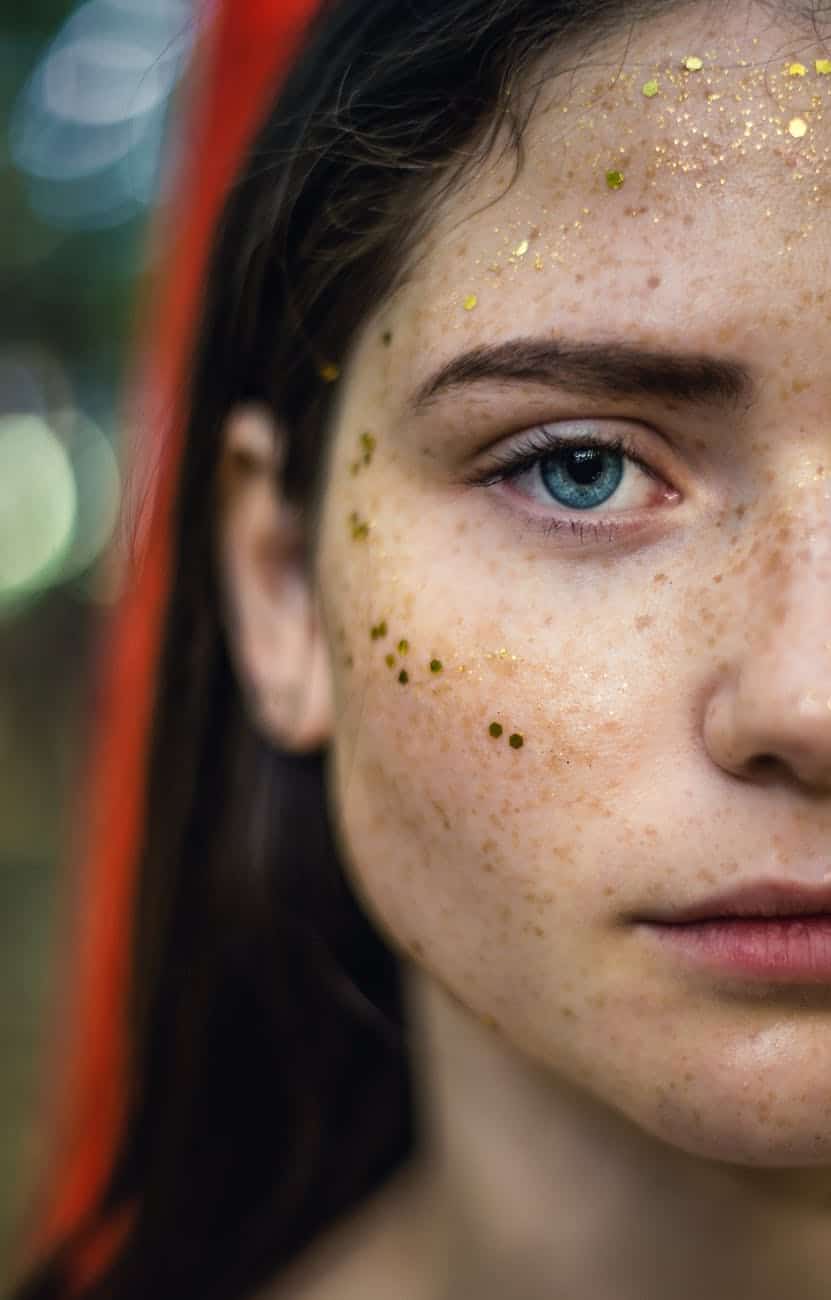 Which Hair Color Is Best for Dark Skin?
If you have dark skin, it's important to correctly pick the hair color to highlight your natural beauty.
For light-brown skin, use caramel, mahogany, light brown or auburn dyes. For medium brown skin, it's better to choose burgundy, champagne blonde, copper, chestnut, honey or reddish-blonde colors.
If you want to highlight your dark-brown skin, apply sunflower blonde dye, mochaccino blonde, honey blonde or caramel dyes. And if you are not afraid of experiments, try something like silver, lavender or purple!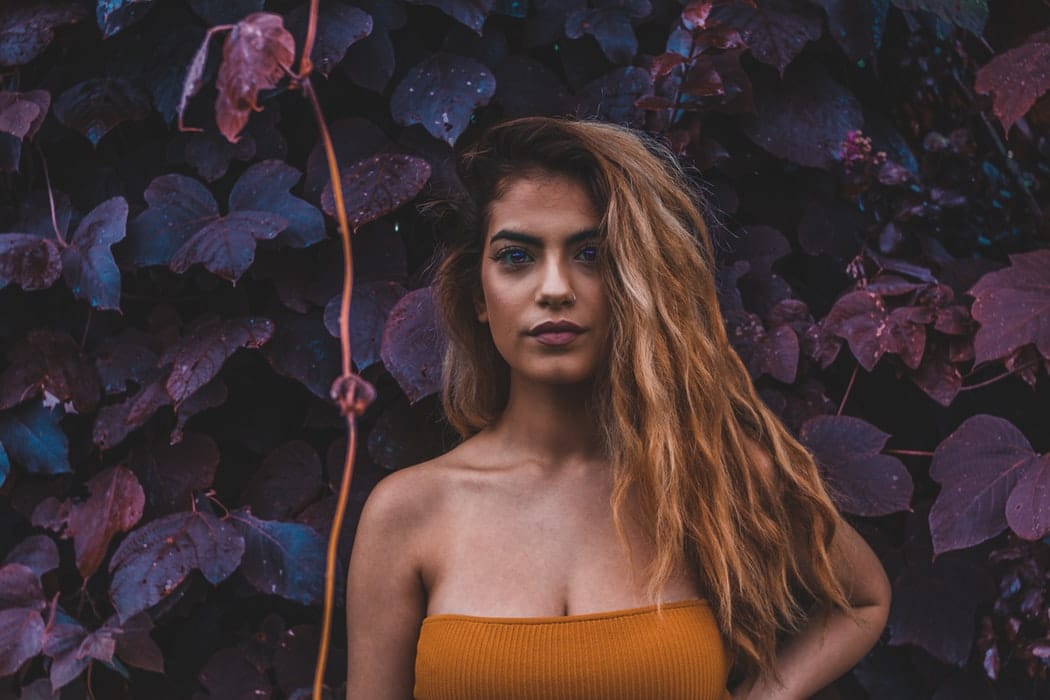 When to Color Hair During Pregnancy?
Many pregnant women ask whether it is safe to dye hair at this time. 
As long as the chemicals in the permanent dye are not highly toxic and their amount is low, coloring your hair when being pregnant will not harm you or your baby. The tiny dose of color ingredients that your skin absorbs is not enough to cause any harm to the fetus. Of course, it is better to choose high-quality dye anyway.
But, if you are still not sure, there are plenty of alternative and 100% safe ways of dying hair for the future moms!
Pregnancy Myth Buster
When Does Hair Color Expire?
Like any other chemical substance, hair color does expire after a while, especially when being stored incorrectly.
Usually, it lasts from two to four years after it was produced. However, if you keep it under wrong conditions like temperature or humidity, or if any organic particles got inside the tube, it may lead to the dye's spoilage.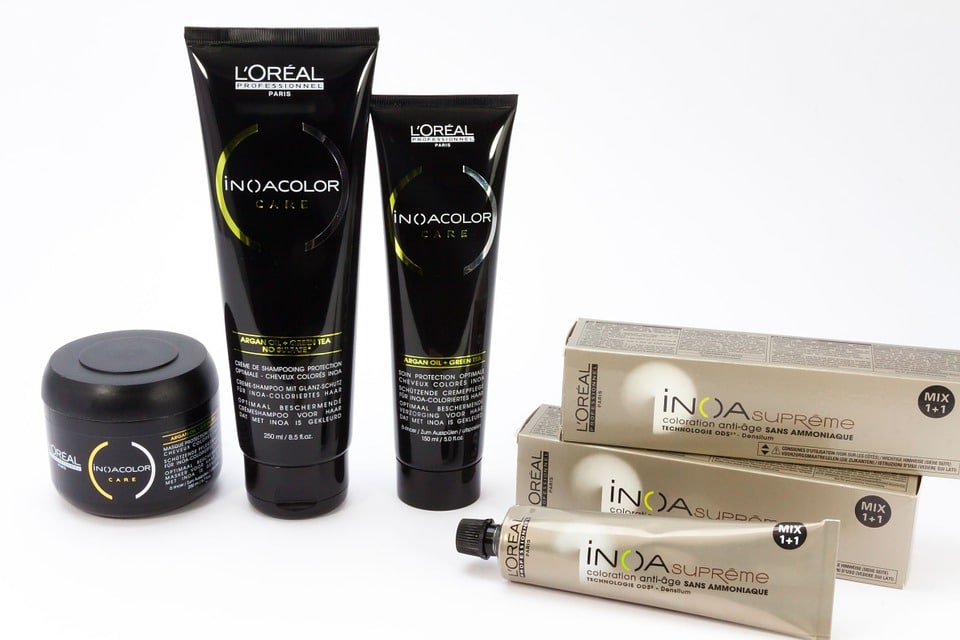 Can Hair Color Cause Headaches? 
Haircolor is a chemical product no matter what. Even the most expensive and qualitative dyes have lots of artificial components that affect our bodies when being absorbed through the skin of our heads.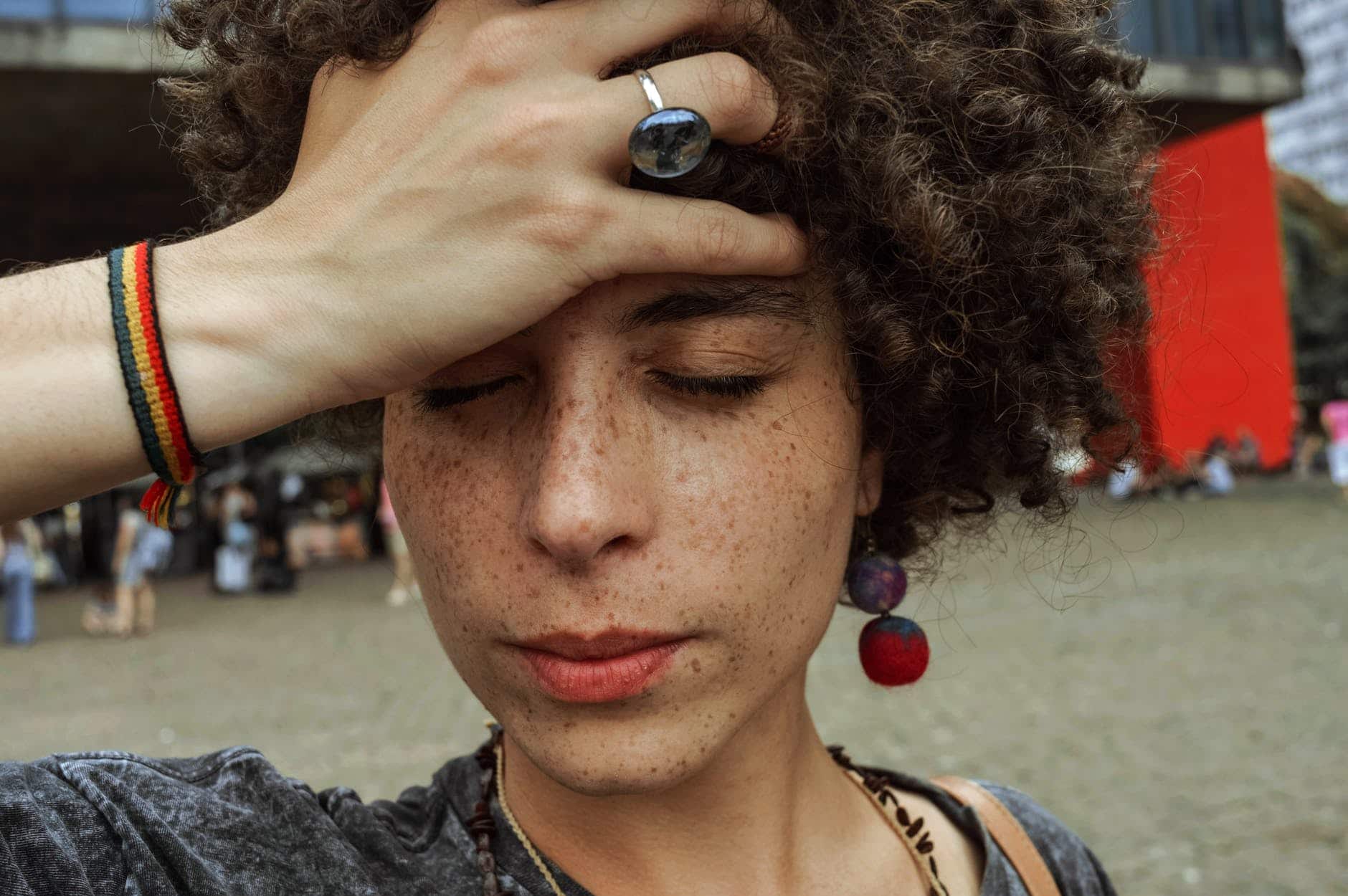 It means that hair color can cause headaches, especially if the person is sensitive to any chemicals in its composition. For example, even a strong smell of a dye can cause a slight headache.
Read Next: What Color To Dye Over Green Hair When it's Time For Changes?