Summer parties
Do you think that paper balls are appropriate only for New Year's decoration? Oh no!
In the summer garden, they can create an amazing fun carnival atmosphere.
Amazing Mini Garden on your table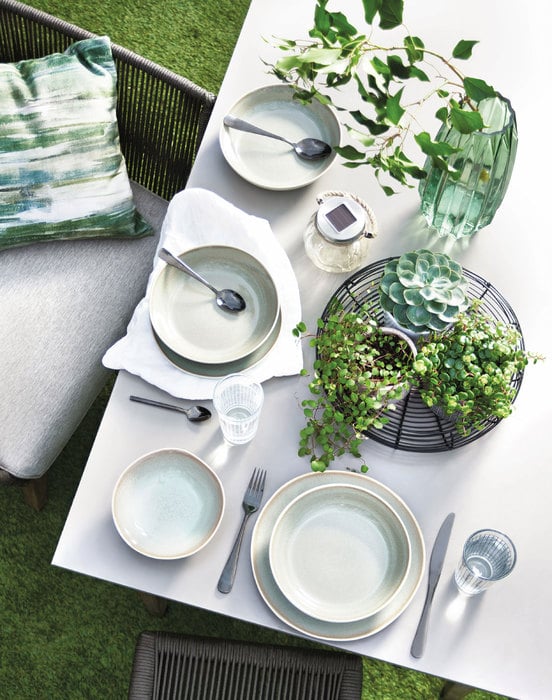 You can decorate the table with a plate with succulents and microgreens.
How about arranging a florarium in a glass vase?
The suns benefit and heat in July is enough even for capricious plants.
Find your cozy spot for this summer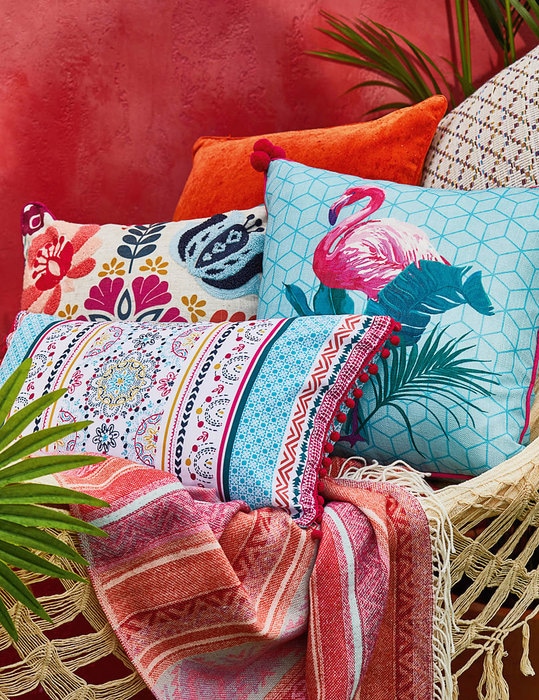 There can't be too much decor pillows! It's time to use them. They can easily be taken out into the garden and removed in the evening.
Decor pillows are cozy and comfortable on the garden swing and in the hammock.
Portable garden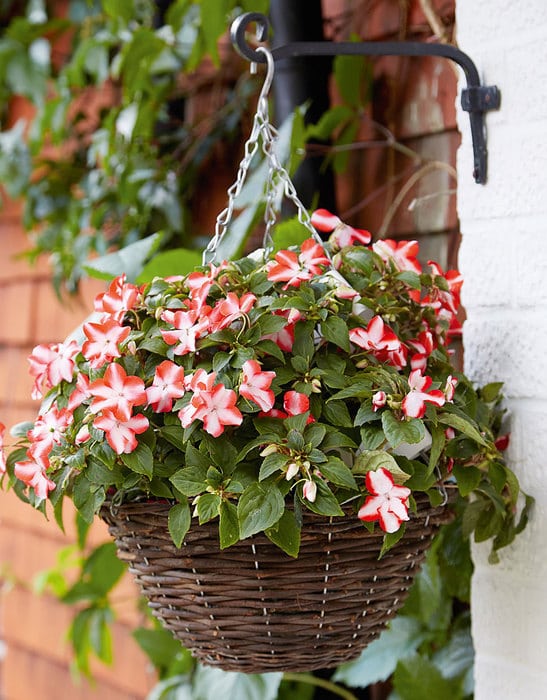 Where can you use them? At the entrance group.
The classic landscape and architectural technique: flowerpots, framing the porch, the gate or even raised on the door pillars.
Hanging baskets
By combining right, climbing, and ampelous plants in one pot, you can achieve visual diversity by combining 2−3 colors of them.
Wall decoration
With the help of balcony brackets or fixed hangers, flower containers can be fixed on house walls as a part of wall decor or you can put them onto the fence.
Take care that the brackets securely fast. In boxes, which are above eye level, it is amazing decor idea to plant ampelous plants: petunia, nasturtium, climbing pelargonium and others – they will lower their lash down and decorate the flat spots.
Cozy Patio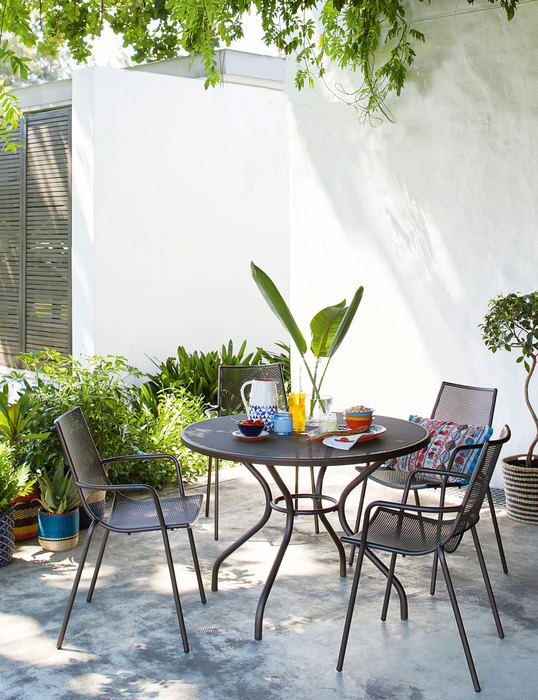 Amazing decor idea for a small paved area near the house can serve you as a summer dining – recreation room.
Choose a close to the entrance place. Don't forget about the canopy in the case of rain and it will put the cooling shade if the patio is on the sunny side.
You can make a border with ornamental plants on the perimeter it will mark the space territory. If you want to make it more private, you can build supports for climbing flowers, and then your cozy mini-room will be hidden from prying eyes by a green wall of decorative grapes, honeysuckle or a lush clematis cap.
Floor material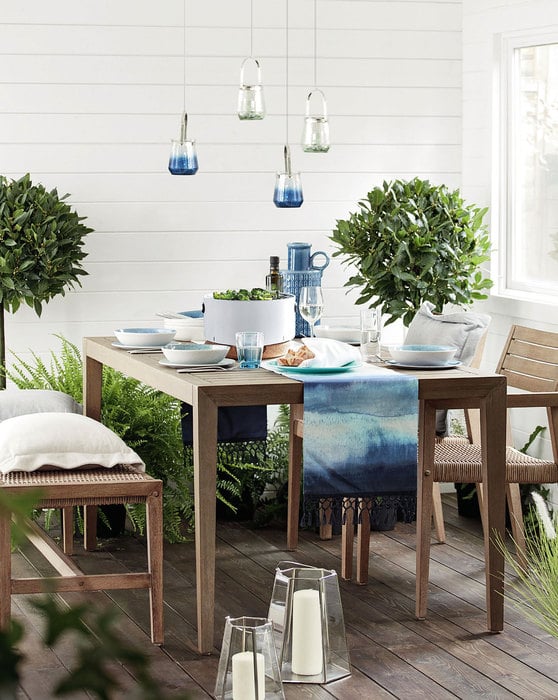 The floor should be easy to clean – paving tiles (you can put an interesting ornament), natural wood, on which it is great to walk barefoot.
Summer color
Follow the simple color scheme for your summer dining room. Blue, green or olive – let the main color tell you which one to choose for accessories or dishes.
Gardener's Salad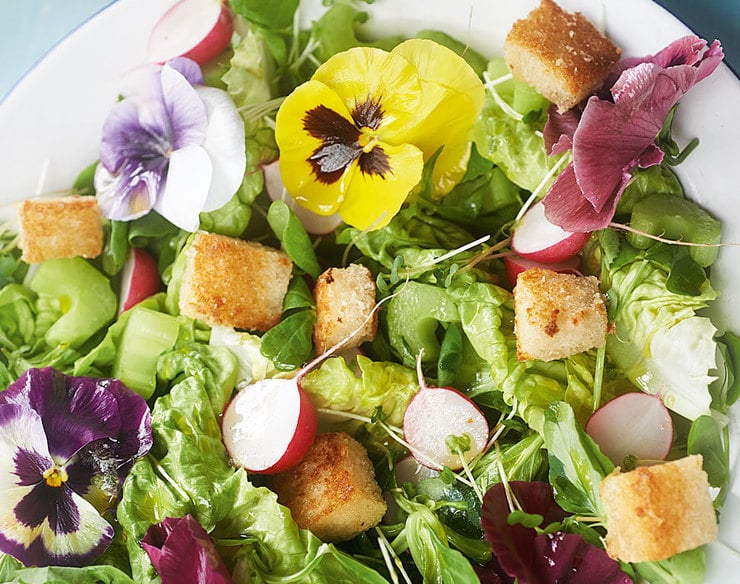 Did you know that you can eat some flowers?
Need a hint – sure: feel free to add calendula, nasturtium, pansies, rose petals to salads.
Oasis of calm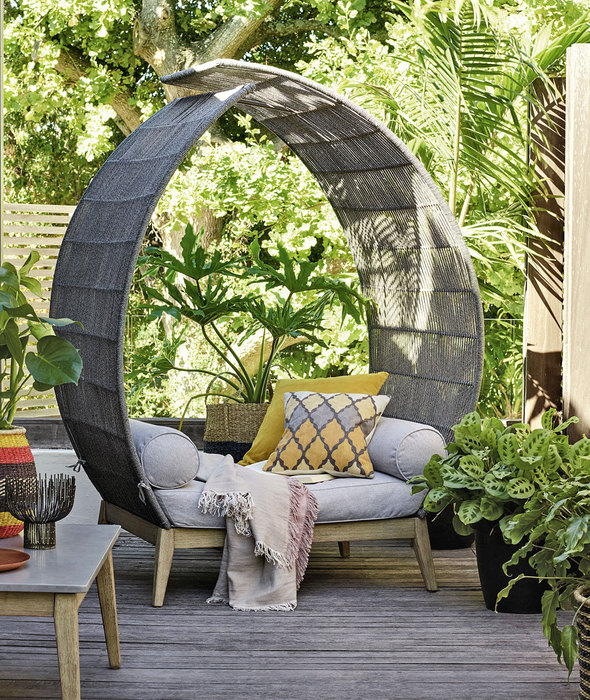 The cozy living area under the trees is ideal for daytime relaxation.
Keep a pair of blankets nearby for cool evenings.
New image of old things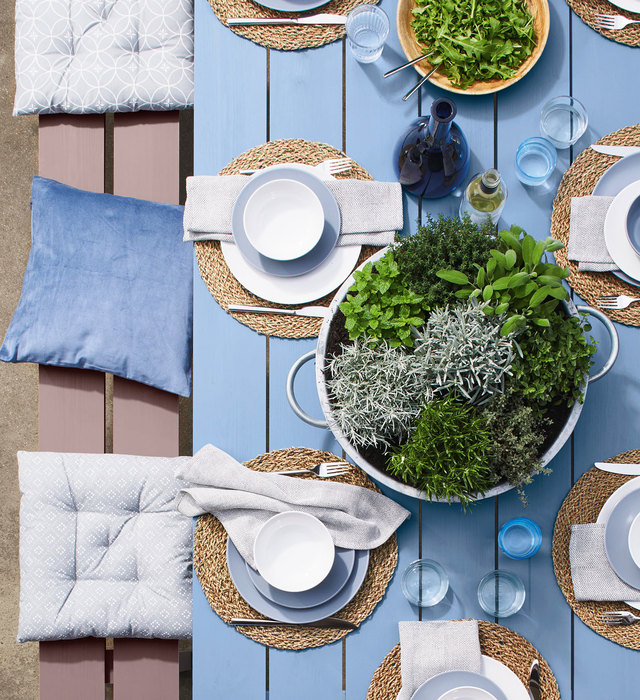 Give the old wooden garden furniture a new life in a new color.
Today's colors will reliably protect it from rain and suns burnout. And simple decoration accessories – woven coasters for plates, dishes, pillows – will allow you to make a harmonious set.
For aromatic evenings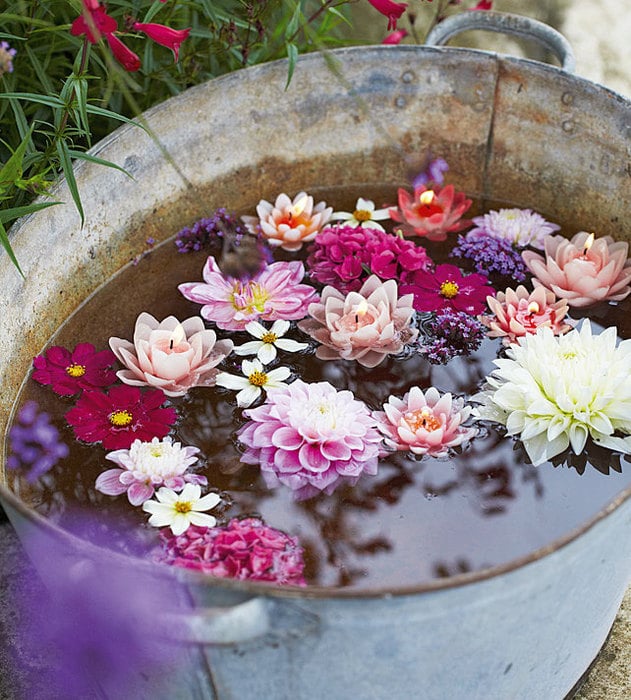 Summer evenings are adorable …
Many plants begin to exude an intense aroma at precisely this time.
You can plant fragrant flowers and shrubs closer to the rest area — honeysuckle, English viburnum, false-acacia Robinia, jasmine, and fragrant tobacco. Shades of bergamot, orange, and amber combine the aroma of clary sage.
Professional flower growers, of course, cannot live without a rosary. Most roses have a wonderful aroma, but the flowering period depends on many reasons.
To enjoy the scent and appearance of blooming roses, you need to correctly plan everything in the rose garden to take into account all the blooming seasons of your favorite varieties.
Bright twilight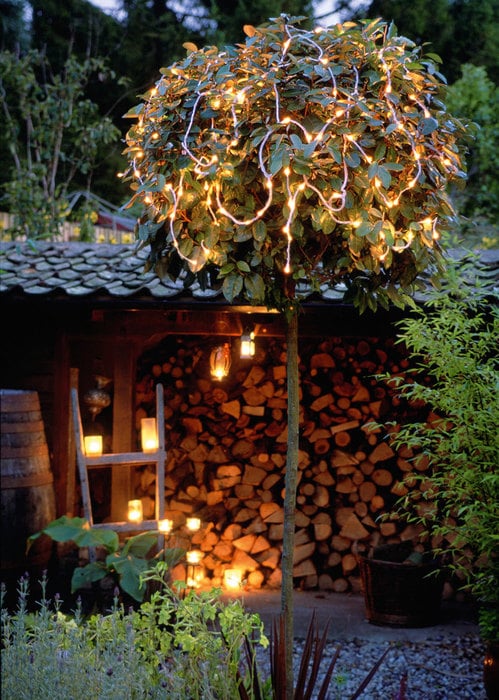 What could be more romantic than the magical flickering light in the twilight among the foliage?
With the backlit, every garden seems magical.
The evening lights
Solar powered garden lanterns. Not too bright, but very cute. 
Garlands. Any kinds of them that are plugged into an external outlet and are not marked as waterproof should be taken into the house after use.
Electro candles. Electronic LED candles have a soft (sometimes flickering) light. In the summer, you can use them very often both in the house and in the garden.
Take flowers to the walk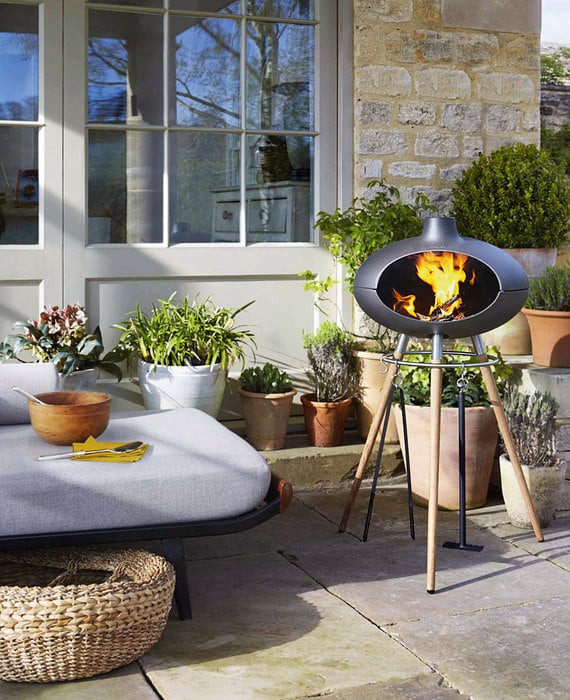 In July, indoor plants can be safely moved to the patio or on the veranda – they will feel great!
The sea is nearby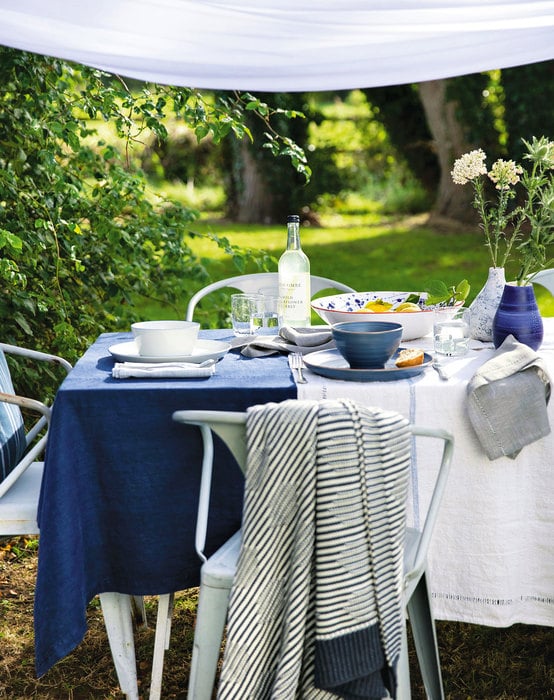 You can create this feeling! Blue and white gamma on the table, a striped blanket, a Mediterranean menu for lunch …
Memoirs of a relaxing time by the sea.
Landscape light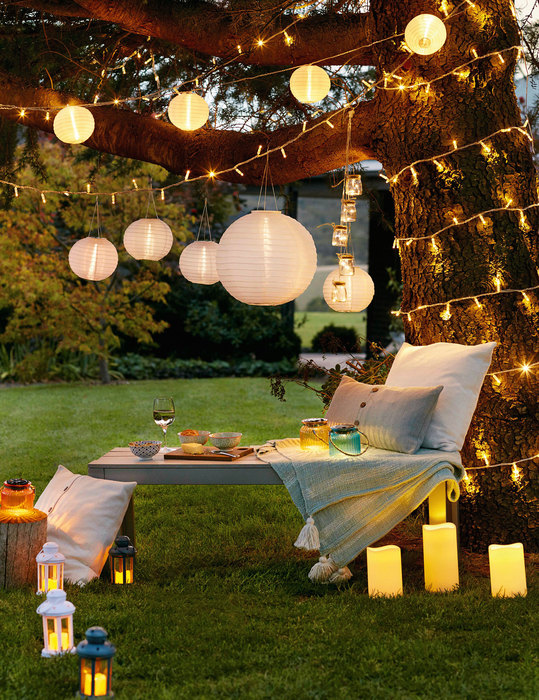 With the onset of darkness, you can give vent to your fantasy and imagine the jungle beyond the edge, a fairytale forest or mysterious palaces under the crowns of trees.
If you like to spend evenings in the fresh air, and the garden is conducive to spending the maximum time in the air, amazing decor idea to invest in permanent outdoor lighting.
It can be not only functional but also artistic and even interactive.
Landscape lighting is something that will help your garden become even more attractive with the onset of dusk than in daylight.
In addition, it is designed to solve several problems at once:
highlighting of various functional areas;
protection from uninvited guests and aesthetic decoration;

lighting garden paths;

highlighting of individual trees or landscape forms.