Halloween is one of the busiest days of the year because children and teenagers, and even some adults, dress like scary creatures and characters at night and ask for candy from different houses in the neighborhood.
Not only do people dress up, but also houses and buildings.
Placing some carved pumpkins to turn into Jack-o-lanterns are commonplace on Halloween, and it's unlikely for homes not to have them.
But there are many ways to decorate your house for Halloween, and they can come in stained glass.
So what is Halloween stained glass? Let's find out as we uncover a few designs that may look great in your windows.
What is stained glass?
Stained glass is an ornamental piece placed in the window to decorate your house for a dedicated holiday like Halloween. 
The stained glass comes in many colors, patterns, and designs, and they aren't exclusively used on Halloween. But in retrospect, stained glass is very famous around the autumn season when Halloween is fast approaching.
What designs can you use for stained glass?
There are many Halloween stained glass designs to choose from, and here are the top picks to make your home a little scarier this year to fend off some kids taking candy:
Stained glass bats
Bats are ubiquitous around Halloween because of the spooky wings and the blind characteristic the animal possesses. It also looks cool to have a bat-like figure in the windows showing the illusion of an actual bat.
When you happen to pass by design like this, don't hesitate to buy it.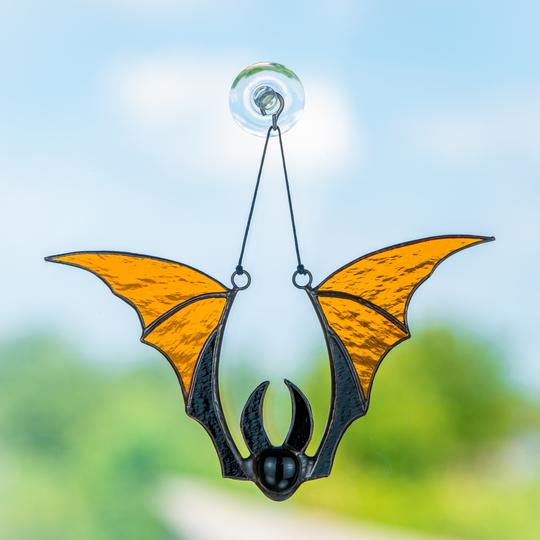 Stained glass vampire
Vampires are among the original Universal monsters that were written for movies back in the 1930s. Brahms Stoker's Dracula made it even more famous, and now you see kids wearing Dracula costumes everywhere on Halloween.
Vampires in stained glass are so flashy and really embodies the spirit of the spooky season, and your neighbors can get jealous fast because they don't have the same designs like yours.
Stained glass ghost
What's spookier than a ghost on the windows? A ghost in stained glass is perfect for scaring the kids and having fun at night.
Ghosts are a classic symbol during Halloween, and many people dress like one. The classic white blanket over the whole body with holes as eyes is a cute novelty look that can look great in your windows.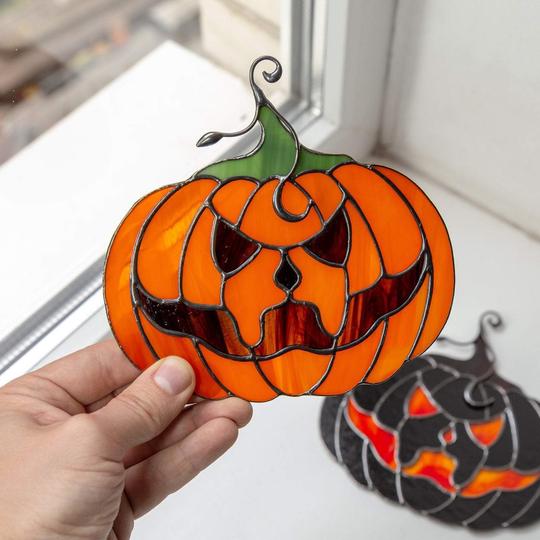 Stained glass witch
Who doesn't love witches? But, of course, they're made famous when the Salem witch trials are still very talked-about to this day, and it's part of history too.
Witches have eerie laughs, and that can sit well in stained windows, especially if it's a silhouette of one in a broomstick. It's very stylish and can look great in any window of any home.
10 DIY Halloween Decoration Ideas | DIY Halloween Crafts
Stained glass pumpkin
As already mentioned, the ripe pumpkin is the symbol of Halloween. However, the Jack-o-lantern is so famous that it became a brand for a holiday itself.
Having orange pumpkins can make your house look like it belongs during Halloween, and it can stay for as long as you want since they also look good if it's not Halloween.
Tips with stained glass
You can use all designs and put them in different windows in different rooms. It doesn't need to be monochromatic and just stay with one design; the spirit of Halloween is all about diversity and differences. Grab all the designs you can get and place them in your windows.
Be careful with installing them. Some need to be soldered, which are expensive, but easy attachments don't cost as much and look just as good. Go for those if you're on a budget.
Try to find the goofiest designs on the list, like Frankenstein's Monster or a black cat, to spice it up a bit. It could even be a mummy if you want as long as it fits your house well.
Kids may play pranks on you and throw stones at your windows. This shouldn't happen, so try safeguarding your windows with metal cages if you can find one to avoid such accidents.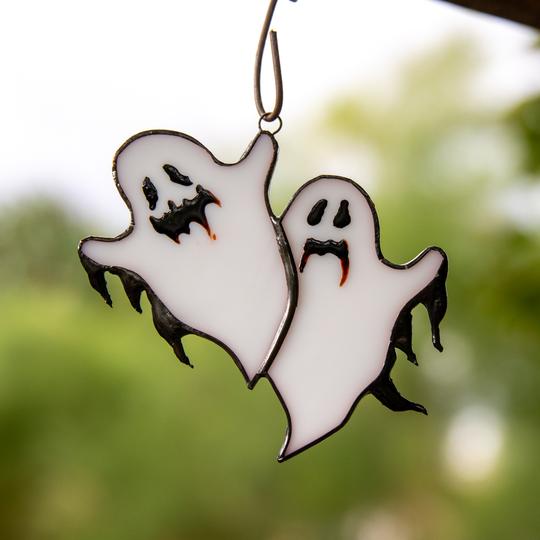 Final thoughts
Halloween only happens one night every year, so make this one count. Then, as Halloween approaches, it's time to gather the decorative ornaments and start placing them on your lawn and inside your house.
Halloween is all about spookiness and scary stuff, but it's also a time of reliving the scariness and the culture of unusual things. So, don't sell yourself short by being very minimalistic with your decorations.
Grab the most colorful stained glass and live up to your Halloween spirit! And don't forget about buying candies for the kids.
You don't want to explain it to the kids when they have their sacks open for you to drop candies in them.