You might want to buy a wig for many different reasons. Perhaps you just want to try a new hairstyle or see how you would look with another (much shorter or much longer) hair length but you're not very into dramatic hair color changes.
Or you might need a temporary style change for yourself e.g. for a party or a show. No matter the reason, buying your first wig is an important task!
However, those who have never worn wigs know nothing about choosing them. People typically have no idea of what types of wigs are there on the market and what to pay attention to when choosing one. This is why this article will be very useful for you as a wig newbie!
You will learn what types of wigs exist so that you could better understand which one is more suitable for you and your needs. Also, we will explain how to choose a wig and what to pay close attention to not regret your purchase.
Finally, you will find out what wigs should be avoided to not cause any damage to your scalp and hair (well, and not waste your money).
How to Choose a Wig. Tips and Life Hacks?
When choosing your first wig, you should be aware of the basic feature these items have so that you could better understand what you are buying. Otherwise, you might be tempted to grab the first one that a shop assistant tries to advertise to you.
Tips For Every Day Wig Wearing | Wigs 101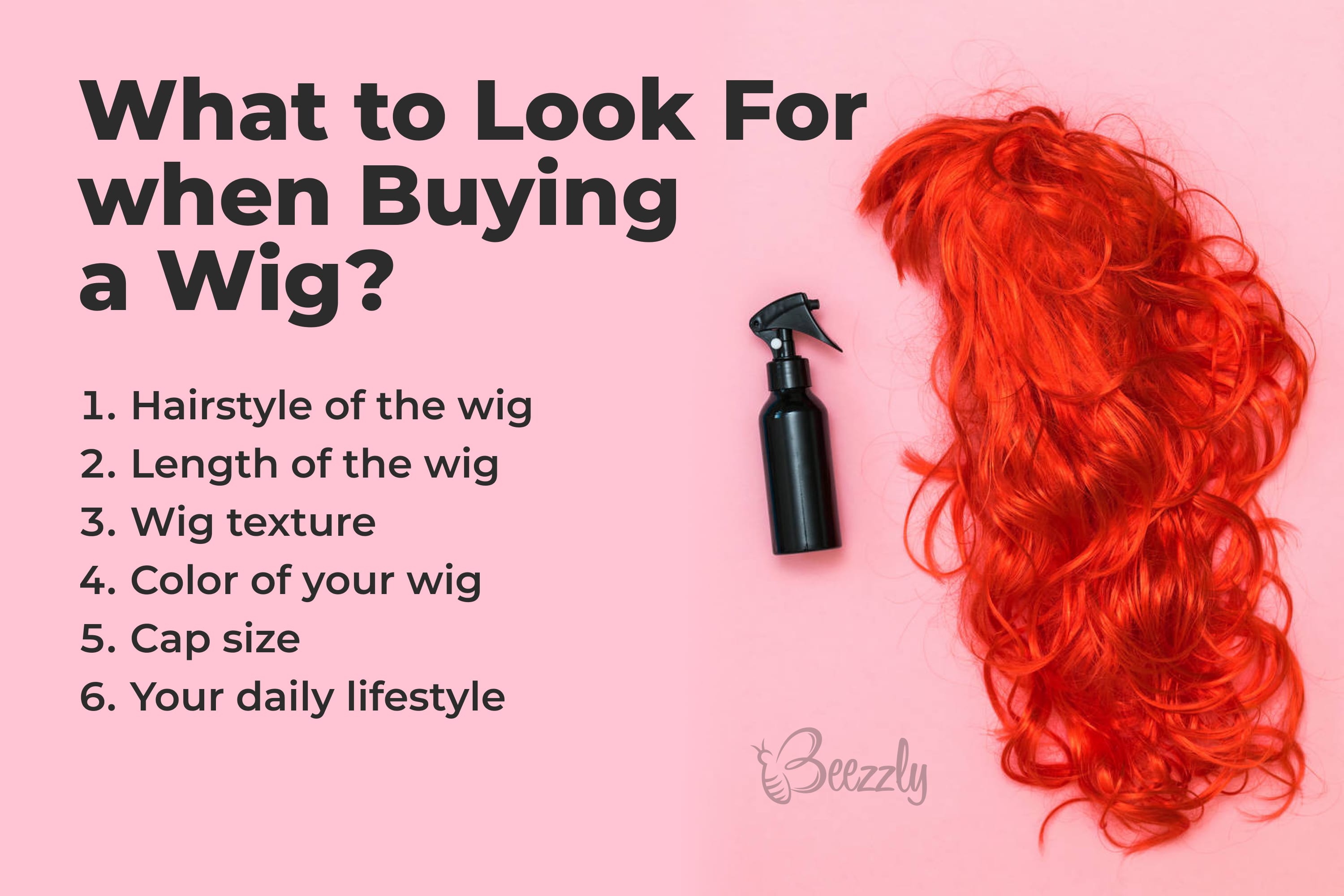 First of all, as a wig newbie, you need to keep several important things in mind that you must always base your purchase on:
Hairstyle of the wig
Length of the wig
Wig texture
Color of your wig
Cap size
Your daily lifestyle
These are the five basic features that must always be taken into consideration to make sure your purchase will be successful. Below, we will explain in detail what exactly each of these means.
So now you know the basic demands and requirements that may affect your wig choice.
With these in mind, you will be able to choose the wig that will fit you perfectly and serve you much longer even if it's going to be your first wig. But even if are still not sure that you will be able to make the right choice, it's always possible to go for professional help!
For example, at Nadula brand, you can seek professional assistance in everything that comes with buying or selecting a wig.
Consider the Style Of Your Future Wig
There are hundreds of different wig styles to choose from, so if it's going to be your first time buying a wig, you might feel a bit puzzled about choosing the right one. However, there is nothing to worry about or be scared of!
Luckily, wigs have improved significantly over the past years! Now they offer the refined look and seamless integration with your scalp and facial features.
Nevertheless, we would not recommend you start with something extravagant! For your first wig, consider buying something that is closer to your current or previous hairstyle.
Like that, by starting with a familiar hairstyle, the maintenance of your new "hair" will be easier. And if you want to change the style of your wig later, you can always take it to a wig care salon to style it the way you want.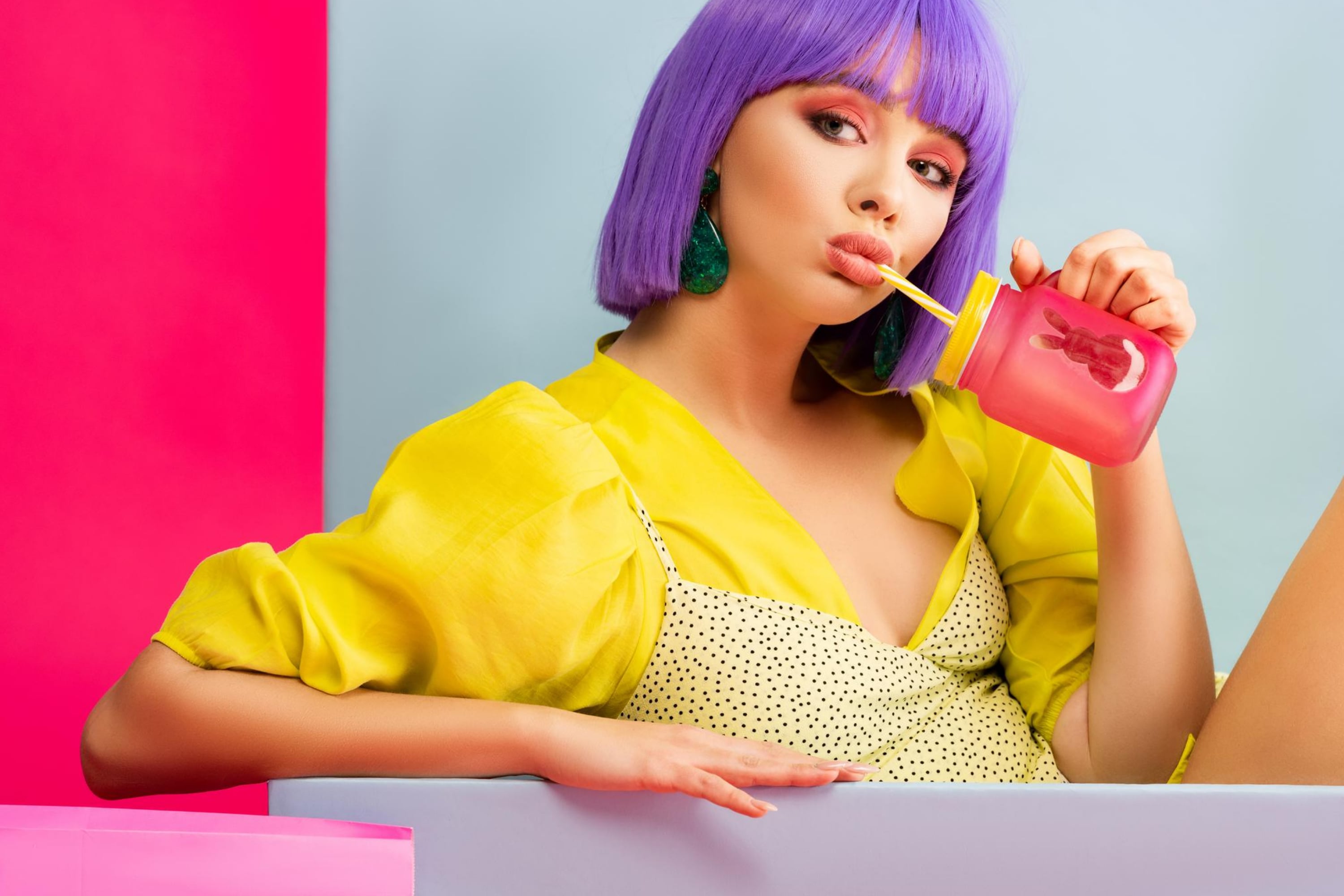 Decide On How Long Your Wig Should Be
There are three main wig lengths to choose from:
Short wigs
Medium length wigs
Long wigs
Short wigs are better for areas with higher humidity levels, as well as for those who feel their body is always hot. Why is that? Simply because the longer the wig, the more heat will be trapped.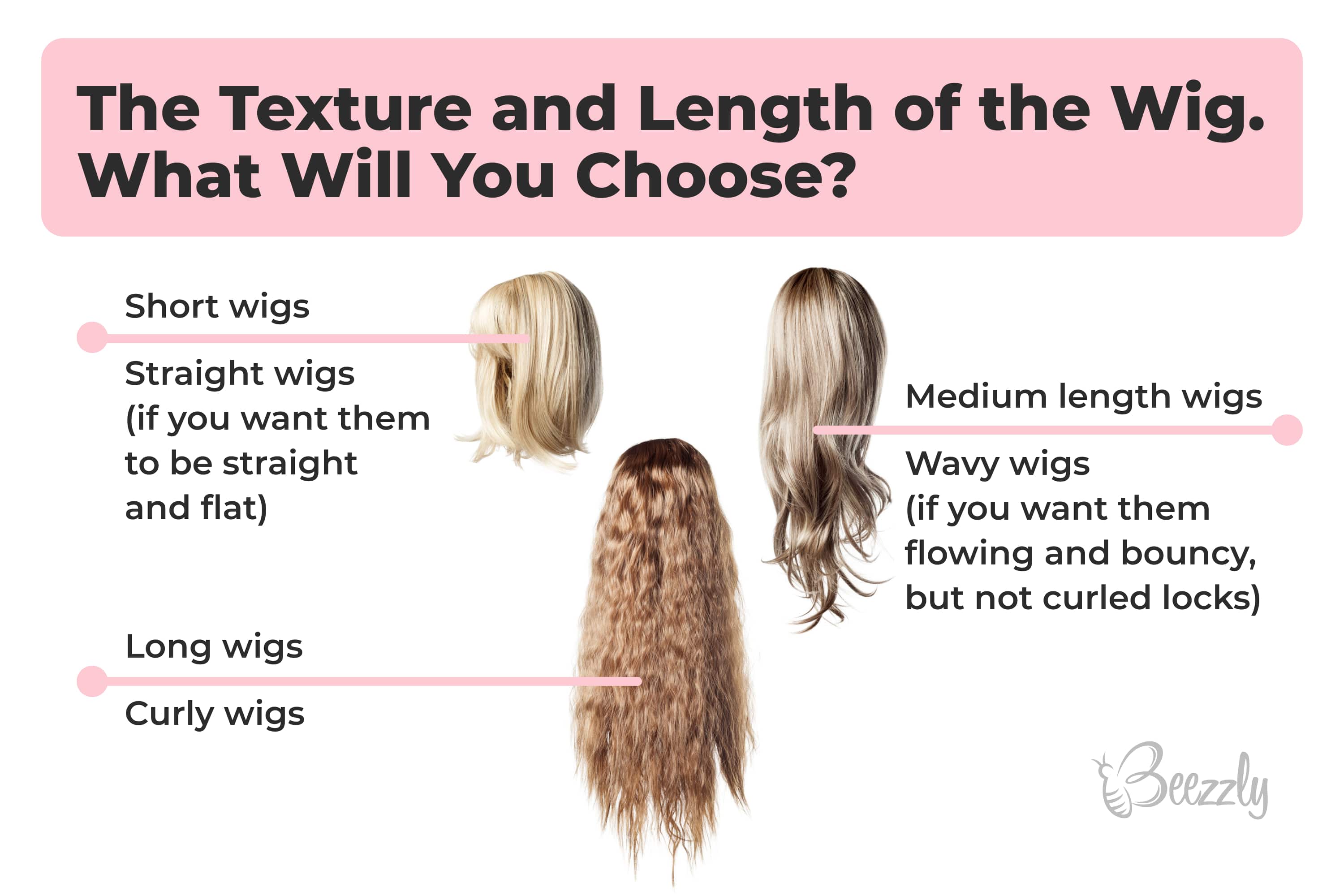 As a result, you might feel warmer throughout the day. Also, short wigs are easier to maintain, faster to dry, are quicker to style. And the biggest benefit they have is a low price.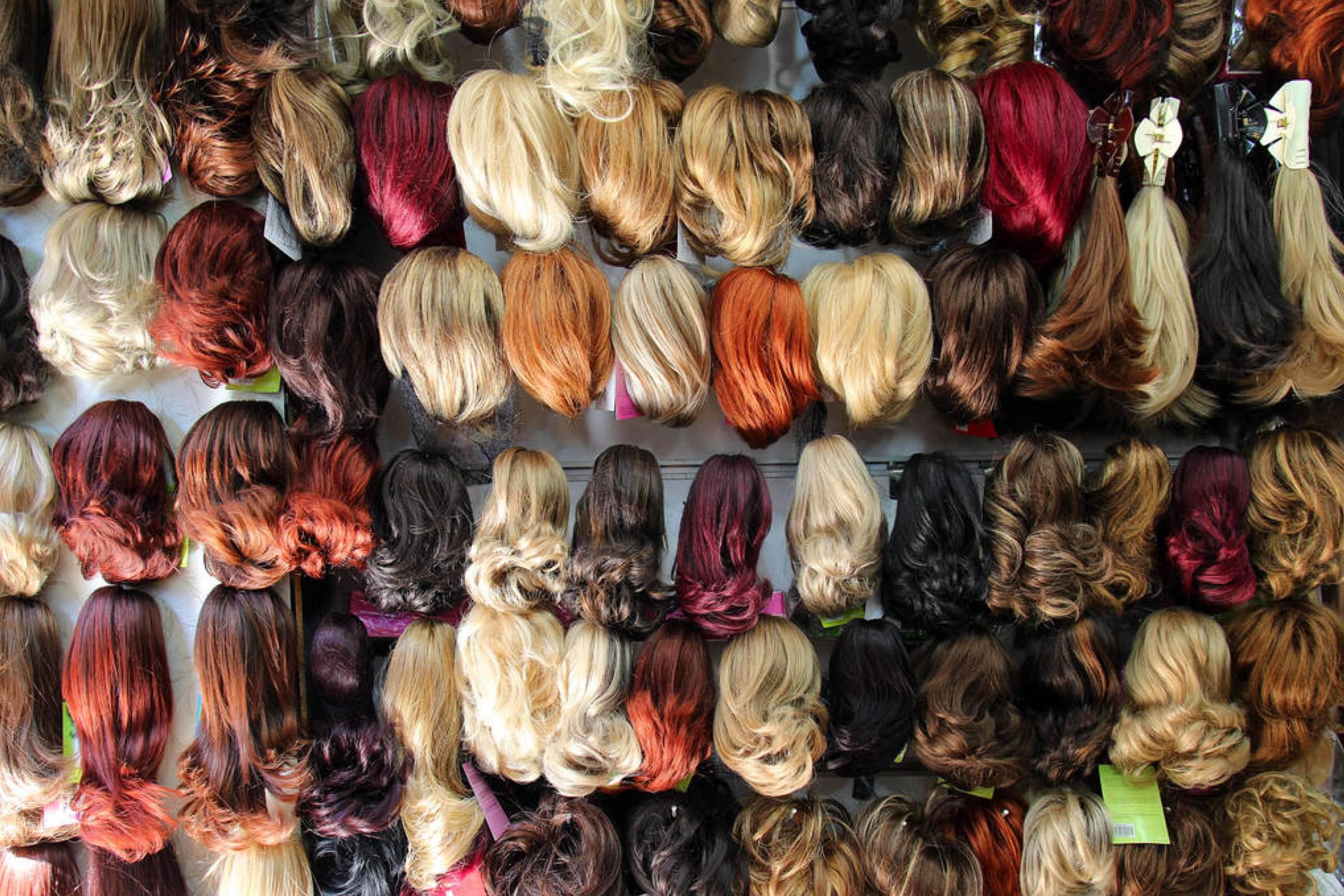 What Wig Texture Do You Need?
Once you figure out what wig length you need, you need to decide on the desired texture. You can choose from one of the following options:
Straight wigs (if you want them to be straight and flat)
Wavy (if you want them flowing and bouncy, but not curled locks)
Curly
What Color Of a Wig Do You Want?
As you probably know, these days there is almost no limit to the variation of wig colors that one can buy! Except for traditional blondes, reds, blacks, and brunettes, there are all shades of pink, purple, blue, and green. There are even rainbow-colored wigs!
However, such a wide variety of colors doesn't mean it will be easy for you to pick the most suitable and matching wig color for yourself. In fact, finding the exact color can be quite a tricky task.
This is why, if this is going to be your first wig, you might want to remain closer to your natural hair color.
Decide What Cap Size Of Your Wig You Need
Choosing the right size of the wig cap is extremely important since it's directly related to your comfort. If the cap is too small, the wig won't simply fit on your head! But if the cap is too big, your wig will be sliding down, making everyone see you're actually wearing a wig.
But, how do you figure out what wig size you might need so that it fits your head perfectly?
If you're not sure about the size of the wig cap you're buying, you need to use a tailoring measuring tape to take the circumference of your head.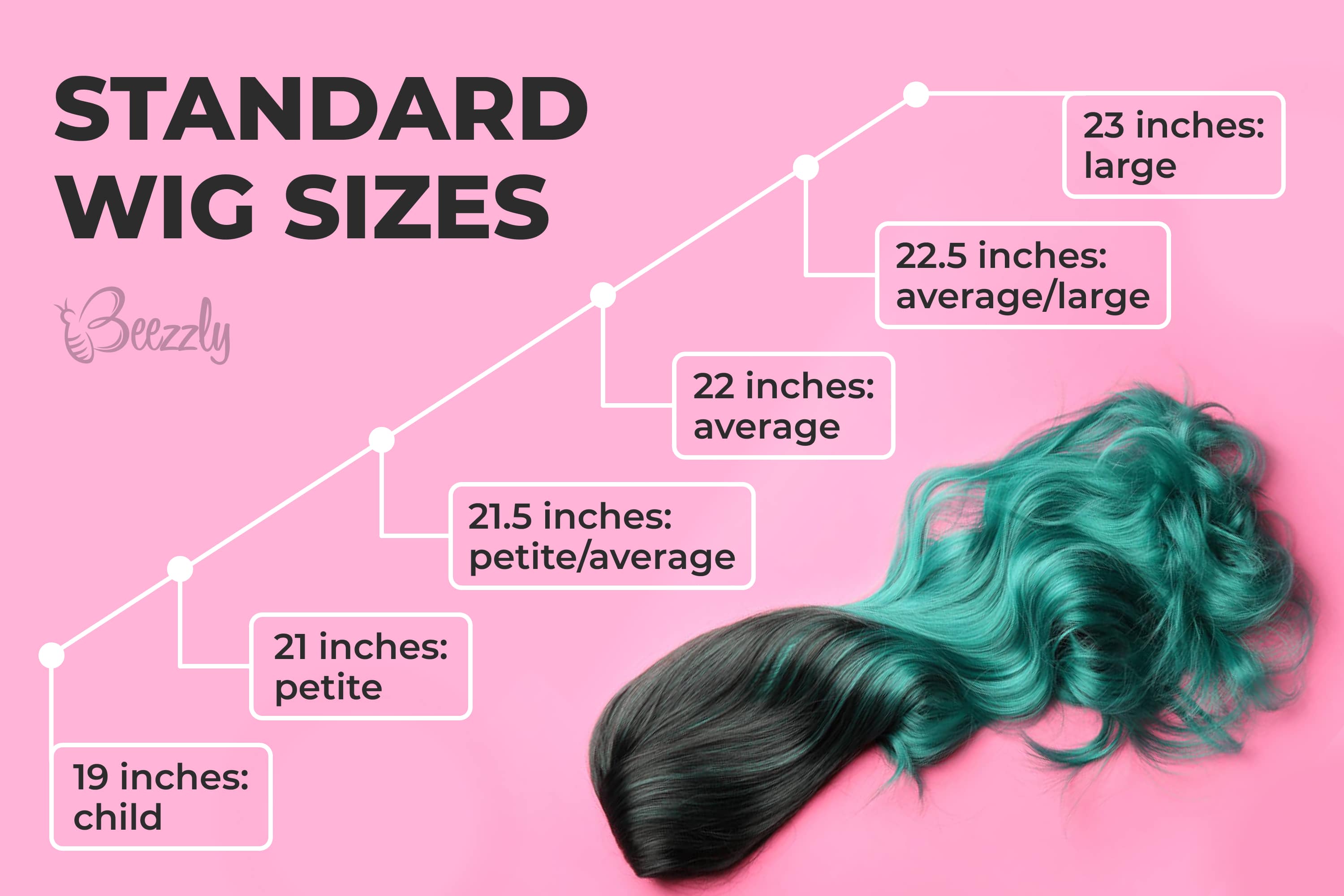 We would recommend you take at least three measures to make sure they are accurate and the number is consistent. Afterward, all you need to do is match your measurement to the list below.
Standard Wig Sizes:
19 inches: child
21 inches: petite
21.5 inches: petite/average
22 inches: average
22.5 inches: average/large
23 inches: large
How Your Daily Lifestyle Effects Your Wig Choice?
Not everyone takes this nuance into consideration, but you shoudl. See, your daily lifestyle can affect the type of wig you need greatly! For example, the one who has an active life and/or does sports will need a distinct wig type than those who mostly stay at home.
In particular, if you mostly stay at home or in the office, you might better benefit from a wig or heat-friendly synthetic wigs. They are less durable than wigs made of human hair, but they are cheaper and require less specific maintenance.
On the other hand, if you live an active life, human hair as well as premium human hair hybrid wigs will serve you better due to their improved durability.
How To Cut Curtain Bangs On A Wig | Nadula Honey Blonde Wig Review
You can be advised on the most suitable wig styles you need, as well as choose the item of the perfect length and color that will match your appearance ideally.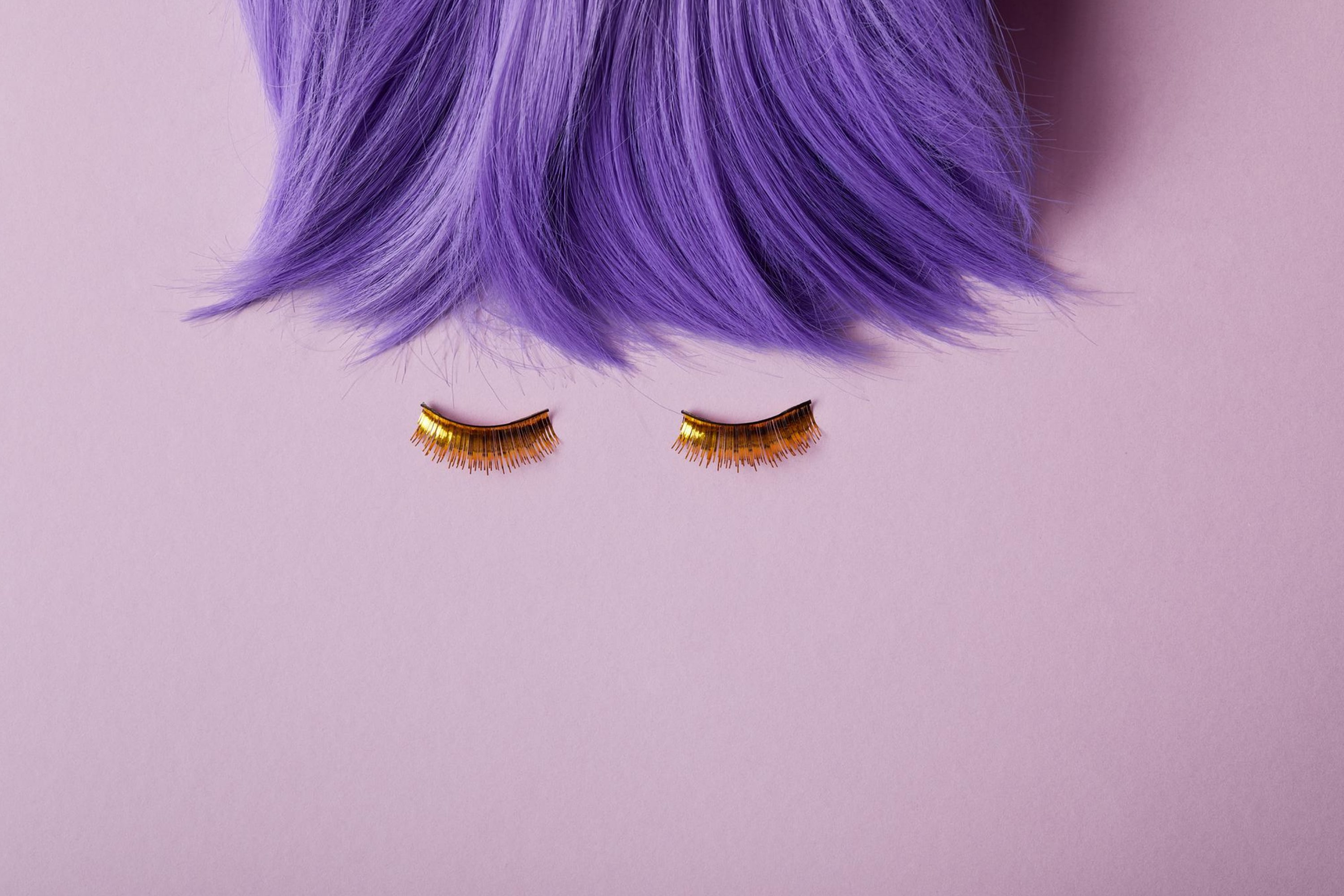 Remember to Consider the Shape of Your Face When Buying a Wig!
When choosing a wig, it's not only your preferences and desires that define the type and the style of the item you're buying. You might want to buy a certain type of wig, but what matters most is how well this wig will suit the shape of your head and face.
Below, you can check out the most common face shapes and the types of wigs that will suit them.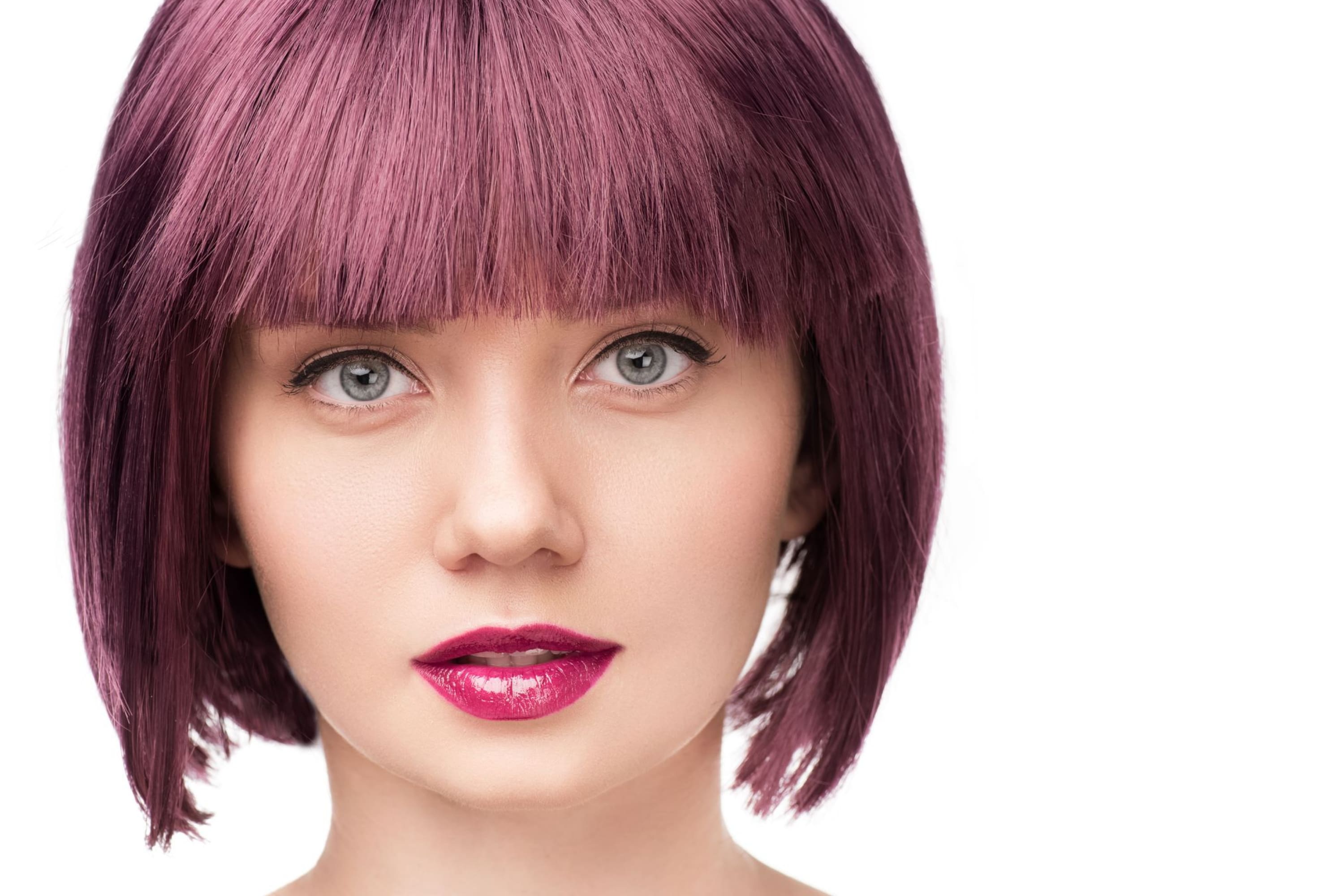 Wigs For Oval-Shaped Faces
If your face is oval-shaped, with balanced and even proportions, you can wear almost any style of wig. Just avoid those wigs that come with heavy bangs, as well as wigs that are significantly directed forward! If you put on such a wig, it can make your face look "heavier".
Wigs to Fit Round-Shaped Faces
To make a round-shaped face look more balanced, choose wigs that add fullness and height at the crown of your head. In particular, you might win by wearing shorter swept-back wigs or those with lengths that go past your chin.
Also, as an owner of a round face, avoid chin-length wigs with a rounded line. Such wigs will closely match your face's circular shape, making it even more noticeable and rounder.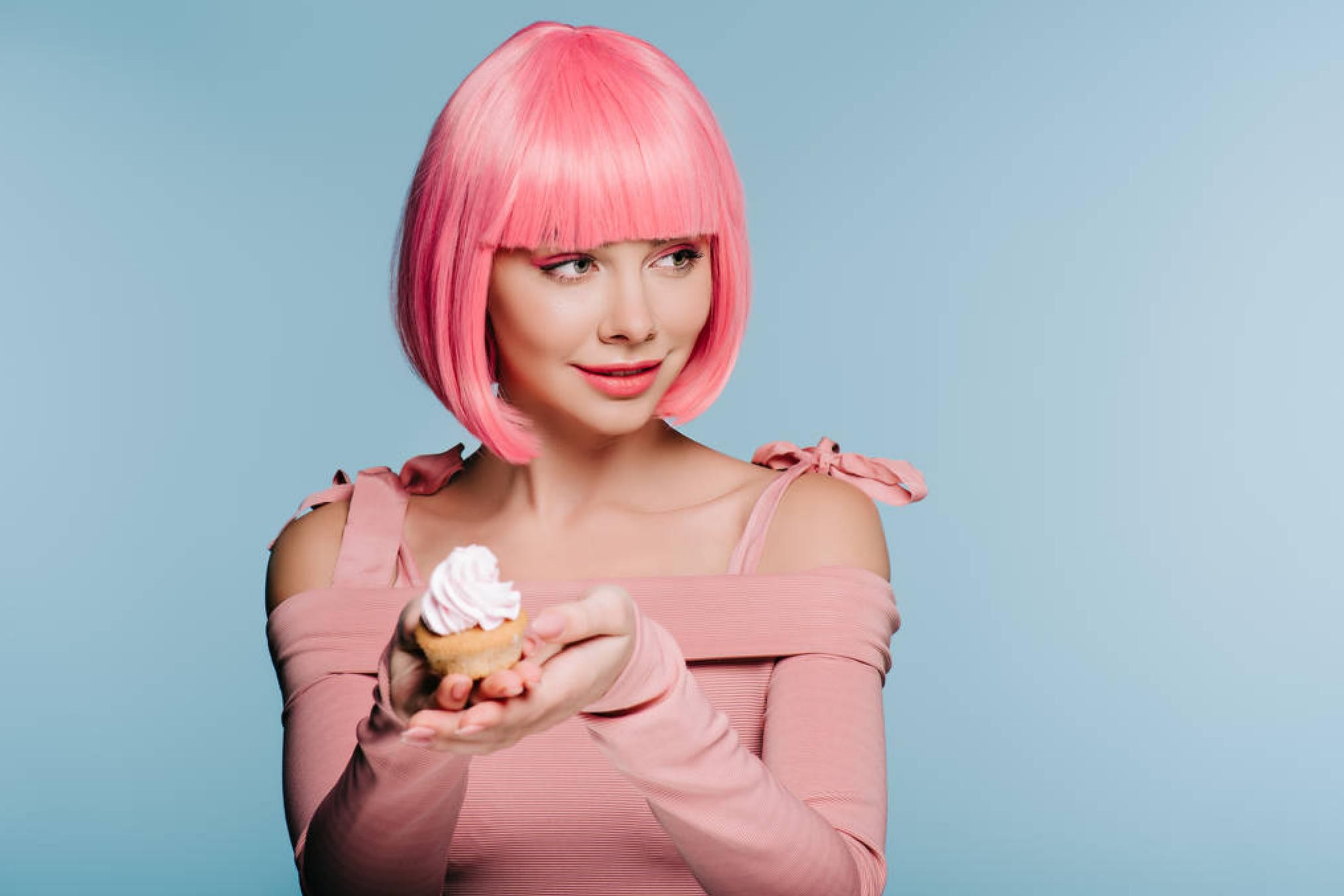 What Wigs WIll Suit Square-Shaped Faces?
For this shape of a face, your wig choice will include short to medium wigs. Also, you should definitely consider wearing wigs with waves or curls around your face! They will make your facial features look "softer", balancing your straight and symmetrical features.
Since your face shape is naturally rather straight, avoid straight bangs with linear lines, and center parts, as well as wig styles that are long and straight. Straight bobs that end at your jawline should also be avoided.
What Wigs to Choose For Oblong/Rectangular-Shaped Faces?
For this shape of a face, your best choice includes short or medium-length wig styles, as well as soft and wispy-banged wigs. They will be able to minimize the natural length of your face. And if your goal is to make your face look wider, opt for wigs that offer fullness at the sides.
As an owner of a rectangular or oblong face, you should stay away from longer or taller wig styles since they will elongate the look of your face even more. You should also avoid choosing a wig that goes past your shoulders.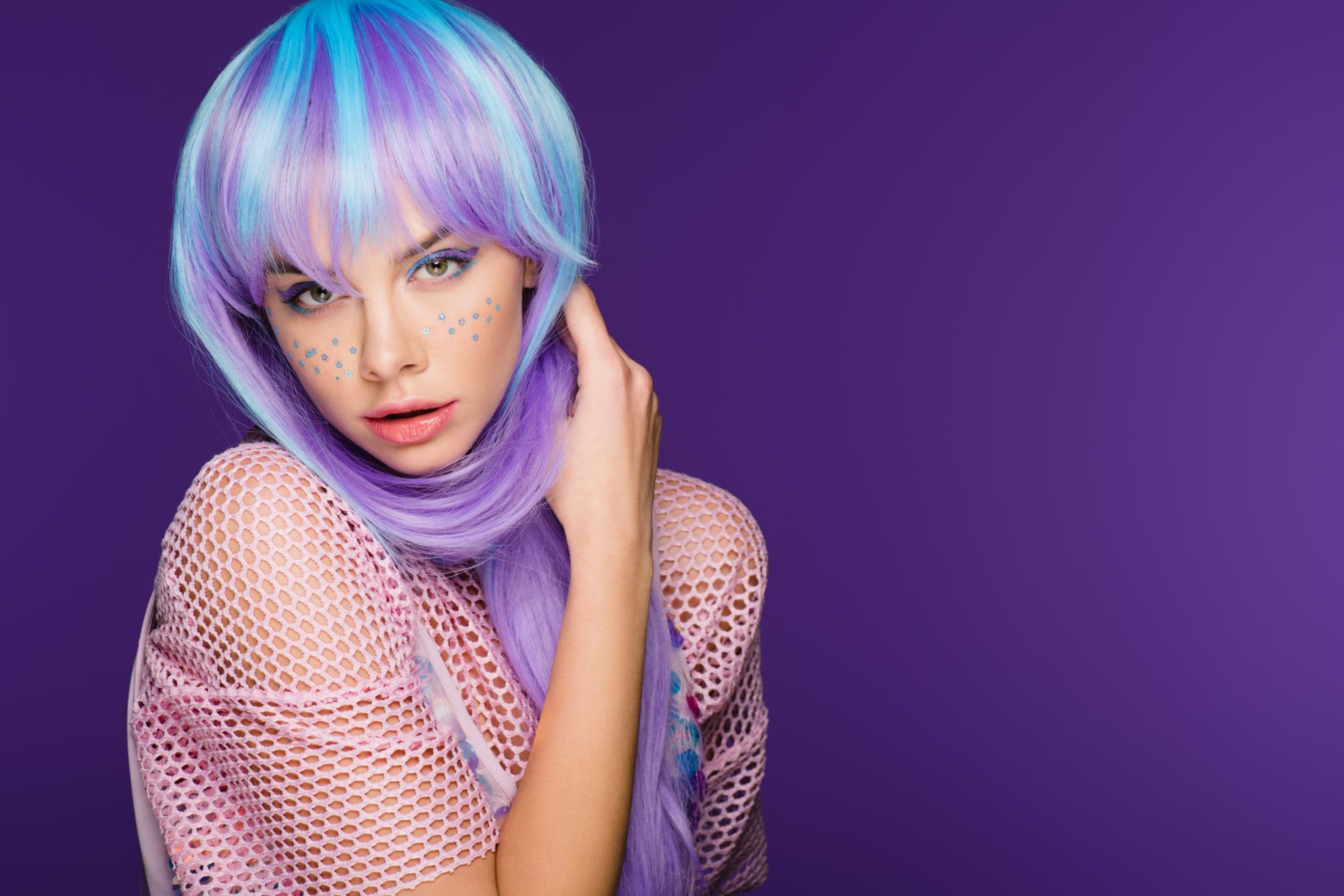 Best Wigs For Heart-Shaped Faces
For this facial shape, consider chin-length or longer wig styles. For example, you might want to opt for:
wigs that are parted to the side
wigs swept forward in layers
wigs with gently wispy bangs
a chin-length bob
But if you have a very intense heart-shaped face, you should stick to a wig style that adds weight to the back area of your neck.
Well, now you know everything a newbie should know about choosing your very first wig! We told you what types of wigs exist and what you should take into consideration to choose the one that suits you best of all.
Also, you learned what wigs may suit different facial types and shapes better. All this information will help you buy the wig that is going to be a success, not a disaster!
Frequently Asked Questions
⭐Does it make any difference between buying a wig for a bald person and for a one who has hair?
No, there's no difference, except for you might need to take more accurate measures for a "hairy" person to ensure the wig adheres tightly enough.
⭐How long does a synthetic wig last?
It depends on how frequently it's worn. Synthetic wigs can comfortably last between 4 to 6 months when worn every day.
⭐How much does the most pricey wig cost?
The most expensive wig is a remi human hair wig that costs well over $700.00. If you add on a hand-tied cap and lace front, you may be paying well over $1,000.