Window cleaning is a hard job and often it takes up most of the day. These tips will help you to make your cleaning routine much easier and help to free time for more enjoyable things.
Choose the right day
Never wash your windows on a sunny or a windy day. With such weather, water and detergents dry out too quickly – and you can't avoid stains and streaks.
The best air temperature for windows washing is 20−22 degrees.
Remove the drips
After applying a rubber scraper, thin but noticeable strips often remains. They can be easily and quickly removed with a sponge for wipe markers from the whiteboard.
This school accessory is very well suited for window polishing – soft material removes dirt, leaving no fiber.
Use a corn starch
Corn starch is soft abrasive stuff that perfectly removes dirt and dust from windows without damaging the surface.
It is very easy to make a natural spray for windows with the starch a the main ingredient.
To do it, mix 2 tsp. medical alcohol, 2 tsp. white vinegar, 1 tsp. starch and 1.5 cups of water. Pour the solution into a spray bottle and use as directed. To remove any powder, rub it with a crumpled paper towel or terry cloth.
Do not forget to shake the bottle each time before use.
Hard to clean spots
To clean the slots and cavities in the windows frames from dirtiness, first, blow them off with a hairdryer or a hand pump.
Then remove any particles of dust and dirt with an unnecessary makeup brush, toothbrush, or a pen sponge dipped in a vinegar solution.
Instead of a newspaper, a  coffee filter!
Removing the windows streaks with a crumpled newspaper is a lifehack, which our grandmothers have invented. And it really works – but hands during such kind of windows cleaning become very dirty with printing inks.
Replace the newspaper with paper coffee filters. Made from a lint-free material, they will remove streaks and stains on the windows and will polish all the surfaces to shine.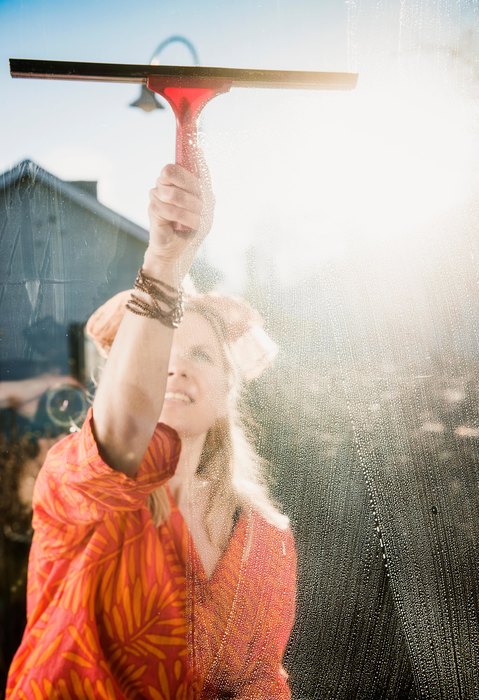 If the window frames turned yellow
It sad but it is inevitable: the plastic on the window frames begins to turn yellow with time.
To bleach the material and return it to the original color, use a mixture of soda and vinegar.
Prepare a paste of these two ingredients, put it on the frame and leave for 5−10 minutes. Then rub the plastic with a clean cloth – and enjoy the result!
To marvelous shine!
Did you know that black tea cleans windows as well as special sprays? The tannic acid contained in the drink quickly dissolves all impurities and gives to the window glasses an extraordinary shine.
Only thing is must be as strong as possible!
By the way, this tip is also useful for polishing mirrors.
Remove dirt from corners
No matter how hard you try to remove all dirt from the window corners you are unlikely to succeed. Take a table knife and with its help, you can do all the work in just one minute. And in be careful not to damage the rubber frame pads – wrap the blade with a clean cloth.
Getting rid of  scratches
If there is a scratch on the window glass, try to remove it with toothpaste. Apply a small amount of the product to the damaged surface and leave it to dry, then rub the paste with a circular motion in one direction.
If it will be necessary, repeat the procedure again.
Clean mosquito nets
On the window, nets accumulate tons of dust, dead insects, cobwebs and other dirty things. Get rid of all this ugliness is very simple.
Clean this mess with a sticky clothes roller, and then rinse it with clean water.