How to find the right place to sleep great small studio ideas for the apartment that serves as several rooms. A living room, a bedroom, a study room, and perhaps even a kitchen?
Experts say that with proper planning, creating a cozy space for relaxation is easy.
And here are some good examples. 
Behind the canopy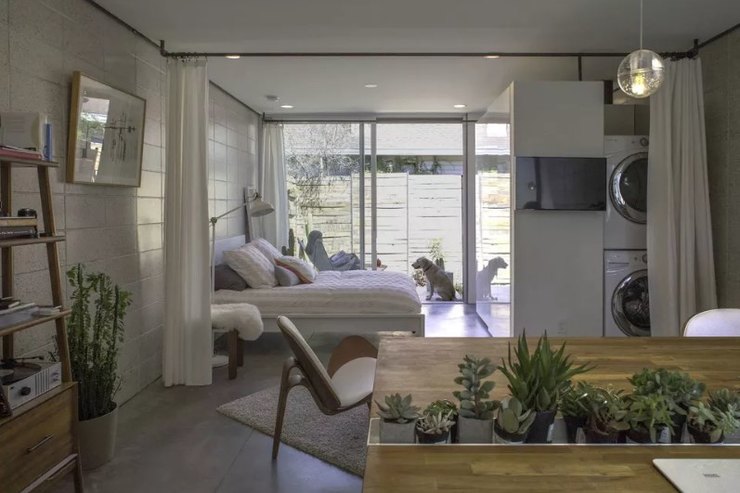 The easiest way to hide a bed is to hang the curtains. With their help, you can zone and re-integrate the space in a second – which you can't do if you install complex and heavy structures.
Hidden storage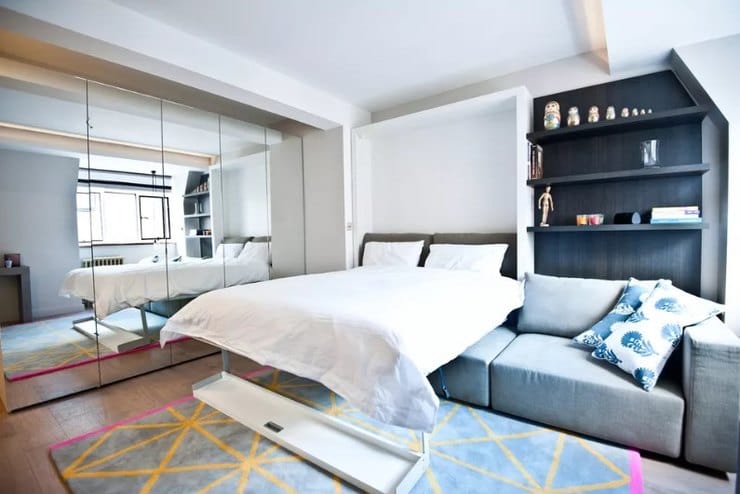 A folding bed is a great small studio idea, where every square meter counts.
In the daytime, the mattress can be hidden in a box attached to the wall and make cozy and
luxurious atmosphere
. In the evening, it can be installed on top of other furniture, such as a low sofa or ottoman.
Build walls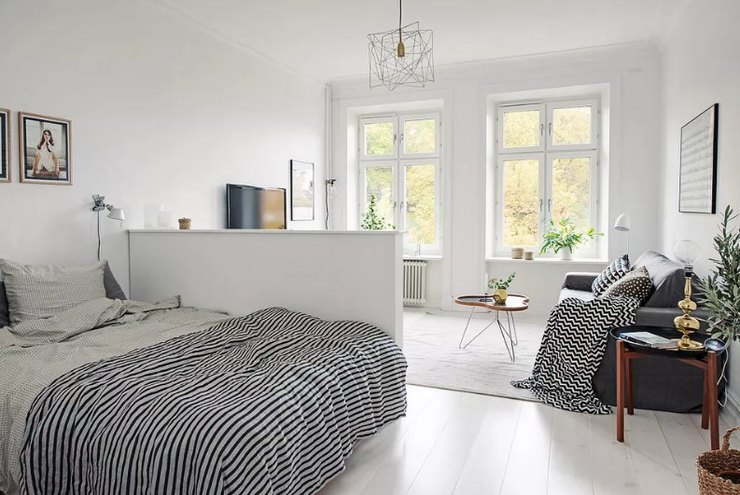 Installing a full wall inside a small room is not the best idea.
That kind of idea usually blocks access to natural light, making the room dark and uncomfortable. Another thing – the pier with a height of not more than a meter. It can also serve as a headboard, and a shelf for books, and a stand for the TV.
Alternative materials

How do you like the idea to design a bed using a screen made of natural wood? To save space, you can install it right around the perimeter of the bed.
Modern Furniture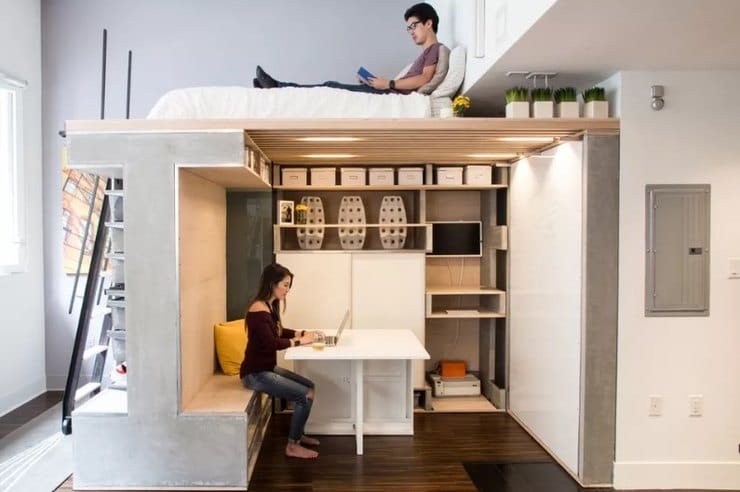 For the small studio design with high ceilings, experts recommend the use of modern furniture systems.
They allow to use of maximum vertical space. For this project, a multi-level design was created with a workplace on the "first floor"  and a sleeping one – on "second".
A nice bonus is a folding bed for guests in front of a desk.
Game of colors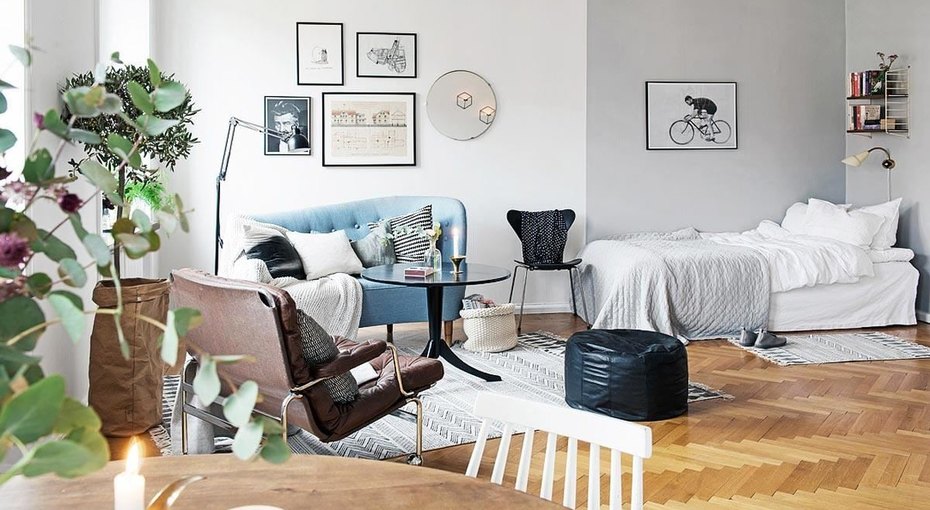 If it is not possible to separate the bedroom area from the living room, try to do it nominally, with color.
There is no need to use sharply contrasting shades.
It is enough to choose two colors that are close to each other but differ in several shades.
For the bold ones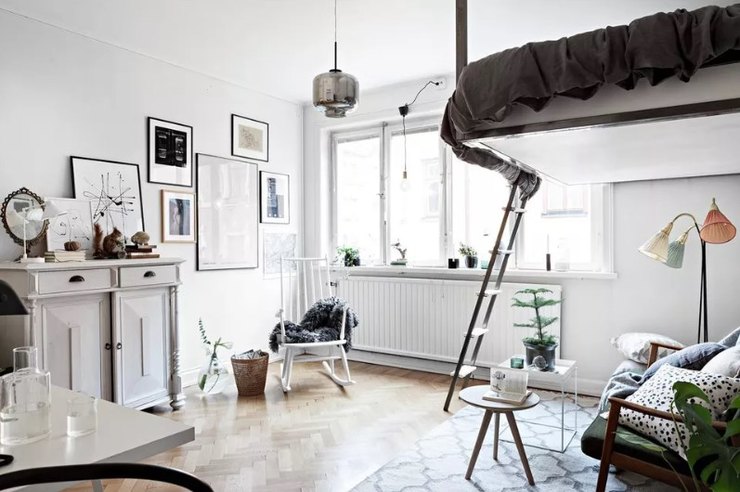 This is an excellent idea to studio apartment owners who are not afraid of experiments (and heights!)
The project designers moved the bed almost to the ceiling, freeing up space under it for the living room area.
So do not forget to make bed fence – for your safeties.
IKEA helps us!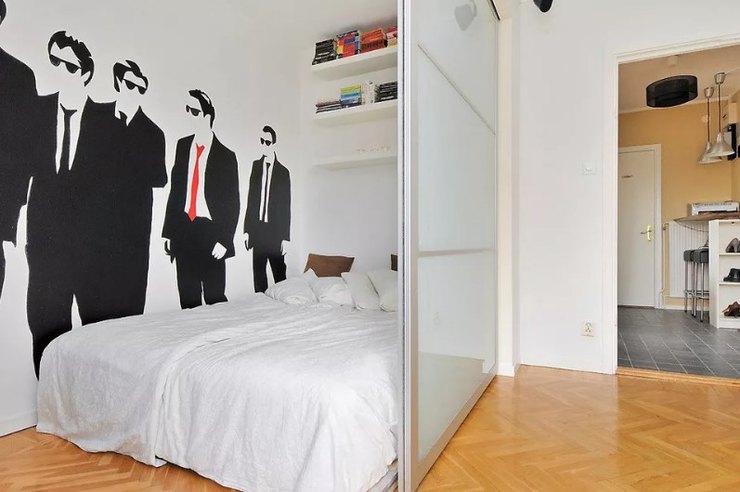 The owners of this small studio apartment didn't like the idea of finding a bed in the middle of the room where they often planned to receive guests.
They use an IKEA sliding door from the wardrobe.
In the allocated space near to the bed, there are also shelves for books and a small rack for storing clothes.
Everybody upstairs!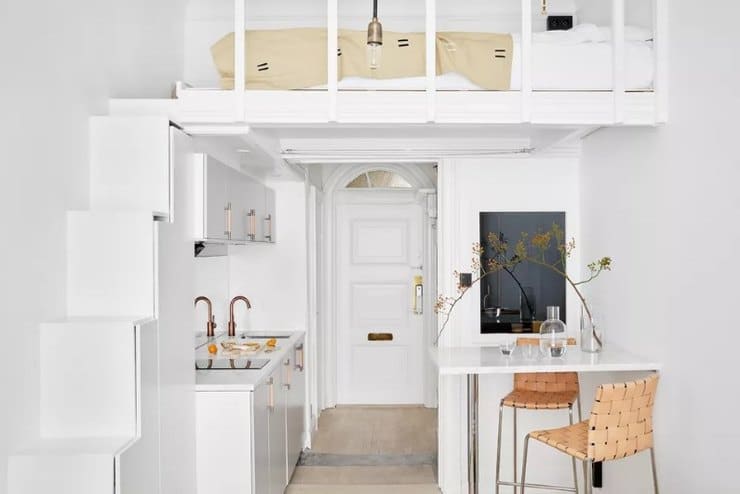 A good solution for a room with a high ceiling is the installation of an attic bed. As part of this small studio idea, a sleeping place is located above the kitchen and dining area.
Notice the stairs?
They have a built-in storage system for dishes and kitchen accessories.