We always want to make our looks more stylish and trendy, don't we? And what can be the easiest way to do this than experimenting with our clothes?
In particular, using the acid-wash method for refreshing our jeans!
If you always wanted to learn how to acid-wash your favorite pair of jeans without destroying them completely, this article is meant right for you!
What Is Acid-Wash Jeans?
Acid-washed denim was very popular in the 1980-1990-s but today its popularity is increasing again especially when such a careless style of clothes is a trend. And there is nothing to be surprised about! 
So what is that mysterious acid-washing? In fact, it is a method of discoloration used for jeans mostly to make them look more worn-out and faded. However, this method also makes the fabric softer and more flexible.
They say that acid-wash was preceded by the jeans style popular among the surfers who used to hang their jeans to dry in the sun so that the fabric got naturally faded. Later, this new look became more popular and people started to search for the way of the same discoloration that would take less time and effort.
At the very beginning, when this method has just been created, the jeans were washed with the pumice stones in a rotating barrel to fade their color and soften the fabric, but later, different chemicals became more popular as they took less time and effort and gave a much better result.
As a matter of fact, this way of changing your jeans' appearance doesn't mean their total whitening (even though today it is also a very widespread way), instead, after the acid-wash, the jeans become like partly faded.
Originally, it used pumice stones and chlorine that is why this style is also known as stonewashed jeans.
But how to acid-wash denim today?
How to Acid Wash
Acid-Washing Denim. Everything You Need to Know Before You Start
Naturally, you would now like to learn as much as possible about this process in detail before starting to stonewash your own pants and it is a very reasonable idea.
Without knowing what and how to do exactly, something may go wrong and it is most likely that you will simply ruin the apparel instead of giving it a new appearance.
So what do you need to know to acid-washing jeans correctly and achieve the long-term result?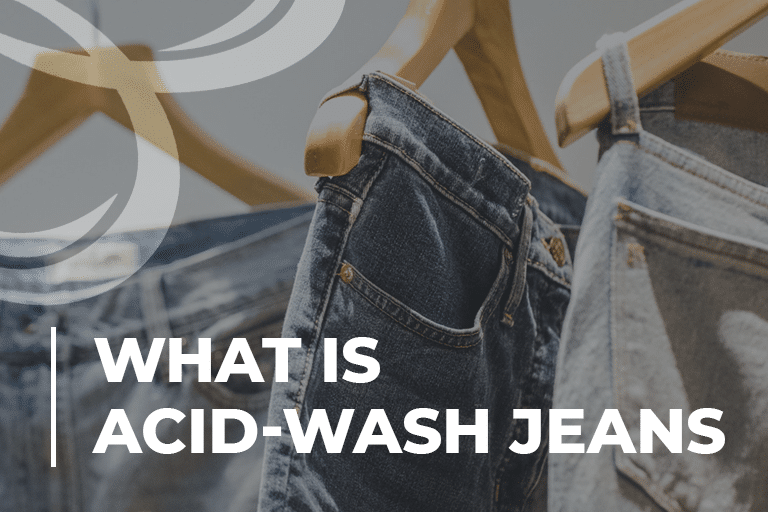 For this purpose, we have prepared several most frequently asked questions and answers to them that can suggest you how to figure everything out!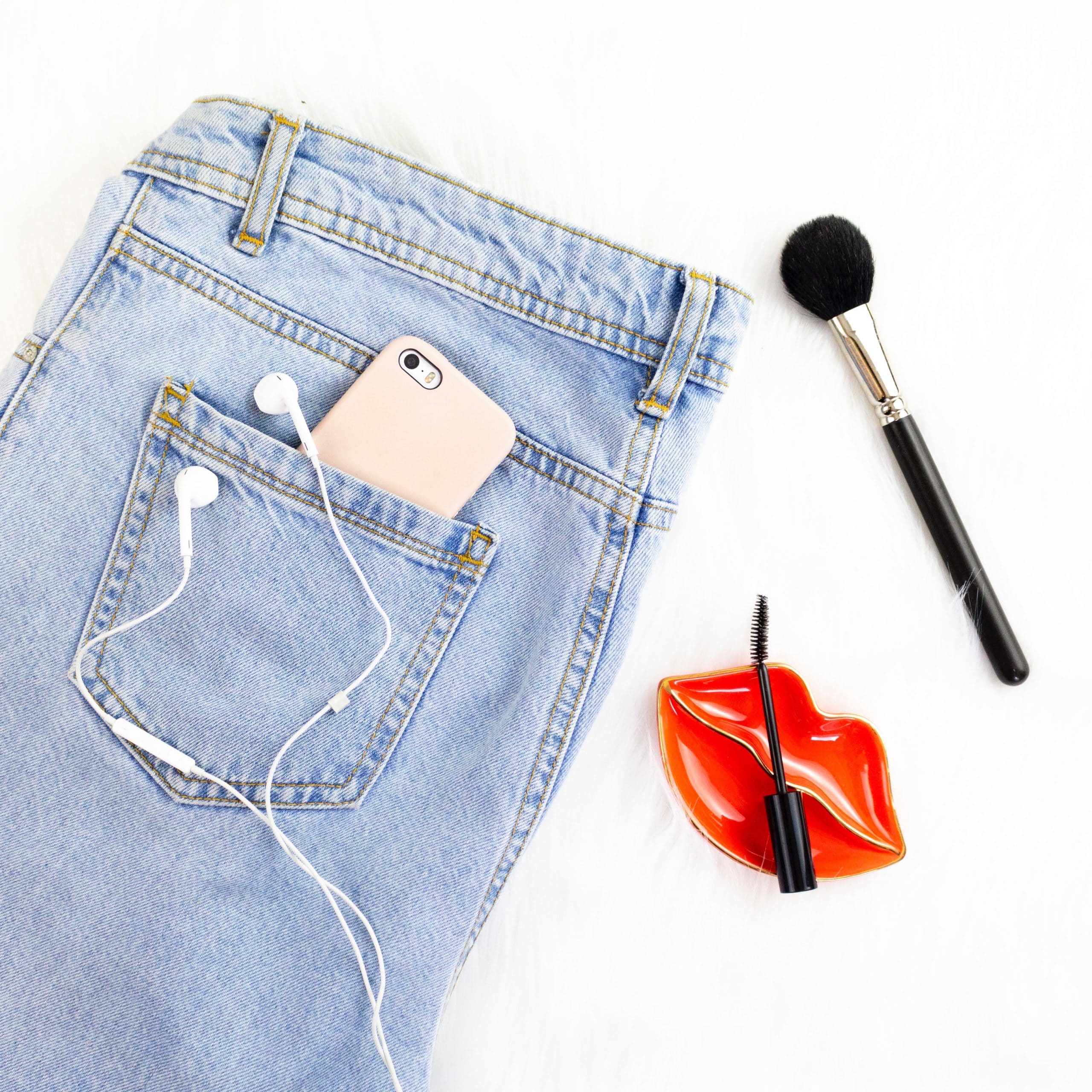 In fact, the procedure itself is very easy. You simply need to prepare water and some chlorine bleach and, for sure, the denim pants and then follow the instructions of how to acid-wash jeans with bleach for getting the wishful result. 
The entire procedure won't take you more than one and a half hours.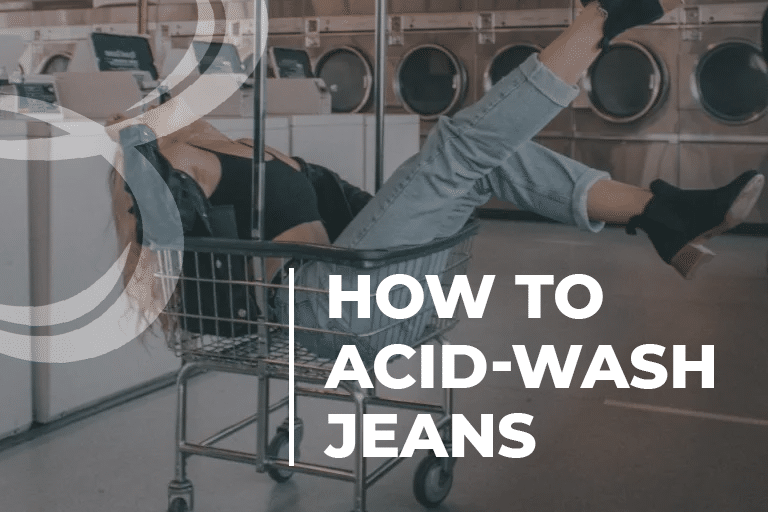 Will acid-wash remove a lot of color from the denim?
In fact, yes, pretty much of color will be washed away from the apparel during the whitewashing. So, if you have never done this before, we would not recommend you to start with the new pair of jeans, better choose an old one or, if you don't have one like this, go to the nearest thrift store and buy one.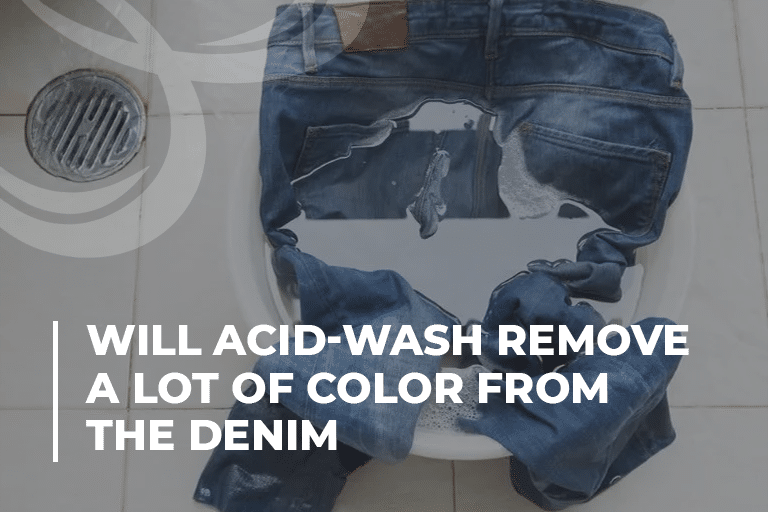 How to bleach jeans using acid-wash?
In a few words, you will have to prepare an acidic mixture and submerge your jeans in it for a while letting the bleach work and remove the color. After it happens, the jeans will be laundered and dried as usual.
No extra methods for fixing the result are required.
Making Acid-Washed Jeans At Home. Detailed Instruction With Tips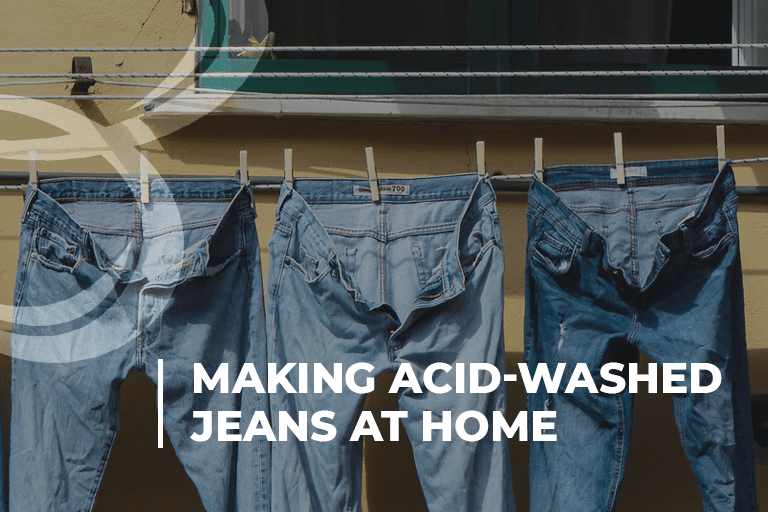 Now that you know the basic specifics of acid-wash of the denim, it is time to take a closer look at the process on its every stage.
If you are interested in how to acid-wash jeans at home, simply follow the next steps precisely.
Choose the old denim pants and tie each leg in several bunches. It will allow the acid-washed jeans to look more patchy after they will be done. 
Now take a bucket and fill it with 2.5 liters of cold water. Ensure that the bucket is capacious to accommodate denim pants completely.
Pour in 1.4 liters of chlorine bleach.
Now, to make acid-washed jeans put on protective gloves and immerse denim pants into the acidic water and leave them in there inverting every twenty minutes for the mixture to permeate properly all over the surface of the apparel.
Let denim pants sit in the blend for at least thirty minutes but no longer than sixty minutes, otherwise, the apparel will be overbleached.
Afterward, rinse the apparel under the cold running water to delete the bleach and launder at the cold cycle.
Remember to put on protective gloves to protect your skin from bleach and work in a well-ventilated room.
DIY Acid Wash For Jeans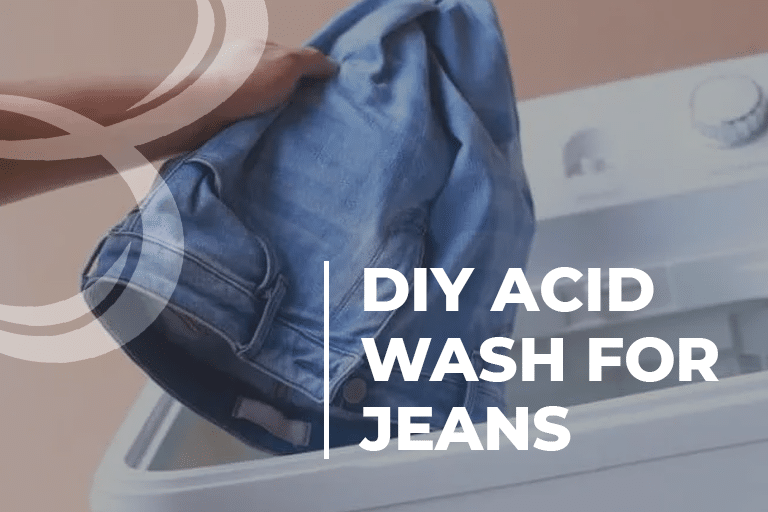 Except for the bleaching agent described above, there is another way how you can whitewash the jeans at home.
To prepare a DIY acid wash for the jeans at home, take an ordinary spray bottle and fill half of it with bleach diluted with warm water.
Lay the denim item flat and pulverize it over in a chaotic way.
Let the item dry and then rinse away the rest of the bleach. Afterward, wash the apparel and dry as usual.
This acid-wash for the jeans is a great and fast DIY way to refresh your denim apparel with no extra effort!
As you can see, whitewashing denim is not something out of your abilities, instead, it is very easy and fast to perform and the result will remain for many years unless you decide to color your denim pants into something else. 
And of course, after learning how to make acid-wash for the jeans yourself, you will be able to refresh your clothes as often as you want!