Graduation is an exciting day for anyone!
All of us remember how worried we were before the graduation ceremony and (even more!) before the graduation party! And of course, having a proper look on such a great day is not the last thing to care about.
This is actually the most common point of concern for graduates: how to make their graduation gowns look neat and, basically, how to care for it and wear it.
So if your graduation day is approaching, and you keep on asking yourself about how to clean a graduation gown to look awesome, this article will be very handy!
How to Wash Your Graduation Gown
You might think that a graduation gown is meant to be laundered the same way we do it with our daily clothing which implies tossing it into the washing machine barrel, adding some washing powder or detergent, and pressing the start button. However, everything is not that simple with this apparel!
See, most of you guys might not even be aware that graduation gowns must not be machine washed at all!
Even if you wash it in cold water using the gentlest spinning cycle, it can still lead to damages to the fabric and thus ruin your graduation apparel.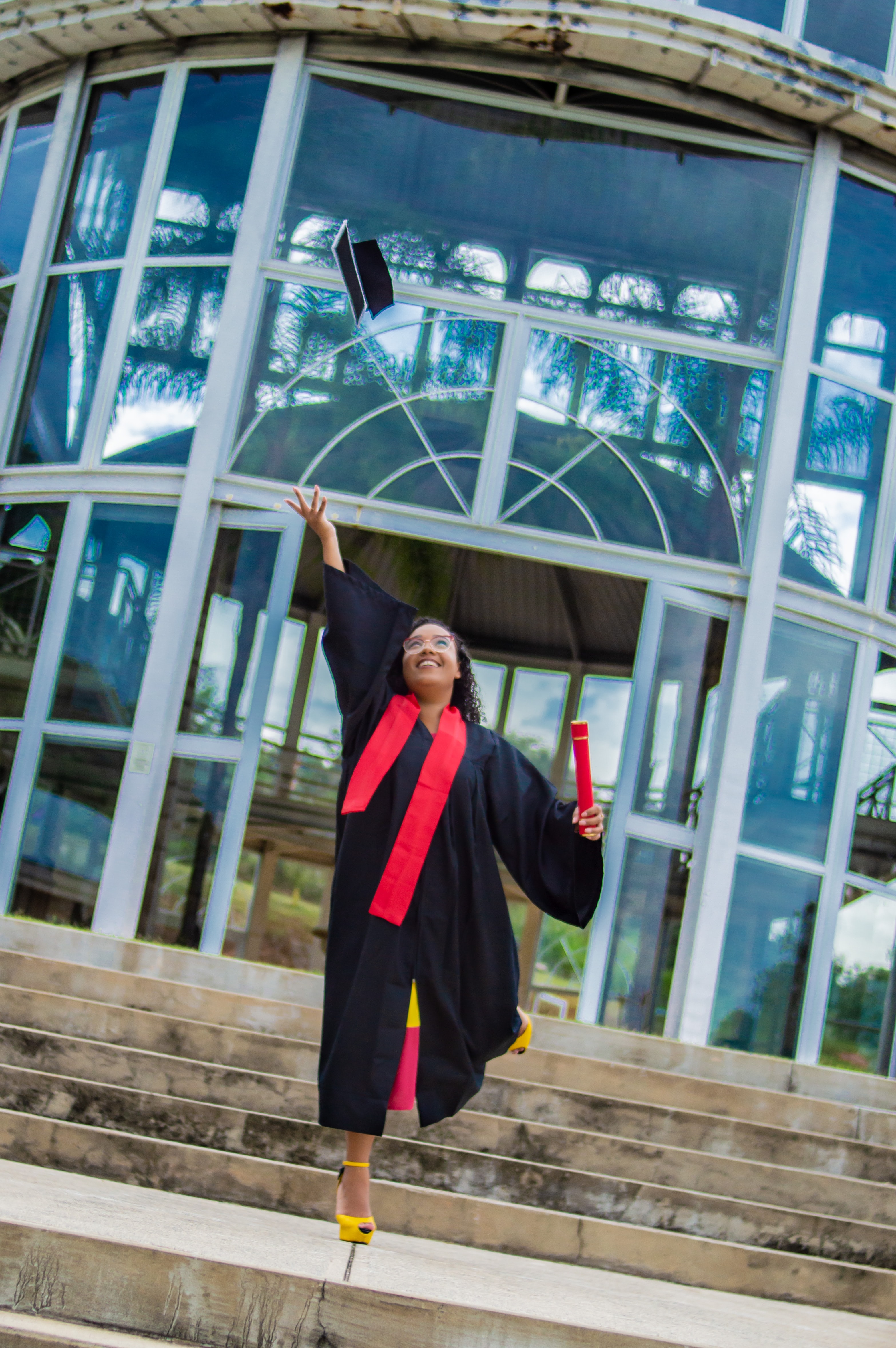 So how do you wash it then?
Well, if this is something that must be done no matter what, then we would recommend you dry clean it. It will help you to ensure that the colors are properly set.
Besides, if your gown has ribbons, lining, cordage, velvet, or silk, it makes dry cleaning the only available cleaning option.
On the other hand, if your graduation gown is made of pure polyester, feel free to launder it in your washing machine using the settings meant for this type of material.
Usually, it implies using warm water and any mild detergent.
As for drying, hang dry will be the ideal choice, but tumble drying at a low heat is also acceptable. But still, prior dry cleaning is still strongly recommended to ensure that all the colors will not be bleeding.
Also, if you find any spots on the gown that must be treated (of course!), then the best option would be to treat them with a bit of a mild detergent. Simply use a towel for that, and make sure you act as accurately and gently as you can.
Of course, this is common advice, and cleaning instructions will vary depending upon the type of fabric your gown is made, as well as the accessories it has on.
| Gown Type | Dry Clean Only | OK With Machine Wash |
| --- | --- | --- |
| Gown with cordage | yes | no |
| Gown with ribbon | yes | no |
| Gown with lining | yes | no |
| Stole | yes | no |
| Velvet Doctor Gown | yes | no |
| Velvet Hood | yes | no |
| All other gowns | no | yes |
| Judicial gowns | yes | no |
| Keeper graduation gowns | no | yes |
How to Clean a Graduation Gown
Since now you know that washing is usually not a great option to use for a graduation gown, there is a reasonable question that comes up. What to do if you find a spot on your gown?
If this happens to you, the only possible way to save the item is to spot treat it using a bit of any mild detergent you can find at home and a clean towel.
And of course, do it as gently as possible to not wrinkle or damage the fabric!
How to Press a Graduation Gown
If you buy a graduation gown, a stole, or a hood, most stores will sell them already pre-pressed.
However, if you still need to press your graduation garment, we would recommend using steam rather than an iron.
With a steamer set on a mild setting, you will easily deal with wrinkles without damaging the fabric. And if you keep your graduation garment on a hanger afterward, it will help to keep it free from wrinkles.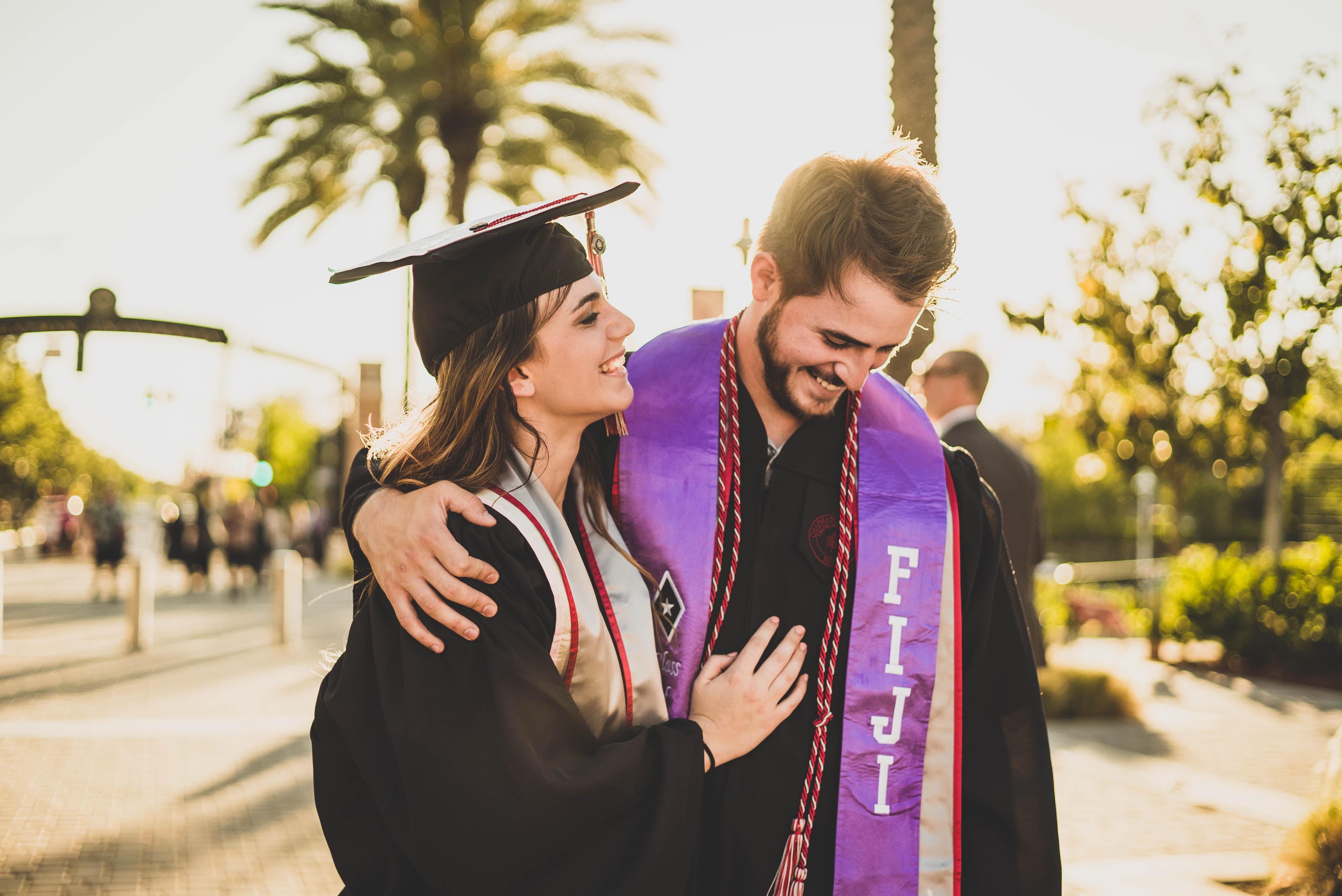 But what if you only have an iron?
Well, in this case, our advice would be to turn the gown inside out first and iron it in a warm setting. Also, when ironing, do your best to move around the exposed velvet or cordage.
Is your graduation garment made of polyester?
Then be especially careful with the heat!
If you apply an iron that is too hot, there is a huge risk you will damage the gown!
How To Steam Your Clothes (The Right Way)
How Should Your Gown Be Worn?
Somewhat weird question, you may think. However, if you learn several handy tips regarding how to wear the graduation garment, you will skip such common problems as wrinkling, for instance.
So, what shall you do?
After you buy and bring your gown home, take it out of the bag. Like this, the fabric will breathe and relax much better.
Keep your gown on a hanger. It will help you avoid wrinkling and keep the fabric smooth.
Try the gown and cap on before the graduation day to make sure they fit you well and all the measurements are correct.
Check how the gown looks on you. Its sleeves must fall below the elbow and above the palm of your hand. The bottom of the garment must fall below the knee and above the ankle.
Try on the cap and tassel, too, to see how the overall outfit will look.
With these easy tricks, you will make sure your appearance will be flawless on graduation day.
And also, it can help to spot any misfits about the gown and fix them before the time comes to wear the garment.
These were the basic rules of how you should take care of your graduation gown, wash and clean it, as well as what to do to keep this garment good-looking until the very day of your graduation.
They are easy to follow but you will see the positive effect right after you make use of them!
Frequently Asked Questions
⭐How to clean a graduation gown if it says to not dry clean or wash?
Try to spot-treat it using mild detergent or soap and a towel.
⭐How to wash a graduation gown and cap?
For the gown, use gentle cycle and warm water, but it's better to dry-clean it first to ensure the colors won't bleed. As for the cap, dry clean it to avoid ruining.
⭐How to wash 100% polyester graduation gown?
Simply machine wash it using the setting meant for this type of fabric.