Blue hair looks astonishing, out of this world, and so trendy! No wonder that so many girls are dreaming about dyeing their locks blue. However, if one day you change your mind and decide to change the color of your hair, removing blue will only be possible with the use of bleach.
What color will your mermaid-blue tresses be if you put bleach on them? Shall you expect any dreadful and dramatic color changes? How to bleach your blue mane to not turn it into a total mess? Too many questions, but we are here to help you out! Today you will learn a few easy methods of bleaching hair that is blue.
What Happens When You Put Bleach On Blue Hair?
Have your blue hair faded into a shade that you don't enjoy that much? Or, maybe, you got tired of that sky-like blue and decided to return to something earthy? Or, perhaps, you are up to dyeing your mane into something even crazier?!
No matter the reason, when you need to remove that blue dye from your locks, there are not so many options you can choose from. In fact, there is only one option, and it is called bleaching. Why only this rather aggressive and harmful method, you may be wondering?
See, blue hair dye is very pigmented which means that, once you apply it to your hair and dye hair blue, it will be quite complicated to get rid of it. And simply washing your chevelure with a shampoo will not be enough, the same as dyeing over the blue will not be effective. You need to strip that color out of your tresses to be able to apply another color on top.
But how will your blue hair react to bleaching? Obviously, when applying bleach to the blue strands, the product will strip that color out. If you do everything right, there will even be no residual color left on your locks!
And now let's see what tricks you can make use of to remove blue hair dye from your locks as easily as possible without causing dramatic damage to the strands.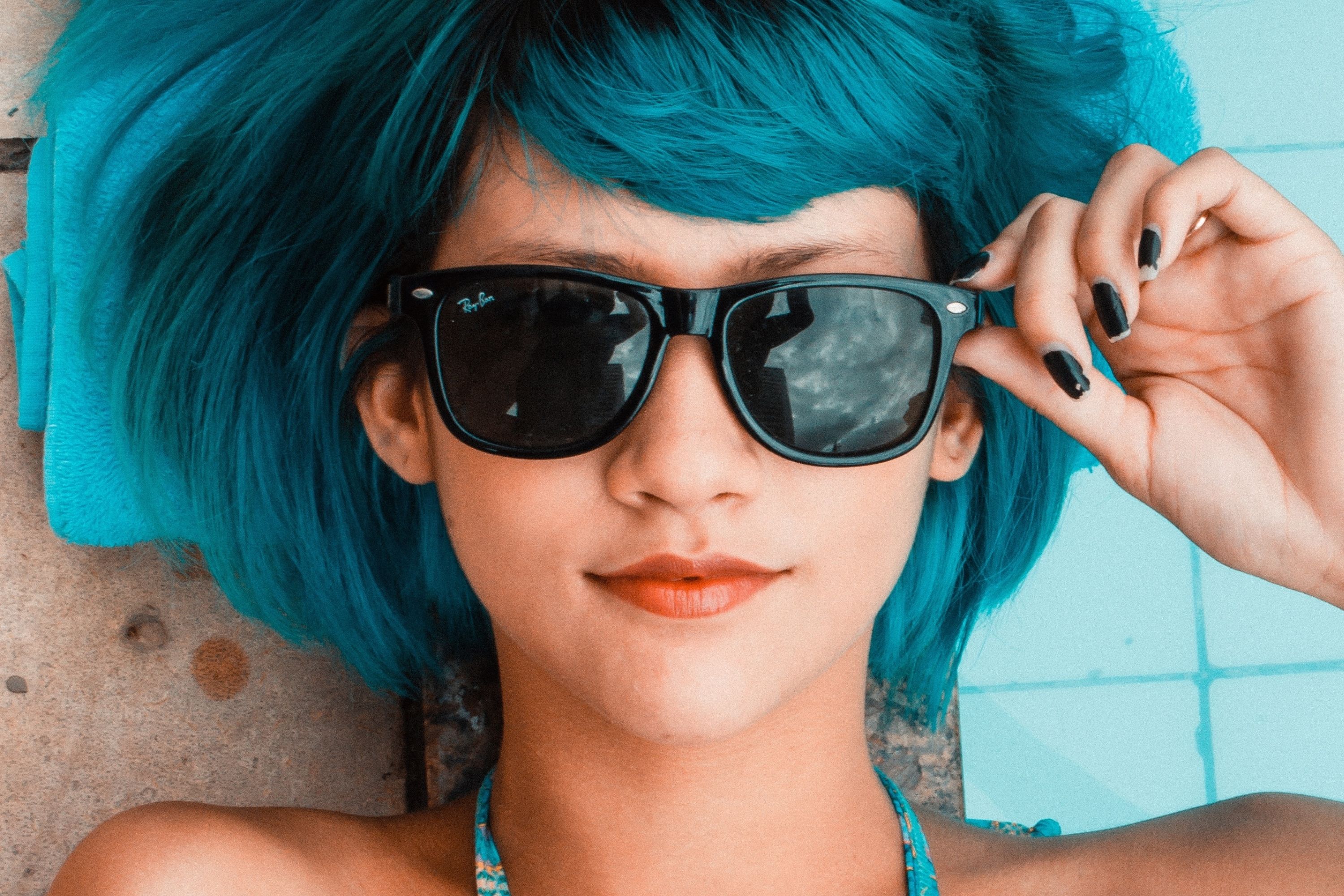 Bleaching Blue Hair. Tips
If you are new to hair dyeing magic, you will most likely think that, to cast blue color out of your hair, you will need to either wash your locks with purifying shampoo or use a toner to strip that blue away. In both cases, the answer is wrong since these methods can hardly be considered very effective.
Instead, we suggest you check out several really well-working alternative options that will give you a 100% result!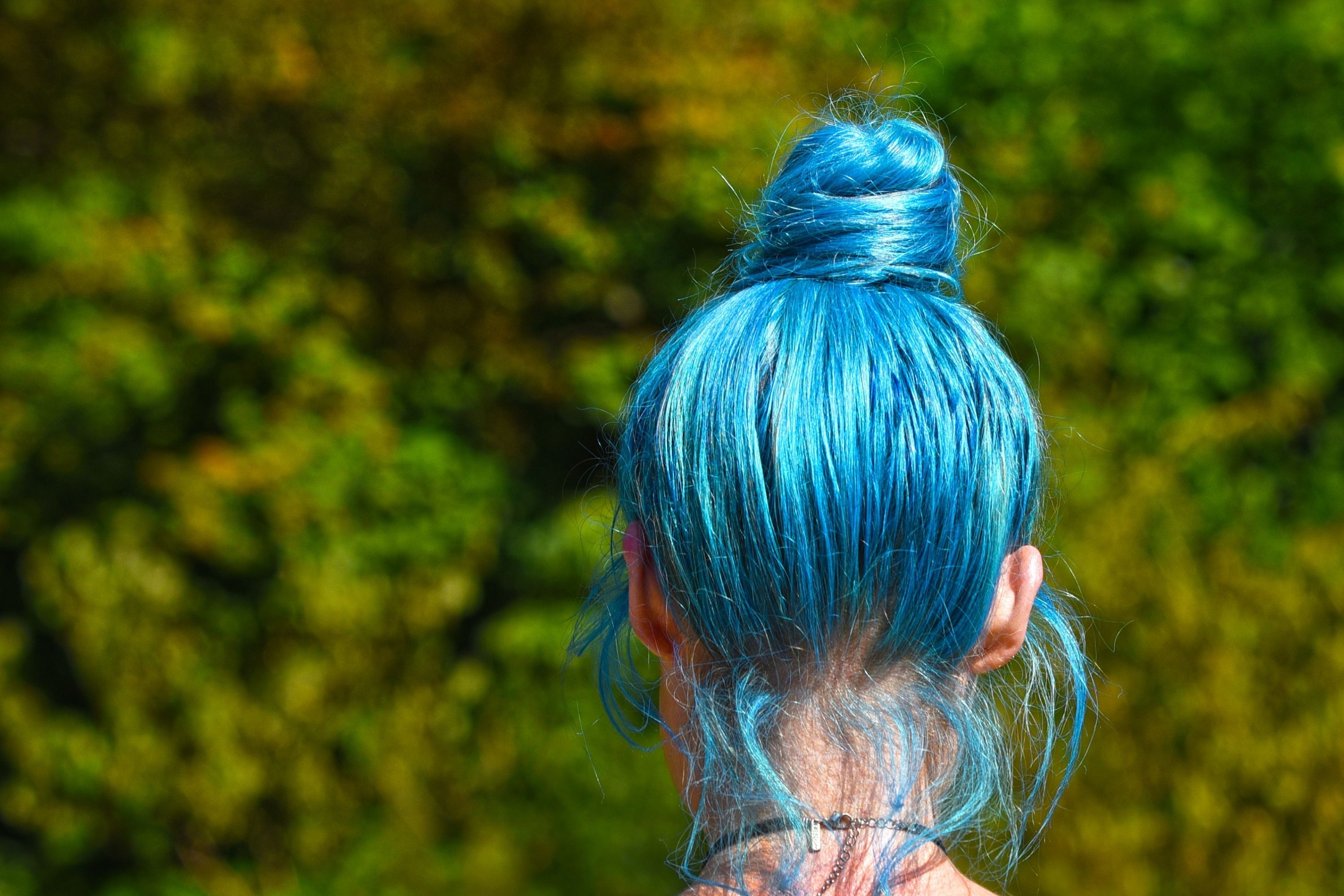 How to Get Blue Out Of Hair With Bleach Bath
Bleaching over blue hair is the most effective and fast way to remove blue hair dye from your head. Besides, it is quite easy to prepare at home, however, do note that you will need to take extra precaution measures since bleach is quite a harsh chemical! And of course, for getting the best results, we recommend you do this at a reliable salon.
But if you are brave enough to bleach your hair yourself, follow the instructions we give to you very carefully. It will help you to avoid any mistakes and you will not cause any damage to your hair.
So you need to start with mixing your bleach powder with 20 volume peroxide using a 1:1 ratio.
Then, mix in the same amount of your shampoo.
The next step is to wet your hair and remove the excess water with a dry towel.
Now apply the mixture you have prepared before moving from the hair tips to the roots.
Cover the hair with a shower cap and let bleach do its magic for half an hour.
To finish the process, rinse your hair and, in case you feel it is too dry, feel free to apply some hair conditioner or a hot oil treatment for extra moisturizing.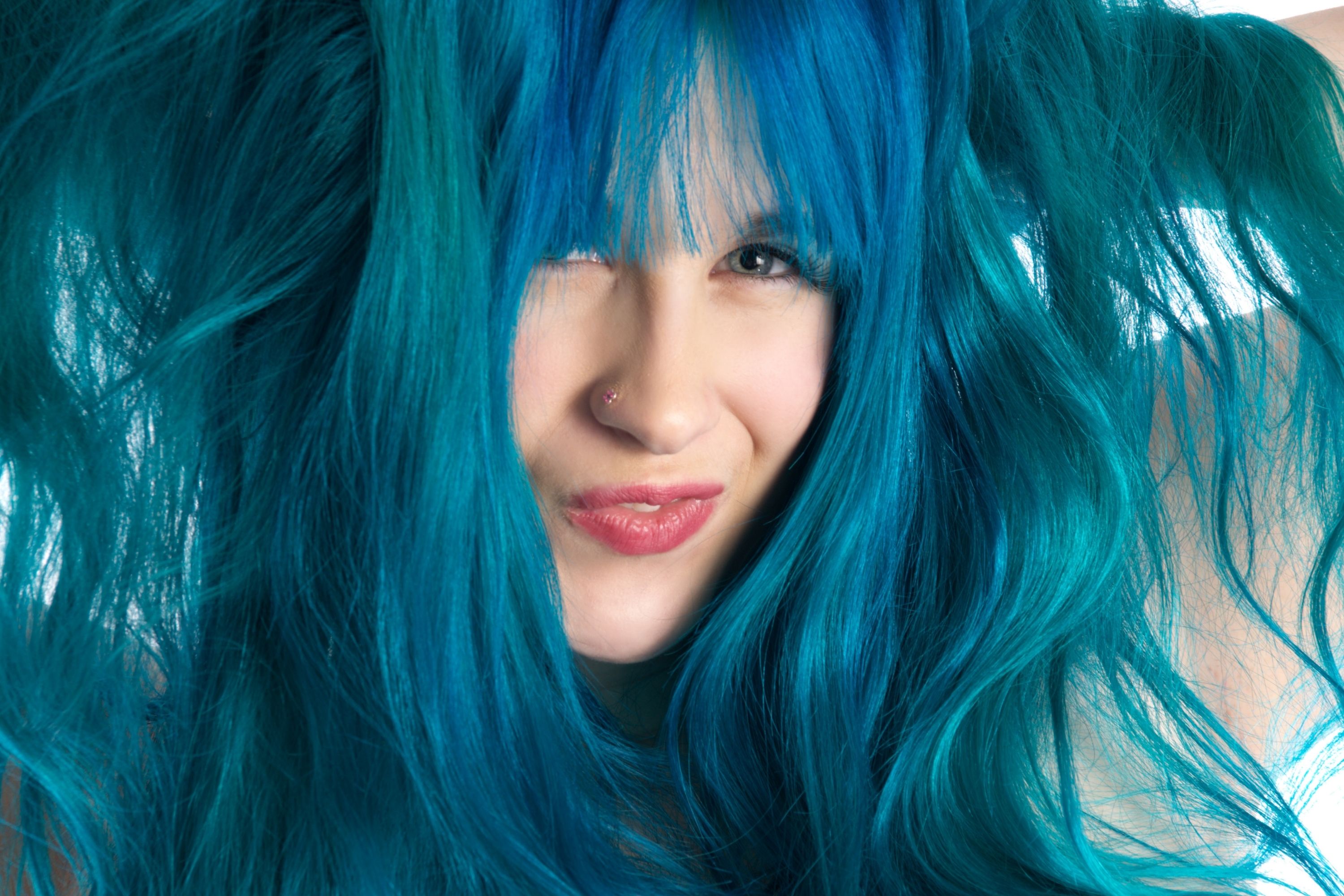 Rinse Your Hair With Anti-Dandruff Shampoo
You may be surprised, but anti-dandruff shampoo is really good for removing blue hair dye! See, this kind of shampoo has quite a strong clarifying effect. Thanks to it, this product is able to carefully remove the artificial hair color without causing damage to your mane.
To speed up the dye removal procedure, try to add some baking soda into the shampoo and apply it onto your blue strands like this. This trick will also help you to get rid of even the slightest color stains on your locks!
However, do please note that, when using this method, you should not expect any super fast results! To wash off that blue and for a successful fading of the blue hair, you will need about ten to fifteen washes.
To prepare this soda-and-shampoo mixture, you will need the following:
Take a half cup of baking soda with some water, and make a semi-thick paste substance.
Wash your hair with any anti-dandruff shampoo and leave it in your locks for five minutes before you rinse it out.
Now apply that baking soda paste to your hair.
Let it sit for at least ten minutes.
And rinse it out with lukewarm water.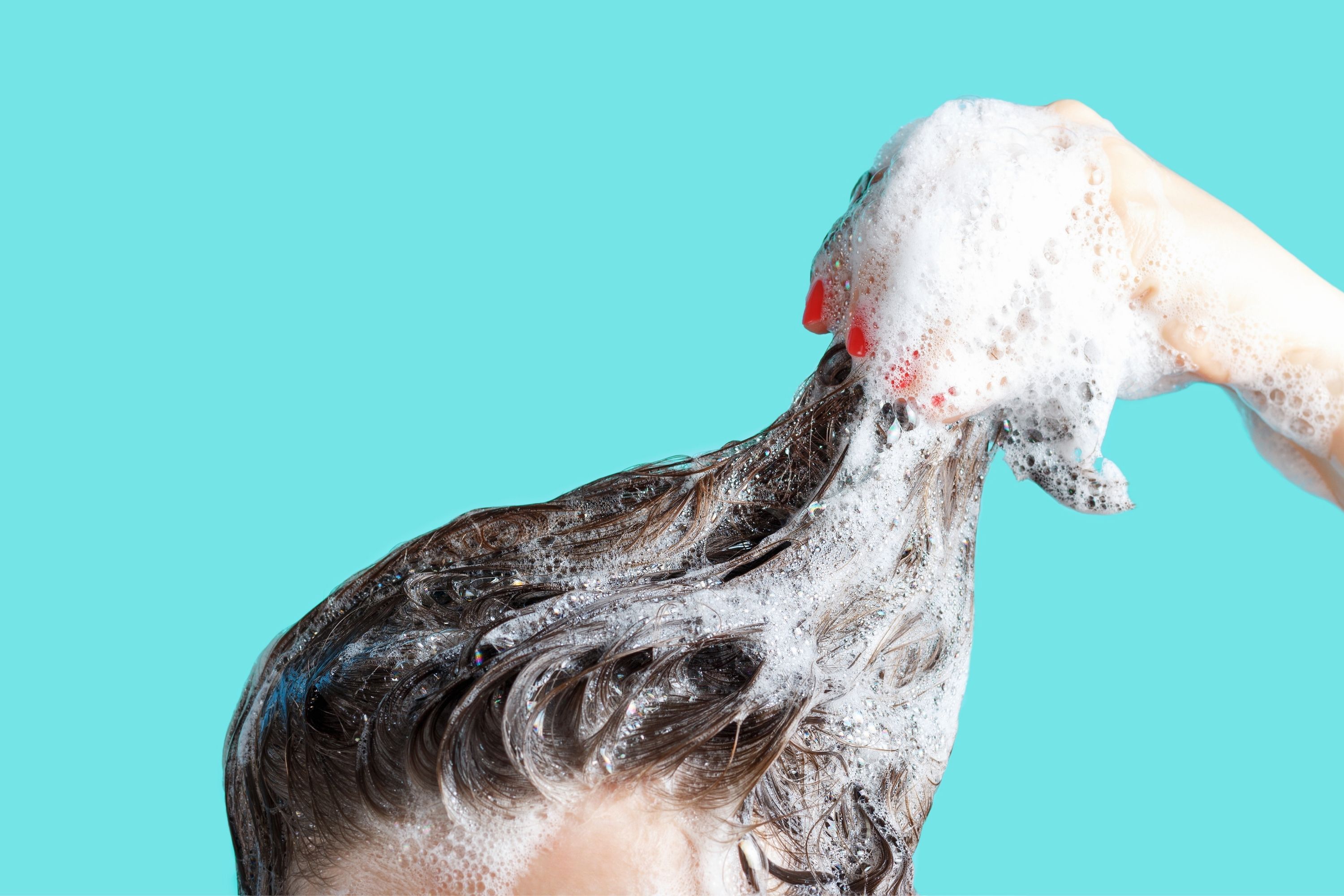 Apply Vinegar
Have you ever wondered how to remove blue hair dye without using a bleach? Well, white vinegar is the answer! Of course, you will need to use a diluted product, not the pure one!
See, white vinegar is acidic thus helping to break down the hair dye. Like this, it helps you to remove the pigment from your tresses slowly without damaging them, wash after wash, until the color fades away completely.
How to do it?
Prepare a mix of vinegar and warm water in equal parts.
Pour the mixture over your head to saturate the hair.
Put on a shower cap for fifteen minutes.
And rinse the mane with lukewarm water applying any deep hair conditioner afterward.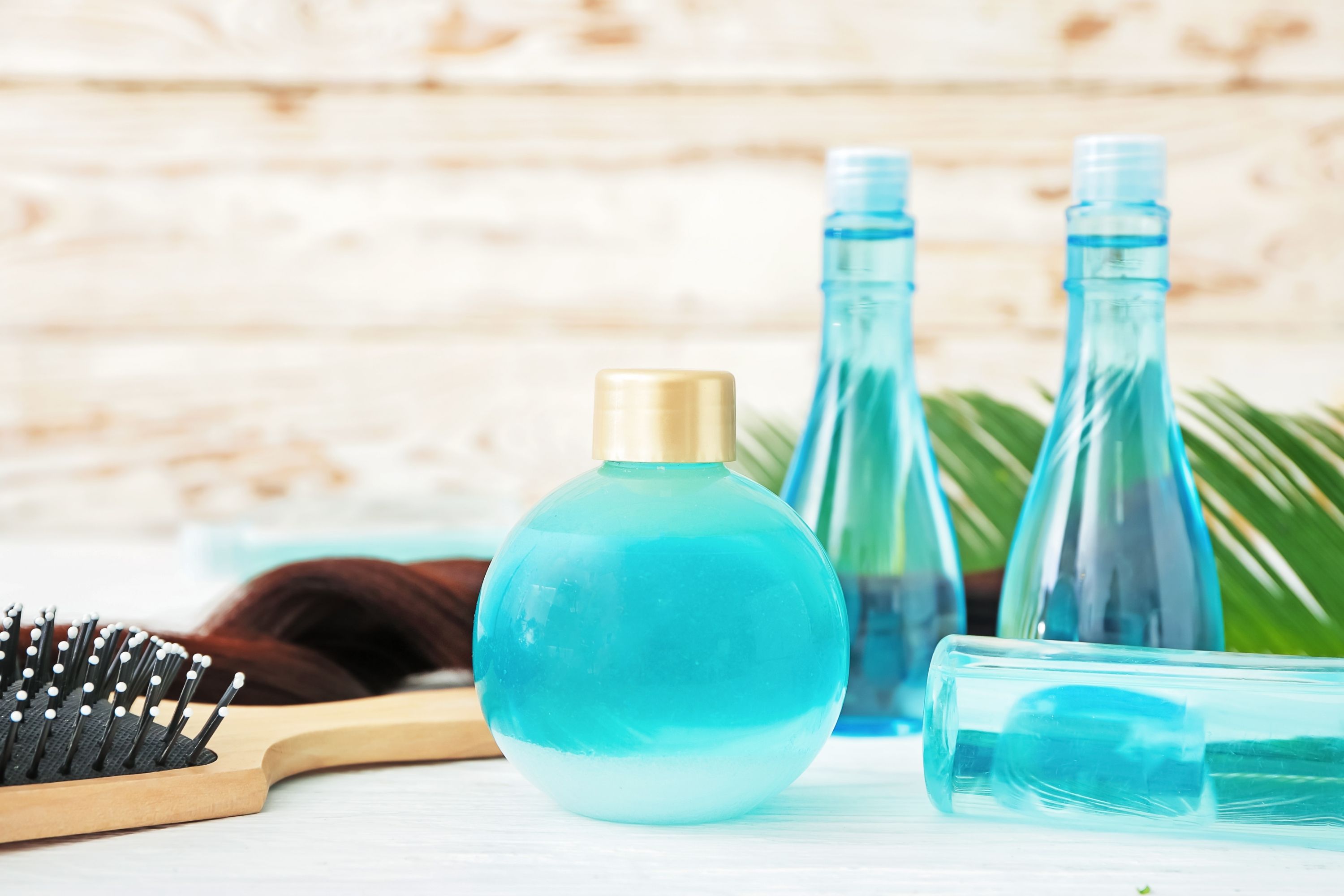 Don't Forget About the Clarifying Shampoo!
Of course, if you don't feel like preparing homemade dye removing mixtures, you can always opt for such a handy invention as a clarifying shampoo! However, take into account that this method will only show good results if your blue dye is semi-permanent!
If it is, then apply the shampoo over the entire head and leave it in for a few minutes to let it dissolve the color. The product will deeply cleanse the hair and remove any stubborn build up from your scalp during this period of time.
You might be wondering how many times you need to wash your hair like this to get rid of that blue. Well, it mostly depends on how concentrated the dye is on your locks.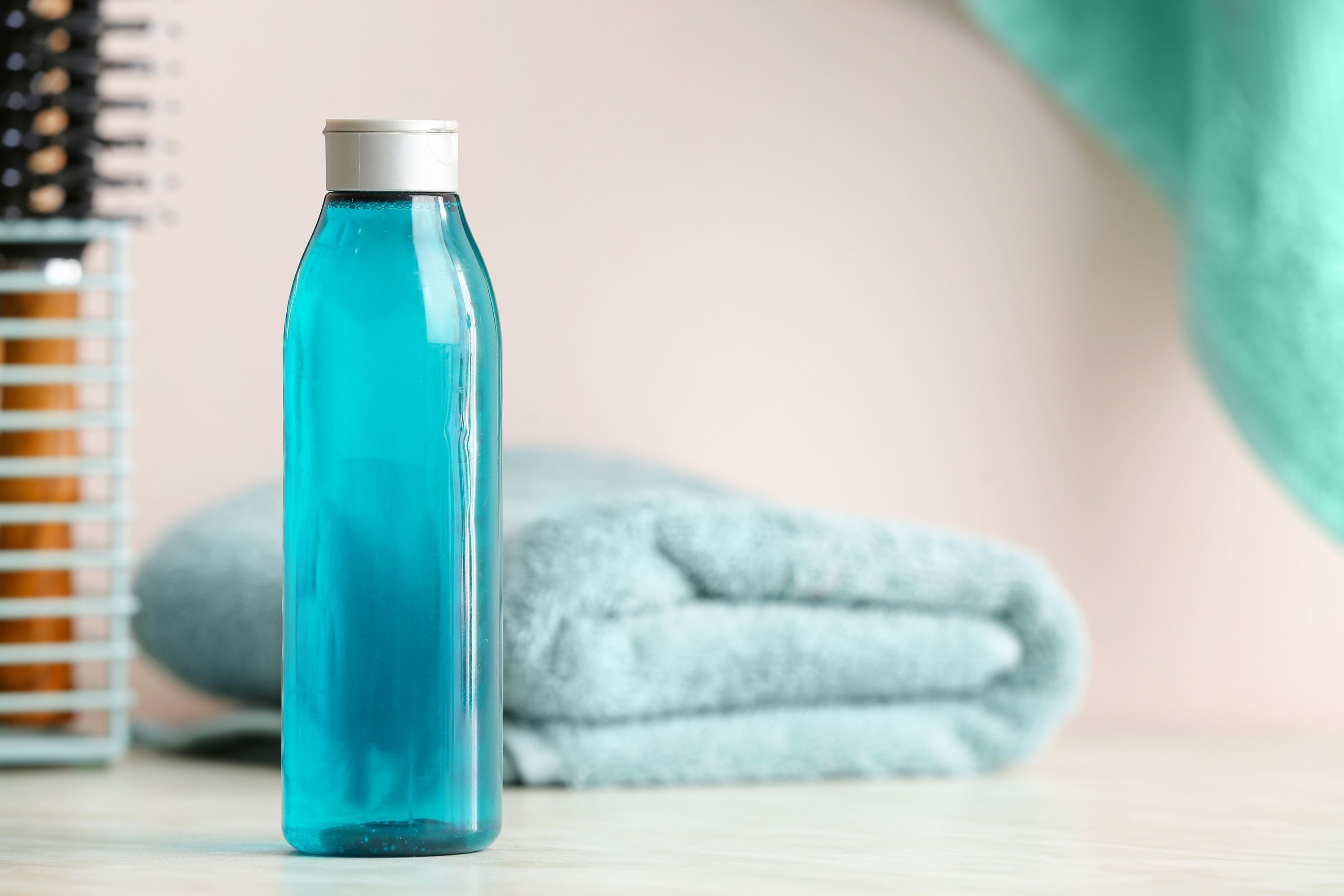 Try Out Some Dishwashing Soap Or Liquid!
Yep, that may sound gross, but a simple dishwashing liquid can be surprisingly handy when fighting the blue hair dye! These products contain alkaline compounds that have cleansing properties, so if you have no clarifying shampoo or vinegar, you are very welcome to grab your liquid for washing dishes!
To apply this unusual and unexpected dye removing product, do the following:
Prep a mixture of equal parts of dishwashing liquid and your shampoo.
Apply it to your wet hair and leave to work for at least ten minutes. This time must be enough for the solution to break the blue dye.
Rinse your tresses with lukewarm water and use a conditioner since dishwashing liquids contain quite a high amount of sulfates that make our hair break!
And of course, remember to apply this mixture several times until you get the desired effect.
How to GET RID OF blue hair dye!
Vitamin C Tablets Will Help to Remove Blue
To get faded blue hair, you can also make use of vitamin C tablets or gel. The citric acid they contain will break the hair dye and make it easy to come out. However, take into consideration that this approach works best of all only when applied on semi-permanent dyes! Also, to get a visible effect, you will have to wash your hair multiple times.
In general, the procedure of stripping blue out of your hair using vitamin C is very simple.
Take three to four spoons of any shampoo and mix in some crushed vitamin C powder until you get a paste-like consistency.
Apply this paste on damp hair and put a shower cap on.
Let the paste sit and work on your locks for nearly twenty minutes, and then wash it off thoroughly with lukewarm water.
Finish with applying any hair conditioner to moisturize the tresses.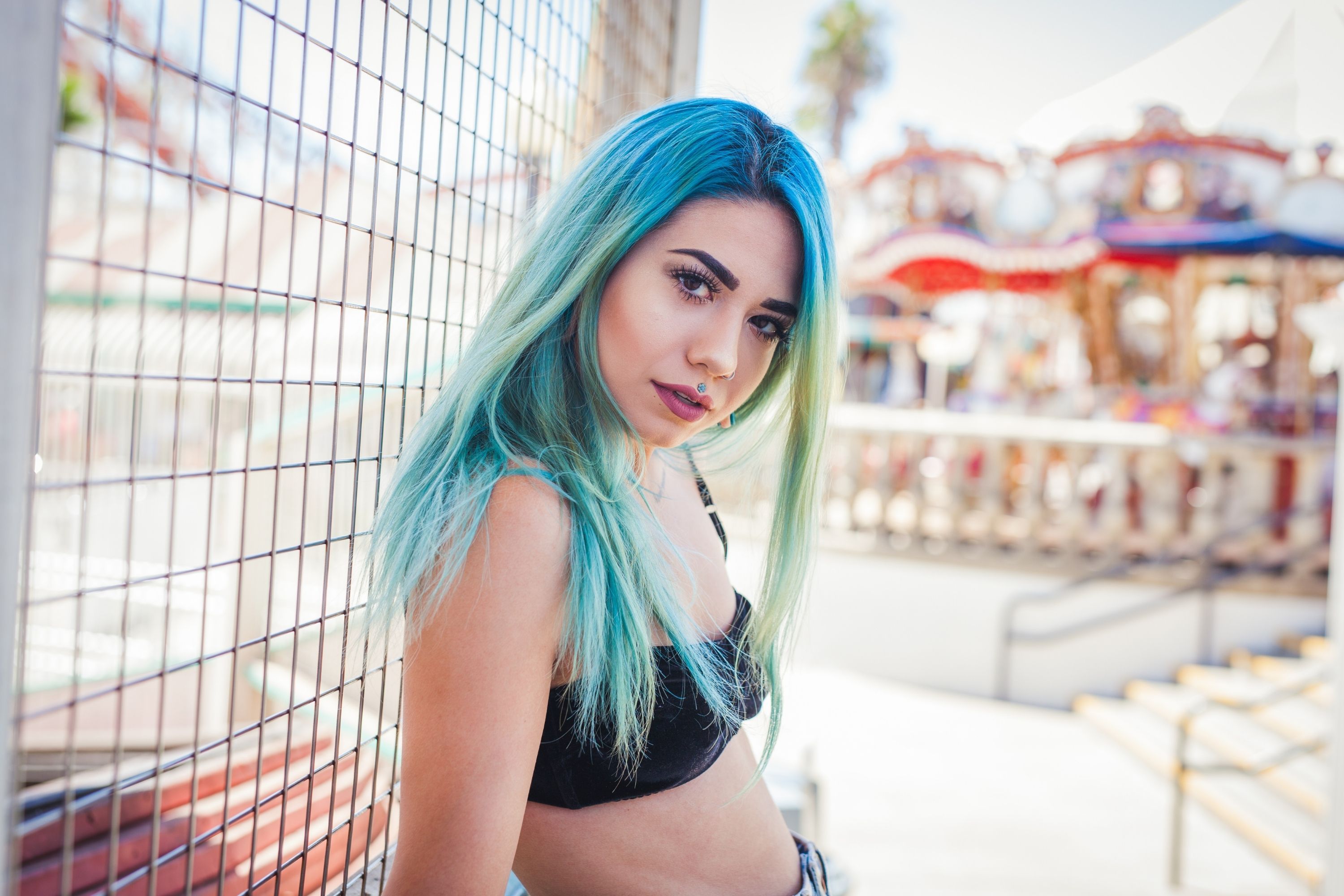 Expose Your Tresses to the Sun
We know it may sound funny, but keeping your hair exposed to direct sunlight can also make blue hair dye fade! However, we must confess that this is an extremely slow process, even though it is the safest one as well.
And of course, its rate of success can not be compared to all the methods we have described above!
The only case when this method can work more or less well is when you dyed your hair blue without previously bleaching them. And also, if your hair is initially quite dark. Only in this case you will notice rather significant color changes in just a few days of constant sun exposure!
Now that you know how to remove blue hair dye, and you have several alternative options (with some of them being quite extraordinary!) of how it can be done, let's see what colors can be applied onto your mane after bleaching blue hair.
What Color Can I Dye My Hair After Blue?
This is the most frequent question when girls finally strip that blue away. Since removing this color is quite a stressful procedure for our locks, you don't want to make it even more damaged by applying a dye that will require another aggressive treatment! This is why blonde dyes are better to be set aside for a while.
Instead, we recommend you take a closer look at such dye colors as brunette, brown, and dark red or copper. They contain orange shades which makes these colors the best choice for a successful hair "repainting".
In addition, these colors are close to natural ones which means that your hair will get the minimal damage when being repeatedly dyed.
With all that in mind, consider using the least harmful dye removing method from all that we provided you with. And also, make sure you pick the right dye color when you decide to change your blue locks to something else. And remember that, after being bleached, our hair is very fragile and vulnerable, so avoid re-dying it with colors that also need an aggressive treatment!
Frequently Asked Questions
⭐ How to neutralize blue hair?
You can bleach it out, use clarifying shampoo, or apply color removers.
⭐ How long does dying hair blue take?
It won't take you more than an hour in total.
⭐ How much does it cost to dye your hair blue?
If your hair is dark (black or dark brown) and you're dying it blue, it may cost around 300 to 400 bucks. Dyeing fair hair like blond will cost between 150 and 200 dollars.