Polyurethane is known for being a very tough, durable, and long-lasting varnish that gives objects a recognizable plastic-like coating. Another benefit of this material is that it is resistant to most substances including those that contain acids, which makes it an ideal varnish for cabinets and kitchen furniture.
However, since it is so hard to damage, it also means that polyurethane is pretty hard to clean! And this often becomes a point of concern for most housewives when they need to dust a polyurethane-covered surface.
Want to know how to clean up polyurethane almost with no effort? We can share a few secrets with you!
How to Clean Polyurethane-Varnished Wooden Furniture
How to clean polyurethane surfaces if they are so hard to affect? Well, this type of coating is surprisingly simple to maintain, you just need to know what cleaning products and what tools can be used. Basically, cleaning polyurethane implies dusting it with a cloth, brushing, and using mineral spirits.
With their help, you will be able to remove the dust and grease from the polyurethane-covered surface quite effortlessly without damaging the coating.
And since this type of varnish is so durable and strong, it will easily withstand quite many different cleaning products and tools!
Feel free to use microfiber mops, harsh-bristled brushes, vacuum cleaner, and even wet cloths to wipe away the dust or greasy residue!
But if you want to know exactly how to act in each particular case, check out what to do when dealing with distinct types of dust and dirt.
What to Do If You Need Dust Cleaning
Dust cleaning polyurethane is not a big deal, to be honest. A simple dry microfiber cloth will be your best helper and friend in this case.
And in case your kitchen cabinets have an extremely stubborn or bad greasy buildup, don't hesitate to work on it with a harsh-bristled nylon brush! Polyurethane will easily cope with such a treatment.
You can either make use of a special brush for cleaning or even opt for an old harsh toothbrush (it will be especially good on hard-to-reach areas and crevices!).
However, even though polyurethane is such a durable material, it does not mean you can go nuts and brush it like crazy! Do it delicately with short gentle strokes for removing the dust and not damaging or scratching the surface. As an alternative option, make use of a vacuum cleaner with a brush attachment to make your kitchen cabinets clean again.
Removing Grime And Grease From Polyurethane
With greasy marks, it is always somewhat more difficult to cope with no matter what type of surface they are found. In terms of polyurethane, you additionally need to take several handy tips into consideration.
First of all, never use wax and furniture polishes on this kind of coating! They will only make things worse leading to the development of greasy buildup after a while. So either minimize their use or refuse applying them at all. You can still, however, wipe the greasy cabinets with a damp cloth. It will effectively remove the grime and grease, but for the stubborn grime, it will hardly work that well.
So what is the solution, you may wonder? Simply make use of some extra cleaning products in addition to those we have just listed here! For instance, mineral spirits work exceptionally well on smudges and dirty marks!
As an alternative option, you could prepare a cleaning mixture yourself by combining water and white acetum in a pulverizer. When applied to the surface of your cabinets, this solution will successfully free them from any grease and grime once and for all.
Vinegar removes grease without causing any damage or abrasion to the varnish. In addition, since its effect is close to that of a glass-cleaning liquid, vinegar will not leave those ugly cloudy traces on your polyurethane surface. And if you feel uncertain about the scent of such a homemade cleaning product, you can shift it for some rubbing alcohol easily. A few drops on a clean dry cloth will do miracles on greasy surfaces!
To Remove Stains From Polyurethane Coated Surface
Have to deal with stained polyurethane cabinets or other surfaces in your house? It may look challenging, but in fact, the whole process will hardly take you a couple of minutes!
The simplest way to deal with stained polyurethane is to apply a microfiber sponge and wipe those stains away. Just imagine that you can even cope with such hard-to-delete marks as the marks from crayons, permanent markers, etc.!
In case the stain discolors polyurethane, there is another solution for coping with it. First of all, you need to sand the stained spot with a fine grit sandpaper, and wipe away the dust left after the sanding. Afterward, simply reapply the coat of polyurethane and let it dry! If needed, repeat the procedure again.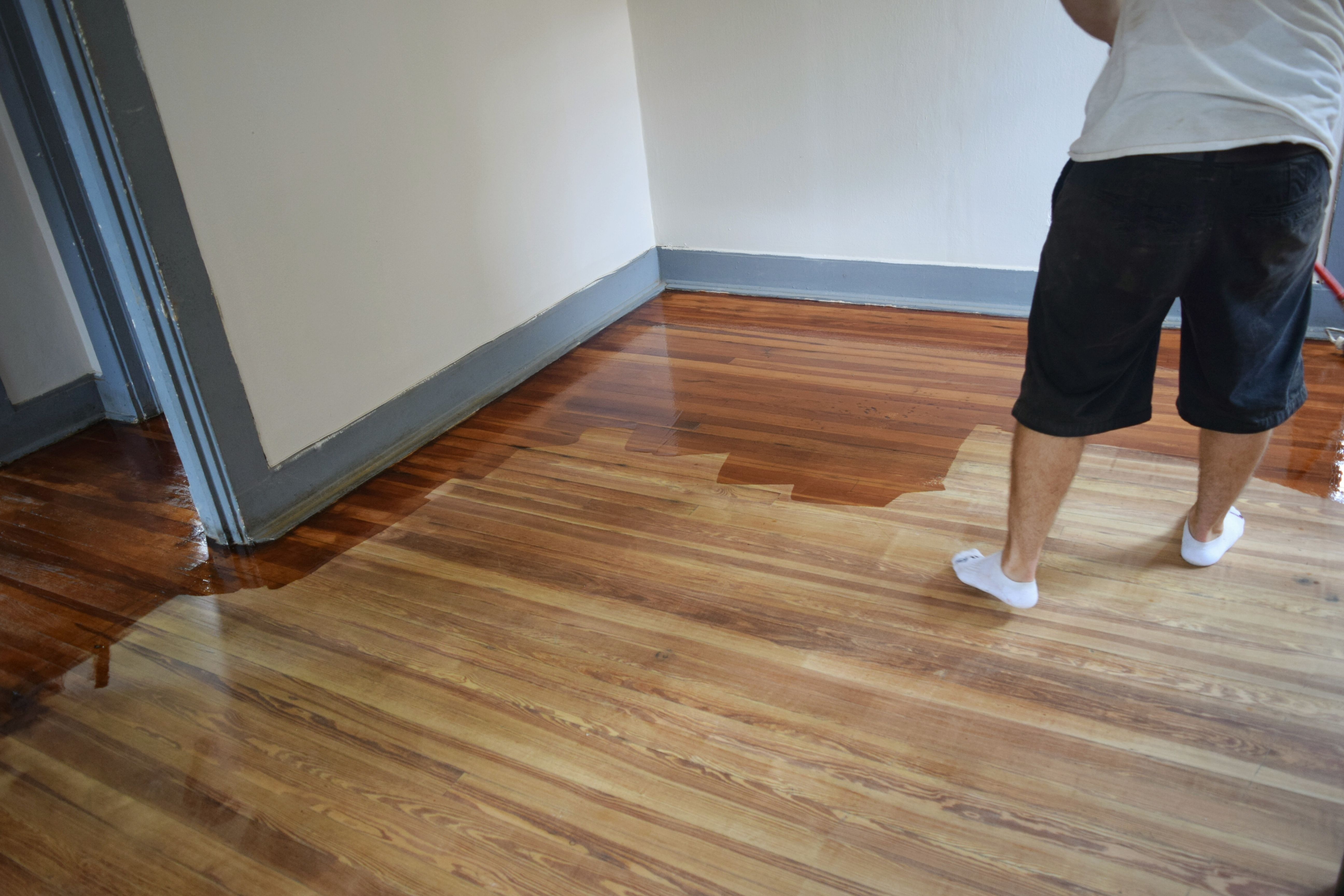 How to Deal With Water Stains On Polyurethane
Stains that water leaves on our furniture is something that we would rather avoid by all means. These ugly and very noticeable white marks make any piece of furniture look dirty and unmaintained. But if you did end up with one or several of them on your wooden furniture coated with polyurethane, it is too early to panic! You still can fix the situation.
Baking Soda For Water Stains
This nearly all-purpose powder can do miracles with those stains! All you have to do is to mix together one big spoonful of baking soda and the same amount of water until you get a paste-like substance.
And then delicately rub the stained spot using a clean cloth and your freshly made remedy. With the circular motions, keep on working on that spot until it is gone. The only thing you must be cautious about is not to rub too hard since like this you will most likely leave a permanent mark on the surface!
Treating Water Marks With Petroleum Jelly
This stuff is another miraculous remedy to apply. Simply place a small amount of it on the watermark left on your polyurethane-covered wood. Leave it like this overnight only to see in the morning that it can be easily wiped clean!
Vinegar
White acetum can save you once again, only this time you will need to add some olive oil to it. Once the two components are combined, apply it to the stain with a clean cloth using circular motions. Keep on working until the ugly watery mark is gone.
But if you have none of these products at home and you urgently need to get rid of that stubborn white water stain, simply grab a tube of your toothpaste! Using a non-gel one, apply a bit of it onto a clean cloth and wipe the stain away just as you would do if using one of the remedies described above.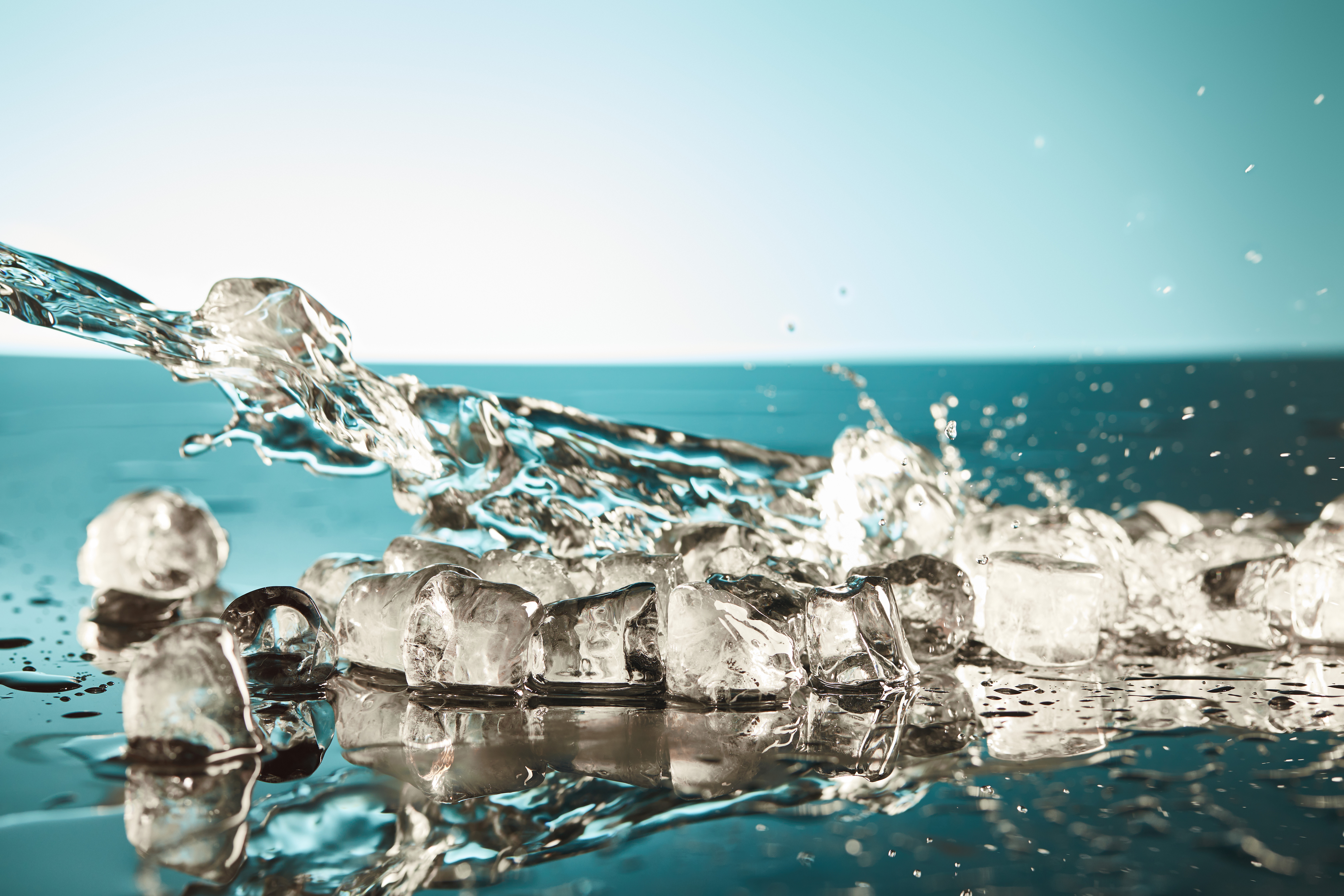 How to Ensure You Are Actually Cleaning Polyurethane
Well, first of all, you need to remember one very important rule: when cleaning polyurethane, you are actually cleaning the finish, not the wood (that's if you are about to clean up wooden surfaces covered with this varnish)!
So before you even start your cleaning mission, we strongly recommend you check the surface you are about to clean up. Maybe it is not polyurethane at all? Quite many varnishes and coatings mimic polyurethane, so it is pretty easy to be mistaken. But if you make an attempt to clean a non-polyurethane surface with the product meant for actual polyurethane…it is very likely that you can damage or even ruin the surface!
To check out once and for all whether you are dealing with polyurethane and not with one of its substitutions, you will not need any specific tools or complicated actions.
Simply rub a few drops of boiled linseed oil into the wood and see what will happen. If the oil beads up, then you are dealing with polyurethane since oil-based varnishes will not react like this.
As a variant, you can try another approach. Take acetone, yep, the one you remove your nail polish with, and rub it over a tiny spot on the surface you are going to clean up. Move with small and circular motions accurately.
Now see what is going on. Is the finish dissolving? Then this is not polyurethane, this is lacquer. Is it getting sticky after a few minutes? Congrats, your furniture is not covered with polyurethane either! Its coating is either shellac or varnish.
But if it is polyurethane, it will easily repel the acetone making it bead up just like water. Naturally, if your furniture appears to be covered with non-polyurethane varnish, better opt for lacquer furniture care products (or products meant for other finishes) to clean it up.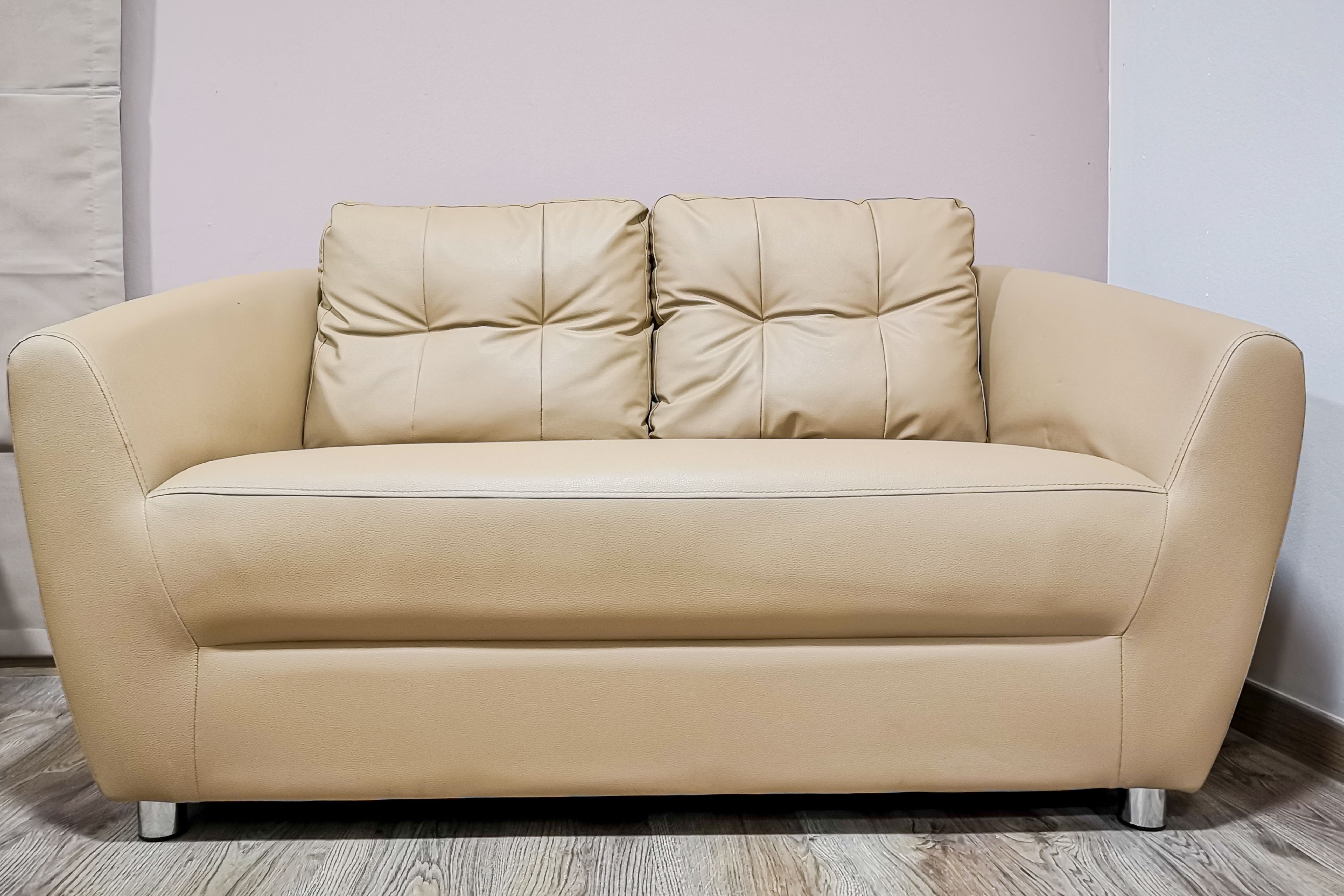 What Products Can Be Used On Polyurethane?
Polyurethane is a durable stuff and damaging it is not so easy. However, cleaning it may also become a challenging task, especially if you are trying to do this using the wrong cleaning products! You might not have thought about it, but waxes and polishes will actually make it only worse on this type of coating.
So how not to screw up and avoid having cloudy kitchen cabinets that were cleaned wrong? Simply remember what cleaning products and tools are better to be used for keeping this varnish clean and shiny!
vacuum cleaner
a broom
brushes with harsh nylon bristles
microfiber mops
microfiber sponges
steam cleaners
As for the cleaning products, you can either make use of homemade remedies, such as a mixture of water and white vinegar, or opt for the commercially made ones. For instance, Pledge, a multi-purpose polishing spray. It works extremely well on polyurethane wood surfaces leaving them glossy and repelling the dust and dirt off them longer.
Another quite useful thing to use for polyurethane coating is Windex. However, with this one, you need to be kind of careful. It does contain a lot of alcohol so better make use of it sparingly. But except for this nuance, Windex copes with filmy residue on polyurethane wonderfully.
Finally, good old rubbing alcohol is another handy solution that we usually always have at hand in our homes.
So now you have learned so much new information about the polyurethane coating! You know how to tell the difference between it and other types of varnish that imitate polyurethane. You also learned what products and tools are better to be used on this type of coating if you want it to remain good-looking and glossy longer.
But this is not all yet! We also shared a bunch of handy tips on how to clean different types of impurities that can be found on polyurethane surfaces more often than others. So now you are well aware of what to do with grease and grime, and how to prepare useful and effective homemade cleaning products in case you have no commercially made ones left.
With all this information, we are sure that from now on, you will be able to maintain your wooden furniture covered with polyurethane coating way better and more effectively. Besides, this is not as difficult as it might seem to you at the beginning. So remember to use all the handy information you learned, and your kitchen furniture will be glossy and just like new for a very long time.
Frequently Asked Questions
⭐ Is polyurethane safe for people?
It's basically safe when cured. But uncured polyurethane can cause asthma and other breathing issues.
⭐ Can polyurethane clothes be washed??
Yes, but only turned inside out and in cold water.
⭐ How long does polyurethane upholstery last?
If well maintained, it can last up to 15 years.