Using washing liquids and other products is a common thing for everyone today, but people start getting more concerned about the safety of the household cleaning agents. Since most of them contain harmful chemicals, everyone will only benefit from knowing which products can be dangerous.
And today we will discover whether Palmolive dish soap is a toxic product or not.
Why Is Palmolive So Popular?
Everything is simple here. This brand produces relatively cheap products for various household and care purposes, from soap bars and shampoos to dishwashing detergents.
Effective and multiply proved washing qualities, the high potency of the agent when dealing with grease, oils, and fat on the dishes, and its attractive price have done their task. 
Today one can hardly find a person who would never hear of that brand!
Take a Look At The Content
 To figure out whether a product is safe or not, we need to examine its list of ingredients thoroughly first of all.
So what does Palmolive label says?
Like any washing stuff, it has so-called active and inactive components. 
Among the active ingredients, we can see triclosan. It is an organic compound which means that it's produced artificially and contains carbon. Triclosan is antibacterial, and it's very difficult to wash off. For this reason, it's very effective in killing germs since the residue remains on the surface (or on the skin) for quite a long time protecting it from any hazard.
 As for the inactive components, Palmolive includes ammonium laureth sulfate, a mild emulsifier, and some other ingredients that make it more spreadable and add scent and color.
Palmolive Diswashing Liquid With Madge 1970's & Our Parody. (FUNNY!)
So why is it considered to be harmful?
All because of the two components.
One is called SD Alcohol 3A. It's a grain alcohol, and it's considered to be potentially toxic. There was even evidence (though limited) that showed it caused cancer.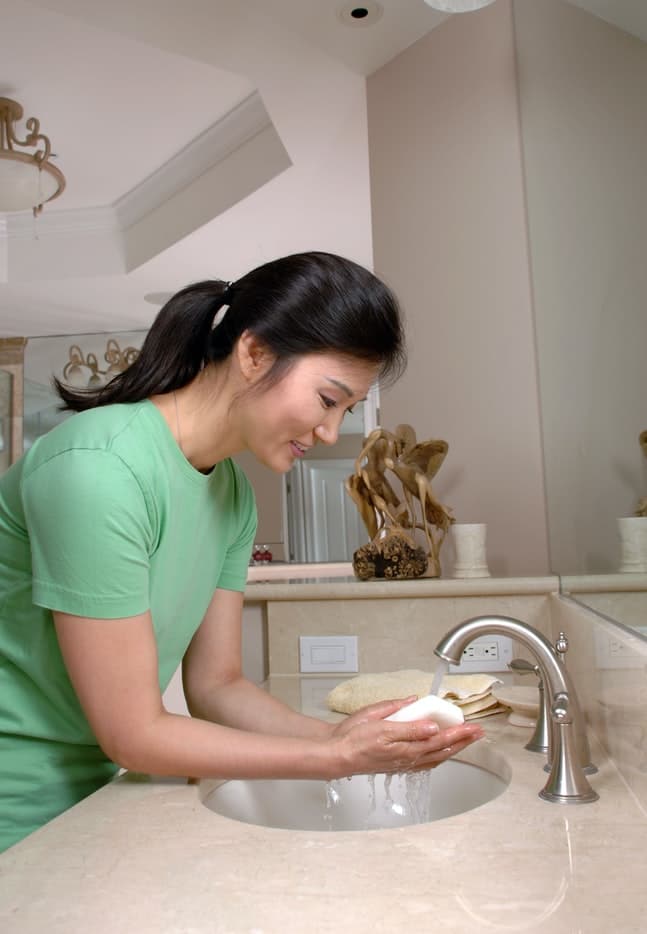 Another one is sodium sulfonate, a frequent "guest" in many household products. This thing is carcinogenic and can cause eyes and skin irritation, vomiting, and even end up in dermatitis, especially if a person is in constant contact with it directly.
What Components Shall We Be Warned About?
Since such a well-known product can be harmful, a reasonable conclusion comes to mind: what other ingredients used in household detergents can be dangerous? This is especially important for families with little children since their immune system and bodies are not so strong and resistant as of the grown-ups.
To be informed of the dangerous compounds that can be hiding in common cleaning products, we prepared a chart with the most hazardous compounds that must be avoided.
| Component | Reaction | Where it's used |
| --- | --- | --- |
| Cocamide DEA | Cancer, acute aquatic toxicity | Bath oils, shampoos, hair dye, conditioners |
| DMDM Hydantoin | Skin, eyes, lungs irritation | shampoos, conditioners, skincare stuff |
| Ethanolamine | Respiratory effects, nervous system effects, skin irritation/damage/allergy  | Detergents, polishers, emulsifiers |
| Formaldehyde | Cancer, acute aquatic toxicity, skin irritations/allergy | Glues, adhesives, insulation materials |
| Sodium borate | Endocrine effects, skin irritations, respiratory effects | Cleaning products, antiseptic, and fungicide means |
| Sulfuric acid | Cancer, respiratory effects, skin irritation | Detergents, dyes, pigments |
| Triclosan | Endocrine/reproductive effects, cancer, immune system effects, skin reactions, digestive system damages | Shampoos, cosmetics, care products |
Respectively, since so many cleaning products, cosmetics, and personal care products contain harmful chemical compounds of different levels of danger, it will be more reasonable to replace them with safer counterparts.
Fortunately, today the market is getting filled with various organic clean and care products from detergents and soap bars to shampoos and creams, and it is even possible to choose handmade and non-chemical goods that will cause no side effects (unless you are allergic to any of those natural components they contain).
Considering the harm that we can get from using mass-market means daily, it makes sense to go for the safer even though more expensive products. 
Your health is worth it, don't you agree?
Frequently Asked Questions
⭐ What dish soap is non toxic?
Among the most popular organic dish liquids, we can list such labels as Brunch Basics, Fit Organic dish&hand soap, Meliora dish soap, Bronner's Castile, and Made of Organic.
⭐ Is dishwashing soap toxic?
If it is an organic product, then not. But if it's one of the mass-market goods, then it can contain harmful and even toxic components. To know for sure, read the label attentively.
⭐ Is Palmolive dish soap septic safe?
Palmolive Ultra dishwashing liquid is safe for sure, but other products of this brand are under question.
⭐ Is Palmolive Pure and clear antibacterial?
Yes, this dishwashing liquid has antibacterial qualities.
⭐ Does Palmolive kill germs on hands?
Yes, most products of this brand destroy germs even after they dry on the skin.
⭐ Is Mrs Meyers dish soap non toxic?
Not quite. It still contains certain harmful components that can cause side effects.
⭐ Can you mix Palmolive dish soap with bleach?
If that soap contains any ammonia-derived compounds, then no, these two products can't be mixed since bleach+soap=harmful gases.
⭐ Is Palmolive dish soap good?
Yes, it's pretty good both in terms of texture and cleaning abilities.