Synthetics have always been picky in terms of maintenance. Specific laundering regime and care instructions – that is why quite many people still prefer more expensive but less demanding natural fabrics.
Since rayon is half-synthetic, it has certain care nuances, too, in particular, when it comes to ironing.
If this has always been a point of concern for you, keep on reading for this article will solve the problem.
How to Iron Rayon Safely
Rayon is a somewhat specific fabric because it has several variations (modal, lyocell, etc.) that have slightly different care instructions.
However, proper ironing is a handy option for any of those since it can help to get wrinkles out of rayon fast and easily. The only thing that has to be considered is what regime to make use of.
Fortunately, we know the universal scheme that will work for any kind of rayon fabric.
 Set the iron first. According to the care tag, choose either the coldest mode or the synthetic steamless setting
 Turn the garment inside out and mist it with water until it's damp
 Iron fast, don't let the iron sit on the same spot to avoid burning the apparel
 Now hang the garment to cool and then place it to the wardrobe
As a variant, go for a protective cloth to get an extra barrier between the iron and the garment.
Related: Does Rayon Shrink?
What Heat Can Do To It?
How to Get Wrinkles out of Viscose : Wrinkles & Clothing Care
Why is heat so dangerous to the rayon items, you may wonder?
The material is a semi-synthetic and it makes it highly predisposed to the impact of high temperature. That is why laundering rayon apparel in hot water, tumble drying it on the high heat regime or ironing with a hot iron is strictly forbidden. Otherwise, you are risking damaging if not ruining the apparel at all.
When exposed to heat, rayon can be burned or deformed, stretched, and/or degrade its color partly. And even if rayon itself doesn't tend to look cheap, improper care can turn it into the bad-looking trash.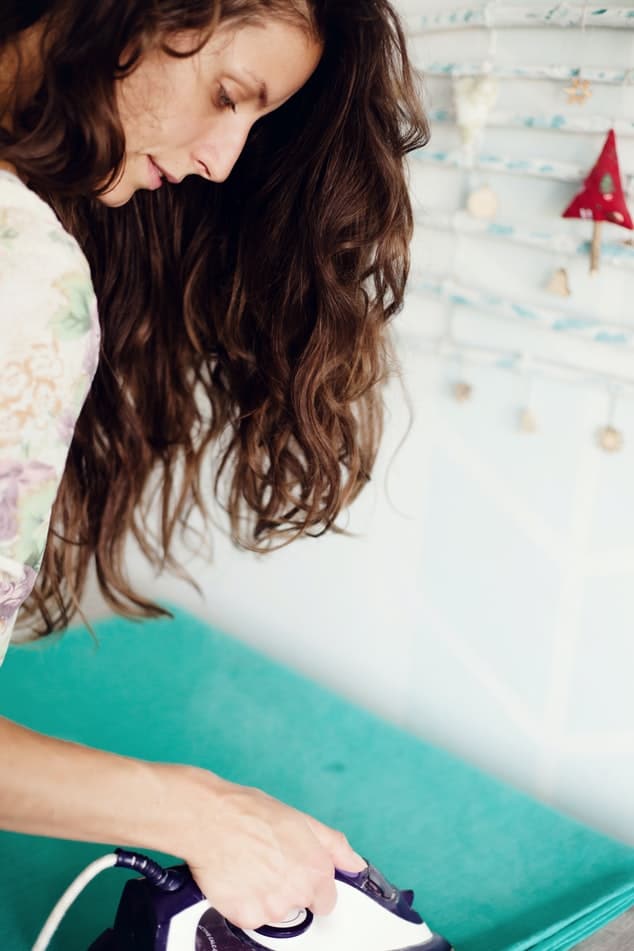 To protect the material, remember to use a gentle laundering cycle and cool water, as well as the coldest ironing mode. 
Iron Clothing Correctly
Not only rayon needs proper treatment when ironed. Quite many fabrics, both natural and synthetic, have specific ironing requirements that we unfortunately often have no idea about.
To fix that, we suggest you check out the comparative chart with the basic requirements regarding ironing the most common materials.
| Fabric | Iron Setting | Tips |
| --- | --- | --- |
| Silk | 3 | press from the wrong side, no steam |
| Cashmere | 3 | steam and don't press. For deep wrinkles, iron from the wrong side with a pressing cloth |
| Cotton | 3(lightweight)  7(heavyweight) | when ironing dark-colored items, press them from the wrong side to avoid shiny marks |
| Linen | 5 | dampen the item and iron on the wrong side |
| Nylon | 1 | iron with a pressing cloth |
| Polyester, Olefin, Synthetic blends, Acrylic | 3 | - |
| Satin | 3 | press from the wrong side with a cloth. No stem. |
| Wool | 3 | Use a damp cloth and iron from the wrong side |
Ironing rayon is not that complicated, only ensure you're using a protective cloth and you don't leave the iron on the same spot for too long.
Frequently Asked Questions
⭐ How do you Unwrinkle a shirt at work?
Try to keep it over the steaming kettle until the wrinkles are gone, or use a portable steamer.
⭐ What clothes can you not iron?
Denim, polyester, and wool do not need to be ironed usually.
⭐ What does cold ironing clothes mean?
It means setting the iron on the lowest heat mode (one dot on the heat-setting wheel).
⭐ How do you wash rayon without shrinking?
The best option is to do it by hand.
⭐ How do you get wrinkles out of rayon?
You can either steam it with iron without touching the fabric or iron it with a cold iron quickly.