Air mattresses are great things for having them in your disposal and in your household!
We usually use them for guests instead of a bed (or if we don't have vacant beds in our home at the moment), and also they are good quickly creating a sleeping space in any room.
However, people often ask how to clean such a mattress since it is obvious that it can't go into the washing machine. In this article, you will find the answer to this question and to some others.
We will tell you what to do in order to remove dirt and dust from your air mattress correctly without damaging the surface of it.
Also, you will learn two different cleaning options that both work great on this item, and in addition, we will share a few handy maintenance tips with you.
Like that, you will be able to not only clean your mattress but also keep it properly for the further use!
Related: 4 Tips To Consider When Shopping For A New Mattress
Cleaning Air Mattresses. All You Need to Know
If you have an air mattress, you know very well how great it is!
It is super easy to store since it takes so little space, and in addition, it allows you to have an extra bed in case you have unexpected guests coming, no matter how small your home is!
However, because of the delicate material these mattresses are made of, they can't be cleaned like regular mattresses. This means that it is no possible to simply shove this mattress in a washing machine and press the STAR button!
Luckily, air mattresses can be quickly and easily cleaned by yourself at home. And once your air mattress is clean, you should properly maintain and repair it if needed and when it is necessary in order to use it as long as possible.
Below, we have provided you with the two most common types of air mattress cleaning:
routine cleaning
removing of mold and mildew
Read carefully and make sure that you follow all the instructions precisely.
It will help you to successfully undergo the cleaning process without damaging the material your mattress is made of.
Cleaning Your Sleeping Pad // Backpacking Gear
Routine Cleaning
Routine cleaning should be done regularly. How often your mattress need this procedure depends on how frequently it is used.
But in general, if you are not using your air mattress daily or even weekly, make sure that you clean it once in six months at least.
It will allow you to keep the item clean and safe to use. Luckily, the cleaning procedure is pretty simple.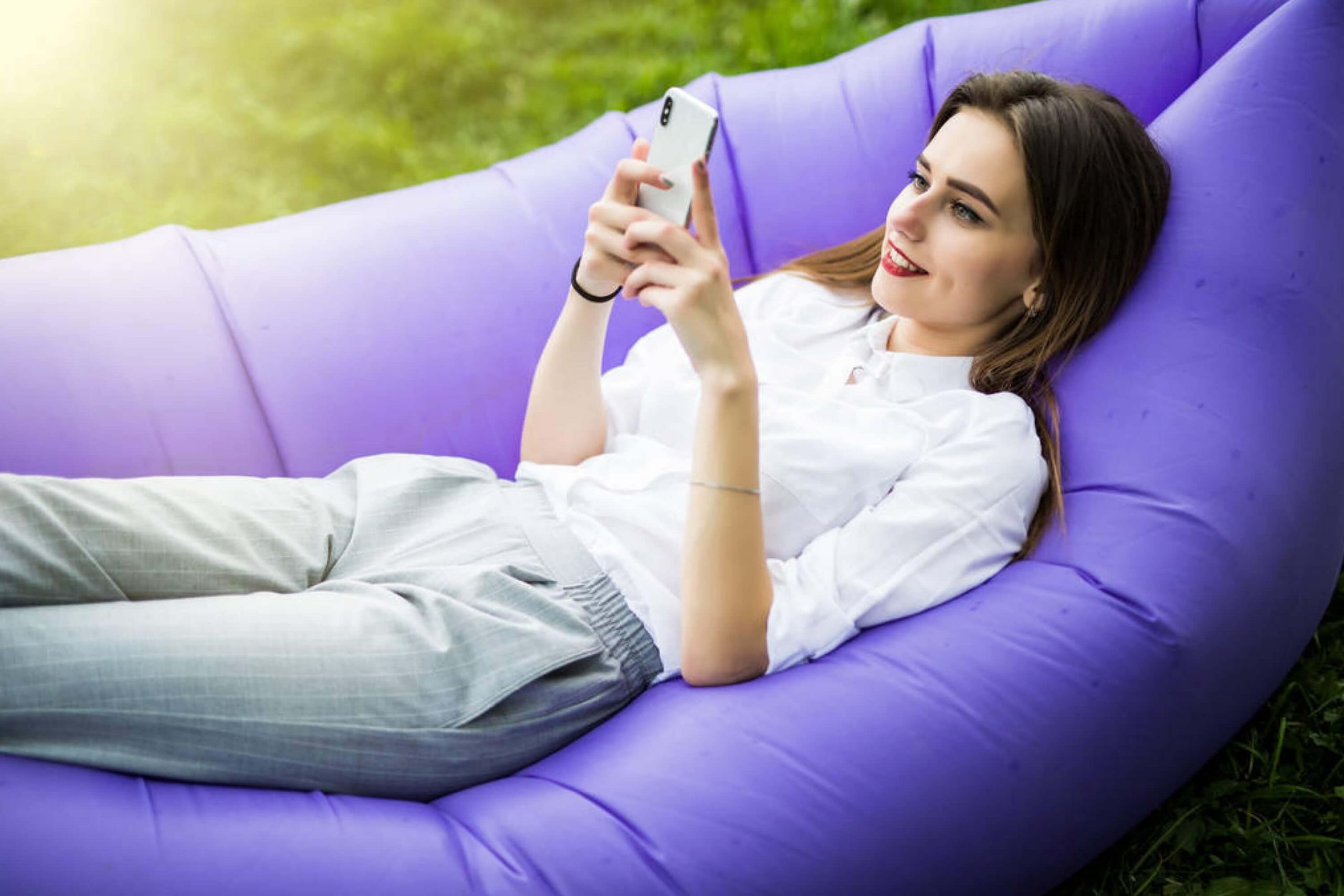 Clean It Regularly
Cleaning your air mattress after every use is the optimal frequency for the cleaning procedure to be taken.
However, if cleaning your air mattress this often is not possible for any reason, it would be good if you could clean it once a month.
At the very least, you should clean your mattress once a season, of course, depending on how often you use it. And for sure, if you see any mold or mildew build-up, clean the air mattress immediately!
Related: How to Clean Pollen Off Your Porch?
Clean Using the Correct Products
We recommend you clean your air mattress with the help of water and mild soap.
See, this is the safest and the most delicate way of cleaning this type of material. Besides, this method can be used if you wonder how to clean your air mattress in a tub.
Pour a few drops of mild soap into a bowl of water.
Dampen a clean cloth with the water and soap.
Gently scrub every area of the mattress with the cloth, paying special attention to stains.
Allow the mattress to air dry.
Like this, you will keep the surface of your mattress both clean, undamaged, and safe to use.
Wipe the Pump Of Your Mattress
Wipe the pump of your air mattress with a damp cloth. You should use a mild detergent and damp cloth when cleaning the pump for the air mattress.
Wipe it down and then allow it to air dry.
You can also keep the pump away from dust easily if you store it in a box or any other container that can be tightly sealed.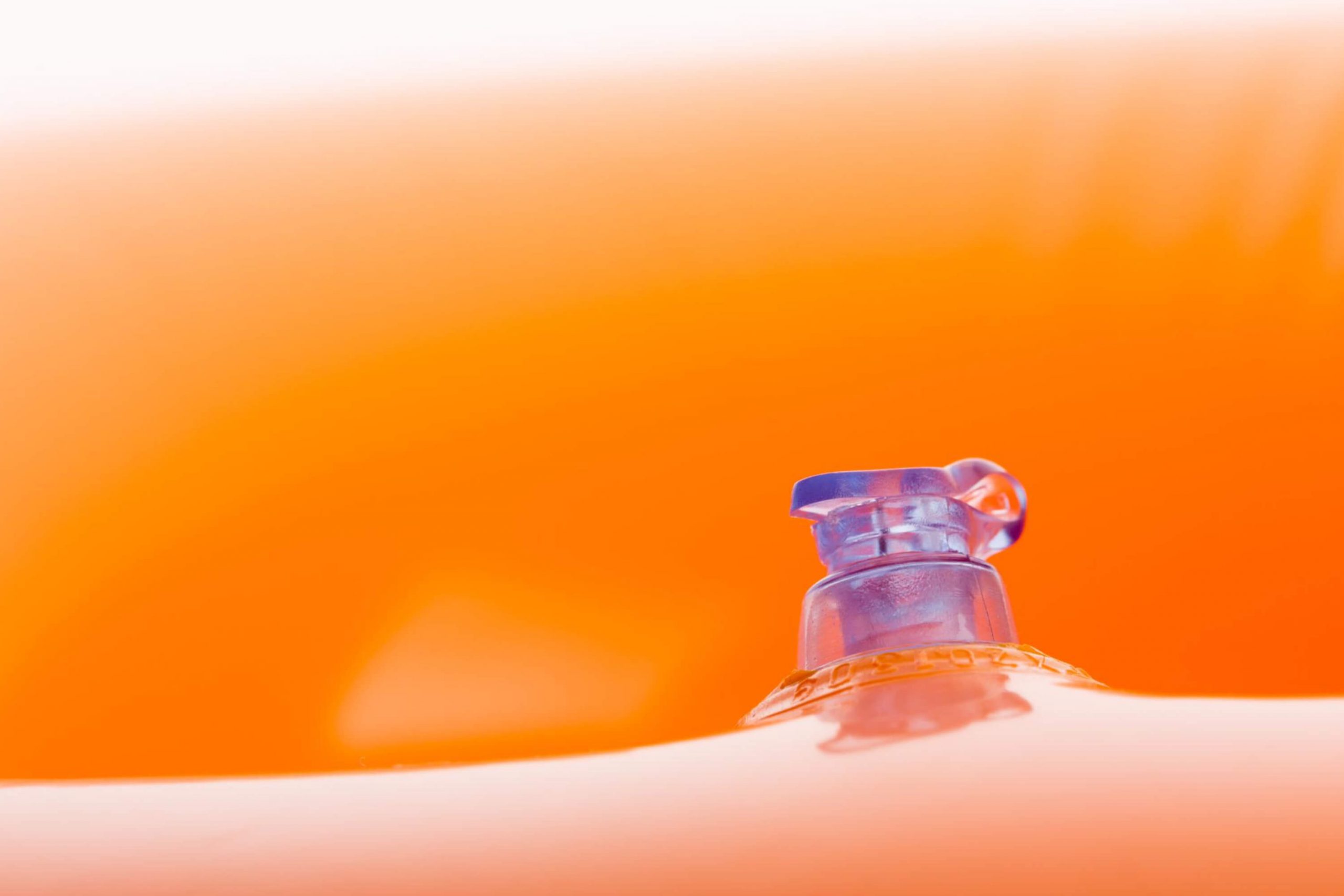 Remove Odors
As a result of a frequent use, air mattresses may develop a strange odor.
Make sure you get rid of that with some easy home remedies. What we recommend you do is to simply sprinkle some regular baking soda to reduce the smell.
to do this correctly, you should lightly cover the air mattress with the baking soda.
However, note that it is not necessary to use a lot of baking soda! You don't want to bury your mattress under it, like Egyptian pyramids are buried in sand!
Allow the baking soda to sit for a few minutes and then vacuum it up.
With these simple steps, you will be able to undergo simple routine cleaning of your air mattress from time to time to make sure that the item is kept in a proper condition.
Removal Of Mildew And Mold From Your Air Mattress
When mildew or mold starts developing (no matter on what surface), it is always a problem.
And not only because they might be rather tough to remove. Mildew and mold are dangerous for our health!
Especially if they appear on the mattress that you sleep on! This is why proper mildew and mold removal is a must.
How To Deep Clean A Mattress – Simple Crafts
Get Your Mattress Ready
First of all, start your anti-mold cleaning from taking the mattress outdoors.
Take the mattress outside every month or two and leave it out. Just make sure that you do it during a warm and sunny day!
The sunlight will vaporize the moisture that has accumulated in the mattress by that time. Sunshine will also kill any mold build-up and spores.
Opt For Vinegar to Kill the Mold
Use regular white vinegar and water to remove mold. This is the simplest and the most affordable solution one can get!
Mix half vinegar and half water.
Use one cup of white vinegar and one cup of water.
Dip a sponge or cloth into the mixture
Gently rub it over the air mattress.
Rinse with water and allow the mattress to air dry.
Make sure you rinse the surface of a mattress since vinegar is also not the best scent to enjoy!
Fight the Mildew Correctly
To get rid of mildew that appear on your air mattress, reach for isopropyl alcohol.
This is the best remedy that will remove this nasty thing quickly and with not much effort.
Create a mixture of isopropyl alcohol and warm water in a bowl or bucket.
Immerse a sponge into the bucket to soak it with the mixture.
Use the sponge to clean the air mattress.
Rinse with water and let the mattress air dry when you are finished.
Again, remember to rinse! Isopropyl alcohol is not the best thing to get in direct contact with your bare skin continuously.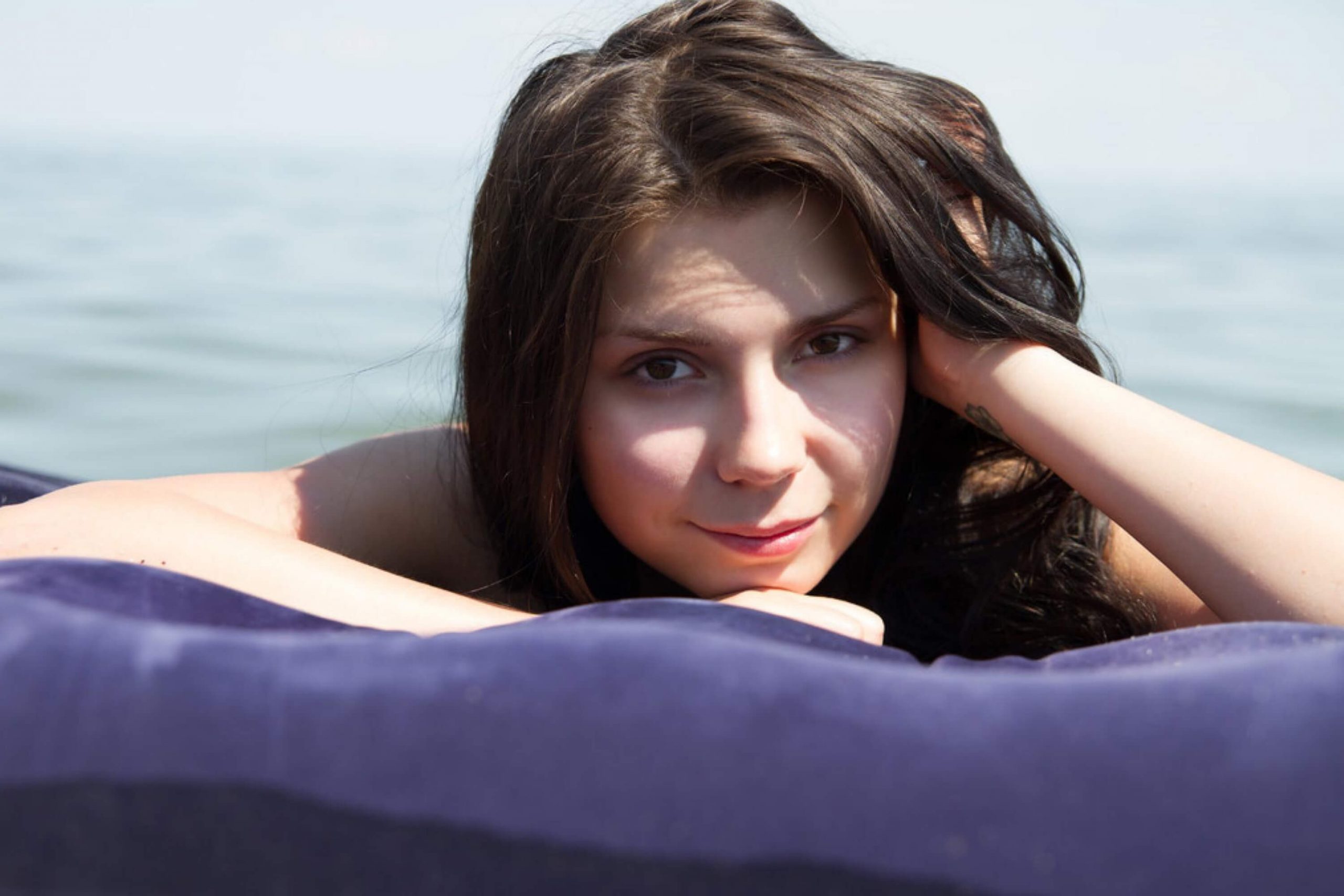 Disinfection Is a Must!
After you clean your air mattress and there is no more mold or mildew on it, keep in mind that the entire surface of the item should also be thoroughly disinfected!
This is why the final step of your anti-mold or anti-mildew air mattress cleaning should always be the application of a disinfectant.
You can use any disinfecting product, such as Lysol, for example, in order to kill mold or mildew on the surface of your air mattress.
Simply spray the disinfectant over the area where the mold and/or mildew appears.
The disinfecting product will also kill the spores that could cause mold to grow in the future.
Like this, now you are aware of the two most commonly used and the most effective cleaning methods that you can use on your air mattress.
You know how to clean it regularly to simply keep the item clean, and also, you have learned the cleaning method that will allow you to fight mold spores and mildew successfully.
Daily Maintenance Of an Air Mattress
It is not enough to only clean your air mattress correctly. Of course, cleaning is important, but regular and proper maintenance is also essential.
As you already know, this type of mattress is made of quite a delicate material.
This is why you need to make sure that it is stored correctly and that it is treated correctly.
Like this, you will avoid a scenario when your newly purchased air mattress becomes ruined because of improper storage or use!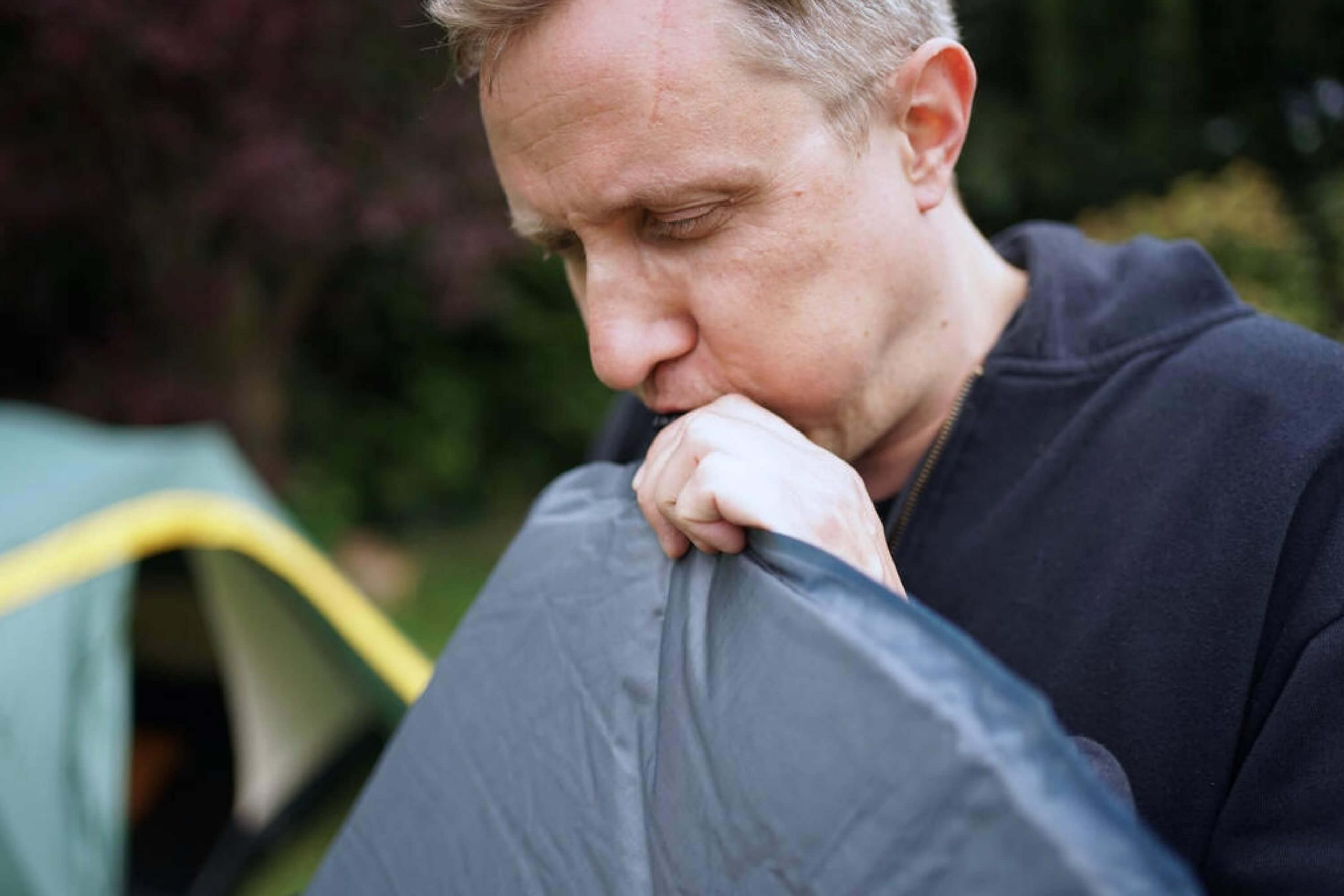 Allow Your Mattress to Deflate Without Help
To deflate an air mattress, you will typically need to either pull the plug or twist a valve.
You must never jump on the air mattress while it is deflating to speed up the process!
You should never hit your mattress or use anything to make the air release faster!
If you try to force the air to come out, it can damage the mattress, as well as its plug and valve.
If your air mattress is quite thin, you can fold it in half to force the air out instead of pushing or applying any pressure to it.
Fold It Carefully
While your air mattress is being folded, keep the air plug or valve open.
Once the air is fully out, lay the mattress out flat and fold it lengthwise onto itself twice until you have a thin rectangle.
Then, start from the opposite end of the plug or valve and, using your palms, roll the mattress tightly.
In fact, it reminds the actions that you take when you were rolling a sleeping bag!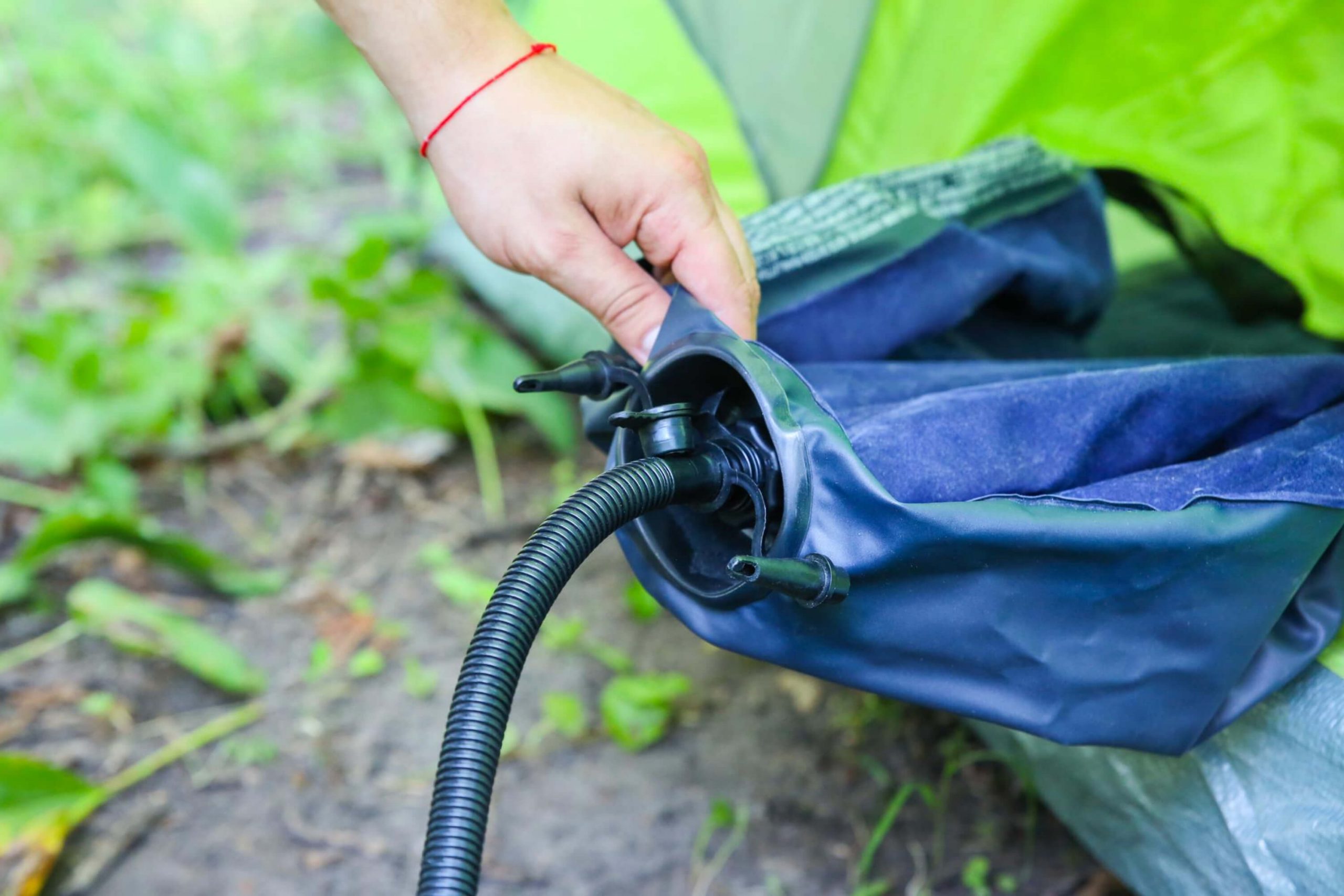 Use a Protecting Mattress Cover
Using a protectant cover can help you extend the lifespan and the service term of your air mattress.
In addition, it will protect it from bugs, spills, and mold. We would suggest you opt for a vinyl zip cover that will work just great to protect any air mattress.
Put the cover on every time you use the mattress, and remove it when you are not going to use the mattress anymore.
Avoid Storing the Mattress In Humid Areas
If you store your air mattress in an area with humidity or high temperatures, it can shorten the lifespan of your item significantly. High temperatures, as well as temperature fluctuations, as well as high humidity, will cause a lot of unnecessary stress on the materials.
This is why you should keep in mind that garages and unfinished basements are not the best places for your air mattresses storage.
We would recommend you store your air mattress at room temperature instead.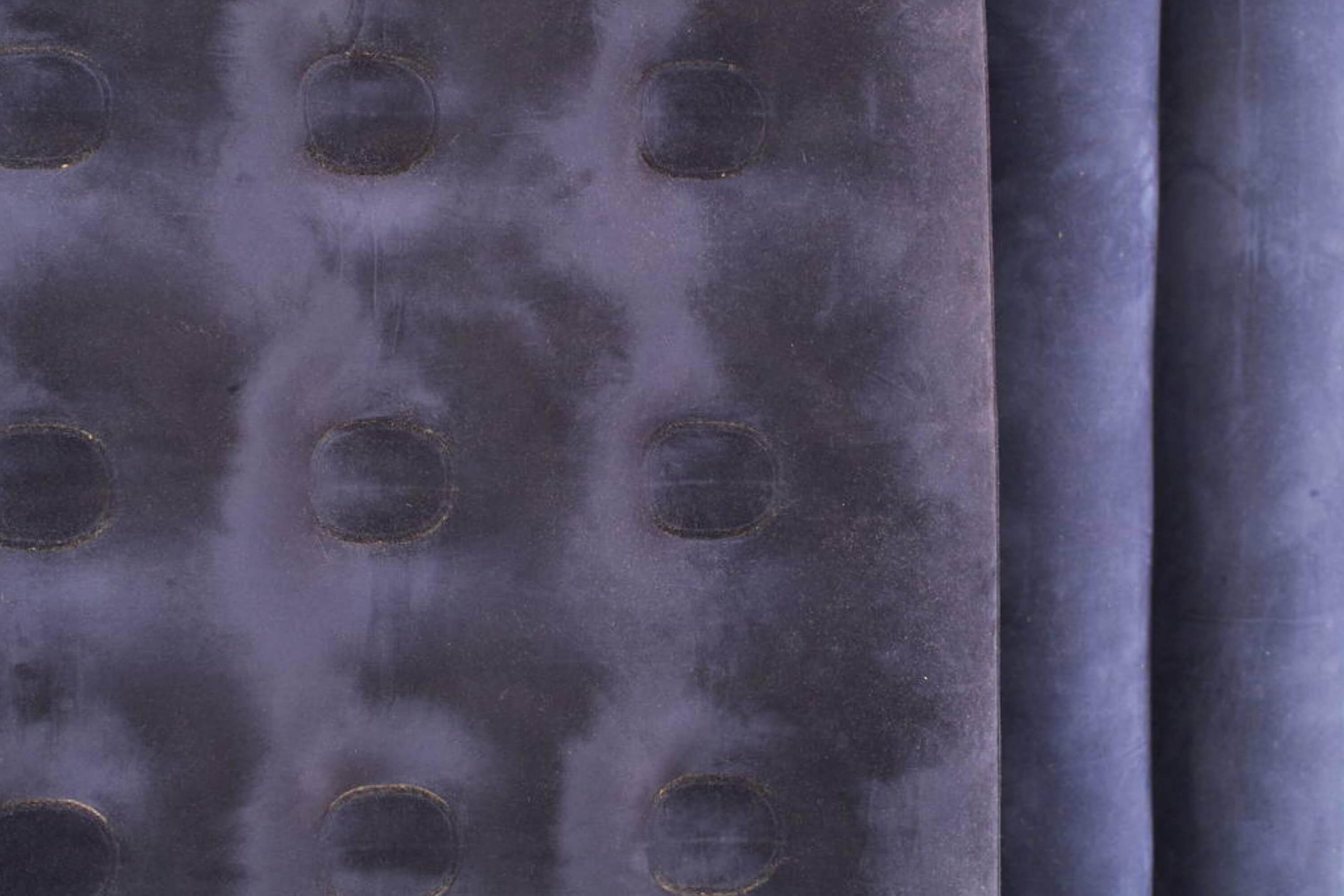 Well, now you know all that one might need regarding the air mattress cleaning.
We told you how this item should be cleaned regularly, and also, how you can remove mold and mildew from it.
In addition, now you know a few handy tips and life hacks on its correct storage and maintenance.
Frequently Asked Questions
⭐Can I use rubbing alcohol to clean my air mattress?
Yes, you can use alcohol, if diluted with water. 1/2 & 1/2. Just try not to use this very often as it might eat up the vinyl over time.
⭐How can I dry a queen air mattress correctly?
It's best to do so in the hot sun. As an option, you can put a fan on it and let it dry slowly.
⭐Can air mattress be washed in a washing machine?
That's impossible because of the electrical pump. It will destroy the pump and render the mattress useless. Sport clean according to instructions only.