Polyester is now included in almost any apparel both fully synthetic or part natural. This material gives fibers strength and durability, and that is what it is praised for.
However, due to the artificial origin, many owners notice that polyester garments may feel not quite natural and pleasant to their skin. This can be quite a big stumbling point for those who are in doubt whether to buy polyester apparel at all.
So is this fabric nice to the touch or not?
Keep on reading to discover the answer.
How This Material Is Produced
As everyone probably knows, polyester fabric  is a sort of artificial textile made by people with the use of various chemicals to create and wove the treads. The procedure involves air, petroleum, and water that results in thin threads so it may seem to be some sort of magic.
Its fibers are comprised of a purified terephthalic acid and ethylene glycol, and later they are woven into flat material. Due to polyester synthetic origin, polyester possesses several specific characteristics, for instance, thermoplasticity and strength. Moreover, this resilient fabric can be dry-cleaned and has excellent pleat retention.
But quite a few people know (if they are aware of it at all) that in fact, polyester is a sort of plastic! That is why it is often noticed that polyester has a somewhat unnatural look.
Because of the way it is manufactured, polyester can be easily melted and shapeshifted which, by the way, makes it a very good base for making laser prints. 
Pros And Cons Of Artificial Textile
Even natural fibers have certain disadvantages and artificial textiles are not the exception.
Polyester, despite its super useful benefits, also possesses several features that people don't usually like much about this fabric. But before we proceed to list its cons, let's first remember what makes this material so popular.
strength
resistance to different deformations
reasonable stretchiness (more than cotton)
durability  
ability to dry fast
simple maintenance
Thanks to these qualities, this artificial textile has become one of the favorite materials for sewing sportswear and swimwear, for instance. 
However, disadvantages often make people go for another fabric.
What Are Synthetic Fibers? Why You Should Avoid Them.
polyester has a high predisposition to flammability which makes it life-threatening to stand by the fire in a garment made of this material.
it almost doesn't absorb liquids, that is why you will always feel sweaty and clammy. Not quite a pleasant feeling, especially after the intensive training on a hot day.
the material is produced with the use of chemicals that make it irritative on the sensitive skin
polyester items produce static electricity. Ladies will understand how annoying it is to put on or take off polyester apparel so that it would not make you styled hair looks like a mess!
What Does Polyester Feel Like?
So finally, how this material is felt on the skin? Since it is artificial and it is actually plastic, the feeling that polyester gives is described as unnatural and plastic-like.
Even if it is blended with the natural fibers, that synthetic feeling won't go away. For this reason, people often prefer to purchase cotton, silk, or linen bedsheets instead of those made of a man-made material since natural fibers are way more pleasant to the touch.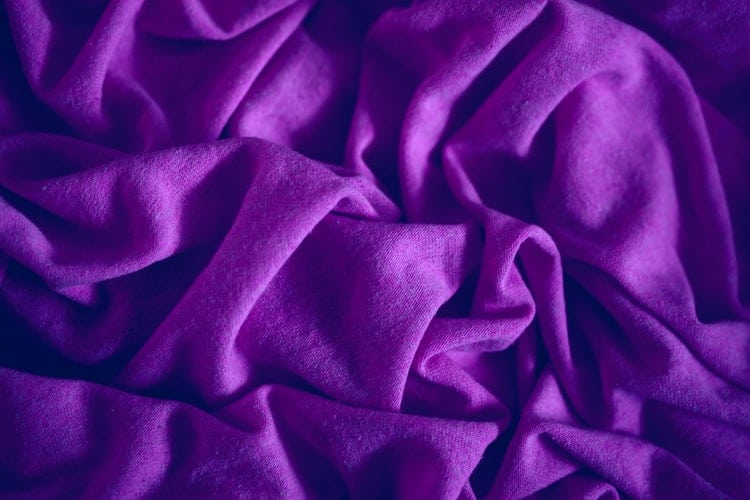 Besides, due to its origin and plastic nature, polyester has the same health issues as any plastic does. 
Moreover, certain specifics of it might make you look for another fabric.
polyester traps heat which means that you'll be sweating when wearing it or sleeping on it
this material breathes badly 
it doesn't wick moisture properly which will result in sweat staying on your skin creating perfect surroundings for bacteria and fungi infections to develop
the material itself feels coarse, scratchy, rough, and even slippery. Something that not every person would enjoy.
So, before buying anything made of this artificial textile, consider what you will be using it for. For the bedsheets, for instance, polyester is a bad choice, especially if you're living in a hot climate. As for the clothing, the only exception that could be made is sportswear, but even then consider that your t-shirt or leggings won't be breathing properly.
Frequently Asked Questions
⭐ Does polyester shrink in the dryer?
If you dry it at the high heat regime, it will shrink but not badly.
⭐ Is polyester A good fabric?
It is rather useful due to durability and simple care, but the fact that it can irritate skin and often feels unpleasant to the touch can't make it 100% qualitative.
⭐ What is the texture of polyester?
When it is spun, polyester fiber is usually flat (or straight) which makes it feel somewhat like silk.
⭐ Is polyester clingy?
Yes, the fabric tends to cling pretty much.