Finding pee on a bathroom floor is definitely not something that one might want to see! It looks and it smells disgusting, but no matter how much you don't like it, it has to be removed as soon as possible! Otherwise, it may affect the floor of your bathroom and cause damage to it!
In this article, we will explain to you how to keep the floor around your toilet clean.
You are going to find out what pee-protecting measures can be taken, and what else you can opt for in order to prevent your family members from missing the "target"!
In addition, we will explain why exactly urine on the bathroom floor can be harmful.
How to Protect Bathroom Floor Around Your Toilet?
Having urine marks around the toilet base is a common problem in many households but of course, people are not used to talking about it openly or discussing it with each other! And this problem is common not only in the homes that have little boys. Adult men are also "guilty" for leaving a mess after visiting a toilet.
HOW TO GET RID OF PEE URINE SMELL IN BATHROOM| SIMPLE EFFECTIVE Way to Make you Bathroom Smell Clean
Of course, it is disgusting to use a toilet that looks like this. Especially if you have a toilet in the same room with a bath. However, splashes of urine have more drawbacks than just aesthetical ones:
Bad odor
Disgusting look
Bathroom floor stains
To sum them up, one will end up with a messy toilet that has to be constantly cleaned. So no wonder many housewives ask themselves how to prevent urine around the toilet.
And it makes sense since preventing is always more efficient than cleaning the aftermath. Below, you can find a few useful and easy-to-apply methods that can help you keep your bathroom and toilet floor clean and urine-free.
The good thing about them is that you can use either one that suits you most, or opt for several to use them together at the same time!
Like this, you will fight the urine marks even more successfully.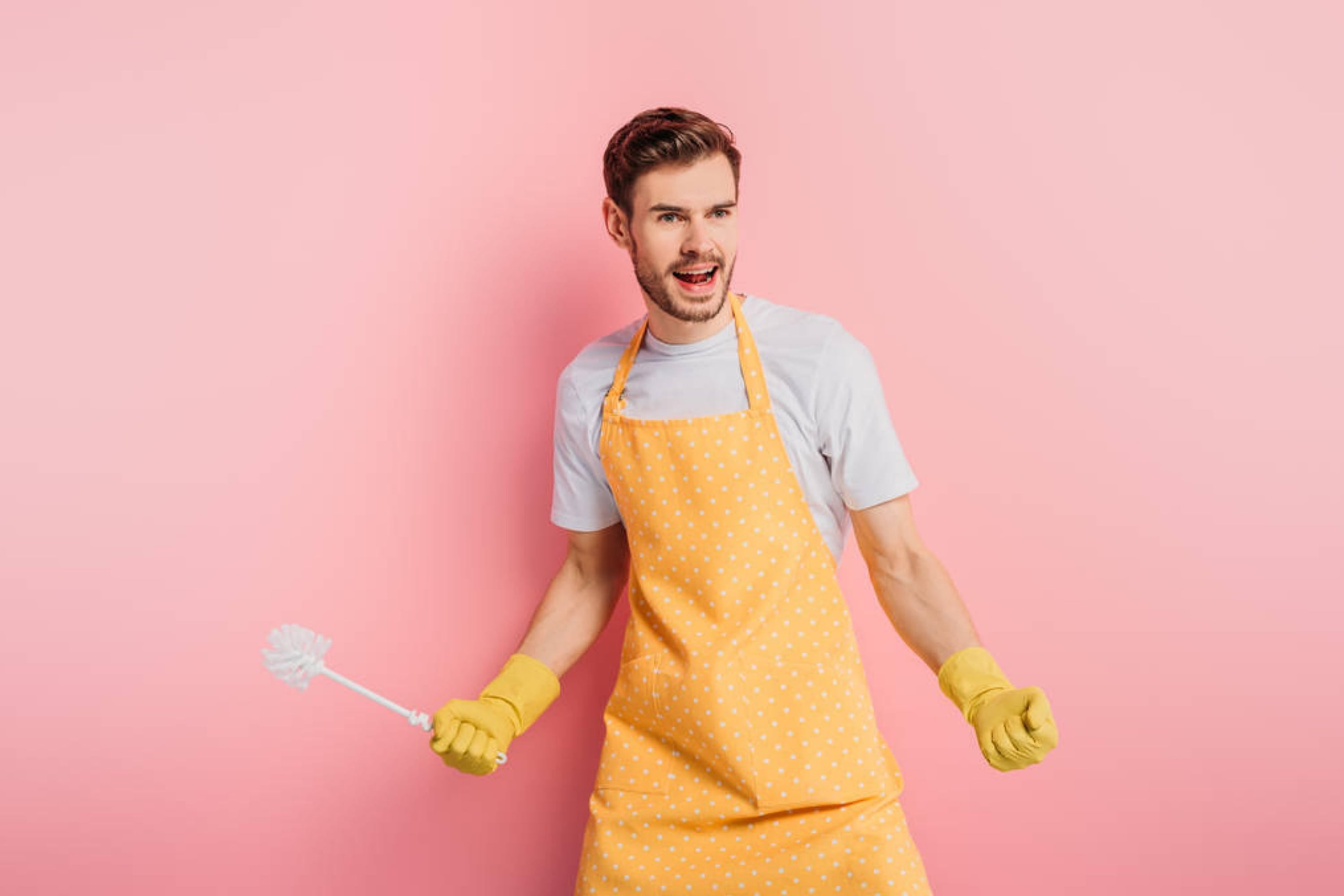 Use Washable Floor Mats Or Contour Toilet Rugs
We are sure that you know these mats very well! They are U-shaped and they need to be placed on the floor so that the mat surrounds the toilet base. Some may find them unhygienic, however, if you remember to clean them regularly, they will do much good!
Using these U-shaped toilet rugs around the base of the toilet bowl has many advantages:
They will relieve pressure and fatigue off your feet
They protect the tile and grout underneath from stains
They also add to the decor in your bathroom
They are easy to maintain
These mats are cost-effective compared to disposable floor mats
So if you need a quick solution, try using these mats in your toilet room. Since they come in a wide variety of colors, from classic black or reserved gray to brighter options (there are even mats with patterns), you can easily pick the one that will fit your bathroom decor and interior perfectly.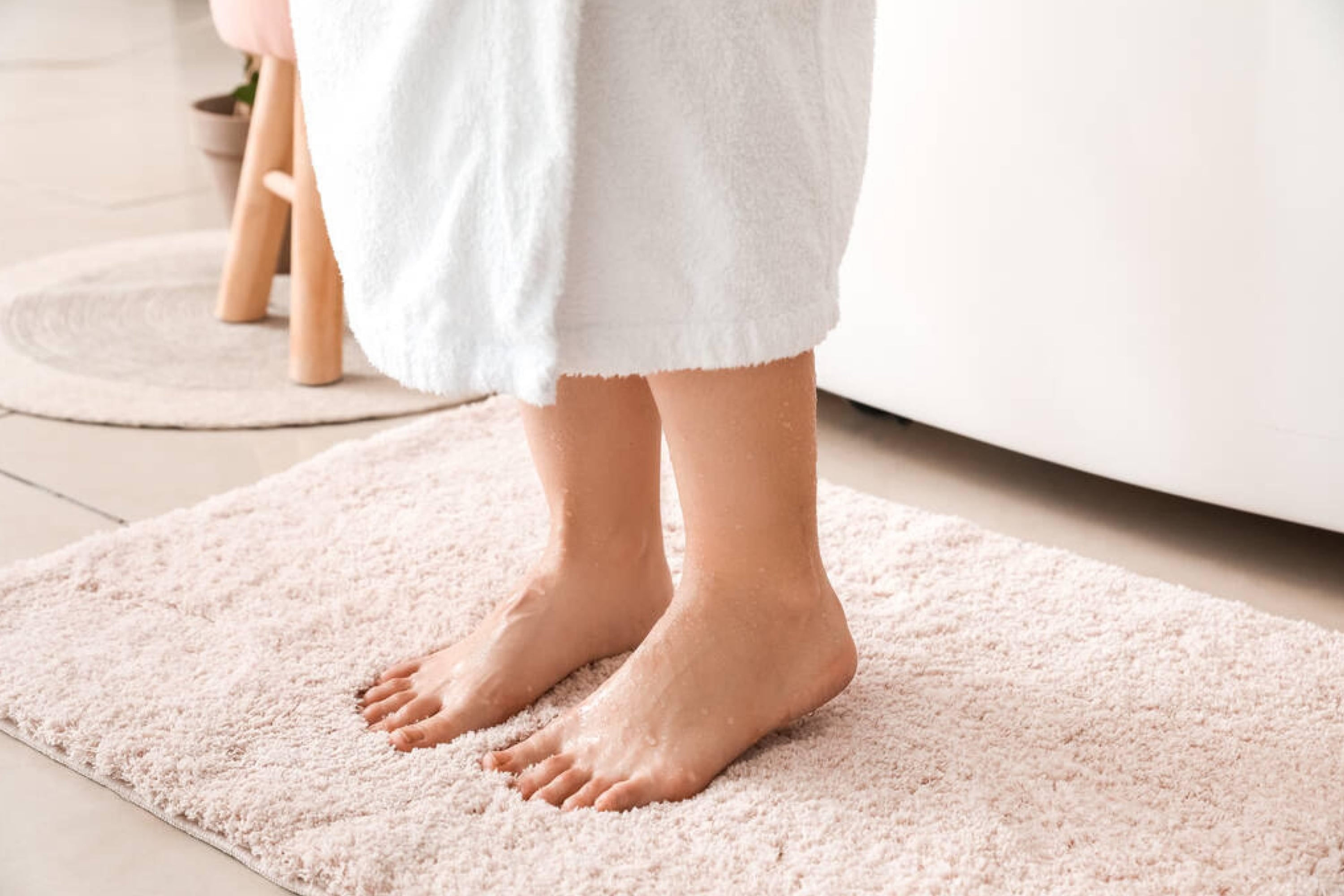 Try Using Disposable Floor Mats
Disposable floor mats can become a great option for those who are caregivers to the elderly with incontinence problems since it usually means dreadful cleaning up of the mess after.
In this case, disposable floor mats will not only absorb odors but also soak up leaks and even protect the floor from stains!
These mats have a rubber backing that prevents slipping. Moreover, they are treated with deodorizing agents that allow these mats to absorb the ammonia smell of urine. They are also great for public urinals like at the gym.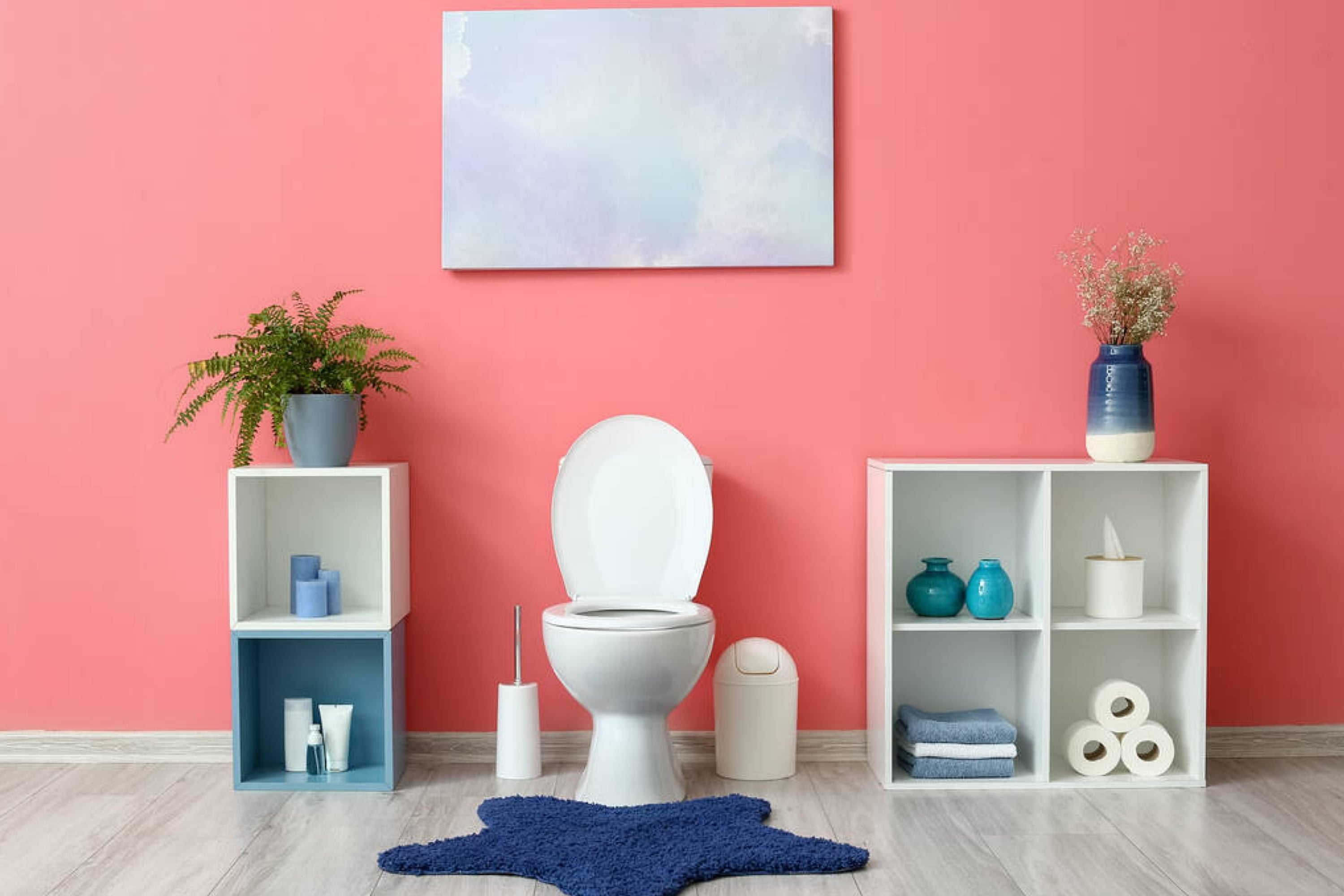 Toilet Pee Splatter Guard / Deflector
Some ladies in the house might be wondering why the underside of the toilet seat turns yellow all the time and urine puddles appear in the front of the base of the toilet bowl.
Well, here is the answer: these are caused when urine splashes back when one urinates at an angle and with high pressure on the toilet bowl.
Fortunately, there is a method that can help you prevent urine from coming out through the gap between the toilet seat and the bowl. You should use a toilet splash guard for this purpose. Luckily, this thing is very easy to install!
For the men, it is the angle of attack when standing. If it is at a sharp angle the splashback is going to be major and urine will be all over. In this case, a splatter shield tank cover will be most suitable to place on the back side of the bowl.
Since these splatter guards are egg-shaped form funnels, they will be able to easily keep everything inside the bowl.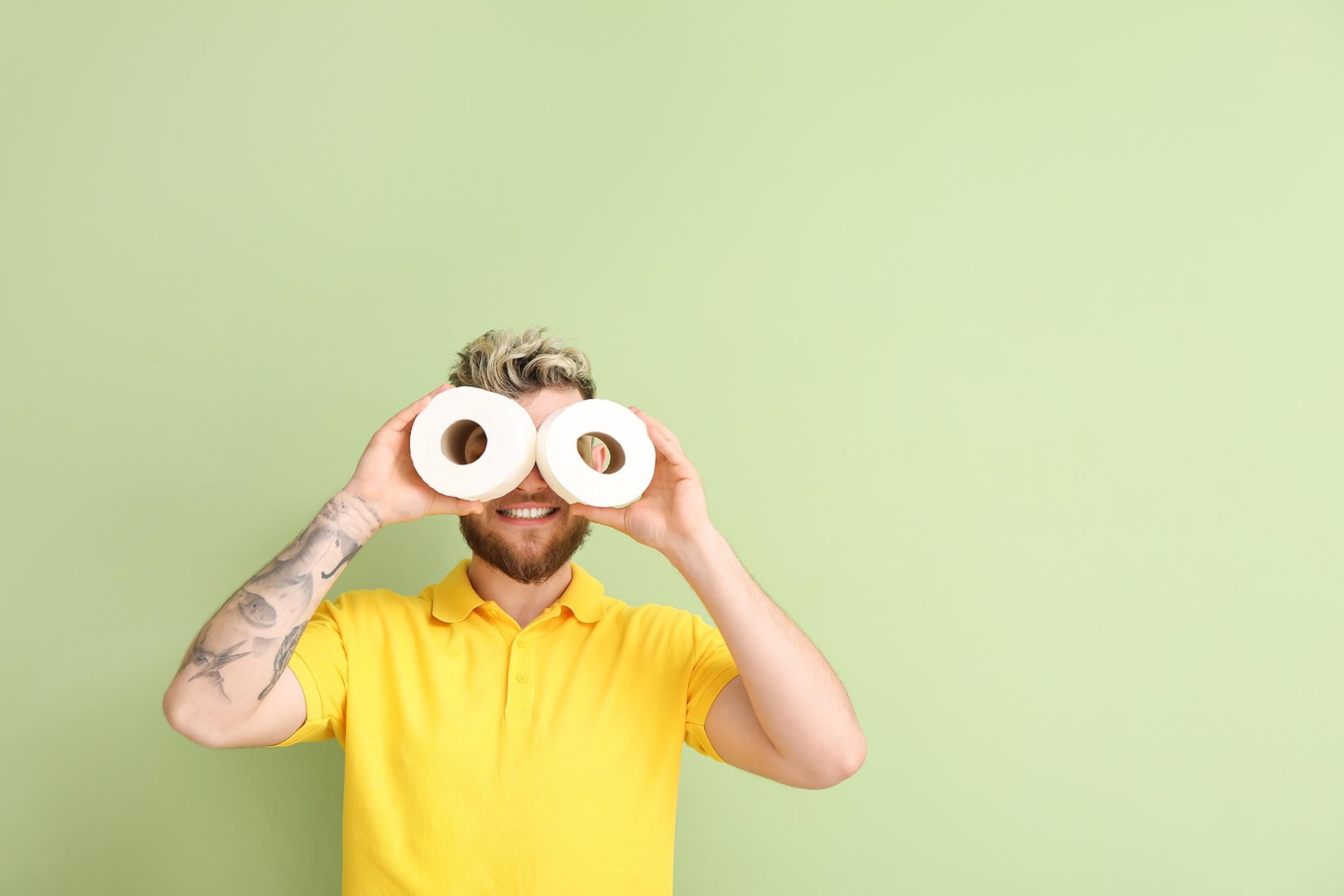 Toilet Etiquette Signs
Of course, you need to understand that such signs can only be used as an additional method, and you will also have to pair them with one of the options we described above and below.
Putting toilet etiquette signs on the wall of your toilet as a warning against improper use of the toilet can help in keeping it clean. You can go for funny toilet hygiene signs or choose to use printables that you can stick to the wall.
For a home with little boys, a sign to keep the toilet seat down or aim at a target are good ones to use. Like this, your male family members will always be reminded of the basic hygiene rules in a fun way.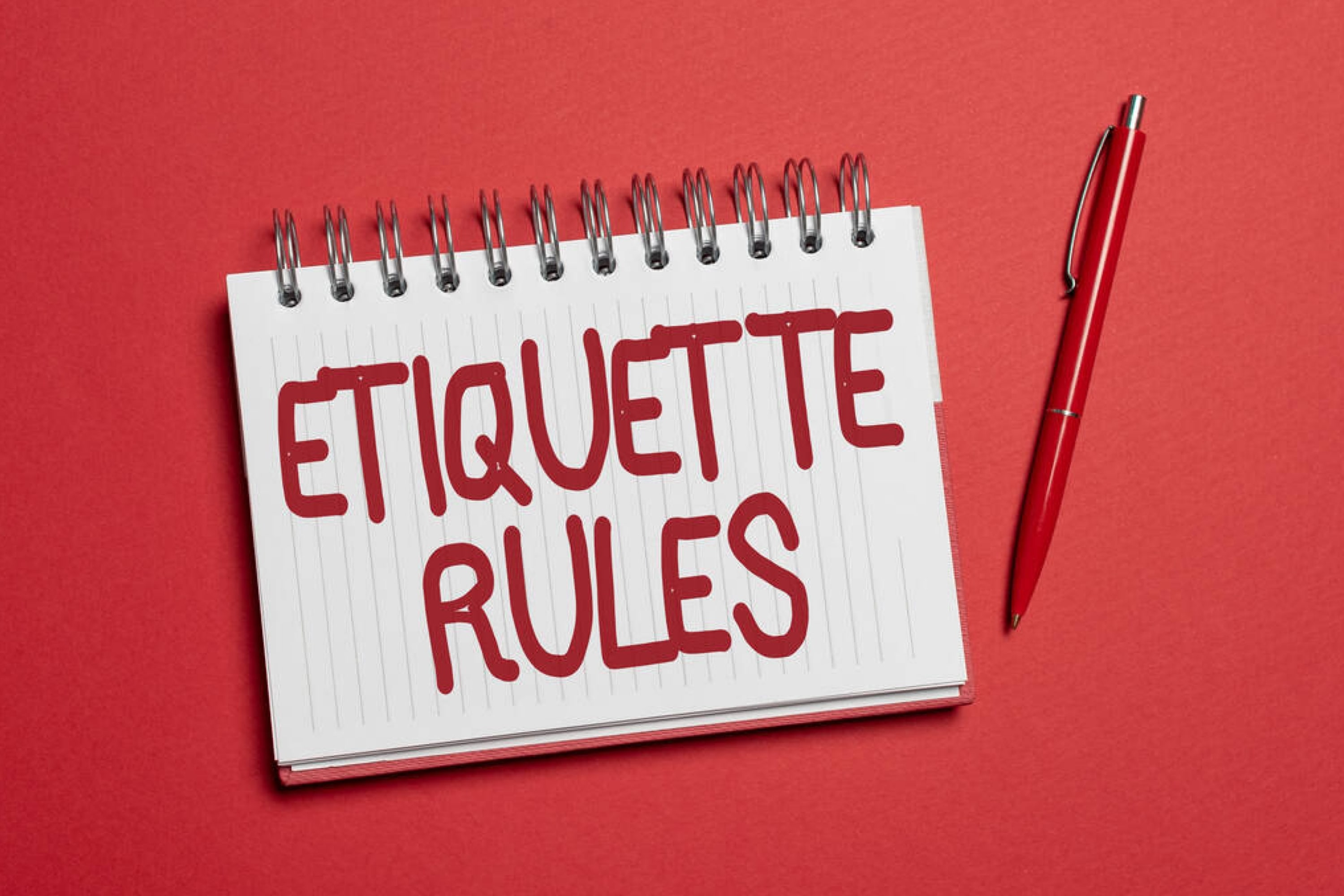 Caulk the Toilet Bowl Base
It is advisable for you to caulk around the base of your toilet bowl to prevent urine leaks from seeping into the grout or underneath the toilet space and causing urine smells even after cleaning
You should leave a gap at the back side of the toilet bowl which is hard to caulk in any way. That opening will be there to decipher if there are urine leaks from the wax ring or drain pipe underneath.
There are two caulks available, clear caulk and white caulk. Clear caulk will however turn yellow over time and hence it is advisable to use the white one for aesthetics as most toilet bowls are white anyway.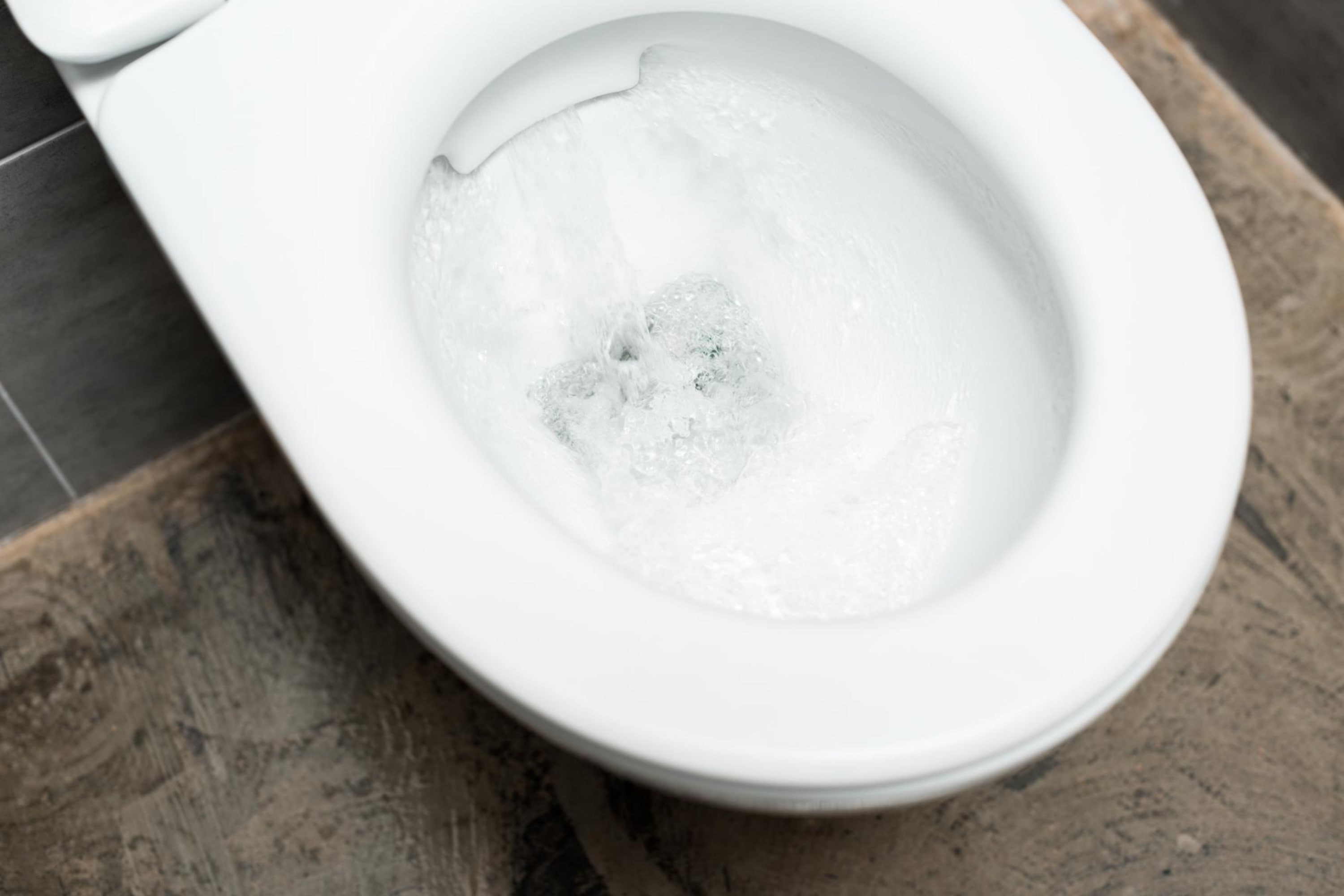 Proper Toilet Use Education
It may sound weird to some of you, but quite many people (especially men) tend to ignore the basic toilet use rules for some reason. This is why they sometimes just need a reminder on how to use the bathroom! Sounds really awkward when it is said about adult men, but this is how it is.
For men, in particular, it is all about the angle of attack, lifting the toilet bowl, and most importantly cleaning up immediately in case of a mess.
It does not mean that you have to literally tell them about it all the time! You can just put reminder signs in your toilet that are easy to see. This way, you will avoid stains and create urine puddles around the toilet base. If you have little ones at home, then it is good to start teaching them the proper use of the toilet. So that they grow up into impeccable toilet users.
As you can see, there is basically nothing difficult in keeping your toilet free from urine splatters.
However, if you want to avoid constant cleaning, you should make sure that your men are aware of the basic rules of toilet use, and also they remember that they should clean up any mess after they use the toilet.
This refers to little children as well. Like this, with proper hygiene education, you will be able to easier keep your toilet clean and stains-free.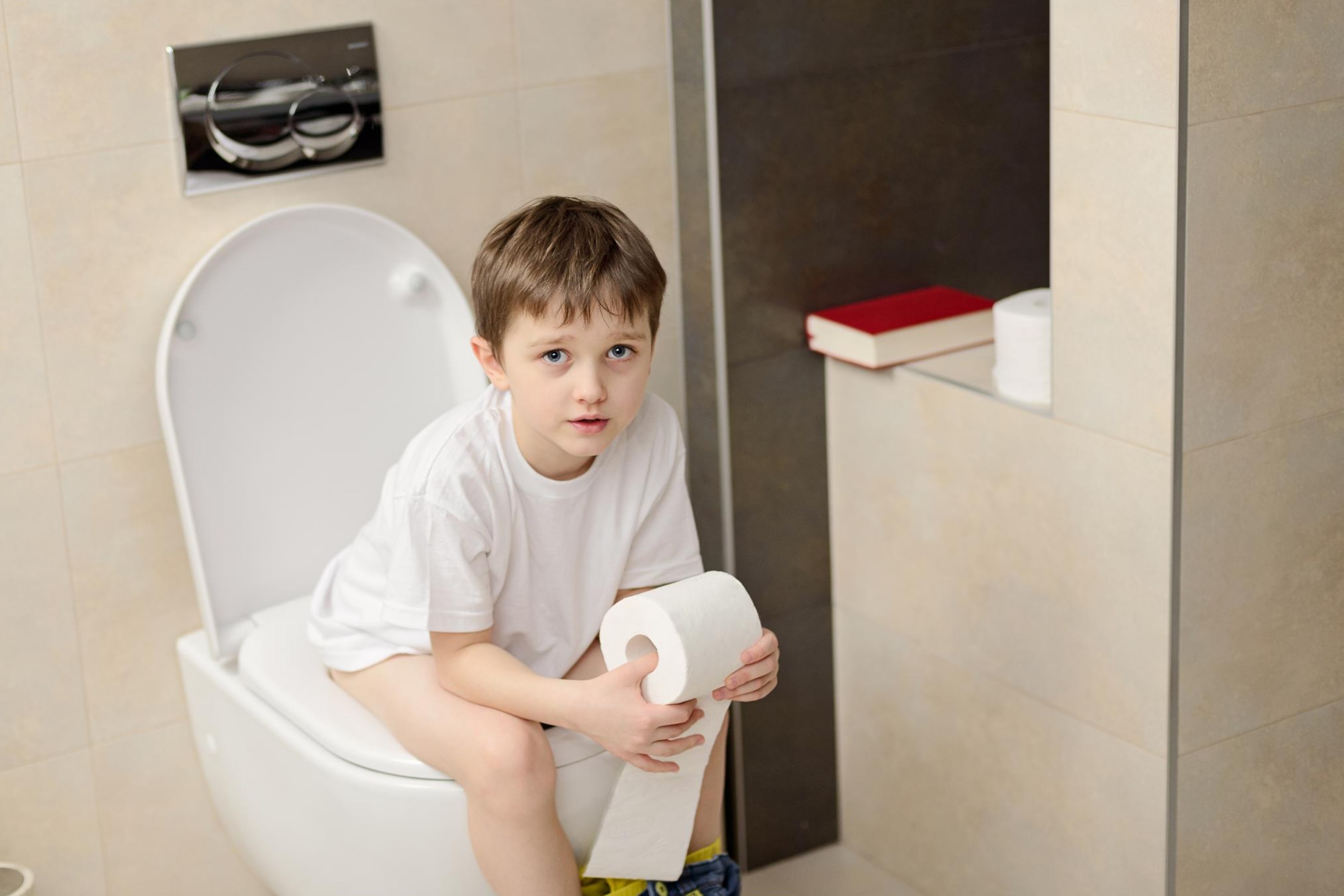 Why Urine Splashes Are a Bigger Problem Than They Seem?
Maybe, there are people who think that urine marks on the toilet floor are nothing more than an unpleasant mess and catastrophe that must be cleaned as soon as possible. However, if it isn't already a nasty mess, urine splashback can become an even more serious bathroom problem!
Bathroom Urine Off
See, not only will it produce an unbearable and nasty odor around the toilet. Many people forget that the uric acid that urine contains is notorious for creating hard-scale buildup in the toilet, especially when flushed water and urine combine!
That buildup is very hard to clean off. Over time, if not cleaned and removed, that buildup underneath the toilet bowl can develop into uric acid crystals, the cause of the foul smell in your bathroom.
If you have been dealing with urine odors and stains in the toilet, you know that they are some of the toughest toilet problems to get rid of. Of course, stains and splatters can stain the bathroom tiles, but this is just a half of the problem!
See, urine splashback can seep into the tiles' grout. And once that happens, it can be hard and usually impossible to remove this urine smell and buildup.
If you have ever noticed off-colored blemishes around the toilet bowl, know that urine splashback is the main source of that issue. The staining occurs when urine settles into porous surfaces like the tile grout, burning it which causes permanent damage.
What's even worse is the unpleasant odor from the urine gets reactivated whenever the surface becomes wet. As a result, your bathroom will be made dirty and unsanitary despite your weekly bathroom cleaning routine!
So, before you have this irreversible damage happen in your bathroom, protect your bathroom floor from urine splashback.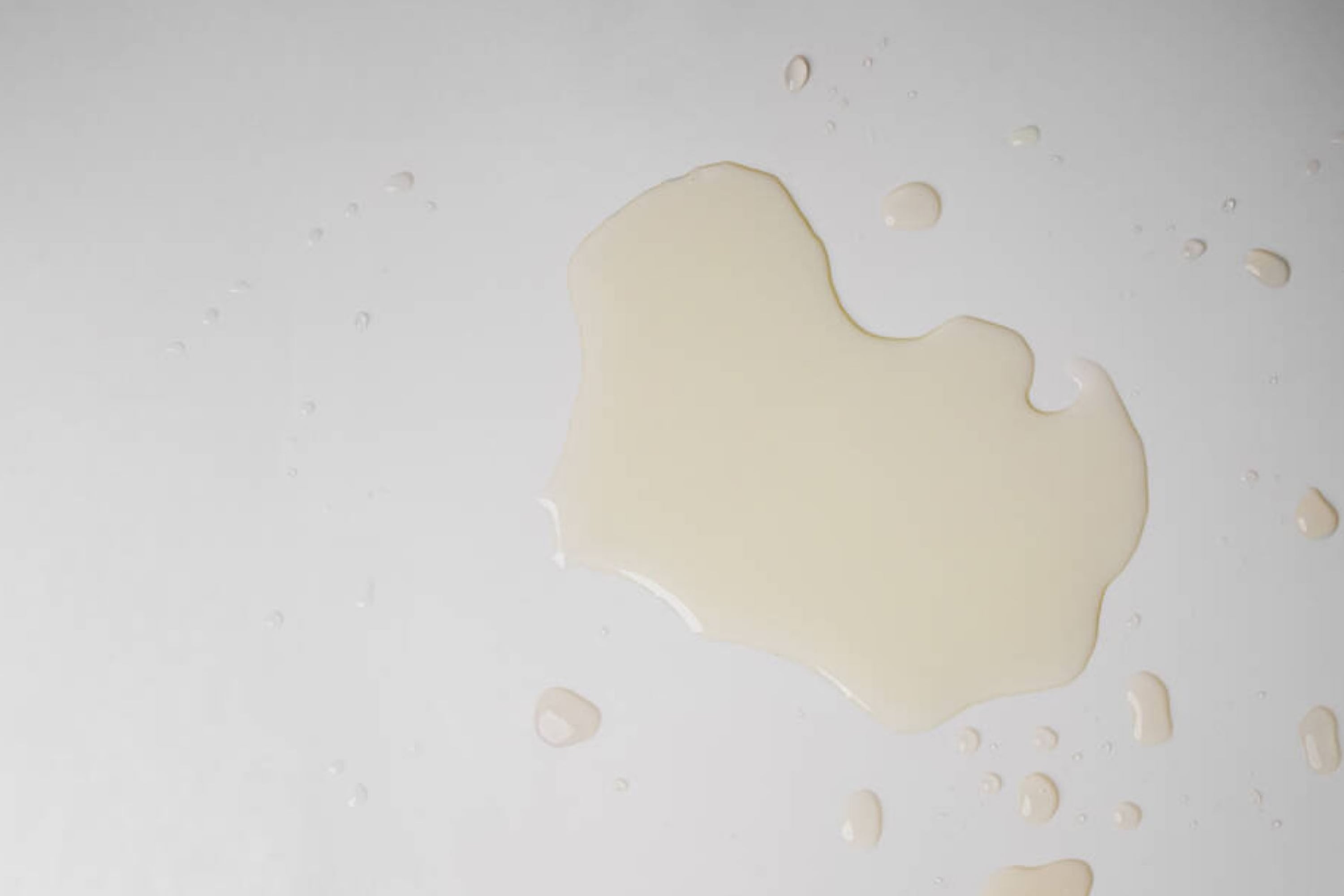 Homemade Solutions That Will Help You Remove Urine Stains From the Floor
Of course, it is best to cope with this smelly problem with the help of any commercial cleaners. These products are specifically created to fight the toughest stains and buildup, so you basically won't have to spend too much effort when cleaning.
However, everyone knows that chemical household cleaners may contain harmful ingredients that can cause harm to our health when inhaled, for example, or if the products get in contact with our skin or eyes.
Besides, there are people who are allergic to certain (or all) household chemicals!
In this case, you might want to try out a safer option instead. And using homemade eco-friendly cleaning solutions is a great option! In addition, they are easy to make and they typically consist of ingredients that can be easily purchased in any store. You can opt for one of the following alternatives:
Dishwashing liquid, vinegar, and baking soda
Grapefruit oil and white vinegar
Hydrogen peroxide, baking soda, and dish soap
Use an enzymatic cleaner
And now let's take a closer look at each DIY cleaning solution recipe.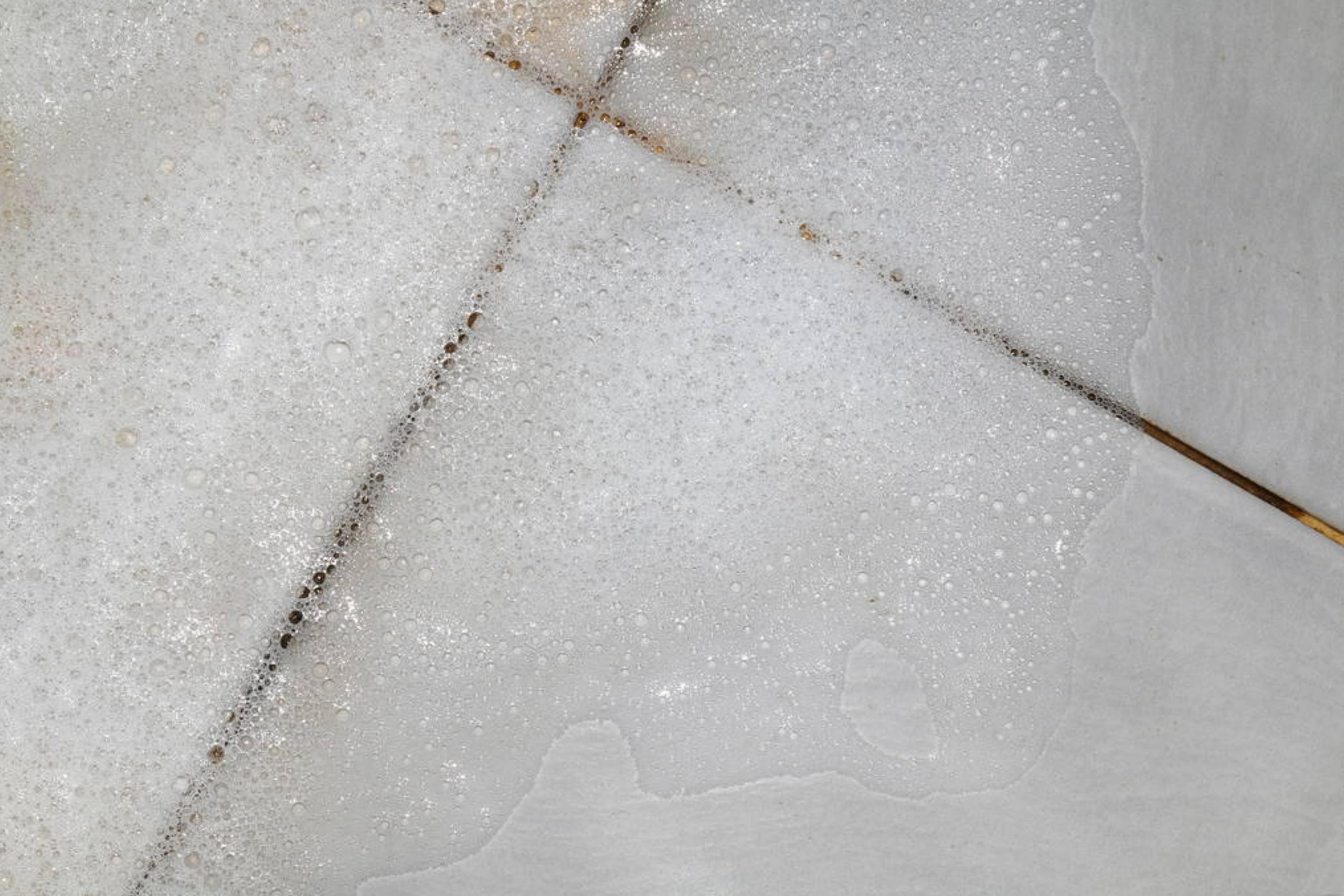 Dishwashing Liquid, Vinegar, and Baking Soda
This combination of products is one of the best ways to remove stubborn urine stains from your bathroom floor. Baking soda combined with the acidic properties of vinegar and the cleaning properties of dishwashing liquid makes a perfect solution!
This stain-removing combo can be used on ceramic tile, porcelain, laminate, linoleum, vinyl flooring, stone tile, and more.
Pour a half cup of white vinegar and 3 tablespoons of liquid dish soap into a bucket, and fill the bucket with hot water. You need to mop the stained floor with this solution and when it dries, apply a mix of 3 tablespoons of baking soda with ¼ cup of water to the stained area.
Allow the paste to sit overnight and wipe it off in the morning.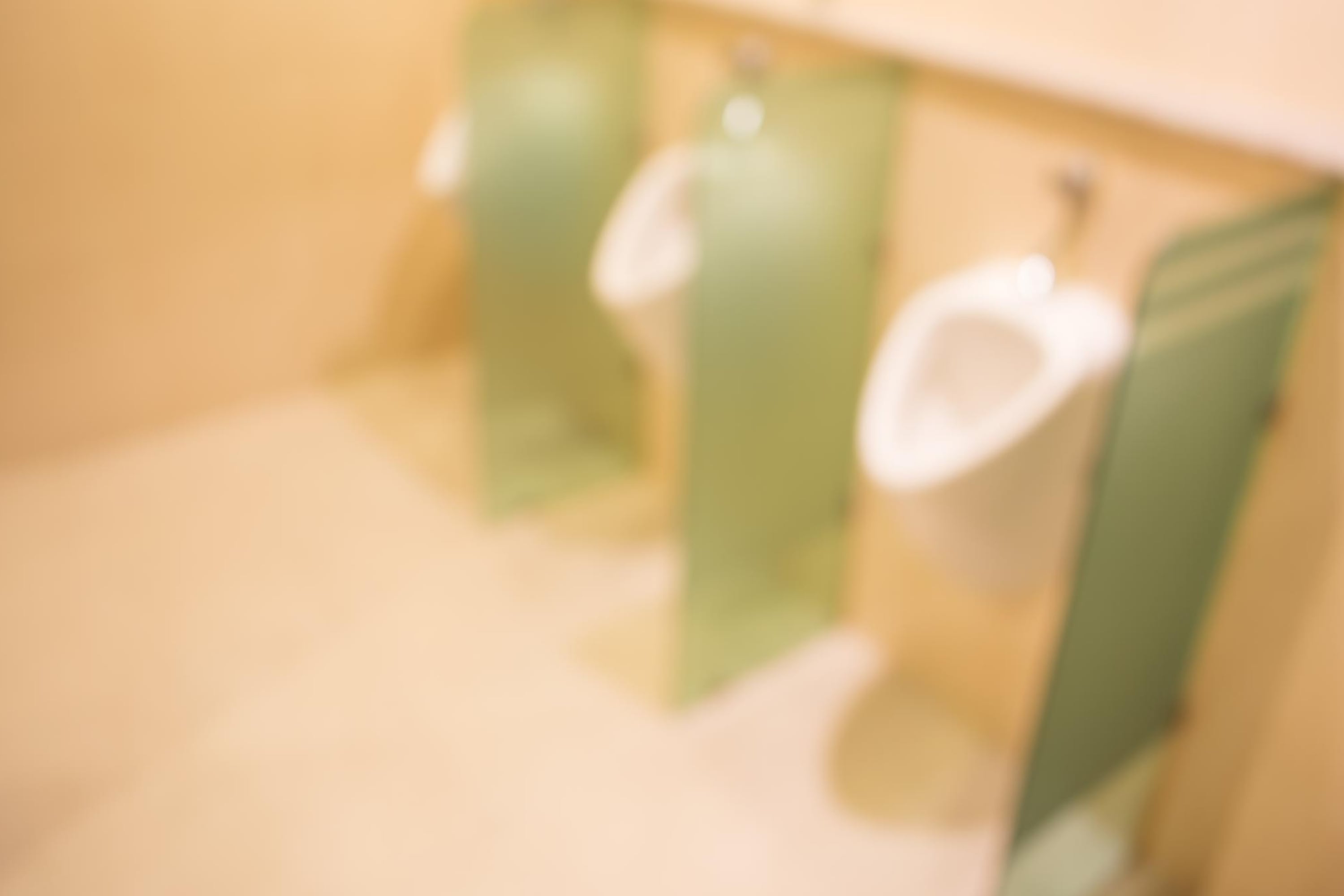 Grapefruit Oil And White Vinegar
Grapefruit oil is a potent, all-natural stain remover, and it also has anti-bacterial properties. When combined with vinegar, it can help lift urine stains from your bathroom floor within minutes. You can use this solution for different floors, including linoleum, porcelain, ceramic tile, hardwood, laminate, and vinyl.
Fill a 2-gallon bucket with 10 drops of grapefruit oil and ½ cup of white vinegar. Add hot water to the bucket and apply the solution to the stained area with your scrubbing pad. If needed, let it sit for 10-15 minutes, and then just rinse the solution with hot water and dry.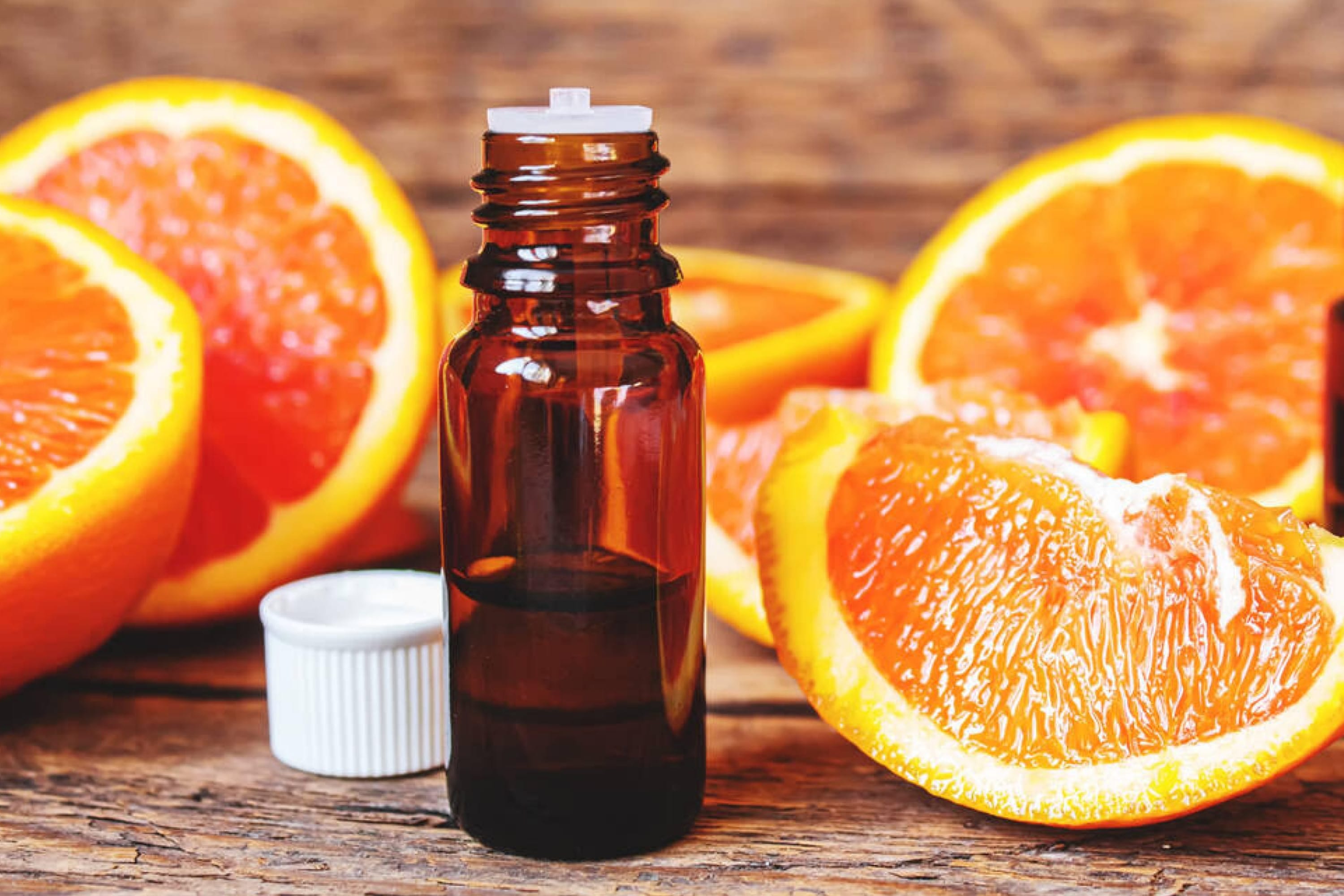 Hydrogen Peroxide, Baking Soda, and Dish Soap
This powerful stain-fighting solution works effectively at removing urine and other types of stains from your bathroom floor. You can use it on several surfaces, including ceramic, porcelain, laminate, vinyl, and linoleum.
To prepare the mixture, fill a bucket with warm water and add a teaspoon of baking soda and a 1/4-cup of hydrogen peroxide. Clean the stained area as usual and then rinse with some dish soap.
Use An Enzymatic Cleaner
Urine stains can be difficult to remove due to the uric acid crystals that it contains. These crystals can only be completely dissolved by using an enzyme-based solution. If you prefer quick spot cleaning, this is a good solution to use.
The enzymatic cleaner needs to be sprayed on the affected area of the floor. Some solutions may require you to soak the affected area from 5 to 15 minutes, while others can be used immediately.
After letting the solution sit on the stain, wipe it up with paper towels or a sponge. Repeat until the stain is completely gone.
Like this, now you know all the methods that can help you deal with the nasty urine stains on your toilet floor!
From warning signs to potent cleaning solutions, we have provided you with a complete arsenal of cleaning methods. You even have a few recipes for harmless DIY remedies as well!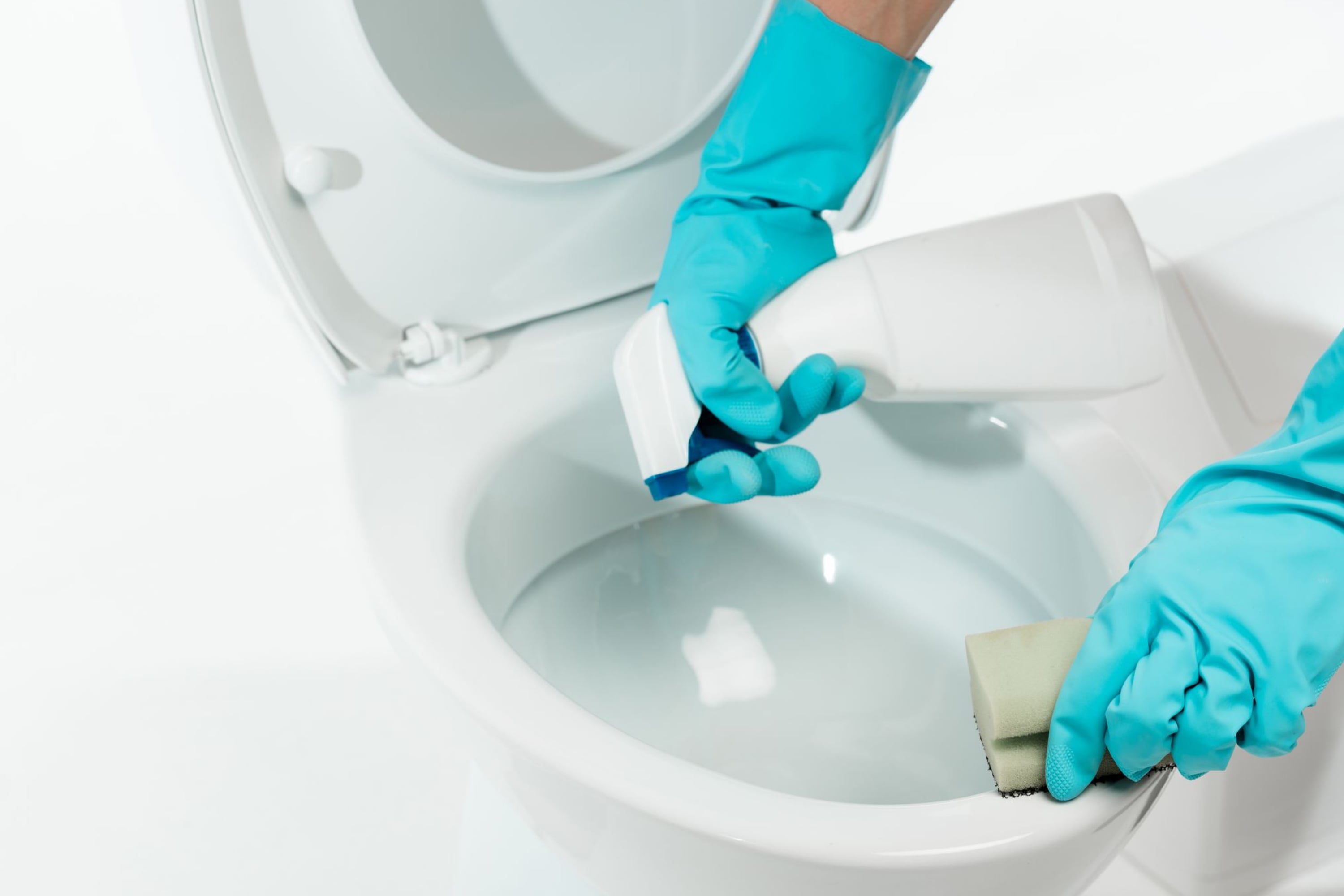 Frequently Asked Questions
⭐Can I use the same cleaning solutions for pet urine as I use for human one?
Yes, these products can be used interchangeably. They will have the same effect anyway.
⭐Can urine stains be removed with chlorine bleach?
It's mostly used for disinfecting fabrics that were stained with urine, but since bleach is a strong cleaning agent, you can try it on your floors as well.
⭐Does Clorox remove urine?
Yes. It breaks down the odor and removes uric acid crystals. It is also able to clean urine stains from porous grout and other difficult surfaces.