Curtains help you make your living space more private, but also, they allow you to protect your apartment or house from direct sunlight. Also, curtains can shield your home's indoor space from curious people in the street who might be tempted to glance at your windows!
However, when it comes to hanging curtains, homeowners realize (often with great surprise!) that they are not sure how to attach curtains correctly.
Today, we will help you figure out how to hang curtains in an apartment or a house. In particular, you will learn about different ways of attaching curtains to the walls and even the ceiling.
As a result, you will not only know how to hang curtains properly. You will also manage this task easily without help!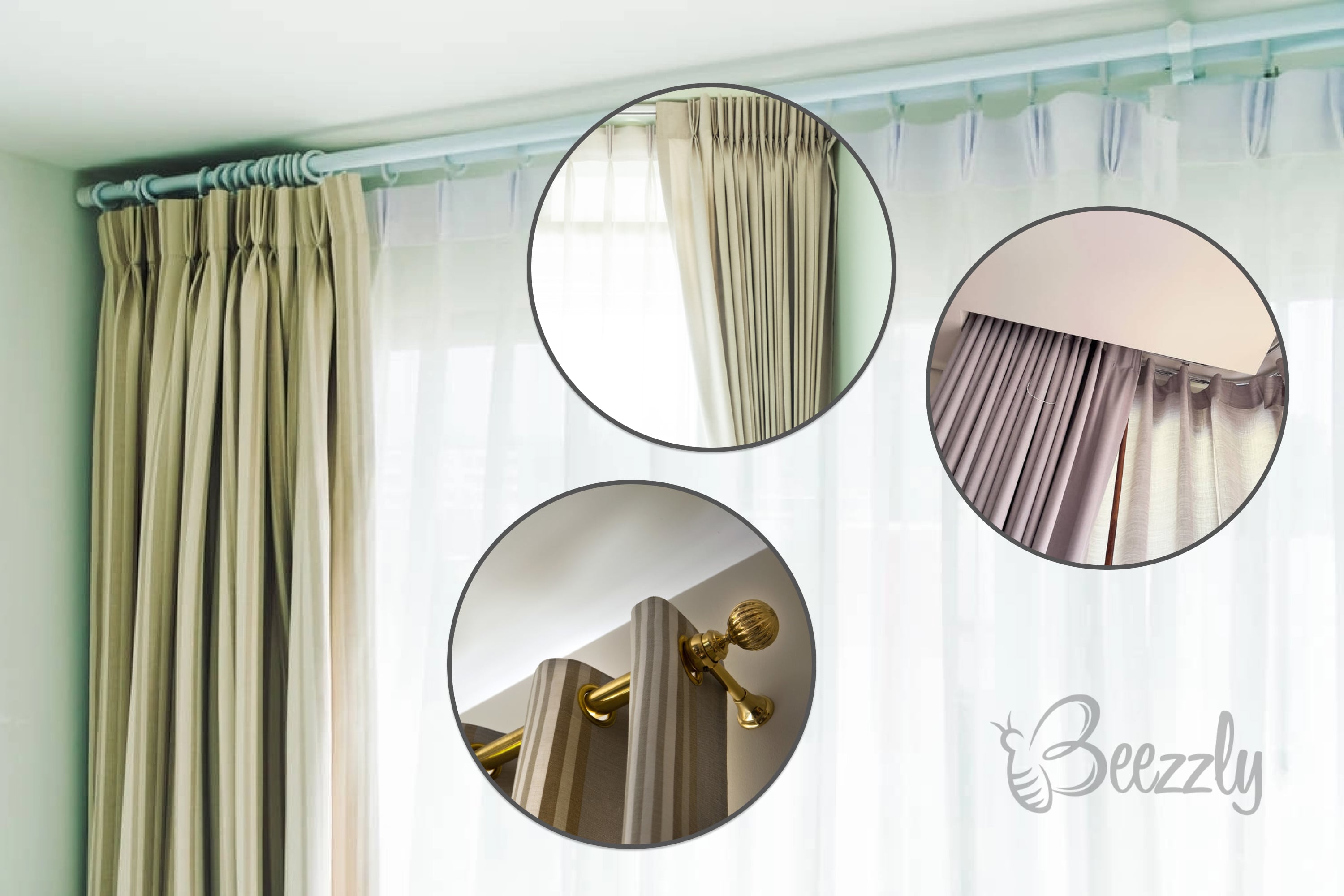 How to Hang Curtains Without Rods?
You might not want to install curtain rods because this process requires drilling. Or you might not find these rods attractive. No matter the reason, it is possible that you might want to consider alternative ways of hanging curtains and not use the rods for that.
Below, we have provided a 7-step guide for you precisely for this occasion! Read carefully to learn what to do to hang curtains and don't leave holes in your walls.
How To Hang Curtains Without A Rod | 5 Alternative And Easy Ideas
Take precise measurements of the width and height of your windows. Also, measure their position between the ceiling and the floor. These measurements will be essential to select suitable curtains and the attaching mechanism.
Determine the size and style of curtains you want.
Do you want formal floor-length curtains that extend beyond the window? Maybe, you prefer informal curtains that barely cover your windows? Or perhaps, you like heavy light-proof blinds? Or sheer curtains instead? Make your choice.
Select the fabric of the curtains you want to hang in the room. They can be made of natural materials like linen or synthetic fabrics. Also, they can be thick or sheer.
Use a curtain wire across the width of the window to hand curtains. This wire is easy to attach, and the curtain should be threaded onto the wire. This method can work with sheers or lightweight curtains.
Use a rope as an alternative method. Ropes can complement country or cottage-style decor. It's best used with curtains with grommets. Just ensure you stretch the rope taut when you fix it! It will prevent sagging.
To hang tie-top curtains, use cabinet knobs. Install them on the wall at the same distance as the ties. Since this method makes it impossible to move the curtains, use it for hanging sheers that should stay in place.
Check whether your curtains move freely (if they are supposed to move) and whether their length satisfies you. Great job!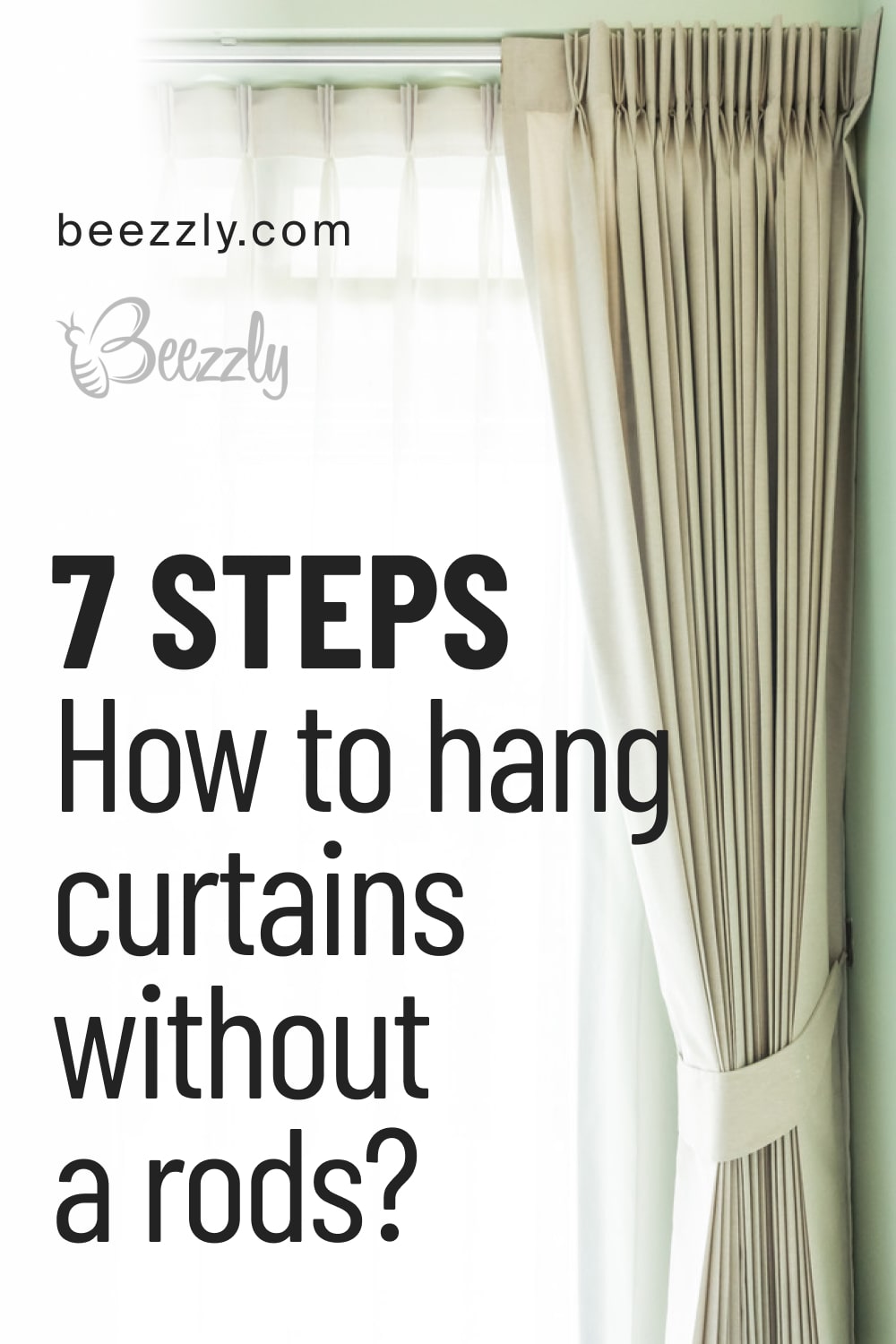 How to Hang Curtains With Clips?
If you don't have much time to bother yourself with drilling or hanging curtains using difficult mechanisms, opt for curtain clips! Here are the five insights that will convince you to use this attachment mechanism:
Curtain clips are extremely easy to use
To hang a curtain, you simply need to clip the ring to the panel!
Curtain clips allow you to hang any drapery type.
Curtain clips allow you to make your curtains a little bit longer if you want.
They are cheap and easy to buy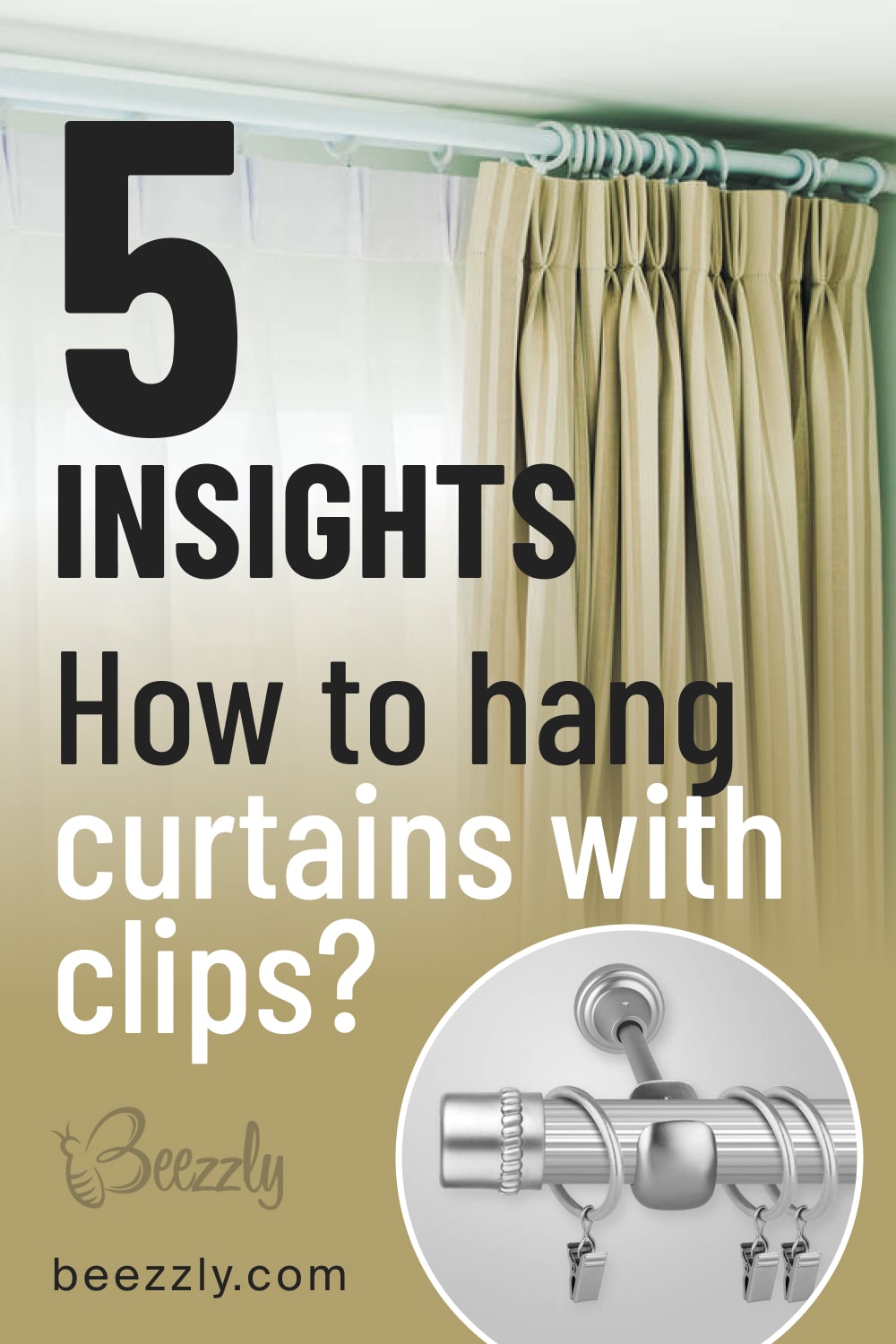 How to Hang Curtains From Ceiling?
You have definitely seen those curtains that seem to hang right from the ceiling without any visible attachments or hardware. That looks amazing and fabulous! But how did they do that, you probably wonder?
We are going to share seven life hacks with you that will allow you to make your curtains float the same elegantly without showing any hardware or rods!
How to Hang Curtains From the Ceiling | The Home Depot
Use command hooks. They can be pretty small, and there are even translucent variants that will be invisible!
Opt for adhesive strips as a damage-free alternative to regular hooks or rods.
Removable adhesive hooks might be another useful option for you.
As an option, try out nonintrusive rod designs.
Sometimes, it might be simpler to hang a ceiling curtain from ceiling hooks.
Install a track for curtains.
Find rod brackets that are specifically made for the ceiling.
However, you should note that the last two options (curtain tracks and ceiling rod brackets) require drilling, so use them only in your own home, not the rented one, unless your landlord is ok with holes in the drywall!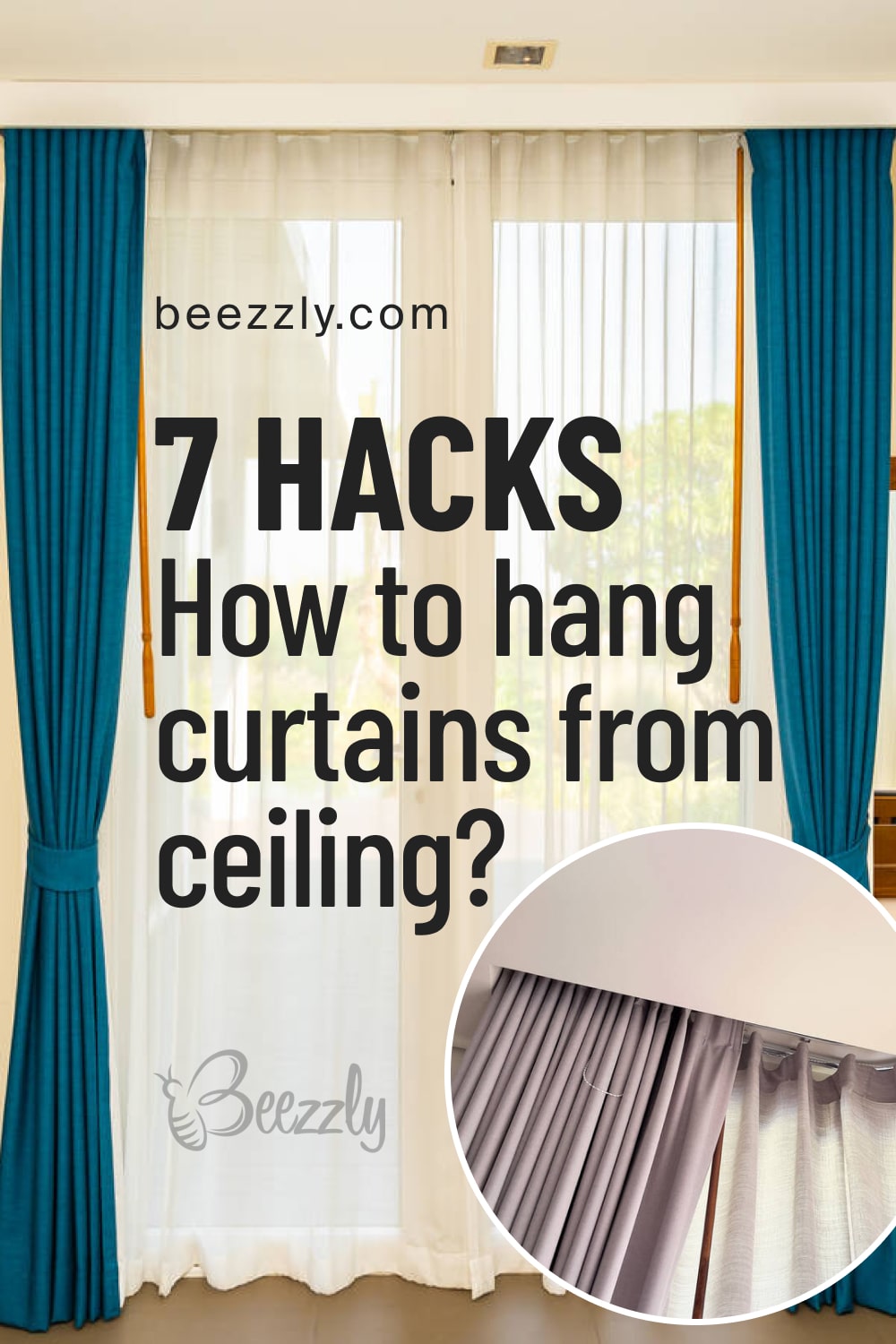 How to Hang Curtains Without Drilling?
Most curtain-holding mechanisms require drilling to install them. However, not everyone is happy about making holes in their walls! Should you decide to replace the curtains, you must patch those holes and repaint the wall. That's too much mess! Besides, sometimes you simply can't drill the walls in the apartment or the house you live in (for example, if your landlord forbids that).
This is why we suggest 10 helpful methods of hanging curtains and keeping your walls safe and sound without even a tiny hole! With such a wide selection of alternatives, you will easily find the attachment way that suits you best.
Install tension rods
Use command hooks for installing curtain rods
Use tap brackets
Opt for over-the-door hooks
Try out magnetic curtain rods
Use adhesive curtain rods
String a heavy-duty wire to hand the curtains
Use adhesive hooks
Make a DIY curtain rod and hang it with adhesive hooks
Use the brackets that fit over the window frame
Besides, since all of these methods are affordable and low-cost, you can use them even if you are super tight on budget.
How to Hang Curtains With Rings?
The curtains on the rings look informal and so homey! This way of hanging curtains is specifically suitable for countryside-style homes and interiors, as well as for kitchens designed in this simple style.
Besides, there are different ways of attaching your curtains to the rings so that you can play with the design a bit! For example, rings can be attached to the curtains using clips. As an option, rings might be already sewn into the fabric of your curtains.
We recommend you learn about three rules that will help you hang your curtains with rings not only correctly but also nicely.
Hang your curtain rod where you want it, and then adjust your curtains instead of hanging the curtain rod to accommodate the length of your curtains.
Determine how many hooks you need. This will help you have more control over how your curtains will look. Remember: the more rings, the wider your curtain will sit on the rod!
Use a ruler when you attach the rings. It will help you to make sure your rings are perfectly spaced along the top of the curtain panel.
With these tips and recommendations, you will easily hang any type of curtain, even if you are not allowed even the tiniest hole in your home's walls!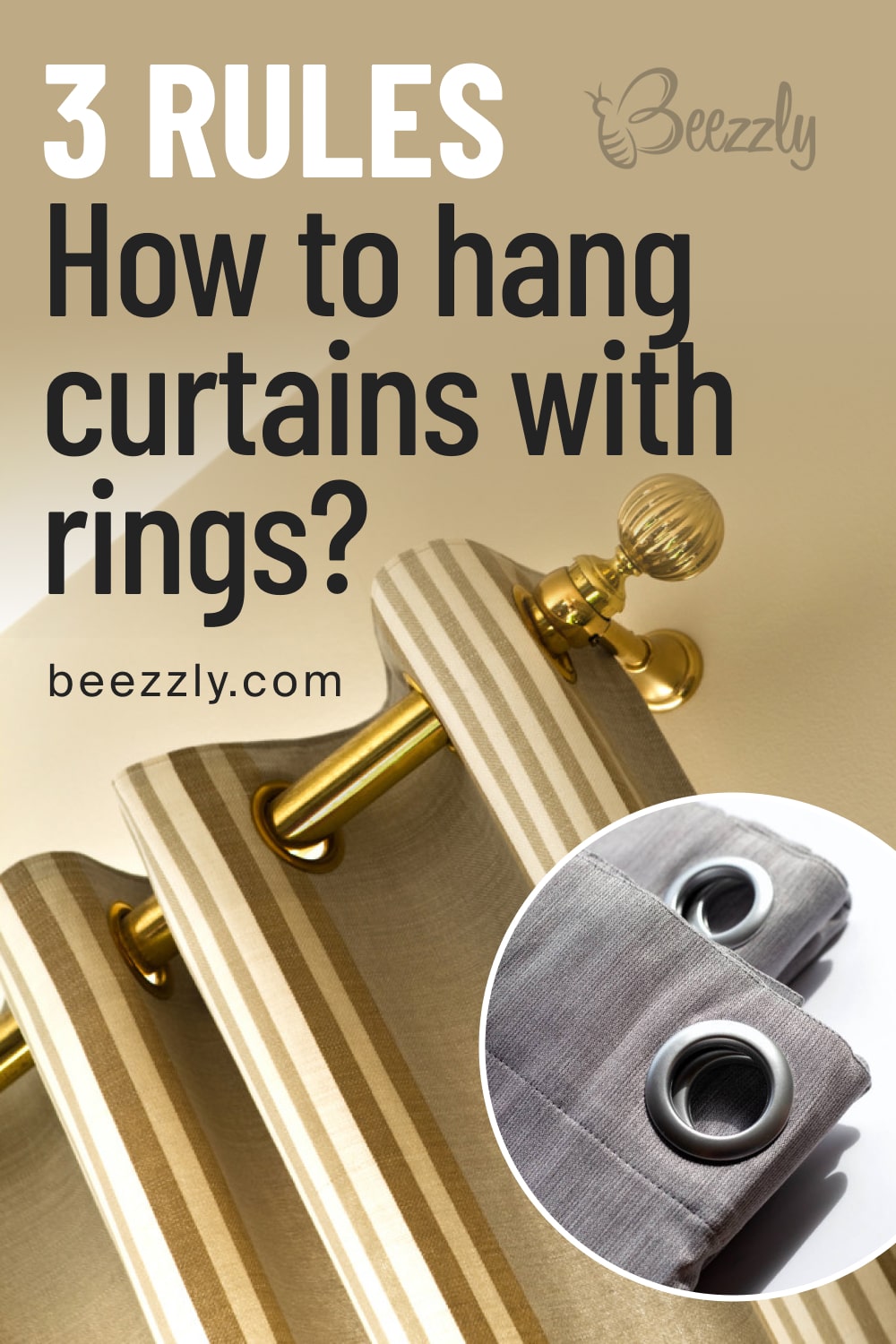 Conclusion
So, this is the complete guide on hanging curtains in your home correctly. You figured out how to hang curtains in an apartment or a house. To be precise, you learned about different ways of attaching curtains to the walls and even the ceiling. E.g., now you know how to hand curtains without drilling or how to attach them to the walls/ceiling with rings.
Thanks to this information, you will not only know how to hang curtains properly. You will also be able to perform this task without help like a pro!
Frequently Asked Questions
⭐How high above the window shall I hang curtains?
It's best to hand curtains 4-6 inches high above the window.
⭐How wide is it best to hang curtains?
Ideally, each curtain panel should be at least as wide as your window.
⭐Is it possible to hang curtains on my own without help?
If they are lightweight, then yes, it's possible. But to hand heavy blackout curtains, you might need help.