Tar can get onto your hands in many different ways. You may step into it on the road, or it may end up on your palms when you are trying to get rid of it with your bare hands. No matter the reason, tar can be a literal and proverbial pain!
And since cleaning it off needs to be done carefully in order not to damage your skin, we prepared a complete guide for you on the issue of getting tar off your skin.
You will learn what steps to take to free yourself from this sticky substance quickly and with the minimal damage to your hands or other patches of bare skin.
How to Get Tar Off Your Skin?
How to get roofing tar off your skin? How to get beach tar off your skin? We are sure that, if you have to deal with this sticky material often enough because of your job or due to any other reasons, you have already asked yourself these questions.
Of course, for the majority of us, the most obvious way of removing tar may be washing it off.
However, this is what must never be done if you don't want to end up with this goo being stuck to your skin forever! Instead, its removal procedure must be done carefully and with no hurry.
It will help you to keep your skin unharmed and also you will be able to remove the tar completely.
The tar removing process consists of several steps, and below we will describe each of them in detail. With such a step by step instruction, you will be able to learn how to get tar off from your skin correctly and successfully.
How to Get Hot Tar Off Your Skin
If you have ever wondered how to get tar off of your skin if the substance is still hot and fresh, there is a sequence of first-aid actions that must be taken in order to clean it away accurately and safely.
First of all, run cold tap water over the tarred surface. If you have tar on a large area of your body, you will have to take a cold shower.
Keep the tarred piece of skin under the cold running water for at least twenty minutes. This way, you will stop tar from burning your skin.
However, avoid using ice or very cold water on tar since the goo will harden very soon! First of all, you need to determine your course of actions.
For example, you might need to visit a doctor. Sometimes, tar may cause skin burns or it can damage the skin underneath the tar blot.
So visiting a doctor will help you to get proper treatment, as well as minimize pain and discomfort. We recommend you seek medical help in the following cases:
if tar is still hot after you poured cold water over it
it feels like it's burning you
tar covers a large area of your skin
the tar is near your eyes or it's in your eyes
Also, it is recommended that you take off any pieces of jewelry or clothes that cover the tarred skin. Like this, you will dissipate burning and other damage.
How to Get Tar off Your Hands & Skin | Complete Guide
Related: How to Clean Pilot Light?
How to Get Tar Off Of Your Skin With Ice
This method implies using ice cubes. You need to rub the tarred piece of your skin with the ice cube or apply an ice pack to make the tar harden and eventually crack. This way, you will be able to peel it off easier causing less or no damage to the skin.
After you see that the tar is hard enough and you can also see cracks on its surface, peel it off using gentle peeling motions.
However, if removing the tar this way causes too much pain, seek medical help in order not to cause further damage to your skin!
But if you did manage to peel the tar off harmlessly, cleanse your skin with a mild soap.
Use gentle and circular motions to spread the soap around the affected area, and then rinse it off with the clean and warm water.
This way you will remove the tar residue and fragments left after peeling it off.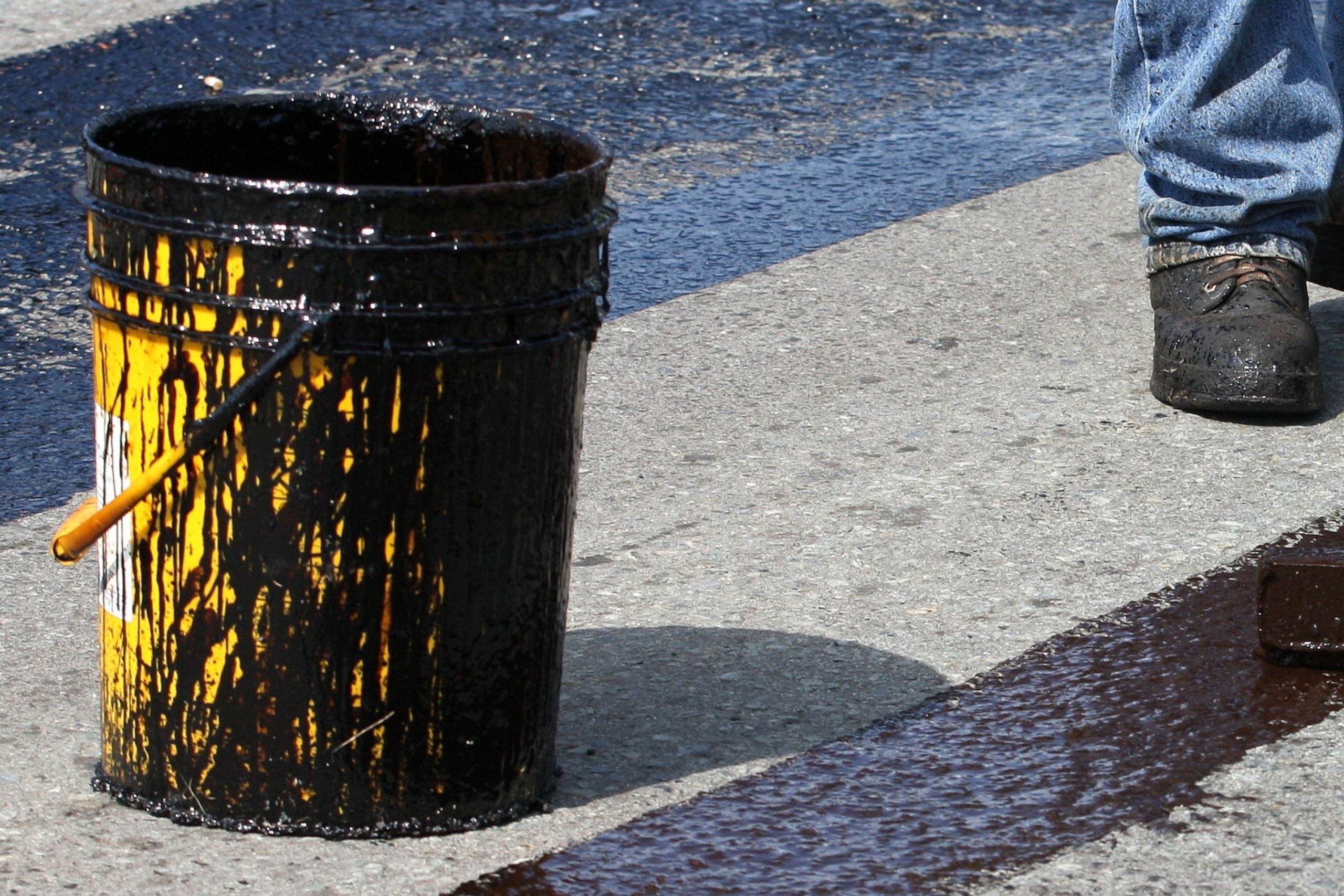 Related: How to Get Rid Of Wood Stain Smell?
How to Get Black Tar Off Your Skin Using Household Products
You can also try to remove the tar with the help of household products. For example, layer on a polysorbate cream (Neosporin or Tween 80) to the tarred area of your skin.
Allow the cream to work into the blot and your skin for a few minutes, and then gently wipe it away with a clean cloth or by rinsing the cream with warm water.
Each of these products break down tar, and since they are non-toxic, they will cause less damage and pain to your skin.
Another solution is to apply mayo! Simply apply a thick layer of mayonnaise over the area and let mayo work into the tarred skin for half an hour at least.
Afterward, wipe mayo away with a clean soft cloth or using a brush.
Also, you can remove the tar using one of the following oils:
butter
sunflower oil
baby oil
canola
olive oil
coconut oil
Simply pour or smear the chosen oil over the tarred area on your skin and let it work for twenty minutes or so. Then peel or scrape the tar off the skin gently.
And of course, remember to wash the cleansed skin with a mild soap to remove any tar residue or particles!
Finally, you should not forget about such a handy thing as petroleum jelly! Spread it over the tarred skin and around the area, wait for five minutes, and then wipe the excess away.
With these tricks and tips in mind, you will be able to easily deal with a tar blot on your skin unless it is a really big piece that has to be removed in a hospital.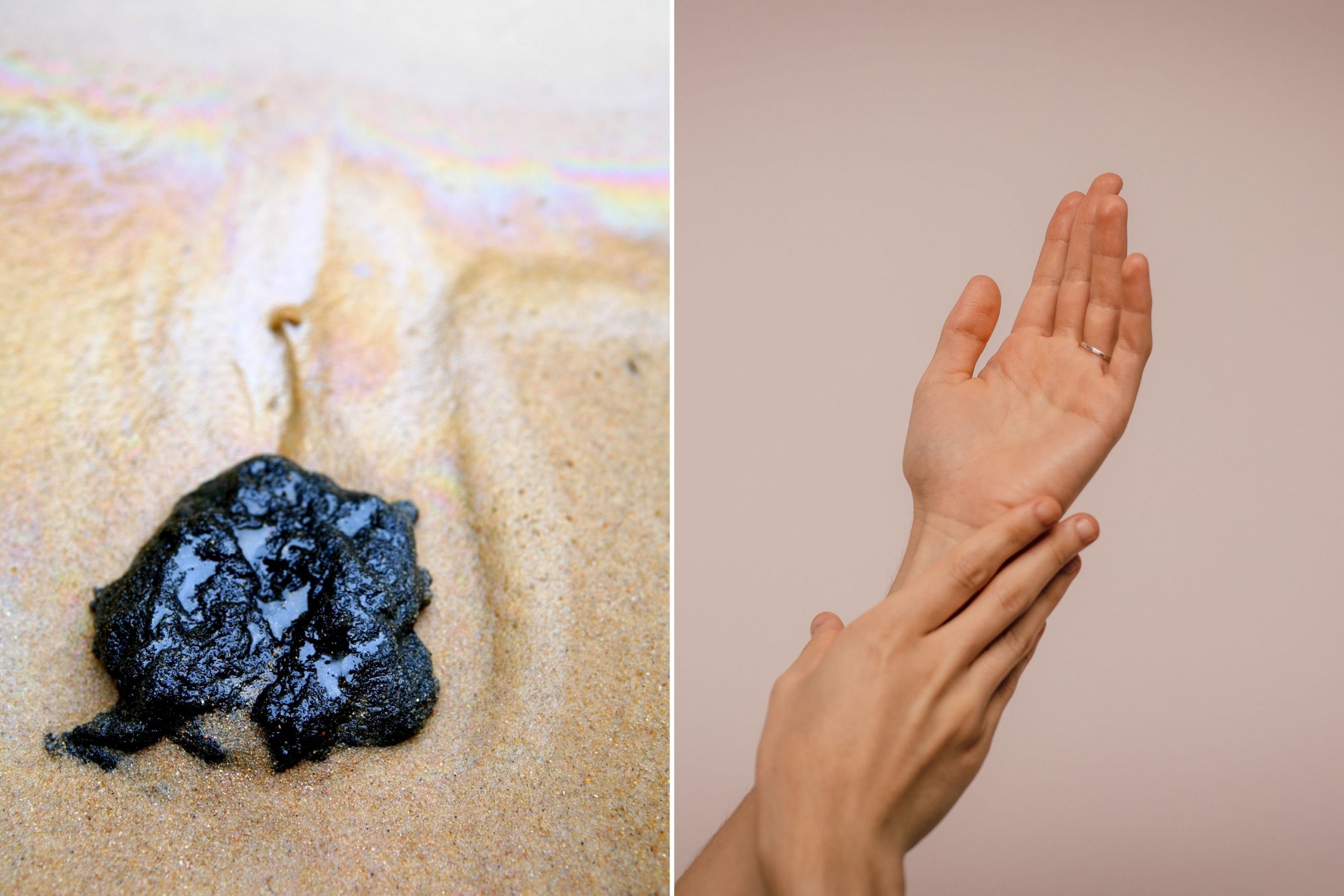 How to Take Care Of Your Skin After You Remove the Tar?
Do you think that, after the tar is removed, you need nothing else to do? Wrong! You still have to exfoliate your skin to delete the tar remnants and traces.
Luckily, this is very easy to do. To remove the stains that may remain after the tar removal, use a soft scrub brush or a soft washcloth, then cleanse the skin and rinse it with warm water.
Pumice stone can also help. Use it with gentle circular motions to get rid of the tar residue or remnants, and apply a bit of a mild soap if you want to. Then rinse the area with warm water and pat it dry.
Finally, an exfoliating scrub may be a good option if the tar stains you are dealing with don't want to come off after you use the methods we have just described.
If you don't have such a scrub, you can substitute it with baking soda, a paste made of sugar and olive/coconut oil, honey and finely ground oatmeal.
And even if you managed to get rid of that tar blot on your skin, we still recommend you visit your doctor. Your skin needs to be examined for any irritations and damages.
Like this, you will be sure that no infection will get through it. NAturally, if you fail to remove the tar on your own, visiting a hospital is a must!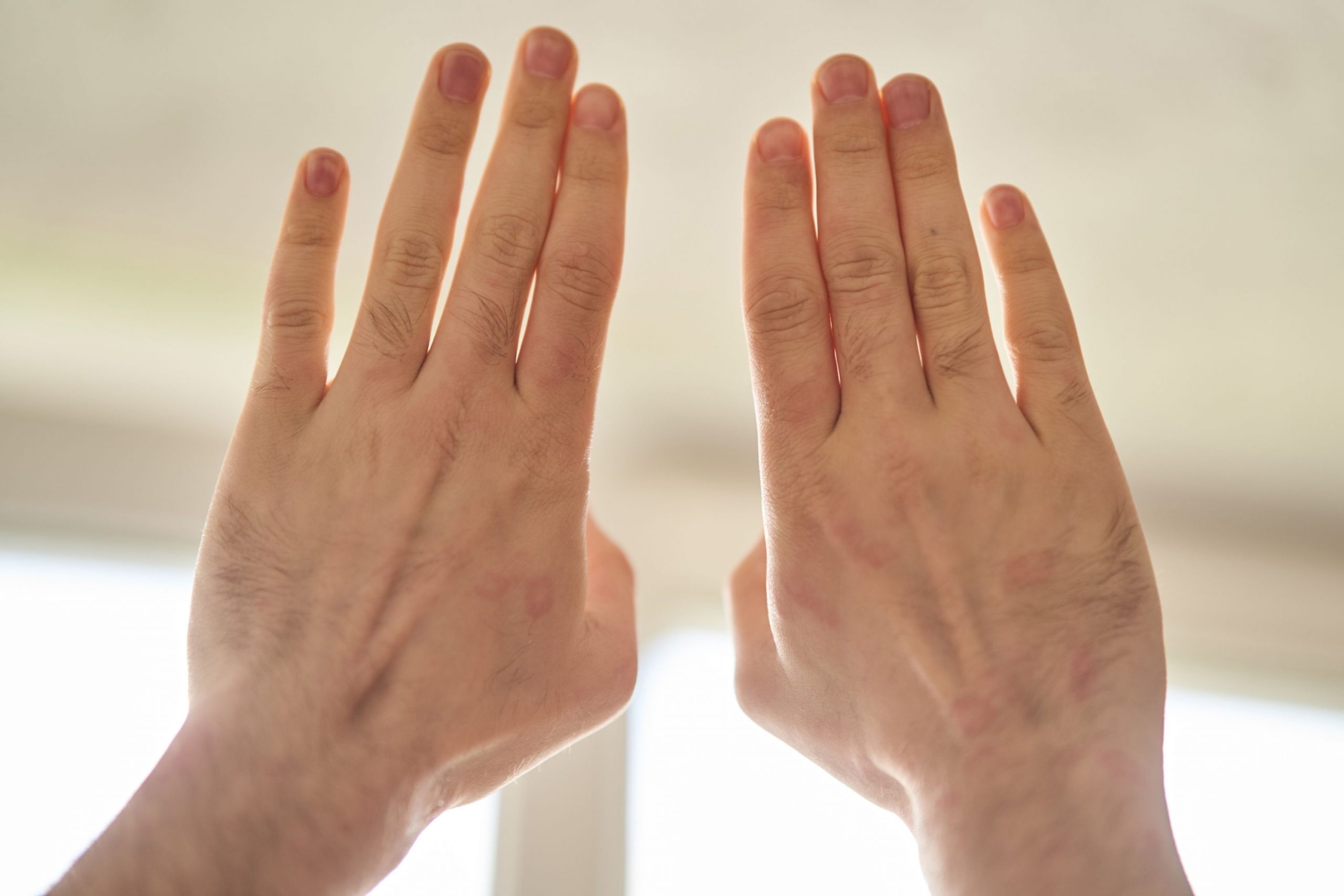 Things You Must Never Do When Removing Tar!
Tar is a sticky goo that may cause a lot of problems once it gets onto your bare skin. This is why removing it correctly is mandatory since it will allow you to both get rid of the problem and avoid skin damage or irritation.
This is why we are sure that each and everyone must be aware of the list of things that one must never do if he or she has tar on hands or other bare skin areas.
Avoid picking at the tar until it's completely cool. Like this, you will minimize the risk of skin damage.
Don't pull off clothing or items that have stuck to the skin to prevent further damage.
When icing a tar blot, stop it if your skin is too cold to avoid ice burning.
Avoid toxic chemicals when removing the tar!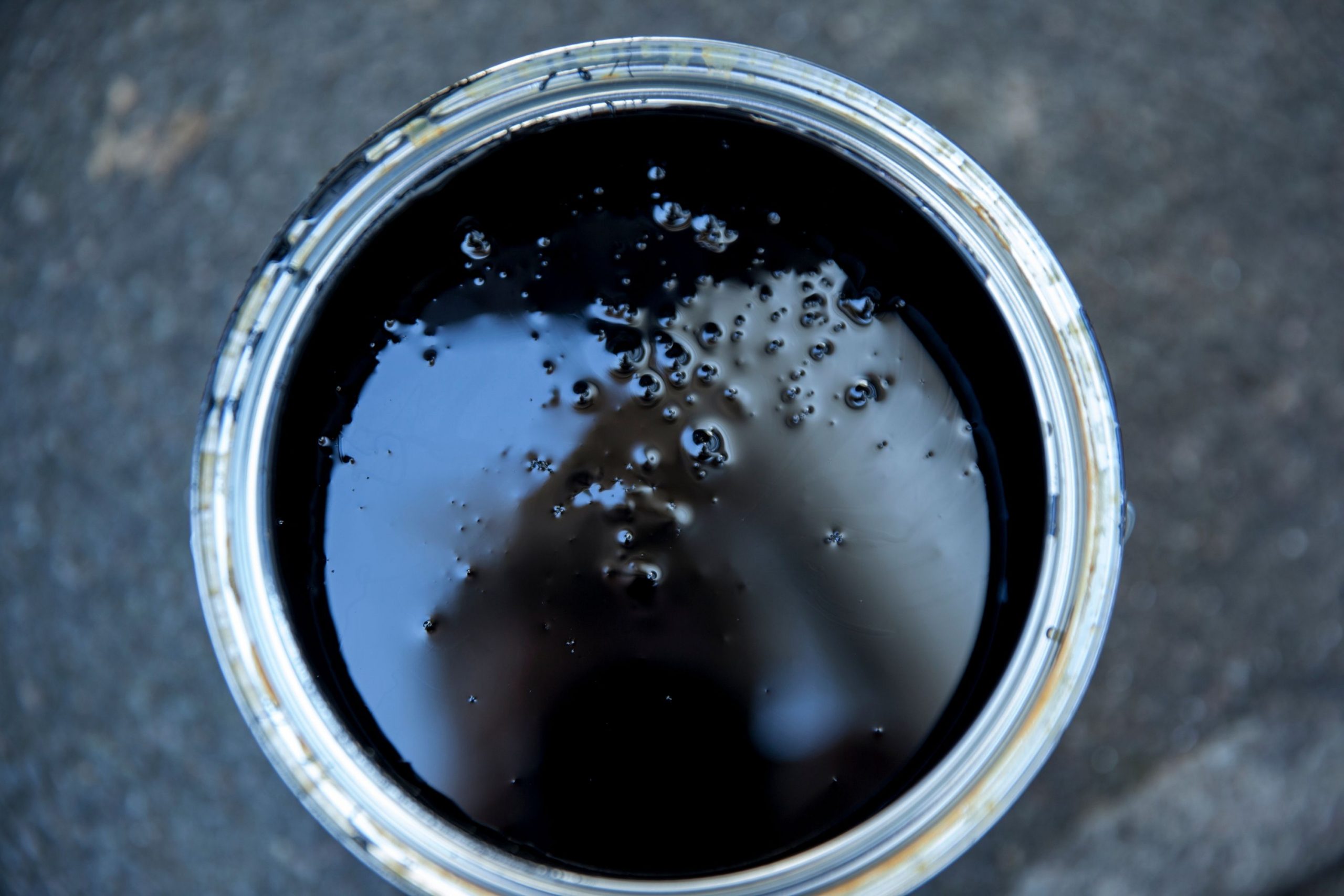 As for the toxic chemicals, you must avoid using such products as acetone, alcohol, kerosene, nail polish remover, ether, gasoline, or aldehydes. They can be absorbed by your skin causing harm to your health!
Well, now you know what you should do in case you have tar on your skin.
With the provided list of actions and remedies that can help you to deal with the issue, we are sure that you will manage to get rid of tar easily even without the medical help!
Be careful and take care!
Frequently Asked Questions
⭐ Is tar toxic on your skin?
No, it's not, But it can cause damage if you try to peel it off.
⭐ How to remove tar from under the nails?
Use the same methods you would use for cleaning it off your skin.
⭐ Can tar spill on my skin lead to allergies in future?