From classic photo prints to typographic images, there are plenty of creative ways to spruce up your home!
Bare walls are bearable in your office space, but you want something more than off-white emulsion to look at when you're back home! So what are the best ways to fill those empty spaces?
We recommend installing some custom wall art. Personalized photo prints will brighten up any home – and with a few clever design hacks you can turn them into a stunning focal point of your interior design.
Read on for our tips for displaying custom wall art!
Repeat a Single Theme in Multiple Rooms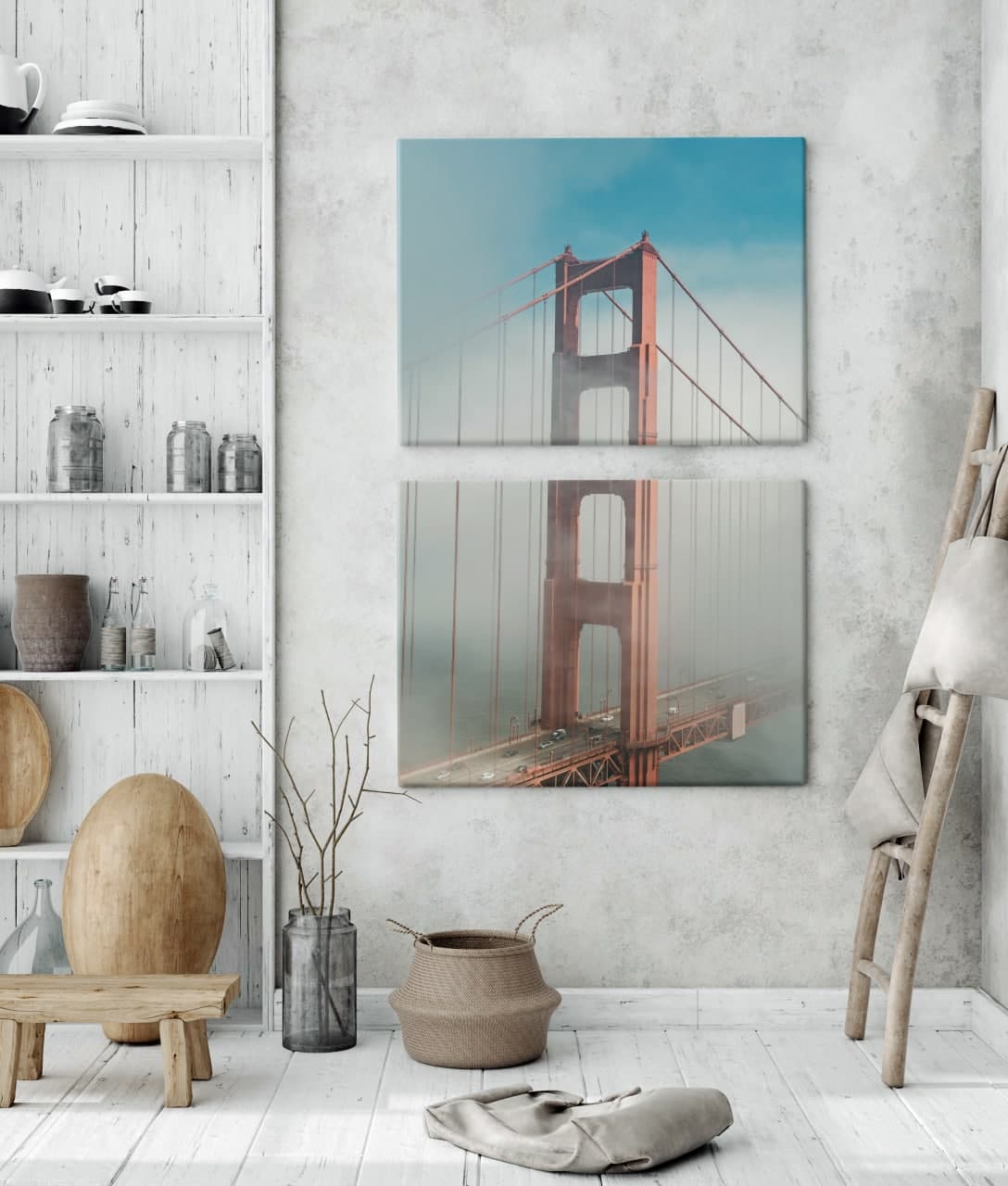 If you've got blank walls to fill in several different rooms, one elegant design idea is to choose a single theme, then hang photo prints reflecting the theme in multiple rooms. The unifying theme could be family portraits, your hobbies, animals, plants, urban photography, anything you like! 
If you go with family portraits, and you can't find the perfect photos in your digital storage, a professional photoshoot will solve the problem. It's worth mentioning to the photographer that you plan to have some of the photos printed, as this will help them choose the appropriate gear.
Create Multi-Print Wall Displays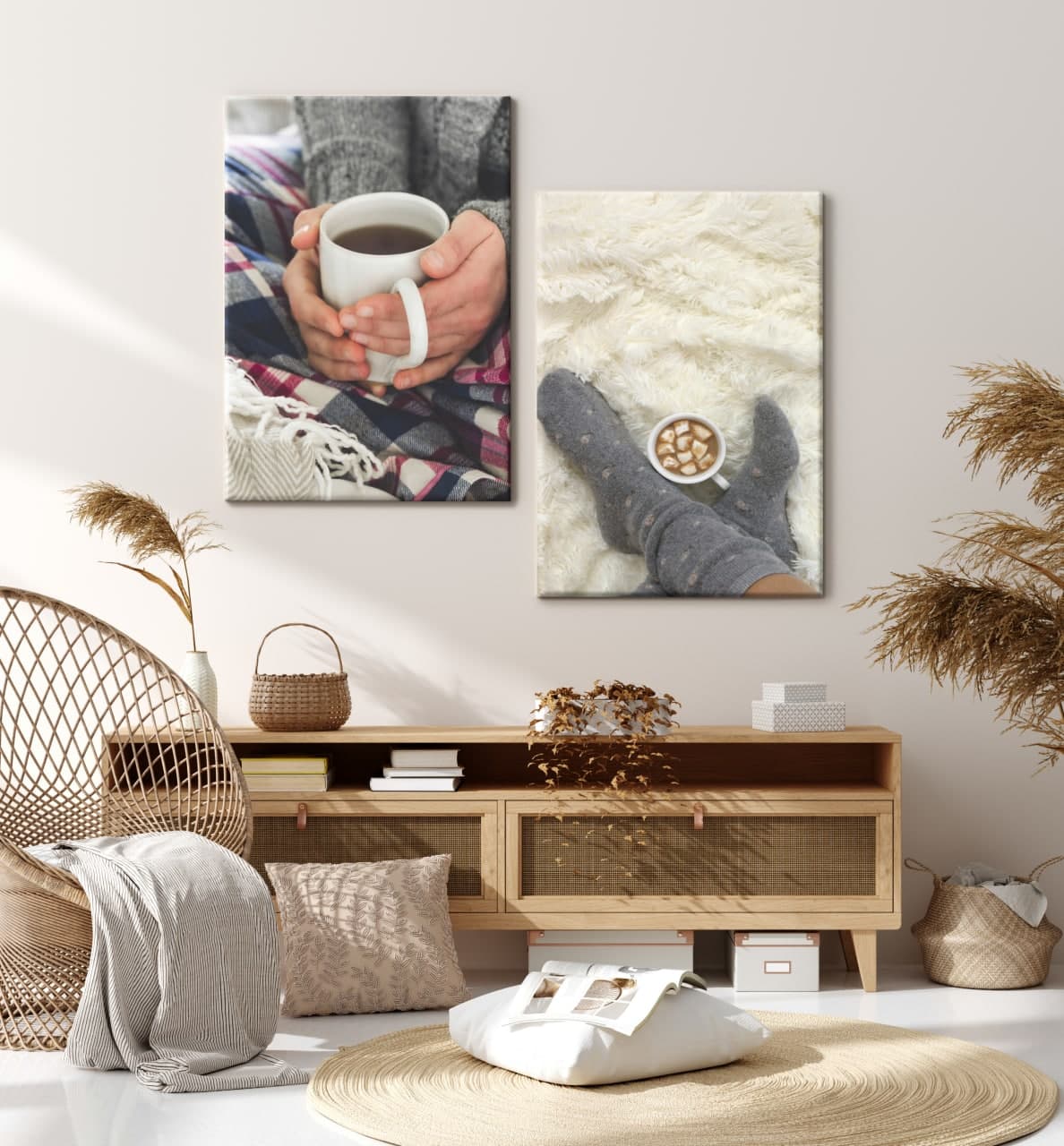 If you have multiple prints on a single theme, you can of course display them in the same room too. A cluster of themed prints in different sizes is a great way to create an affordable "gallery wall" effect. Here are a few evergreen print layout ideas:
A line of three prints of the same height but different widths (e.g. 20″x16″, 20″x30″, 20"x16")
A line of three prints of gradually increasing size (e.g. 8″x8″, 10″x14″, 20″x16″)
Three small prints underneath one large print (e.g. one 20″x40″ and three 12″x16″)
A large print with two smaller prints to its left and two to its right (e.g. one 16″x20″, two 12″x16″ and two 8″x12″)
For the most striking results, try to match the general design scheme of the room with the style and dominant colors of your prints. Monochrome images can look fantastic in a loft-style space, but the same photos can feel slightly cold in a pastel-soaked Provence-style bedroom.
Go Vintage
Got a soft spot for vintage style? If you have blank walls to fill, we have the perfect idea for wall art with a charming retro touch. All it takes is a frame! A printed photo will look gorgeous in a traditional wooden frame in dark walnut or light oak. Meanwhile canvas prints are available with so-called floating frames that create a superbly striking look. These frames leave a small gap between the edge of the canvas and the outer decor frame, meaning the canvas seems to "float" against the wall – perfect for a mid-century modern or Pop Art aesthetic.
And to get a vintage look the easy way, why not print your photos in black-and-white or sepia? Family portraits and cityscapes with pre-war architecture are perfectly suited to these retro color effects.
Choose Panoramic Prints
There's no need to decorate every blank wall in a room. A single large-scale print can have enough impact to transform an entire space. This applies particularly to panoramic prints – try hanging your panorama above beds, couches, or mantelpieces to give your room an attractive sense of balance. 
Make a Statement with Typography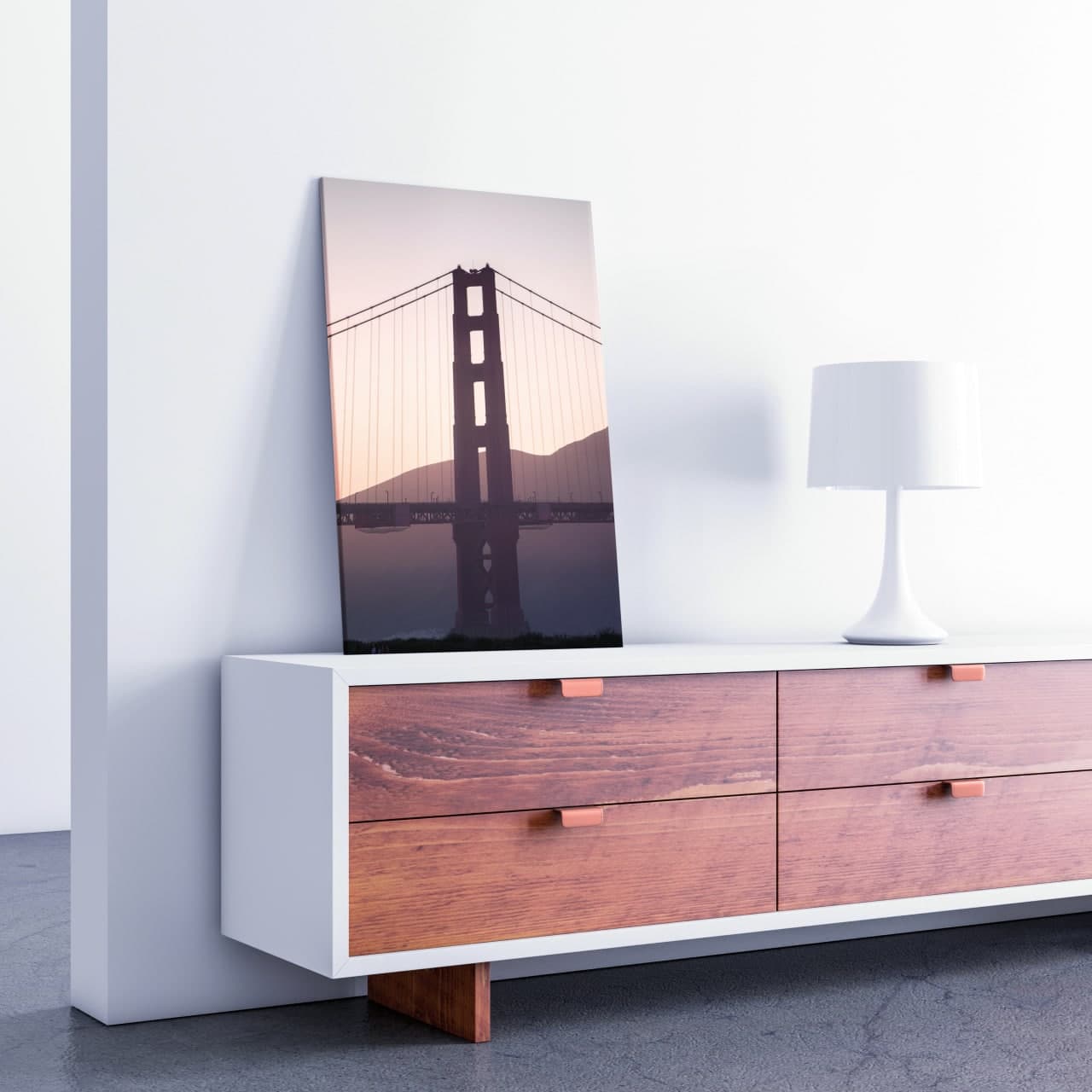 Typographic design has been trending for years, and these days you don't need an art degree to create a wonderful text-based print. There are plenty of free online text editors that will let you play around with different fonts and creative design ideas. Then once you've saved your design you can upload the image file to a custom printing website, just like you would with a regular photo.
And these days many photo printing sites let you upload your image file and then add text afterwards, at the print design stage. This can be ideal if you just want to add the date and location a photo was taken, or to include a short dedication. 
Photo wall art isn't just an elegant interior design solution – it's also a way to get back in touch with your most precious memories. So if you've got some drab wall, why not choose a solution that will look great and give your mood a boost too – personalized photo wall art!
Frequently Asked Questions
Is it expensive to decorate a large blank wall?
A: No, not if you choose a high-quality budget provider. Companies like CanvasDiscount.com offer a range of decor solutions for superbly accessible prices.
Should I consult with a professional designer before hanging a wall art display?
Feel free to pay for professional decor advice if you want, but it's certainly not essential – you'll find plenty of free advice online on choosing and installing wall art, including video explainers.
Can I hang wall art myself?
Yes, you can. In fact many photo prints come with a DIY hanging system included free, or at a small extra cost. Information about hanging options should be available on the printing company's website, so check before ordering.
How long will my wall art stay in good condition?
The longevity of wall art depends mainly on two factors: the quality of the materials and the environment they're displayed in. It's best to hang wall art in dry rooms and away from direct sunlight – if cared for properly, quality wall art can stay in superb condition for decades.