Choosing a proper item of clothing for outdoor activities is a responsible task. Especially for those who love long walks no matter what the weather is. In this case, finding proper clothing that will keep you dry is a must.
Nevertheless, the main issue that most of us stumble with is how to define what sort of material we need.
Want to know the answer? Then keep on reading with us!
Waterproof. What It Means
Most of us would prefer buying water-resistant apparel, but does everyone know what it means?
Clothing labeled waterproof must provide the highest level of protection from any moist and liquid. They often have heated or sealed seams, their structure is layered, and even zippers can withstand the harshest weather conditions.
Surprisingly, but many people believe that polyester is waterproof. However, this material can rather be called water-resistant since the fabric does have air gaps in its fibers that let the liquid in easily. Nevertheless, if polyester is coated with extra protective layers, it can gain waterproof qualities.
Water-Repellent Material. A Brief Guide For Newbies
Let's start with the material that has repelling abilities. To define it at once, we need to admit that the fiber is called like this when it can repel water on contact. Here it matters greatly at what angle drops touch the item's surface: if it is less than 90 degrees, then some liquid will be absorbed. However, if the angle is more than 90 degrees, most of it will run down the item.
To figure out how the material will repel water, such garments are tested. The level of absorbance and water penetration is checked and measured under the conditions close to real ones. In general, four stages of checking must be successfully passed for the apparel to be proved water-repellent.
Water Resistant 10oz 100% Cotton Canvas by Big Duck Canvas Fabric Warehouse
Some synthetics can originally have such characteristics, whereas most of the refined fabrics need a coating of a special chemical called DWR to enhance their resistance. Such a method is not quite handy since DWR must be renewed every now and then to ensure the repelling compounds are fresh.
Distinctions Of Water-Resistant Fabrics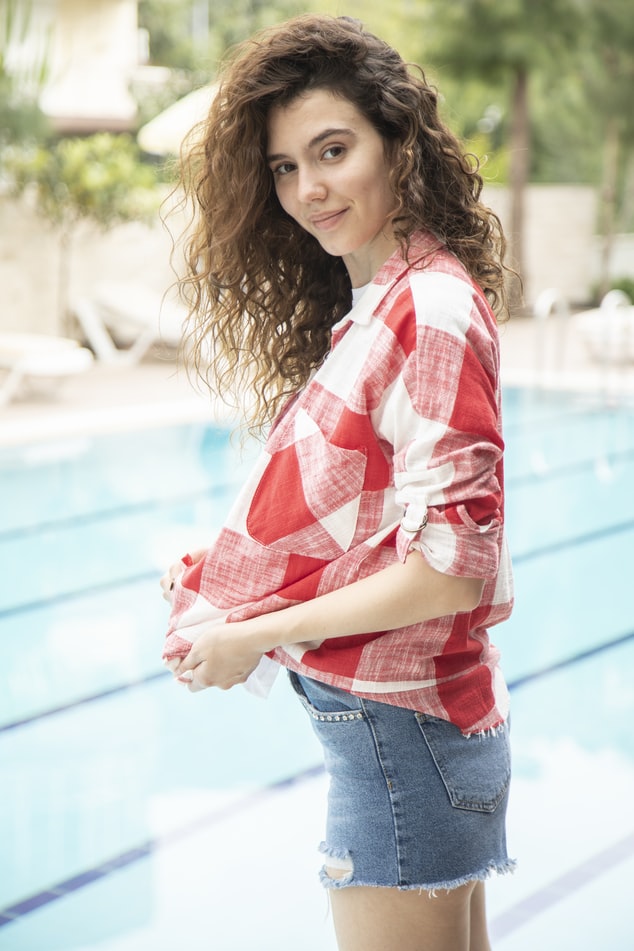 Unlike the previous two fabrics, resistant material is specially designed for withstanding light water exposure like snow or light shower. However, it will hardly be able to manage heavy continuous rains.
This sort of fabric is also treated with DWR to create a protective coating from water. Polyester, for instance, is one of such material naturally resistant to liquid. Its fibers are resistant themselves but the fabric can protect from only the light exposure to liquid. The only disadvantage is that polyester breathes poorly which can make it somewhat uncomfortable to wear it for a long time 
Sometimes, in a store, we can see a certain number on the item's tag showing its level of liquid-resistance. If you are not sure what it means exactly, check out the following descriptive chart.
| Waterproof rating | Resistance | Conditions to withstand |
| --- | --- | --- |
| 0-5000mm | either no or very little resistance to water | light rain or dry snow |
| 6000-10000mm | rain and waterproof  | light rain, average snow |
| 11000-15000mm | rain/waterproof except  | moderate rain, average snow |
| 16000-20000mm | rain/waterproof  | heavy rain, wet snow  |
| 20000+mm | rain/waterproof  | heavy rain, wet snow  |
As you can see, the level of water resistance shows what weather conditions a certain item can protect us from. Less protected clothing is lighter but let some liquid inside, whereas fully protected can be quite heavy and, well, expensive.
Choose what fits you and wear it with pleasure!
Frequently Asked Questions
⭐ What is better water-resistant or waterproof?
Waterproof is better since it fully protects you from any liquid and moisture.
⭐ What is the best waterproof breathable fabric?
Gore-Tex Pro is the best breathable waterproof material.
⭐ What is the most absorbent fabric?
Cotton is the best natural absorbent fabric, whereas composite material of the Zorb label is the best artificial absorbing fabric.
⭐ Does Scotchgard waterproof?
Not quite. It is rather resistant or even water-repellent.