Bedroom is the place where you want to rest, this is why it is essential to create a relaxing atmosphere there.
And blackout curtains can do that perfectly well! These heavy and thick fabric curtains are able to easily stop daylight from coming into your bedroom.
However, like any other type of curtains, they also need to be washed regularly.
And when it comes to washing blackout curtains, many of us feel puzzled and uncertain.
How to laundry these curtains correctly so that we don't damage the fabric? And how can they be washed if they are so big?
In this article, you will find all the answers that you might need.
We will tell you how to wash blackout curtains in the washing machine and do it delicately, without causing any harm to the fabric.
Also, you will learn whether or not it is allowed to tumble dry them.
In addition, we will explain what nuances you need to take into consideration before you start washing them.
Finally, learning how to dry this type of curtains will also be included into this article.
How to Clean Blackout Curtains?
You surely know how to wash regular curtains since they typically don't require any special treatment.
You just take them off, toss them into your washing machine barrel, add laundry detergent, set the washing program, and press the START button.
The rest is going to be done for you by the washing machine.
However, when it comes to blackout curtains, you need to consider using somewhat different approach. See, washing these curtains in washing machine is not recommended.
And by the way, you will definitely find this task impossible to do since blackout curtains are way too big and heavy to fit into the barrel of a washing machine!
In addition, they usually have a rubber coat on the backside. This coat allows blackout curtains to protect your bedroom from daylight.
However, the same rubber coat makes these curtains impossible to put into the washing machine and wash them as you do with other things.
This is why you will have to use one of the alternative cleaning methods:
dusting with vacuum
detergent spot cleaning
steam cleaning
deep cleaning with soapy water
Below, we have described each of these methods in detail so that you could better understand what steps each of them will need from you to take.
Blackout Curtains: 5 Fast Facts
Dusting With a Feather Duster and a Vacuum
The first method you can use if you need to clean your blackout curtains involves dusting and vacuuming them.
This is an excellent method to use if you want to fresh up your curtains (for example, between deep cleanings) or if you need to remove any visible dust or pet hair from the curtain fabric, for instance.
The cleaning process in this case is going to be very simple, fortunately. But since these curtains are rather heavy, you might need some help!
To begin with, stretch out the curtain material on the rod so you can see the entire panel
Using a feather duster, dust the surface of each curtain
Dust the front side, using small back and forth motions. Repeat on the reverse side of the curtain panel as well
Use a small handheld vacuum or vacuum hose with a soft-bristled dust attachment to suck the dust off the curtain surface
Start at the top and use slow, precise downward motions until you have vacuumed the entire curtain on both the front and back sides of the fabric
If you have pets and you can see that your blackout curtains are covered with the pet hairs that cling to the fabric, we recommend you try using a lint roller first of all.
It will help you to remove all the hairs easily and quickly.
Also, lint roller will help to get rid of unwanted dust that may resist the vacuum and feather duster.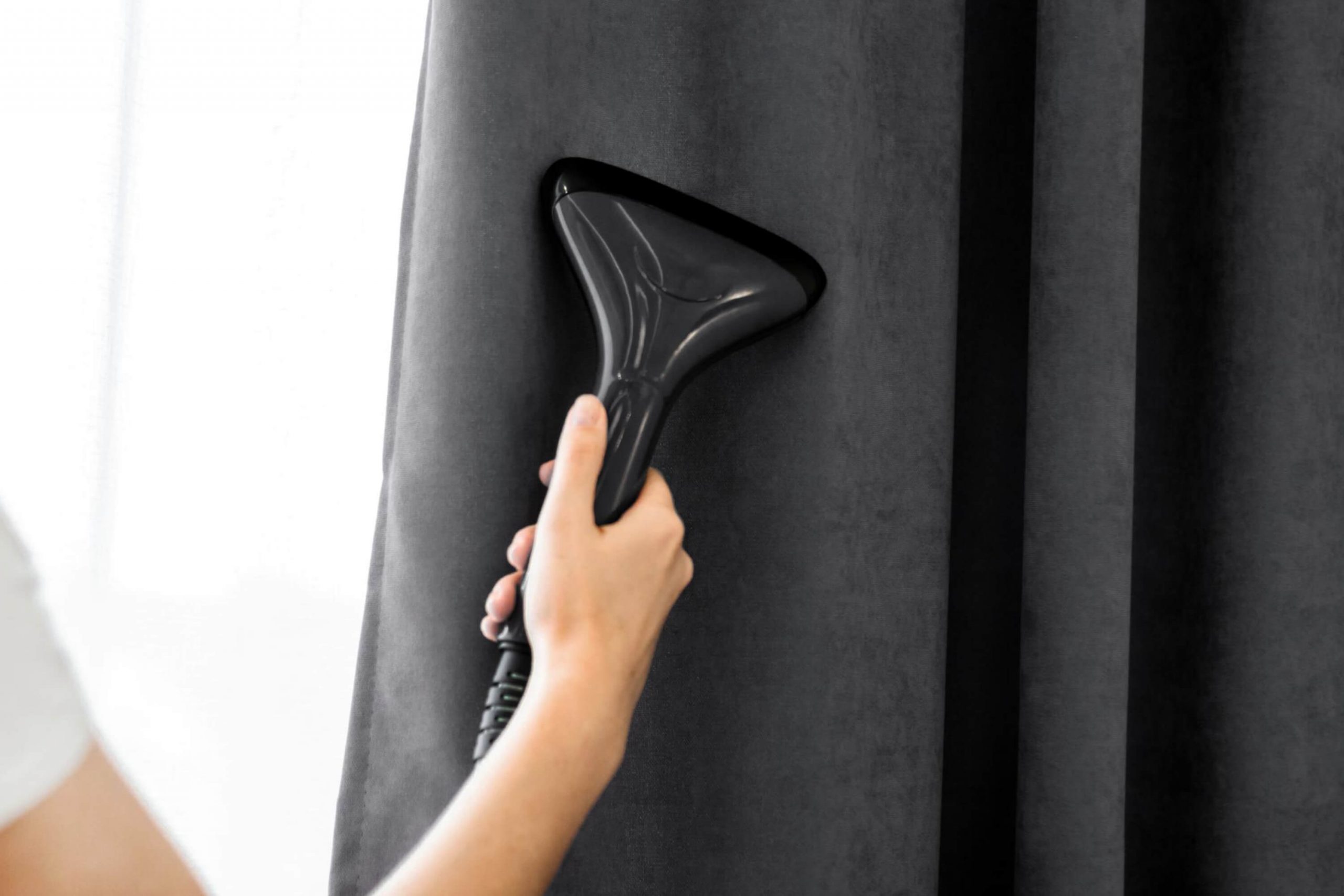 Spot Clean Them With Detergent
If you ried dusting your blackout curtains and you can see that it doesn't satisfy you with the results you want, there is another option you can try out.
We mean spot cleaning your curtains with the help of regular laundry soap and some warm water.
If you decide to try this method, we strongly recommend you testing a small and hard-to-notice spot on your blackout curtains first of all.
Like this, you will better understand and make sure that the detergent you are going to use will not damage the fabric.
Also, you should avoid using detergents that contain harsh chemicals or bleach. Those could easily alter the fabric's colour.
In addition, the colour of the detergent itself could leave a mark on your blackout curtains if they are light-colored. This is why using a liquid laundry soap that is free from dyes is the best solution.
When using this method, it is possible that you leave the curtains hanging on the rod, which is a great benefit since these curtains are typically rather heavy.
However, we would still suggest you take them down and lay the curtains flat on a table or other hard and even surface.
Like this you can apply more pressure to the spots you want to clean, especially if they are stubborn!
The cleaning process itself is very simple:
Dip a clean cloth or sponge in a bowl of warm soapy water
Wring the cloth out out
Blot any stains on your curtains
For more stubborn dirt and dust patches, rub the fabric delicately with a soft cloth in circular motions
Rinse stains away before the detergent dries and hardens
Wipe down the back of your blackout curtains if they have a synthetic backing
Steam Cleaning
If you don't feel like taking these heavy and large curtains off the rod and then hanging them back, you can always opt for steam cleaning method.
Steam cleaning your blackout curtains is another way of easy cleaning which is also quite effective.
That is, of course, if you have a steam cleaner.
But even if you don't, we would suggest you consider buying one simply to have it at hand in case you don't feel like messing around with your blackouts.
And once you get a steam cleaner, you just need to do a few simple steps:
Add clean water to your steam cleaner's tank
Using the steam wand and the upholstery attachment, clean your blackout curtains from the top down
Hold the steam wand several centimeters away from the material to prevent damage and prevent it from getting wet
Moving slowly, steam clean both sides of your curtains until you have covered all of your curtain panels
As you can see, this method is extremely easy to do so it is definitely worth investing in a steam cleaner, moreover, this appliance is not very costly.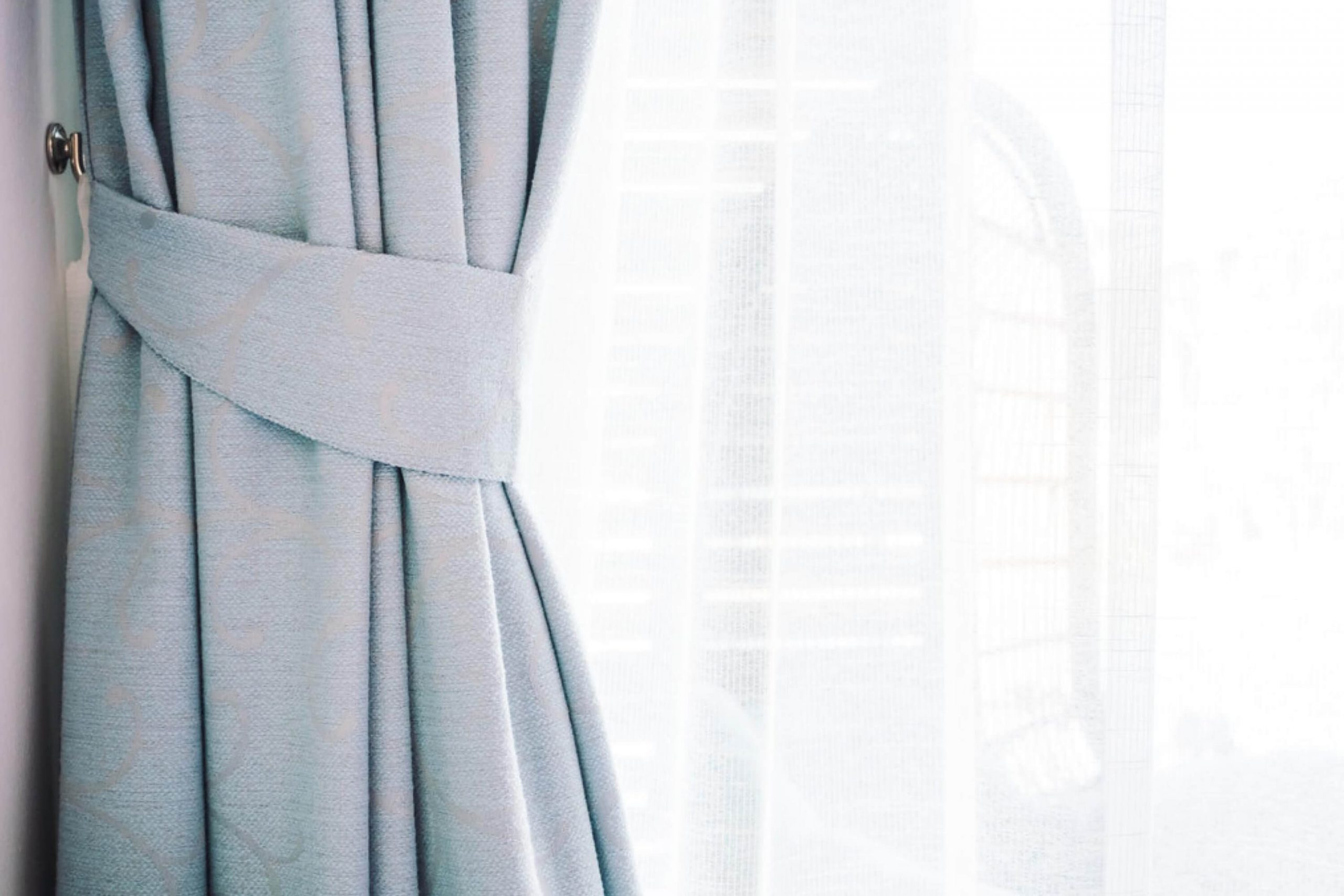 Deep Clean Your Curtains With Soapy Water
Deep cleaning is another approach that will work great on your blackout curtains to keep them clean.
This method will take you a bit more time, however, but it is still the best and the optimal way to wash your curtains completely, from tip to bottom.
Take your curtains off of the rods or hooks
Shake them out to remove all the dirt and dust
Fill your bathtub with warm soapy water
Use the same amount of soap as you would for a small load of laundry
Mix the mild soap into the water and stir it thoroughly until fully dissolved
Add your blackout curtains to your tub
Push them under the water until they are completely submerged
Gently agitate the water and swirl the curtains around. You can also squeeze and twist the fabric using delicate motions that won't damage their back side coated with foam
For better washing cycle, you can rub or wipe down the coating on the back of each curtain with a sponge or cloth
Drain the water from your tub
Rinse your curtains with cold, clean water
Repeat with another rinse to make sure all of the soap comes out
To finish, gently wring out as much of the water from the fabric as possible, then hang them up to dry
If you are using a sink, make sure it is big enough to place curtains into it and move them around inside freely. Remember that you don't have to fill the sink so high that it will overflow when you place your curtains into it!
So, these were all the methods that you can use if you need to clean your blackout curtains, but you realize that they won't fit into your washing machine.
With this list of options and alternative approaches at hand, you will now be able to pick the washing method that is more suitable for you, depending on what washing products or supplies you have available at the moment.
Can You Put Blackout Curtains In the Dryer?
Drying blackout curtains is the same bothersome task as washing them. Of course, the reason is their size and weight.
And also, it does play a big role in what your curtains are made of since as you know, this type of curtains has a rubber coating on the backside that is easy to damage. Especially if you treat it wrong.
This is why it is recommended drying your blackout curtains quickly. This is the best way to prevent any damage to the material and prevent the development of wrinkles.
However, you need to note that most blackout curtains should not be put in the dryer, especially if they are coated on the back!
This is why we have prepared some handy tips to help you dry your curtains the right way:
Always hang up your curtains to dry
You can also hang your wet curtains on your shower curtain rod or outside on a clothesline
Before you hang your freshly washed curtains to dry, remove as much excess water as possible
Keep the curtain panels separate and spread out to prevent wrinkles from developing while they dry
Make sure the coating on the back separate and doesn't touch itself while drying. It allows air to circulate better and prevents the back from sticking together.
For drying your blackout curtains, you may hang them on a curtain rod or use hooks in the window.
You only need to make sure that those hooks or rods are able to support the weight of the curtains soaked with the water.
Also, if you decide to use this method, remember to place towels beneath the curtains to absorb any dripping water.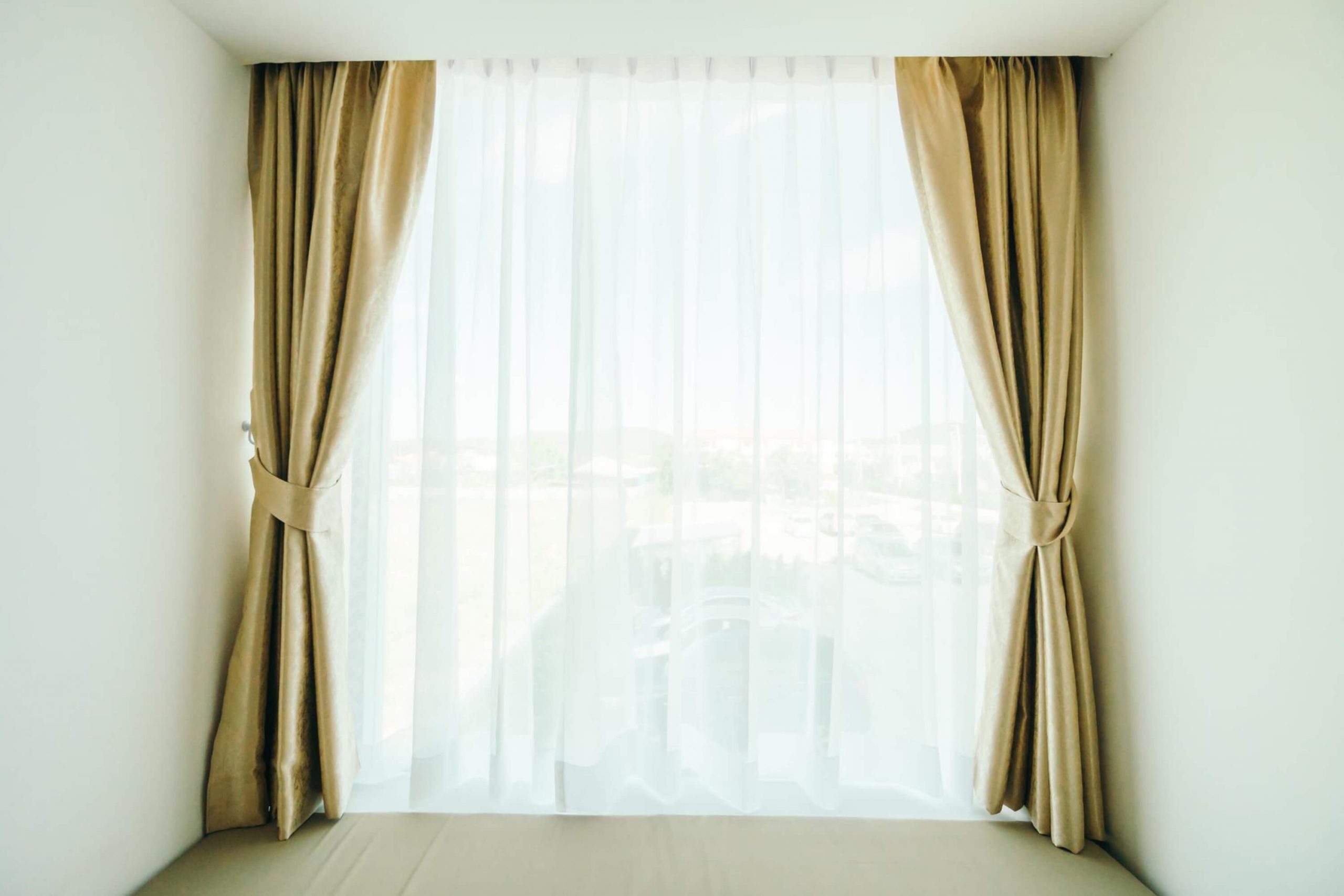 What to Consider Before You Start Washing Them?
Even though now you know how to wash blackout curtains and what alternative options of washing you have, you still need to make sure that you remember all the other nuances that may impact the washing effect.
So what is this that should be taken into consideration?
What are blackout curtains?
How to take care of them?
Can they be dry cleaned?
How often to clean them?
Is it ok to wash them?
Now let's take a closer look at each of these factors and nuances.
What Are Blackout Curtains?
Regarding the definition, blackout curtains belong to the type of curtains that are used in order to block out sunlight in a room completely, no matter what time of the day it is outside.
But of course, they are exceptionally good for shading your bedroom during the day if you want to take a nap.
Many blackout curtains have a fabric front de and a thick coating on the backside of the curtain.
That thick backside creates a sort of barrier that is blocking out any light, artificial and natural.
This type of curtain is great for being used in a media room, nursery, or even a regular bedroom.
In particular, you can find them being commonly used in hotel rooms and hospital rooms.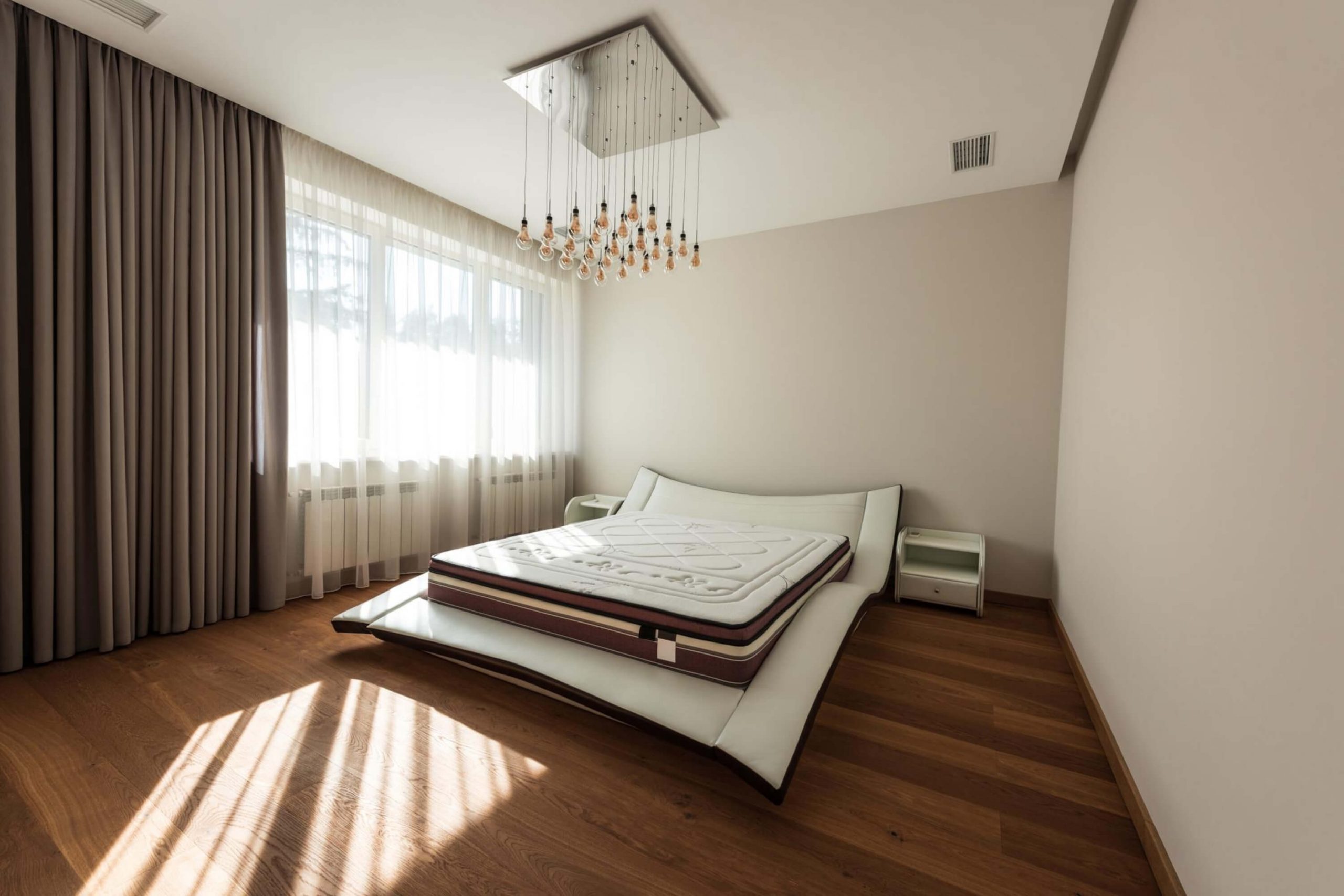 Read the Care Label
When it comes to washing curtains, it is important to read the care tag before doing anything.
Some blackout curtains may be dry clean only, and others don't have to be completely submerged in water due to the curtain material.
How Often Should You Clean Your Curtains?
As a rule of thumb, it is recommended dusting or vacuuming this type of curtains once or twice a month.
If they need to be spot cleaned or deep cleaned, do this two or three times per year.
Can I Wash Blackout Curtains In the Washing Machine?
Depending on the type of blackout curtains, they could be washed on a delicate cycle with mild detergent and in cold water.
But this is only possible if your blackout curtains do not have a synthetic coat on the back.
Stop Now❗ Blackout Drapes in The Wash Machine ⁉️
Can I Dry Clean Blackout Curtains?
Depending on the fabric and other materials, it can be possible to simply take your curtains to the dry cleaner.
In some cases, it can even be the only recommended option. Check the care label for the appropriate logo to find out if this is a viable option for you.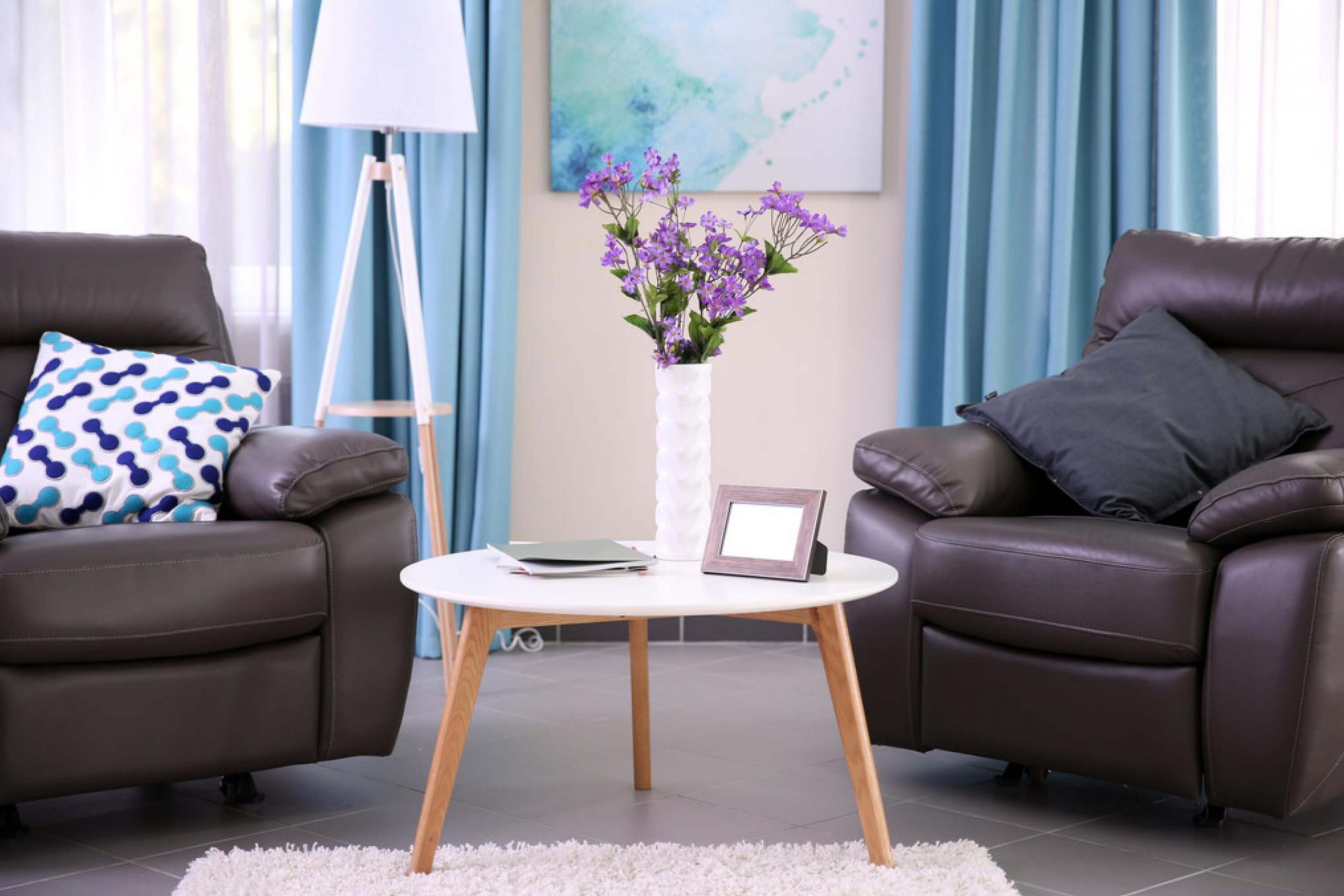 So, now you know all about how to wash blackout curtains and how to take care of them correctly.
With all this in mind, you will be able to keep them clean relatively easily (counting on their size and weight) and make sure that your curtains will serve you longer.
Frequently Asked Questions
Are blackout curtains always black?
No, the name "blackout" comes from their ability to block the light. But the color of the material can be different, including fair colors.
⭐Do all blackout curtains have rubber back side?
No, some types of blackout curtains don't have this sort of back side. You need to check that with the label before buying them.
⭐Is it allowed to bleach blackout curtains?
This is not recommended since bleach can leave whitish marks on the fabric thus ruining the curtains' appearance.