Tattoos look cool and stylish, however, not everyone is ready to make one. First of all, making a high quality tattoo is rather expensive, especially if you want it to be big enough. And second, if you have a tattoo, it is something that is going to stay on your skin for the rest of your life. Of course, unless you decide to get it off which implies even more money!
This is why the majority of people prefer trying cheaper and less durable options, such as temporary tattoos, for example. But what if you don't like the designs offered, or you want something special that's on your mind? Then sharpie will help you out! Yes, we mean that you can simply draw whatever you want on your skin using a regular permanent marker!
However, in this case, you will usually have a lot of other questions coming to your head: how to keep a sharpie tattoo on skin longer?
And what shall you do if you want to get rid of it one day? Finally, is a sharpie permanent marker safe for your skin?
So today we will tell you not only how to make a permanent tattoo with a sharpie marker, but also we will share a few tips on how to make a sharpie ink last on your skin longer, and what steps to take if you decide to take it off.
How to Make a Sharpie Stay On Your Skin Longer?
Sharpie drawings on skin is a quick and cheap alternative to expensive professionally made tattoos. However, there is another issue that bothers those who decide to go on budget and draw a tattoo instead of getting it done properly with ink and a tattoo machine.
And that issue is about how to make a sharpie tattoo last longer.
In fact, such fake tattoos are not supposed to last for months, so take that into consideration when making one for yourself.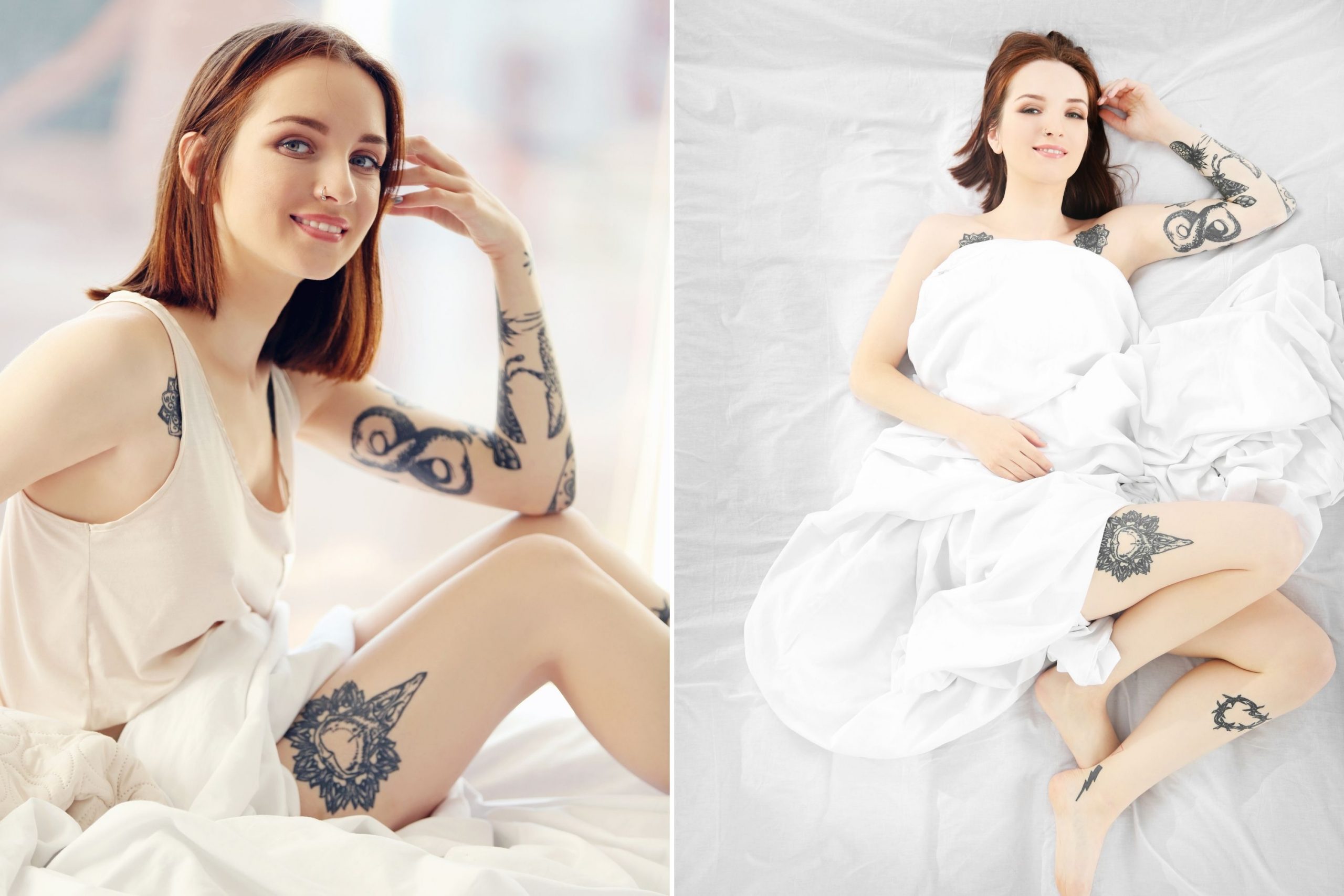 Nevertheless, there are a few tricks you can use in order to make your permanent marker skin drawing more durable.
Apply the fake tattoo in several layers instead of drawing it just once. Like this, more ink will penetrate the skin and the drawing will last longer.
Always degrease your skin before drawing a fake sharpie tattoo. See, if you don't do this, the layer of skin oils will not allow the ink from a marker set on your skin and attach to it properly.
Allow your temporary tattoo dry completely on the skin.
Keep your fake tattoo clear of clothing, water, and lotions
Avoid rubbing it with a shower sponge when taking a shower or a bath!
If you are going to use baby powder or talc on a tattoo, apply it with a soft makeup brush. This way, you will not damage the drawing.
Reapply baby powder or talc once a day for as long as you have a fake tattoo.
With these simple tips, you will manage to keep your sharpie permanent marker tattoo lasting somewhat longer. This way, you will be able to try what it is to have a tattoo and decide whether you would like to get a regular one or not.
Also, drawing such sharpie fake tattoos allow you to decide on what design or drawing you would prefer on your skin, and where on your body exactly.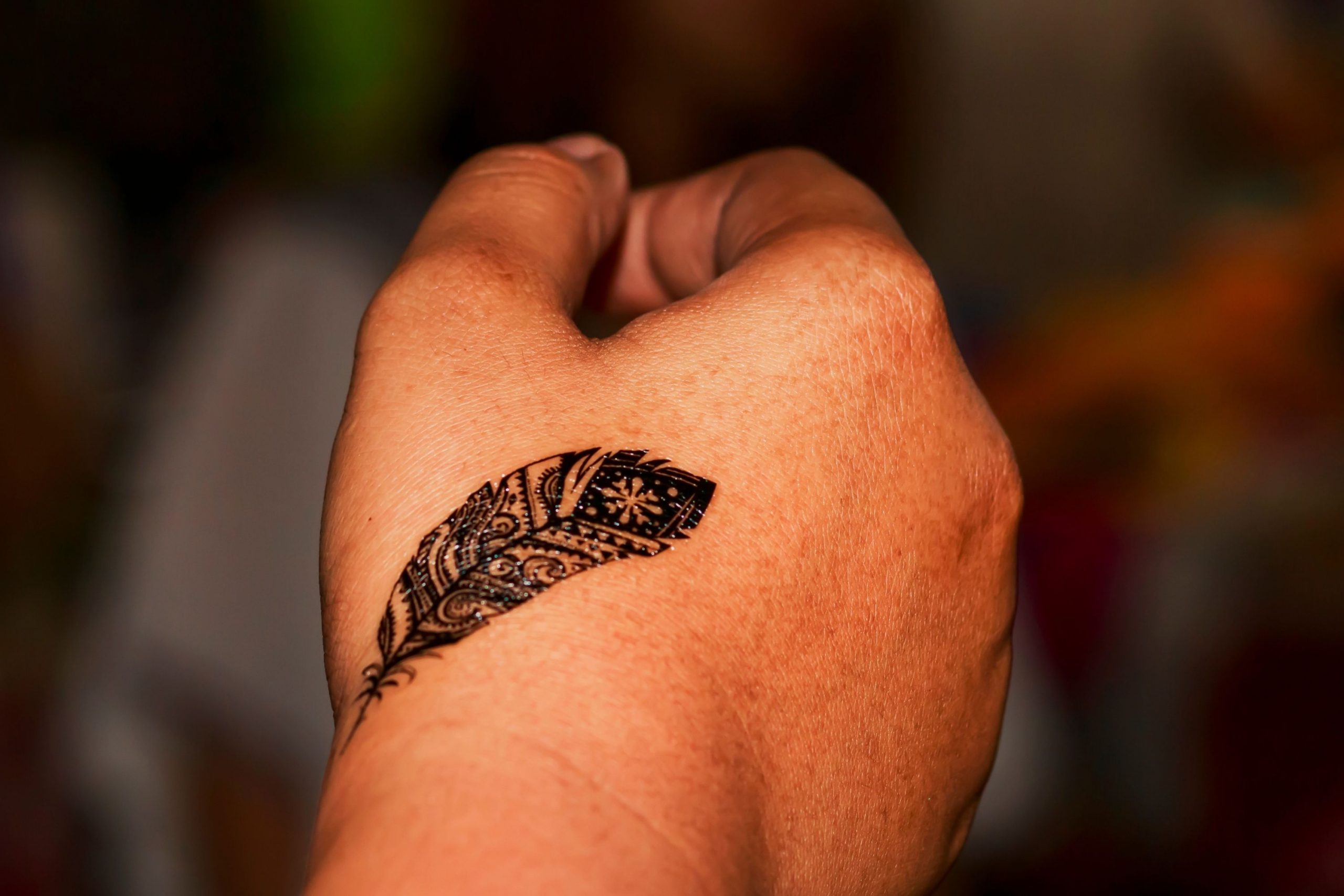 How Long Does a Sharpie Fake Tattoo Last On Your Skin?
This is perhaps the question that bothers everyone who decides to try and make that easy temporary tattoo using a permanent marker. Of course, such skin drawings will not last the same long as proper tattoos made with ink and a tattoo machine in a salon.
However, if you do everything right when applying the drawing onto your skin with a marker, and if you maintain your tattoo correctly afterward, you can expect it to last for nearly three days.
This is why, if you want to have a temporary tattoo that will last significantly longer, we would recommend you consider decal tattoos. They are super easy to apply, and they last from two to four weeks. Of course, these ones also need certain care. For example, you can't rub them with a sponge, but at the same time, decal tattoos can withstand a shower pretty well without fading or being washed off.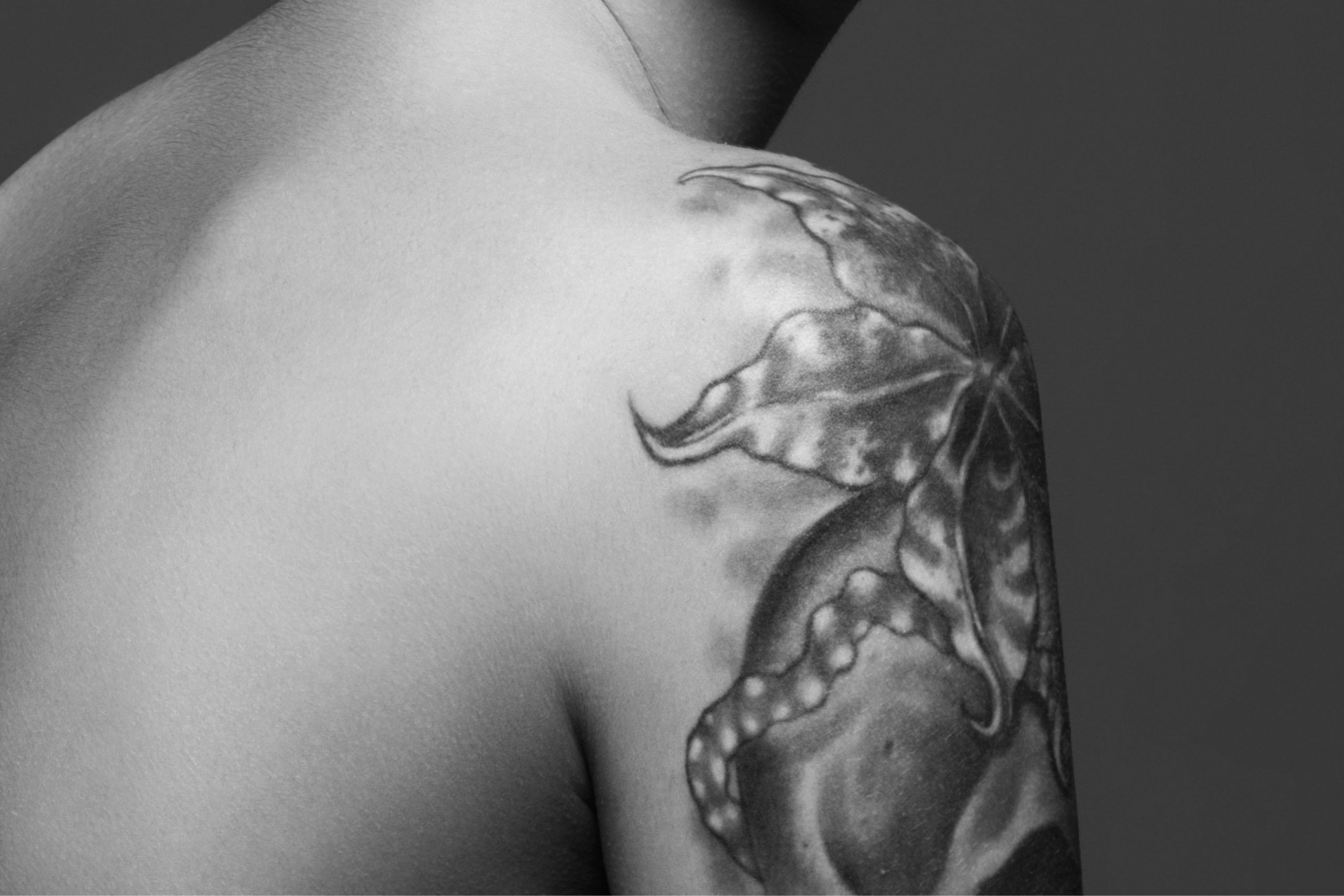 How to Make a Sharpie Marker Tattoo. Tips And Guide
So if you finally decide to draw a fake tattoo using a sharpie permanent marker, you probably want to know what steps to take to do everything correctly. And since the lifespan of your tattoo will depend on how properly it was applied, we find it important to familiarize you with a complete guide on a temporary tattoo application process!
As for the sharpie fake tattoos, there are two different ways you can apply the drawing onto your skin. We will tell you about each of them and describe each scheme in detail. Like this, you will be able to decide which method appeals to you more.
DIY Sharpie Tattoos? – Man Vs. Pin #20
Applying a Sharpie Fake Tattoo With Baby Powder And Hairspray
For this approach, you will need baby powder (or talc) and a can of hairspray. Start with degreasing your skin: simply wipe the area where the future tattoo will be drawn with a cotton swab with some hydrogen peroxide on it. Then let it dry completely.
Once the skin is dry, take a marker and draw a design that you chose. It might be better if you ask a friend to do this since, if you draw on yourself, a picture may come out twisted. Also, if you want to draw a fake tattoo on the area that is hard to reach (e.g. on your back), you will anyway need help!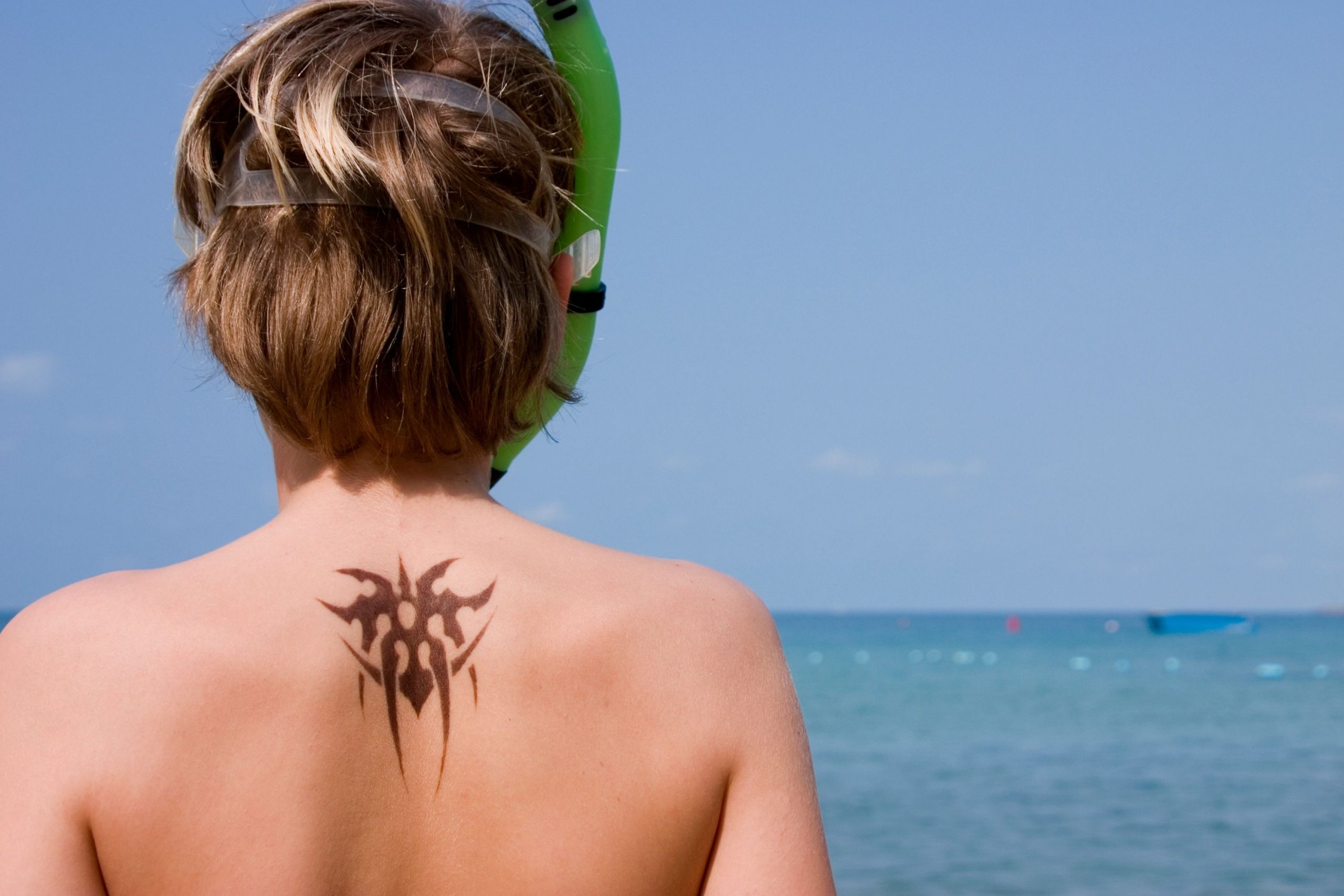 Once the drawing is made, apply baby powder or talc on top of it. Pour a generous amount of powder right onto the tattoo thoroughly covering it, and rub it into the drawing carefully.
Work with gentle motions in order not to damage the design! Once ready, wipe away the excess powder or talc.
Now take your hairspray, and pulverize it over the entire thing holding the can 12-16 inches away from the tattoo.
Make sure that you thoroughly cover the tattoo and baby powder/talc, and wait until it all dries.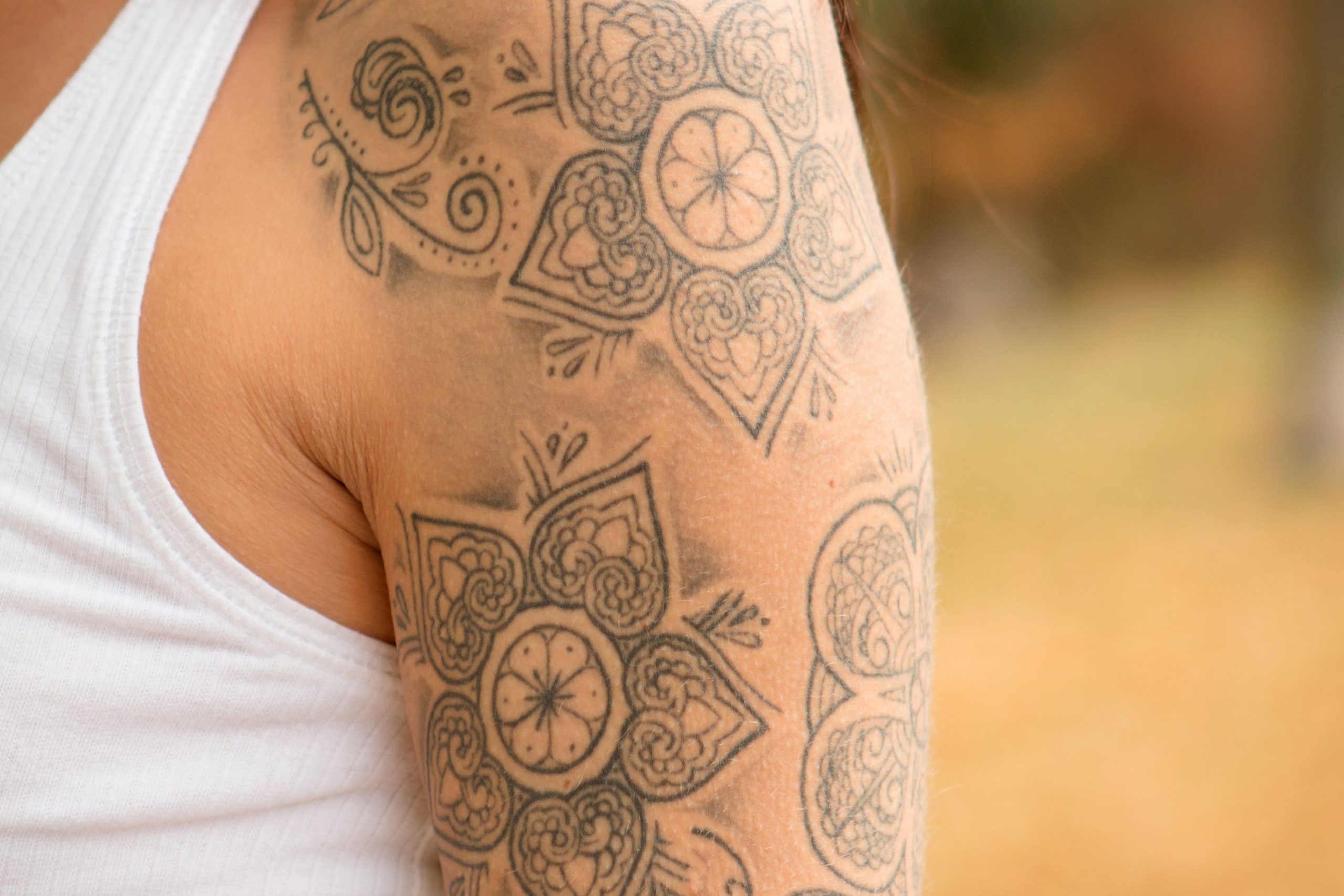 Now you can finish the procedure by wiping away any excess of your hairspray or baby powder/talc that remains around the tattoo after the application process. This can be done with a tissue.
Once the hairspray is dry completely, your tattoo should be "permanent" so don't be afraid to rub it slightly with a tissue – it should not smear.
If you use this fake tattoo application method, you can be sure that your skin drawing will last for approximately a month. Of course, it doesn't mean you can rub it with a shower sponge vigorously! No temporary tattoo will survive such an attitude, even the decal ones.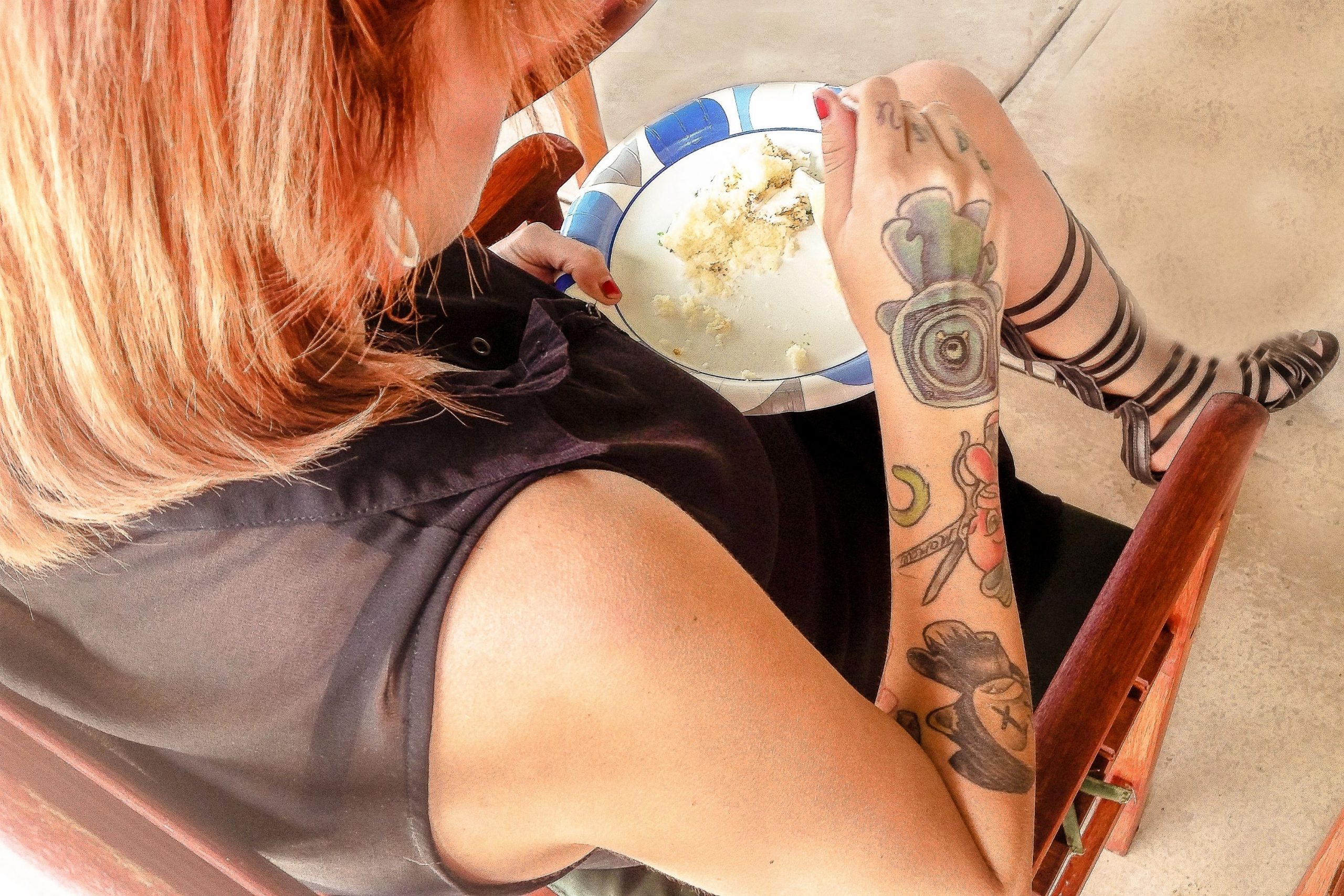 How to Make a Sharpie Tattoo Stay On Your Skin Without a Baby Powder?
What if you don't have baby powder or talc, but you still want to draw a fake tattoo with a sharpie? Well, if you have already started drawing it and you suddenly realized that there is no baby powder at home, or if you don't want to buy it just for drawing a tattoo, we have an alternative method for you just in case.
How to make sharpie tattoos last without baby powder? Simply use gel deodorant and a piece of tracing paper! This method also works, but we must warn you that the effect will be less good-looking and clear in comparison to the drawing made with the use of baby powder or talc and a hairspray.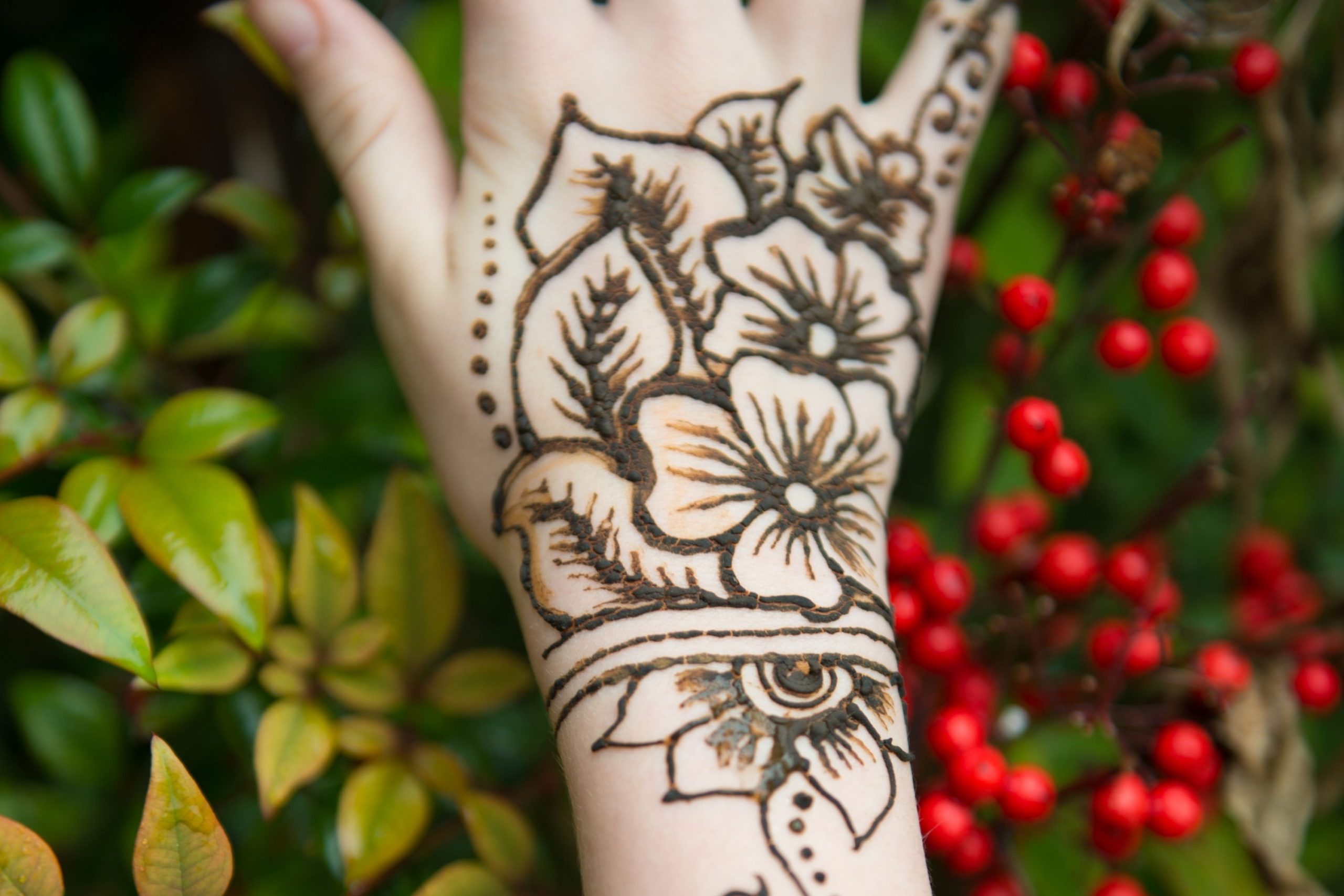 So what you need to do is to trace the tattoo onto the tracing paper first. Just place the paper on top of the drawing you want to copy, and draw the outline carefully. Then, coat your skin with the gel deodorant on the place you would like your tattoo, and put the drawing on top of the gel.
Hold it for a minute with firm pressure, and then take the paper off. Set the tattoo with baby powder or talc, and wipe away any excess carefully.
With baby powder, your temporary tattoo will last longer than without. If you don't sprinkle it with the powder, the drawing will remain on your skin for only two or three days!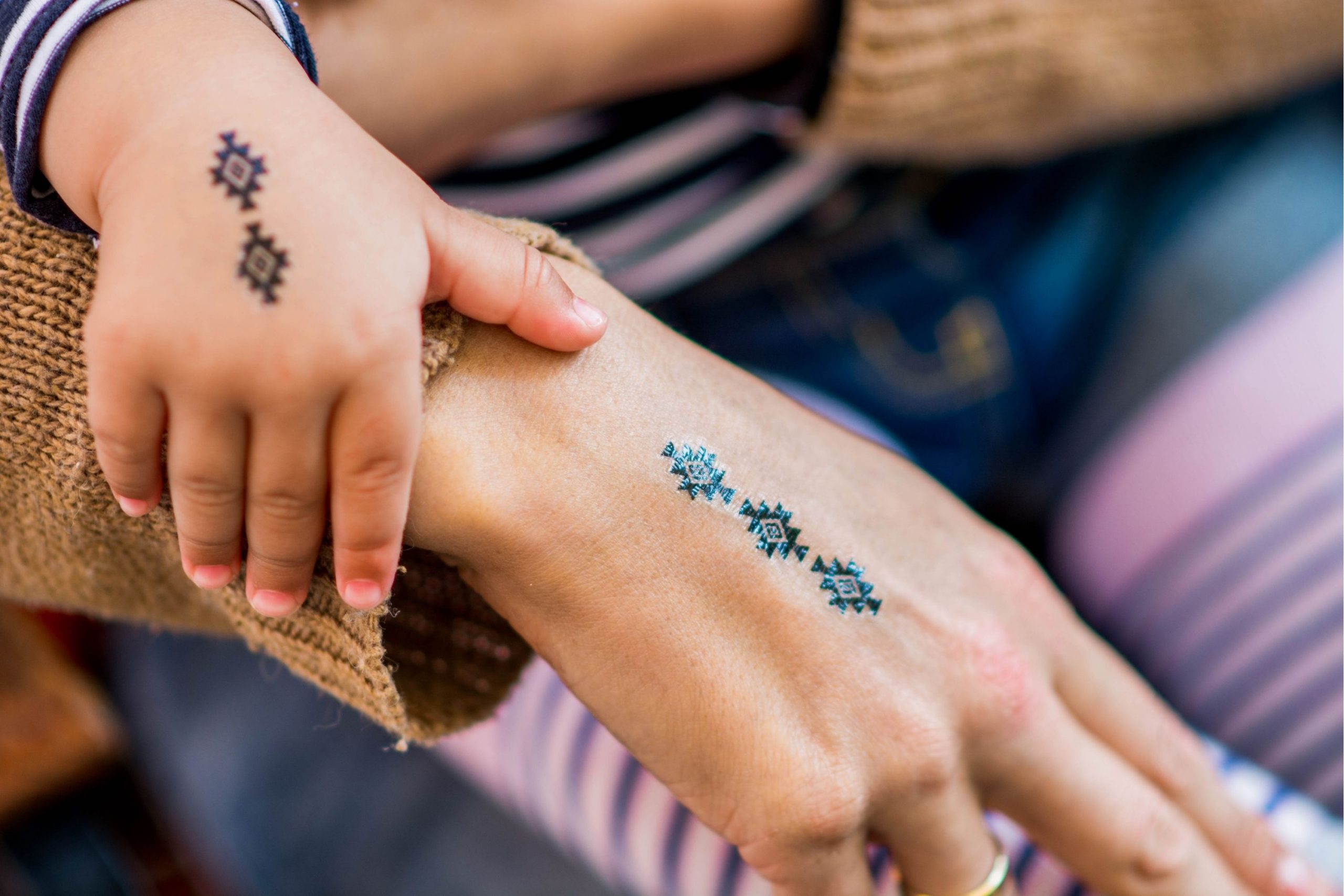 Can You Put a Sharpie On Your Skin?
When someone decides to draw a fake tattoo on the skin with a sharpie permanent marker, the most frequent question he or she may have is: what does sharpie do to your skin? Is it safe to apply this marker on yourself at all?
Fortunately, sharpie fine point markers are the safest pens to be used on skin. But even despite this, we would not recommend you draw with them on or around your lips or eyes.
Also, you should not use a King Size sharpie, Magnum sharpie, and Touch-Up sharpie since they contain xylene which is neurotoxic. That means this sort of ink can be very harmful for your organs!
But in general, writing on your skin with a sharpie permanent marker is safe and can even be used on children's skin! Of course, if you have a very sensitive skin or you suffer from any skin allergies or other skin issues, you'd better not apply sharpie or any other ink onto your skin to prevent the irritation!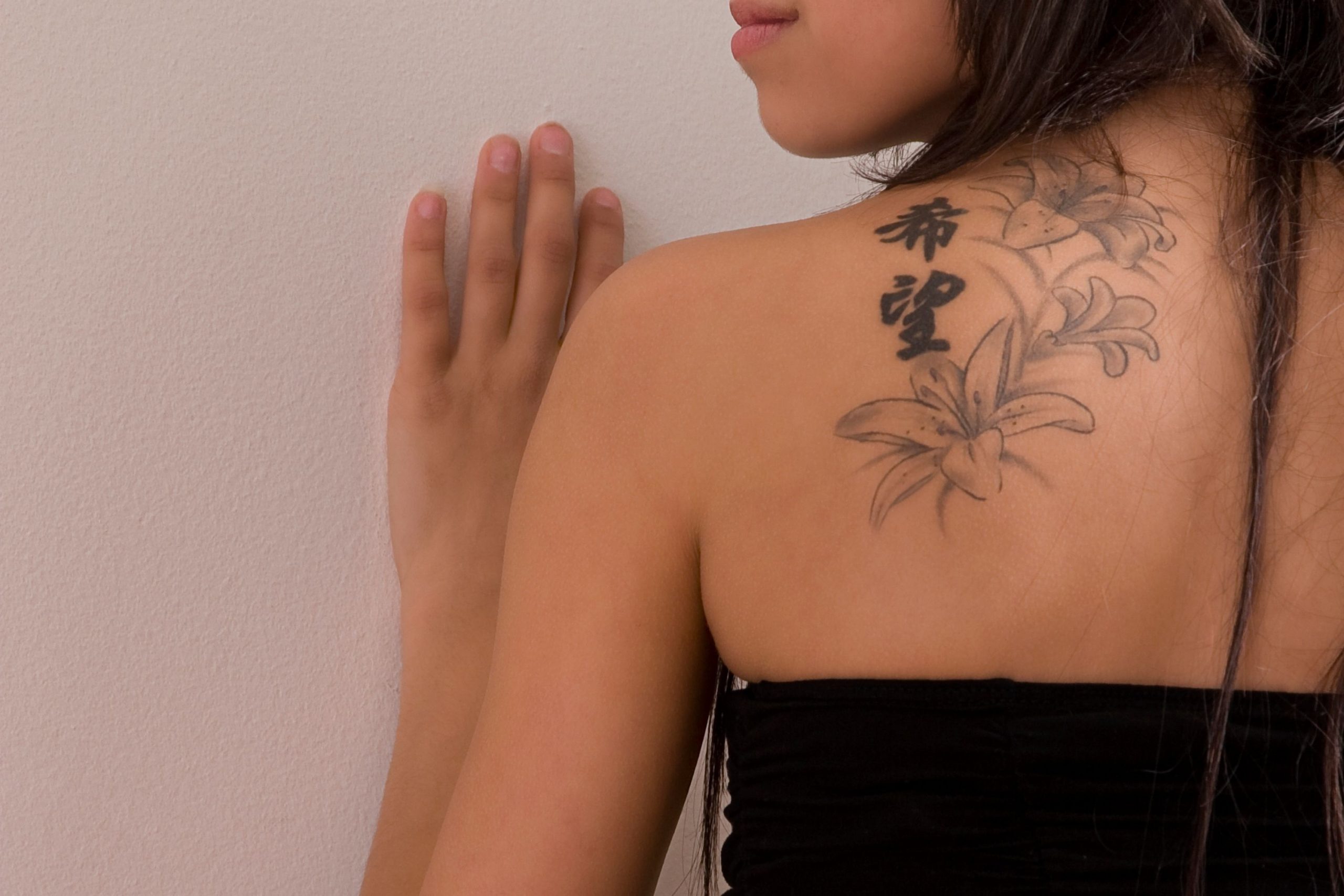 How to Get a Sharpie Of Skin?
Sharpie tattoos are not only easy to apply, they are the same easy to erase! Even if you set the drawing with baby powder, it can be easily removed once you need it with only a bit of rubbing alcohol.
As an option, if you would like to use something safer and gentler on your skin, you can also apply a mineral oil (e.g. a baby oil) to wipe the drawing away.
Rubbing alcohol, as well as mineral oils, loosen the pigment molecules. This way, most of the color can be easily washed off with soapy water once the oil or rubbing alcohol has been applied.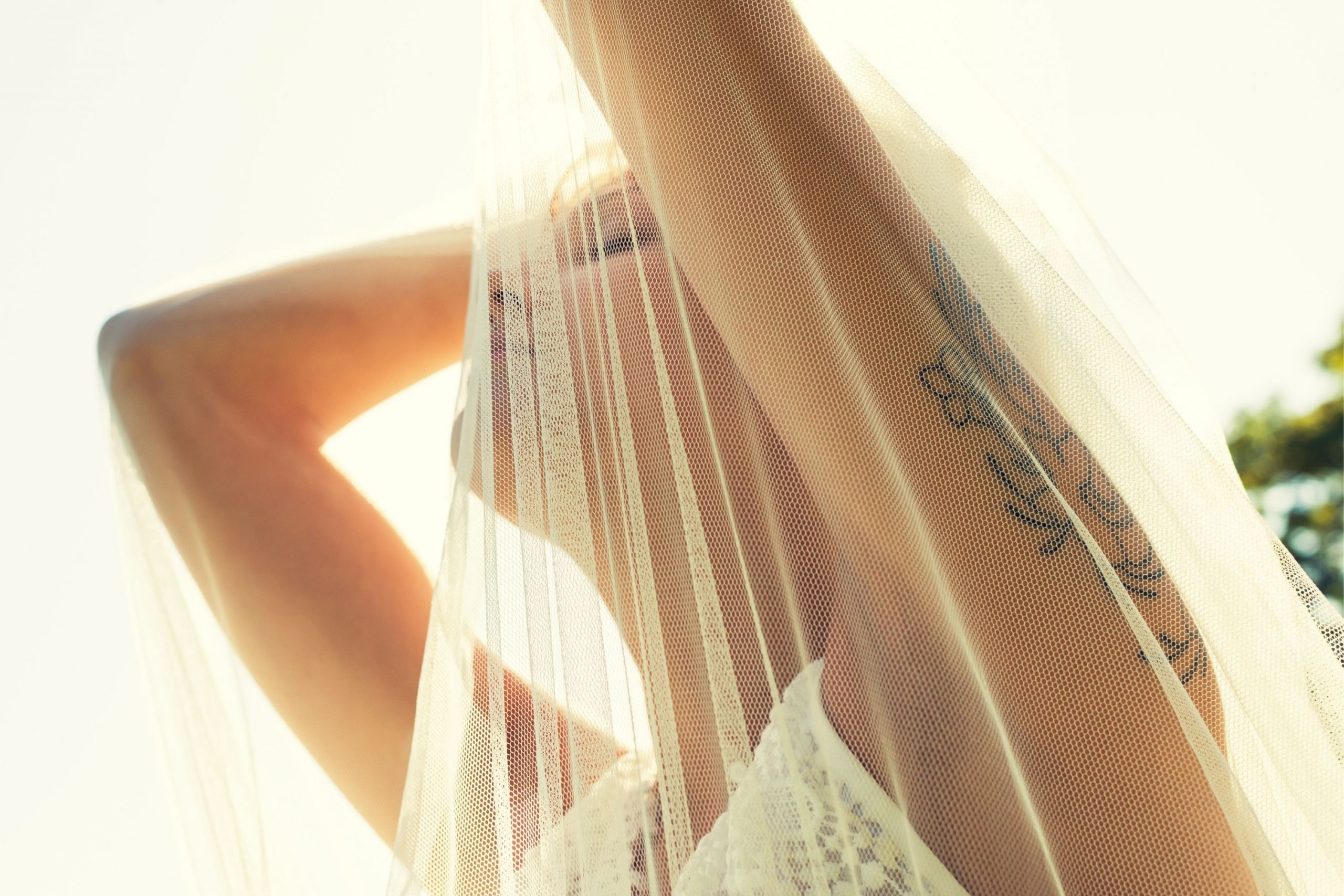 This is the ideal method if you don't want to wait until your sharpie tattoo wears off since such a drawing will last for three to four days if not set with a baby powder. And if it was set, it will remain on your skin for up to a month.
So now that you know how to draw with a sharpie marker on your skin, and how to remove that "tattoo", you can play with different designs and drawings until you pick the one that suits you best.
Frequently Asked Questions
⭐ Why did my sharpie tattoo melt after I applied spray?
You need to let baby powder sit on the tattoo for 5-15 minutes first, and only then spray it.
⭐ Can sharpie ink cause allergies?
If you're not already allergic, then this ink won't cause any allergies to you.
⭐ Can I draw a tattoo with an ordinary pen?
Yes, you can, but it may not work for all skin types.