Thermos bottle is a great stuff to have at your disposal! It allows you to keep your favorite drinks warm longer when you are outside enjoying a nice and cold winter day or while you are on a picturesque autumn trip.
However, after an extended and active use, your thermos can become pretty dirty! So how do you clean away all those traces of coffee, tea, and cocoa that settled on its walls? Fortunately, we know a few handy tips that will help you out with that task! Want to learn how to clean a stainless steel thermos quickly and easily so that it serves you longer? Then stay with us.
How to Clean An Inside Of a Stainless Steel Thermos Flask?
If you have ever asked yourself how to clean a stainless thermos from the inside so that the surface will not get damaged, you will now receive a complete and detailed answer! Since the inner surface of a thermos is rather delicate material, you can't just stick your hand inside of it and scrub it with a steel wool as you would do with a frying pan or with a pot!
Cleaning a thermos correctly does require certain skills and knowledge but still it is far from being rocket science. The procedure look like this in general:
you get all the materials ready
you fill your thermos with warm soapy water and let it sit for a few minutes
then you wipe the insides of it with a clean cloth
and end up with rinsing the tank
However, to make sure you do everything properly and will not damage your thermos bottle, let's follow the cleaning procedure step by step.
Start with getting all the cleaning materials ready. For washing your thermos bottle, you will need:
a bottle scrubber
a microfiber cloth or a dishrag
a mild dish detergent
a clean towel
Once everything is ready, proceed to the washing itself. Fill your thermos with water adding some detergent into it. It is important that the water is warm and you use just a dab of the dishwashing liquid. You don't need it to be too foamy! It is also better to not submerge the thermos into the water.
Let your thermos soak with the soapy water inside for three to five minutes. It will allow you to easily remove all the general crud. Now wrap the clean rag or a cloth around the bottle scrubber and delicately scrub the inside of your thermos. Of course, if there are any stuck-on particles of dry food on the inner walls of the tank, make use of a scrubber alone to get rid of them.
Once you are done with treating the walls of your thermos, rinse it with warm water to wash away all the foamy residue, and wipe the inside with the towel. For better results, let the tank air dry.
So this is the basic scheme of cleaning a thermos easily with the use of the simplest tools and cleaning products. However, to keep it totally clean, you need to know how to deal with other kinds of dirt and grime that can end up on its walls.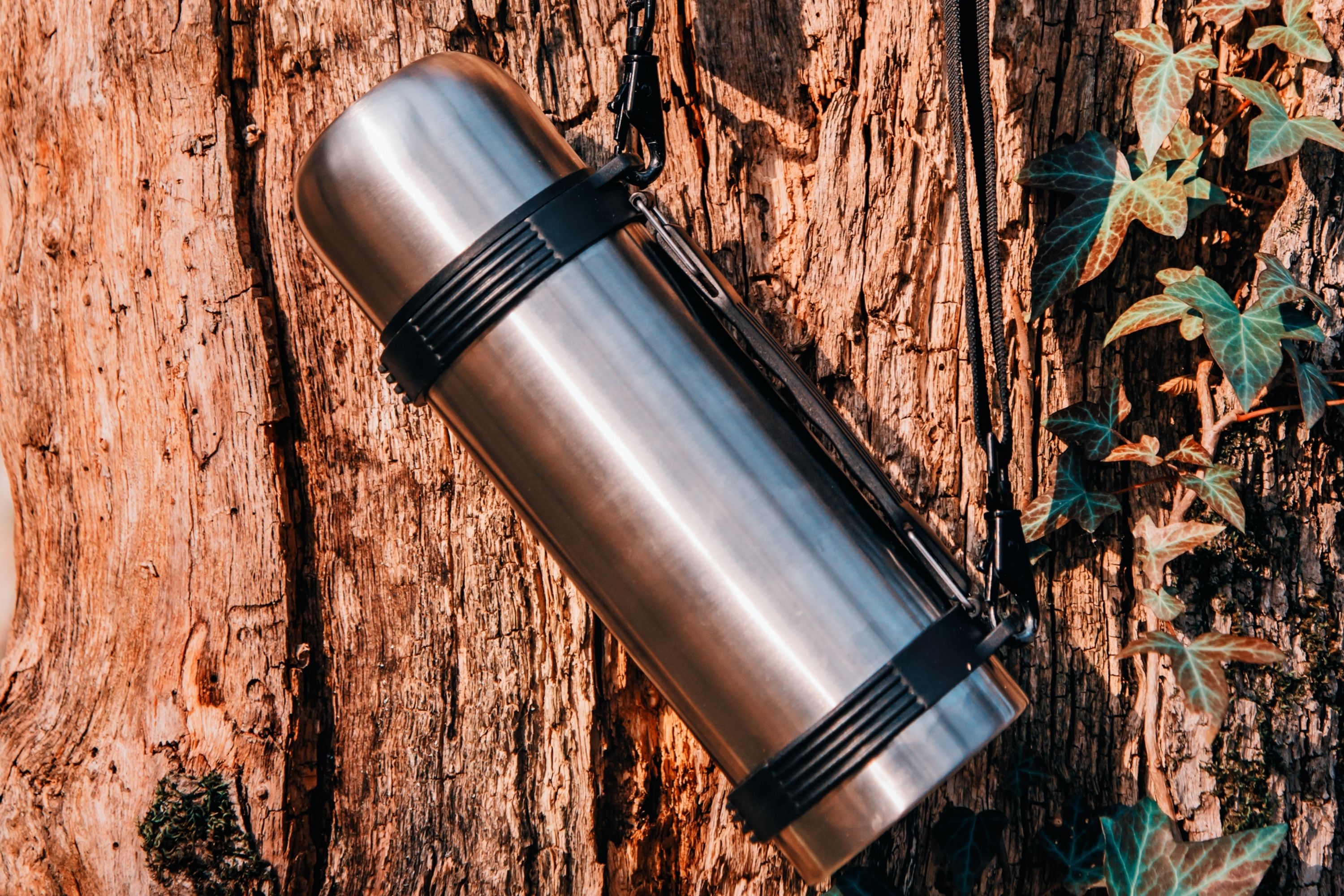 Removing Stains With Baking Soda
Baking soda is known for being a universal cleaning stuff, and it is especially highly praised for its delicate yet effective scrubbing abilities. And since thermos bottles can't be cleaned with any harsh abrasives, using this natural powder becomes a true salvation when we need to deal with the stains on its inside walls!
To free your thermos from any stains, you will first need to prep a soda solution which will require the following ingredients:
half a cup of vinegar or peroxide
two big spoons of baking soda
warm water
a towel
First of all, you need to pour vinegar (or peroxide) into the bottom of the thermos. Then, add baking soda and fill the rest of the space with hot water, the hotter the better.
Without putting a cap, let this solution sit for a few hours, better overnight. Then dump the tank and rinse it thoroughly, wiping out with the towel until all the liquid is removed. To completely dry your thermos, leave it to air dry.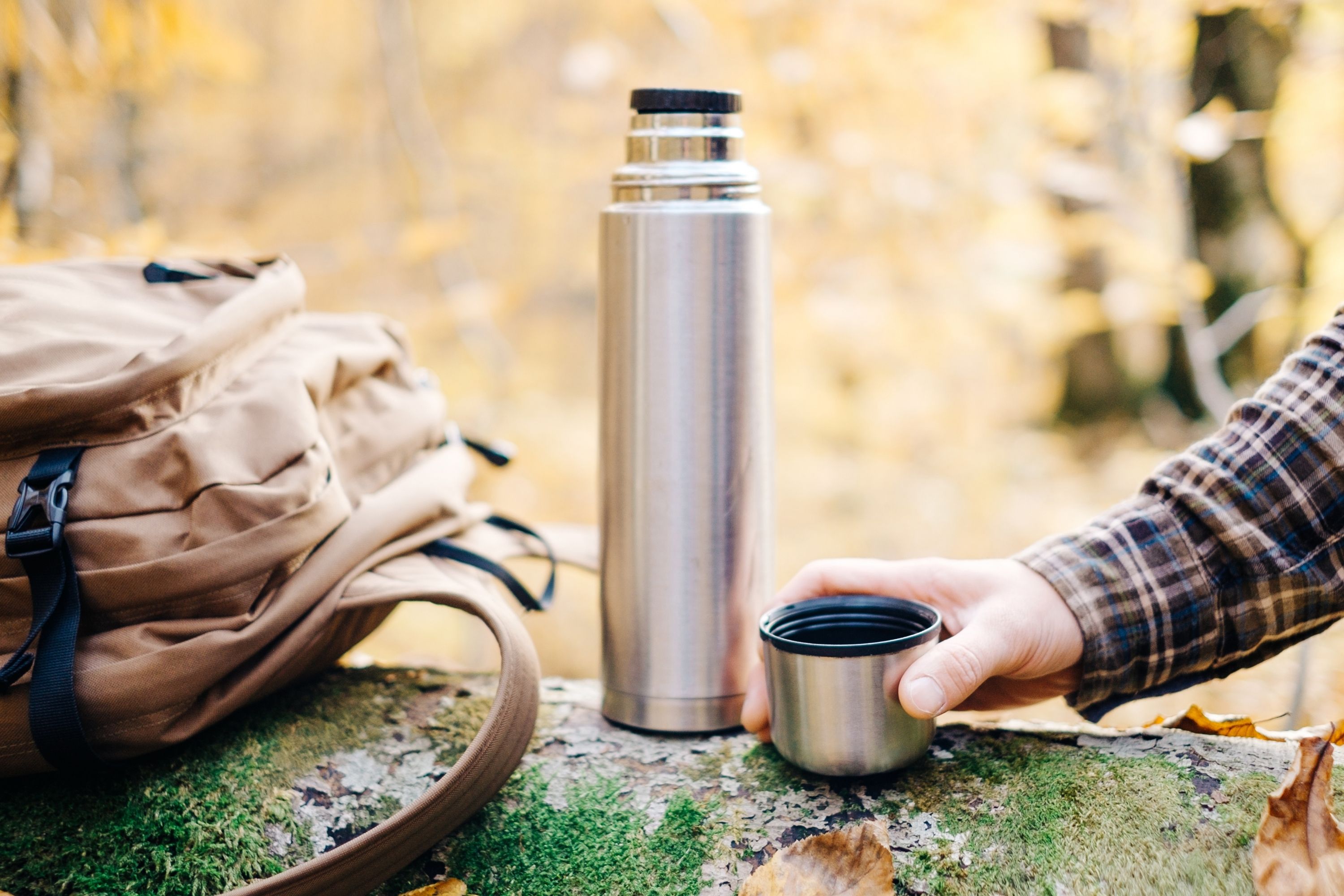 Best Grime Eliminating Solution
If you tend to keep food in your thermos, you definitely face that issue when its particles get stuck onto the inner walls of the tank. To get rid of those without scratching the thermos, we suggest you make use of a very simple yet handy solution.
Voila! Baking soda again! You will need this super powder, as well as a bottle scrubber, water, and a clean microfiber cloth.
What you need to do is to fill the tank with water and add baking soda, putting one big spoon for each two cups of liquid. Then agitate the solution with the help of a bottle scrubber, rinse, and repeat if needed. Done! No sticky pieces of old food on your shiny thermos walls!
Cleaning Thermos Tumbler Tea Stain
Denture Tablets For Dissolving Stains
If you need to get rid of extremely stubborn stains on your thermos inside walls and you suddenly figure out you have no baking soda, don't worry. Denture tablets can become an ideal substitute for it.
You just need to drop two such tablets into your thermos and fill it with water. We recommend you do this in the sink since water will make the tablets fizz like crazy which can make quite a lot of mess if you do this, let's say, on the table or a counter.
After the tablets are dissolved, allow the solution to sit in your thermos for several hours. Then dump it and rinse the tank thoroughly. Finish with wiping the tank dry and letting it air dry additionally.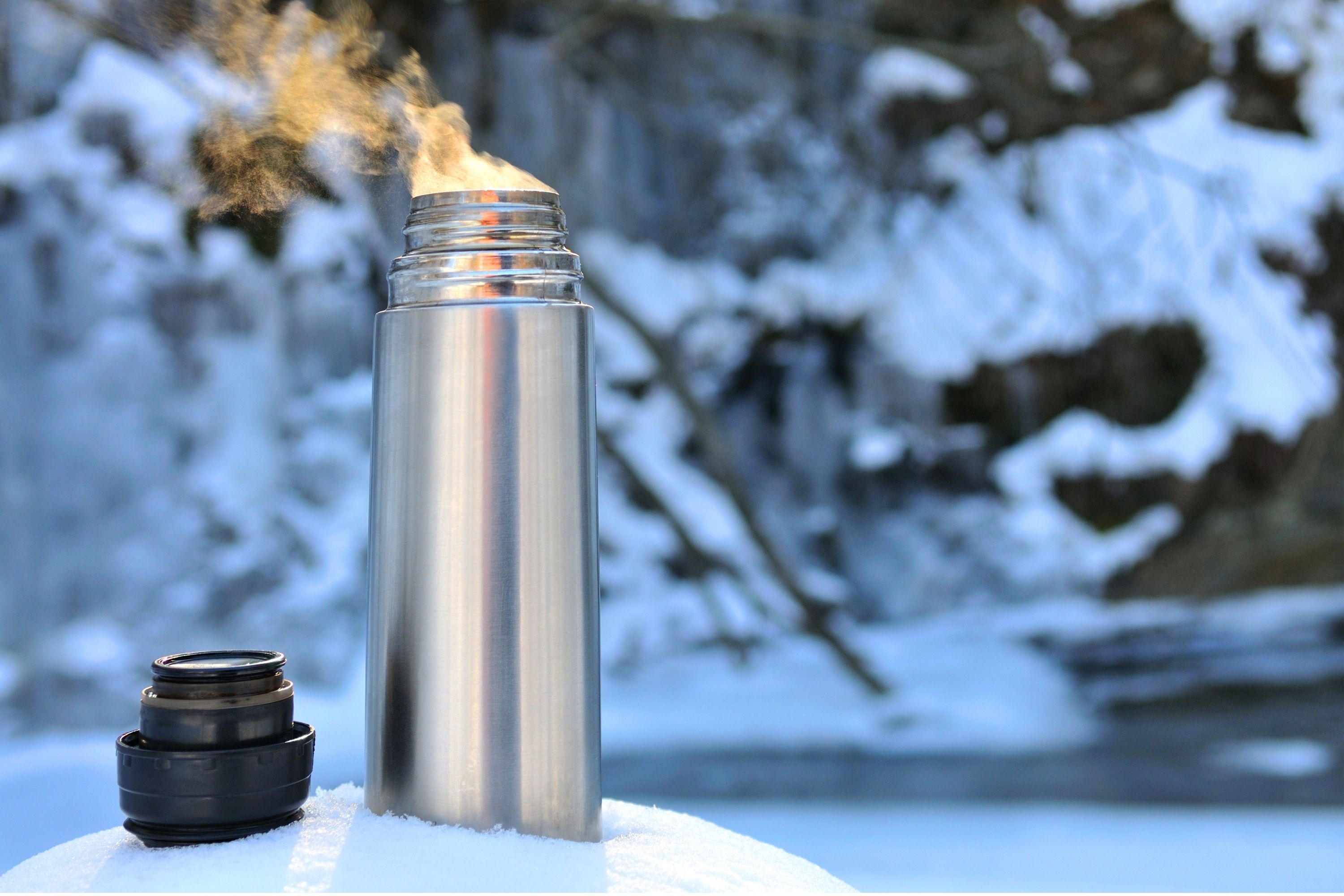 How to Get Coffee Smell Out Of Thermos?
Smells are another point of concern for the owners of thermos bottles! Tea, coffee, and other strong-smelling drinks are very delicious and pleasing when we drink them hot from this container, but in the end, what we get is a container that exudes an uncertain and unpleasant smell!
Luckily, the best way to clean coffee smell (and other similar smells) off your thermos is to make use of one spoon of baking soda! This powder destroys all the foul odors easily when being mixed with water. You just need to put one teaspoon of baking soda into the thermos, pour water inside, and leave it for a few hours before you rinse the tank.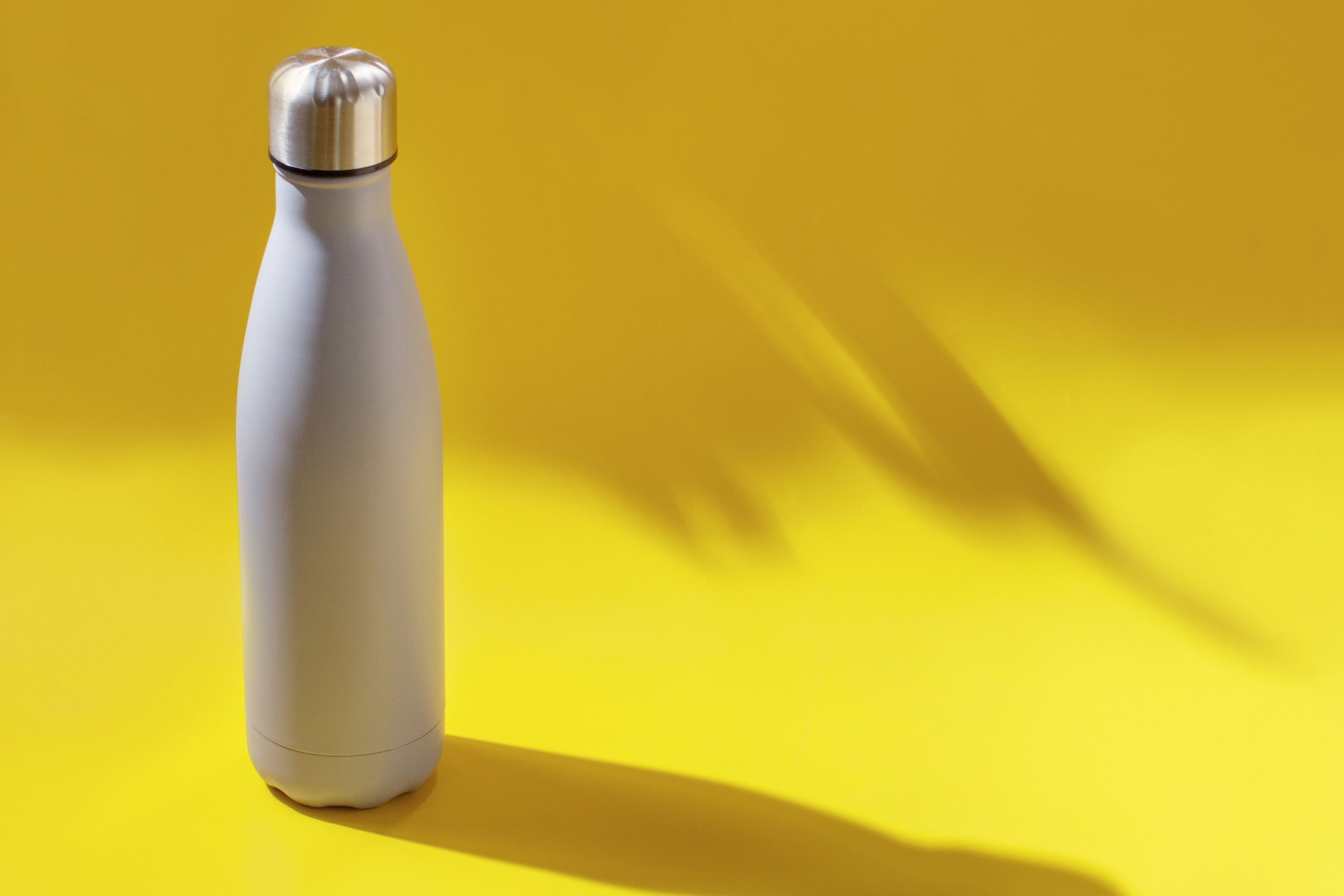 What to Avoid When Cleaning Your Thermos?
Since thermos needs a rather delicate attitude, you must always remember what can damage its inner layer that actually makes this tank keep our drinks hot or cold longer.
So to not destroy the liner, as well as to avoid cracks and corrosion, ensure you never do the following:
Never wash your thermos in a dishwasher since the procedure is too abrasive
Be careful with harsh abrasives since they can scratch and crack the liner
Avoid using bleach since it is hazardous for this type of tanks
With these simple rules, your thermos will surely serve you longer remaining in its best state.
Frequently Asked Questions
⭐ How long do drinks stay hot in a thermos?
⭐ Can you keep milk in a thermos?
Yes, milk can be kept in a thermos or in a thermo flask.
⭐ How to clean rust from your thermos?
Prep a baking soda paste and gently rub it into the rusty areas with a toothbrush. Then rinse the thermos.