Let's agree, the bathroom is not the kind of space we tend to renovate that often. People are usually more concerned about their living rooms and bedrooms since we spend way more time there.
Nevertheless, sometimes we simply have to do something with our bathrooms,maybe the design is looking a bit dated or the space is just not practical.. If this is the case for you, and you want to do a makeover, but are stuck without deas? Don't worry, we have prepared a few handy suggestions for you!
Give Your Bathroom a Second Life. Makeover Ideas That Will Change It Beyond Recognition
Like we said before, bathrooms aren't often given a complete makeover on a regular basis (unless you are a die hard DIY fan and/or budding interior designer. Sometimes, an easy and effective makeover of a space like a bathroom can include re-painting the walls, changing tiles, or installing an electric heated towel rail that serves both as a dryer for the towels and a heater for the whole space on chilly mornings.
But what if you realized that your bathroom does need some serious refreshment? No matter if you are planning to do a complete overhaul or your goal is to simply change one aspect of the room, you will have to start somewhere. And if you only have a general understanding of what has to be done, but you lack the exact ideas of what you would like to do with your bathroom,  take the following suggestions into consideration. Who knows, maybe, one of them is what you are looking for?
Reconsider the location of the bath
Sometimes, bathrooms have a bathtub and shower combo that is positioned lengthwise. It makes the whole room (if it is initially narrow enough) smaller and not only visually – quite often, such bathrooms have little space even for the vanity and a toilet.
But if we shift the tub to run along the length of the room rather than across the width of the room you can get more space and make the whole room look airier.
Hit the floor!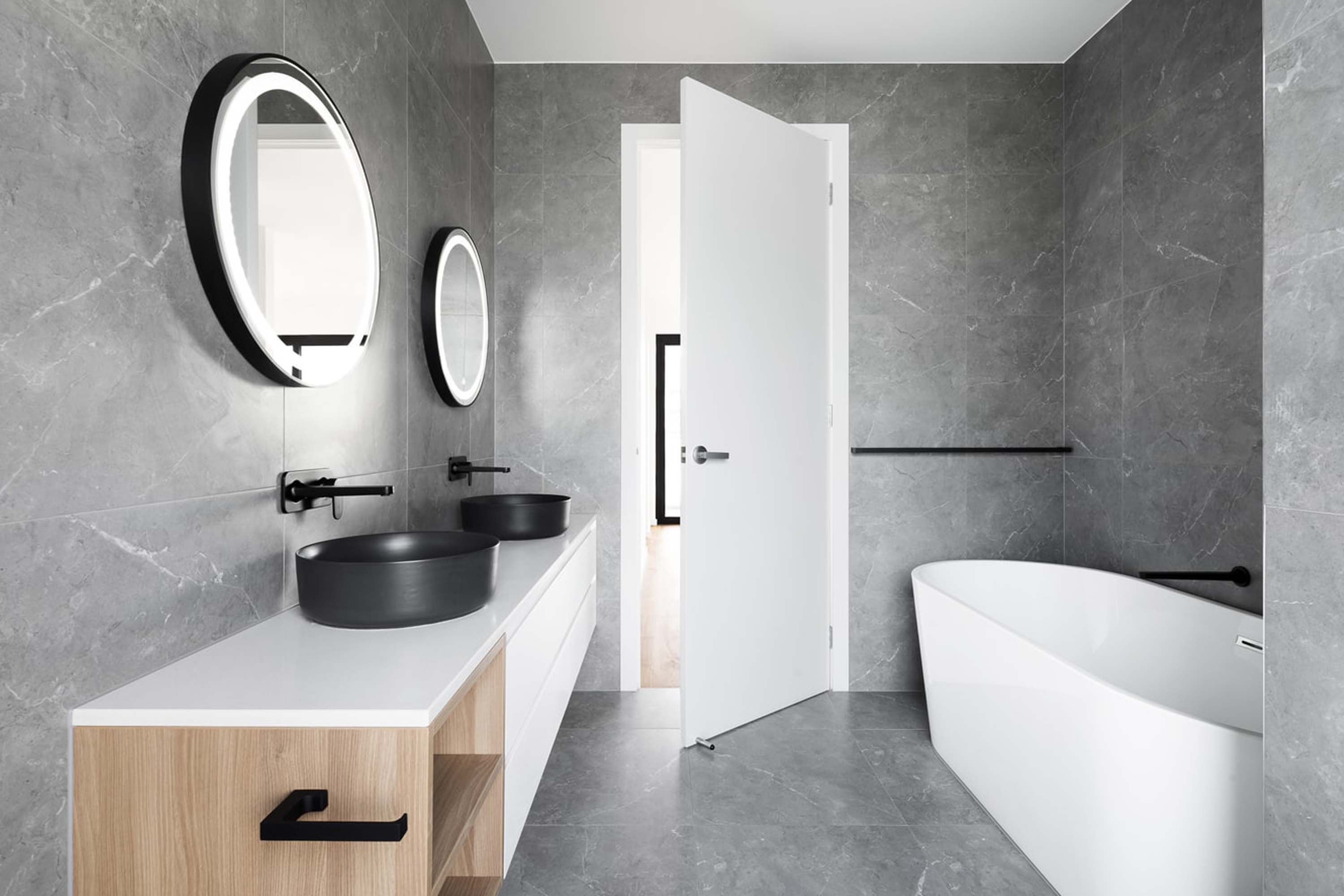 Most bathrooms have boring plain one-color tiles on their floors that literally cry out for at least a minor makeover! Depending on your taste and preferences, why not get creative and, let's say, make use of small black and white tiles to create hexagon patterns? Always stylish, always catchy.
Vanity
If you have a massive one-sink vanity with lots of spare space that is not quite used, think of turning it into a double vanity (which is especially handy if you have a big family!), and adding more storage space. In an instant, you will free the counter from all the toiletries and make it look tidier. Besides, you will be freed from waiting for your turn to wash your face or brush your teeth in the morning because someone else is already using the only sink!
Add more color
White adds more light to any space, that's true, but an all-white bathroom looks somewhat…boring, don't you think? If yours is like that, consider an option like repainting the walls or adding patterns to them. You can do that either with the help of a professional (which may cost you quite a lot) or by yourself using stencils and paint if you are familiar with such tools.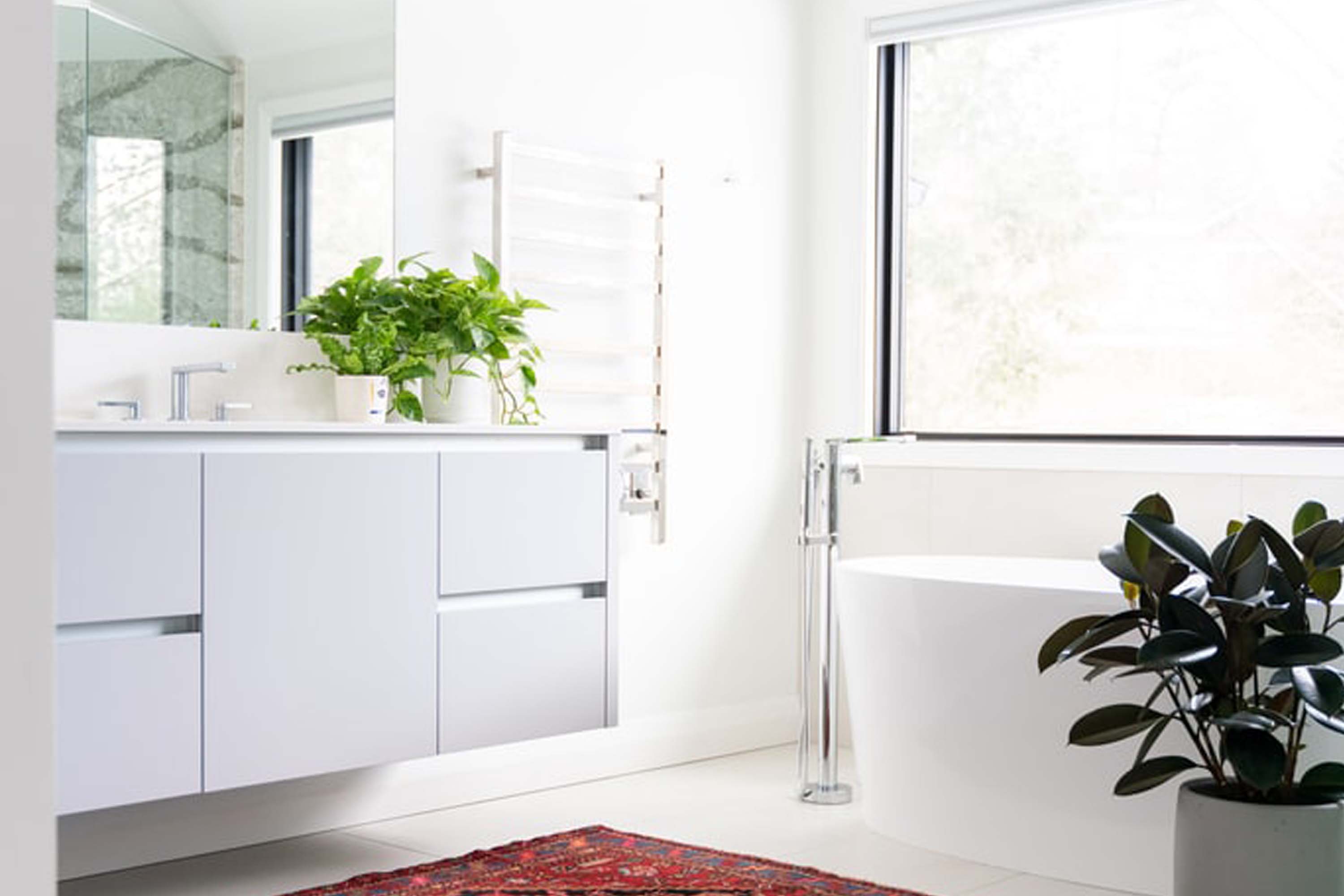 Free the cabinet space under the sink
We agree that a cabinet under the sink is necessary. We keep towels and other toiletries there that would otherwise invade the whole room. However, such cabinets often look quite massive and does not help make the room look spacious at all.
Fortunately, there is a simple and relatively easy solution! It is called built-in shelving. Niches in the walls will not only look unusual and stylish in your bathroom with a nod to Spanish architecture, they will also provide you with that extra storage space that will look neat and allow you to keep all sorts of toiletries where you can easily reach them.
A bathtub
What's wrong with it, you may ask? Well, nothing if it is not that old-fashioned massive "dinosaur" covered with tiles that eat up space in your bathroom! Instead of such chunky stuff, install a sleek and freestanding bathtub. It will take less space and will have a way more elegant look.
Color is everything
https://www.youtube.com/watch?v=X-o1Xte0_pk
As we have said before, most bathrooms are painted white, probably, because people believe that this color will make the usually small room look bigger.
Anyway, it doesn't always help, besides, a one-colored space will soon become boring and even depressing! Is it possible to avoid that? Luckily, it is. Simply add more color!
No, we aren't suggesting you go  nuts and turn your bathroom into a mad artist's palette, but adding a few bright accents will make the whole space look more vivid. For instance, think of changing the color of the cabinet or the shelves if you have those in your bathroom.
Consider the storage space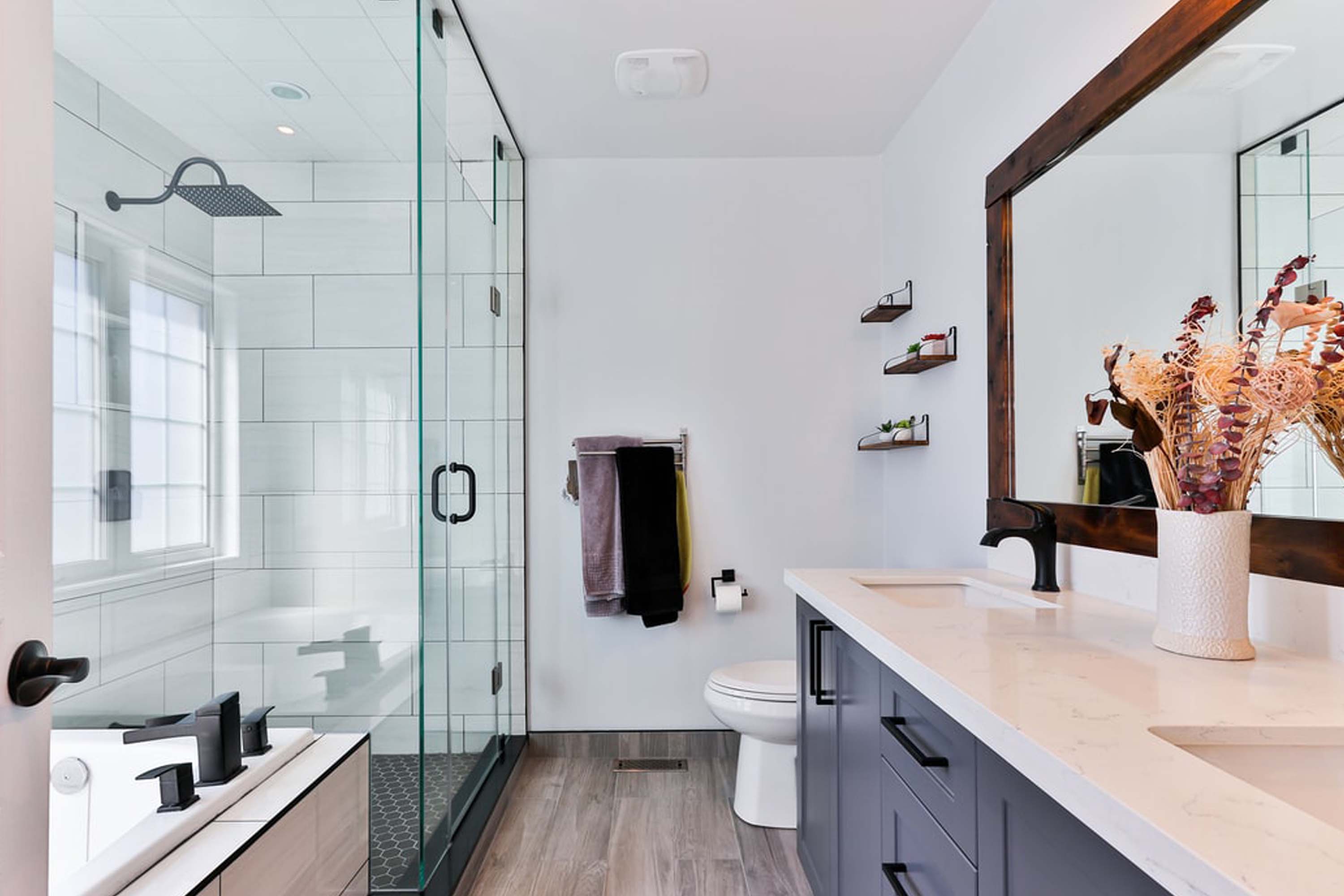 Lets go back to those t old-fashioned vanities with filler space underneath? Not an exactly amind-blowing look, right? So why not lift it up a bit? A floating vanity will visually make the bathroom look more spacious and airy, besides, it is a way more stylish design that is popular these days. In addition, you can keep various stuff underneath like scales and extra loo rolls.
These are just some basic ideas of what can be done to your bathroom to make it look refreshed, modern, and even elegant. Of course, almost all of them require quite a lot of work to get the result, so if you decide to go for one of those, think of getting help from the professionals who know how perform all the renovations accurately and carefully.
And of course, do not forget to take time and think of what exactly you would like to change, and how the whole space will look after that. Keep that in mind and you will avoid unnecessarily repeated alterations in the future.