What Does Ylang-Ylang Smell Like?
Ylang-Ylang is an exotic plant from tropical Asia, which is known to us for its surprisingly bright and rich aroma, bringing peace, uplifting and possessing the properties of an aphrodisiac. We will tell you about the flower itself, its essential oil, useful properties and applications in aromatherapy, cosmetics and perfumes.
Where Does Ylang-Ylang Grow?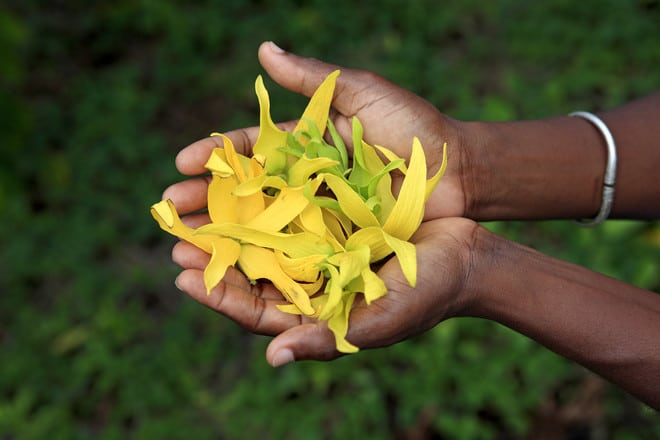 This evergreen tree with delicate yellow flowers grows not only in the Philippines. You may find it in Burma and the Indonesian islands. The plant is cultivated throughout the Asian tropics, in Madagascar, Comoros and Reunion Island.
Ylang-ylang flowers bloom almost all year round. Faded flowers are replaced by dark green fruits, which darken as they ripen. Essential oil is collected in early summer at dawn, when ylang-ylang flowers contain the most essential substances.
How Does Ylang-Ylang Smell?
With the smell of ylang-ylang, you will be transported to a honeymoon on tropical islands. This is the most romantic fragrance and the most powerful erotic product that gives a slight euphoria and emancipation.
This aroma enhances feminine appeal and charm. With it, you can light a fire of passion and melt any ice. However, first check how it is carried by the partner, and do not leave the aroma lamp for a long time.
The smell removes spiritual fears, dispels doubts, removes emotional excitement, gives a pleasant sleep and a sense of serenity. It relieves anger, depression, irritability, anxiety, weakness. They say that it can calm even aggressive dogs.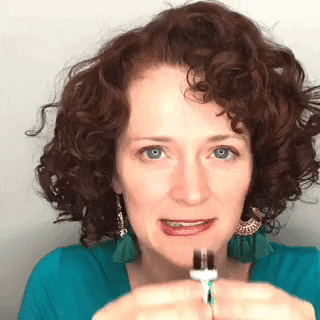 It is believed that ylang-ylang drives away evil spirits, houses are fumigated with ylang-ylang smell to prevent discord and quarrels. In addition, the aroma increases self-confidence and stimulates the creative potential and intuition.
Pure oil can be used as a perfume, just apply it to traditional places.
100 kg of ylang-ylang flowers are needed to obtain up to two liters of pure essential oil.
Best Ylang-Ylang Perfume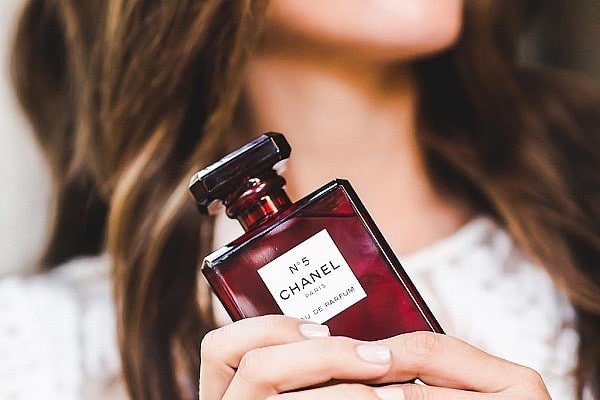 It is hard to name any popular perfume brand that does not use ylang-ylang scent in the manufacture of its products.
The ylang-ylang oil smell is very light and unobtrusive, which allows us to use it in the initial notes of a perfume bouquet. However, thanks to the sweet and viscous nature of the fragrance it can be added to the basis of a perfume composition.
Perfumers love to combine ylang-ylang, whose aroma resembles neroli and jasmine, with pink wood, bergamot, lily of the valley, cloves, sandalwood, orange blossoms, and tuberose. A very interesting combination is the composition of ylang-ylang and coffee.
The most famous and best ylang-ylang perfume is the legendary Chanel No. 5.
Ylang-Ylang Properties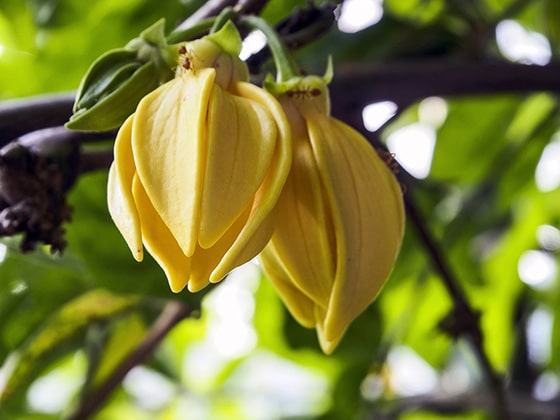 This essential oil has a wide range of beneficial characteristics. It can be used to fight irritability and nervousness, to normalize blood pressure and heartbeat, to fight headaches, for anti-aging skincare, to strengthen nails. And the most famous use of this oil is, of course, as an aphrodisiac.
     

Psycho-emotional effect. Ylang-ylang oil helps overcome feelings of fear and uncertainty, reduce nervousness, relax and calm down insomnia, as well as unleash creativity and awaken intuition. As an aphrodisiac, this oil helps foster sexual harmony in a couple, awakens sensuality, adds confidence.

     

Therapeutic action. This oil has the ability to normalize the heart rate and blood pressure, brings anticonvulsant and antispasmodic effects. It is also good for the treatment of headaches, the relief of menopausal syndrome.

     

Cosmetic effect. In cosmetology, oil is used to eliminate brittleness and delamination of nails, to rejuvenate, smooth and moisturize the skin, to combat redness and skin irritation. Besides, ylang-ylang oil is used for hair restoration.
Ylang-Ylang Oil in Cosmetics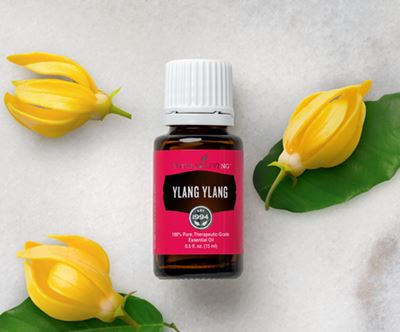 It is not recommended to use this oil for face and body care in a pure form. It is only added to masks and creams, which are based on other ingredients. Ylang-ylang oil has a number of features, thanks to which it has a beneficial effect on the skin condition and the health of the body as a whole:
     

It is an excellent antiseptic and helps fight acne.

     

This oil is absorbed deep into the skin and stimulates cell regeneration. Thus, wrinkles are eliminated and the surface of the skin is leveled.

     

Ylang-ylang oil has an anti-inflammatory effect and relieves irritation.

     

Using it for a hair mask you will strengthen the hair and eliminate its fragility.

     

Due to its antimicrobial properties, ylang-ylang essential oil helps get rid of colds and infectious diseases.

     

Asian women used ylang-ylang as a lubricant for hair, mixing it with other essential oils.
Where to Use Ylang-Ylang?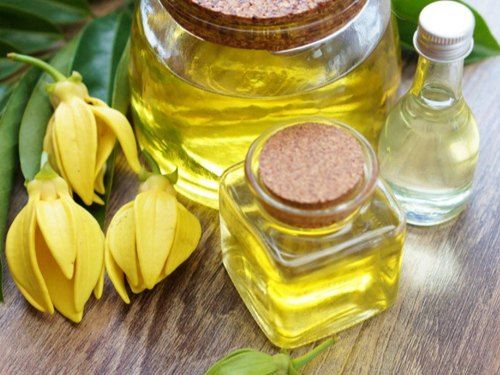 Ylang-ylang scent deodorizes the skin, giving it a refined aromatic aura for a long time. The aroma of ylang-ylang is sweet and vibrant. You may add 2 drops of lemongrass oil to 3 drops of ylang-ylang to make aroma softer.

     

It normalizes sleep, eliminates anxiety and nightly fears, especially in children. The following mixture will help you: 2 drops of ylang-ylang, 3 drops of lemongrass, 2 drops of lavender. Use the mixture in the aroma lamp 40 minutes before bedtime.

     

It is good for polishing nails. Mix 10 drops of ylang-ylang with 10 drops of sweet almond oil. Apply the mixture to the nail plate and massage well.

     

Ylang-ylang oil is the main component for making "sensual" mixtures. You may place it in a bottle with a spray pump and sprinkle in the bedroom 1-2 hours before bedtime.

     

It is an efficient ingredient for a mask for dry colored hair: knead a ripe avocado, add the yolk, 3 drops of ylang-ylang, 2 drops of calamus and 1 drop of chamomile.

     

It smooths the violation of the heart rhythm. Apply a warm compress on the heart area using 5 drops per 5 g of vegetable oil.
You should take into account that ylang-ylang oil smell is rather strong, so start using it with a very small amount or mix it with other essential oils. It combines well with lavender, sandalwood, cedarwood, and sweet orange.